Today's blog post touches on 10 outside activities you can do with your little ones! From obstacle courses and scavenger hunts to stuffed animal safaris and water play, I hope something on this list inspires you to get outside and have a blast with your kiddos this spring and summer. Thank you to Academy Sports + Outdoors for sponsoring this post!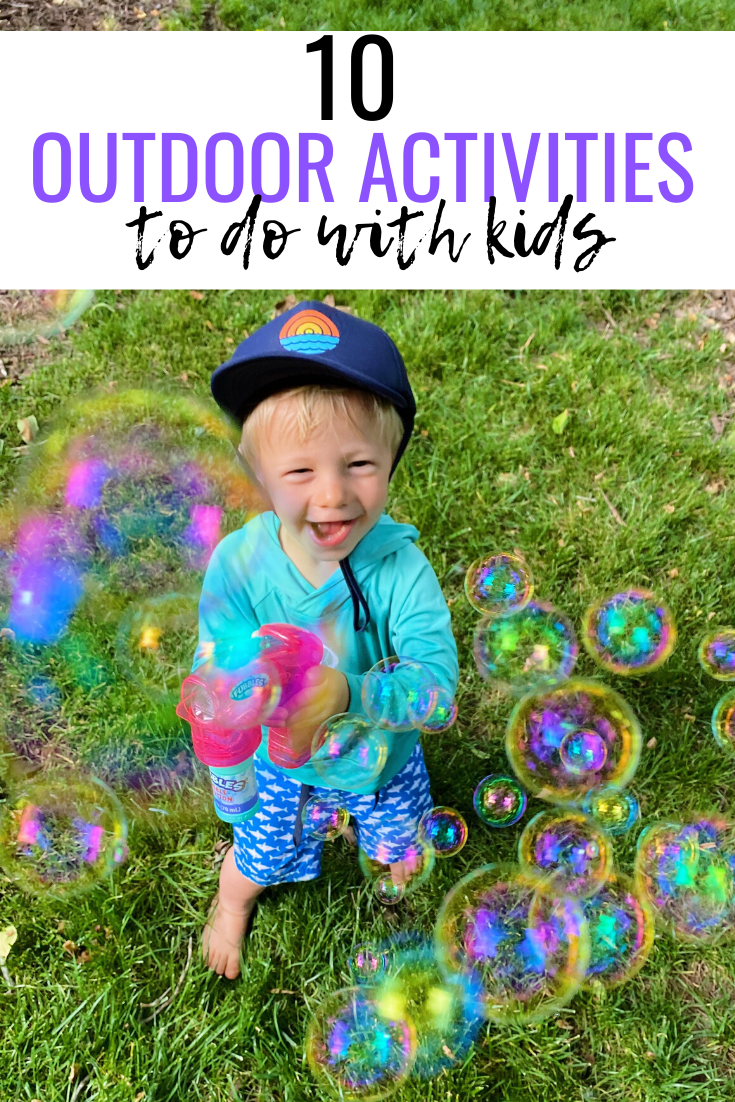 Outside has always been one of our family's favorite places to be but our appreciation and enthusiasm for spending a lot of time outside doubled over the course of the past eight weeks since it's basically been the only place we can really go right now! We've been blessed with one of the most gorgeous springs I've experienced since we first moved to North Carolina and spend hours outside every single day it isn't pouring outside.
For today's blog post, I am teaming up with Academy Sports + Outdoors to share a handful of our favorite outside activities that we love to do with our boys! Many of them are inexpensive (or even free!) and all of them are perfect to enjoy with little ones as spring turns into summer and warmer weather continues to be something we all embrace and enjoy. I'd also love to hear about anything you've been doing outside with your little ones that has proven to be a big-time hit in the comments section of this post so we can all benefit from sharing fun ideas!
10 Outside Activities To Do With Kids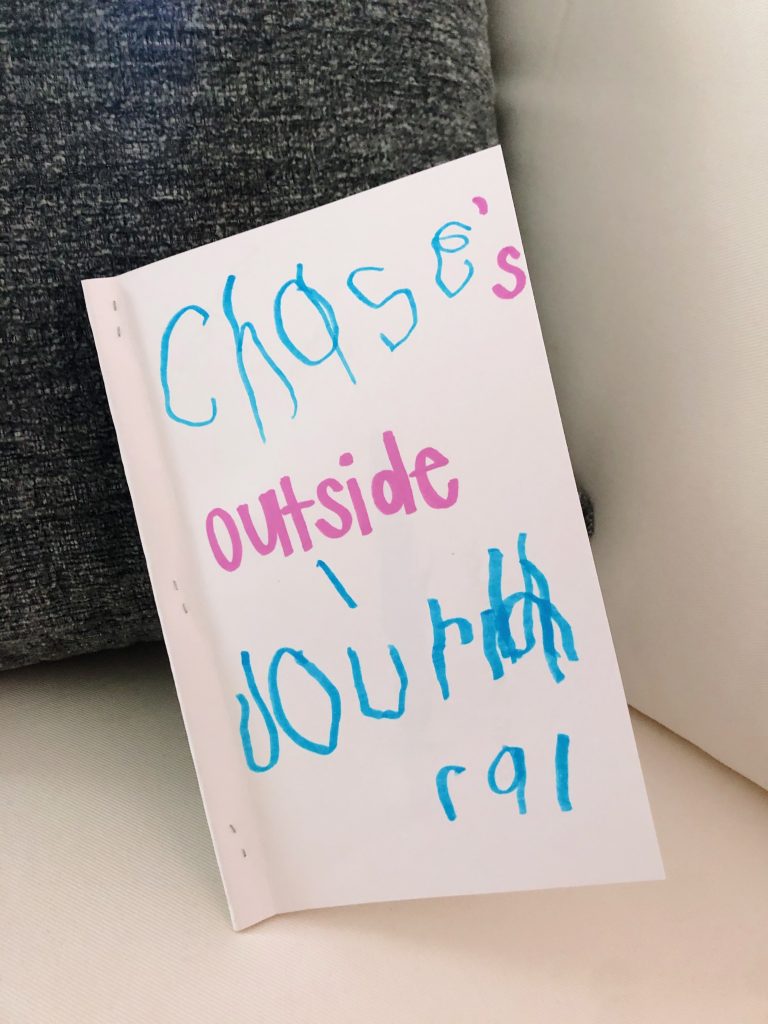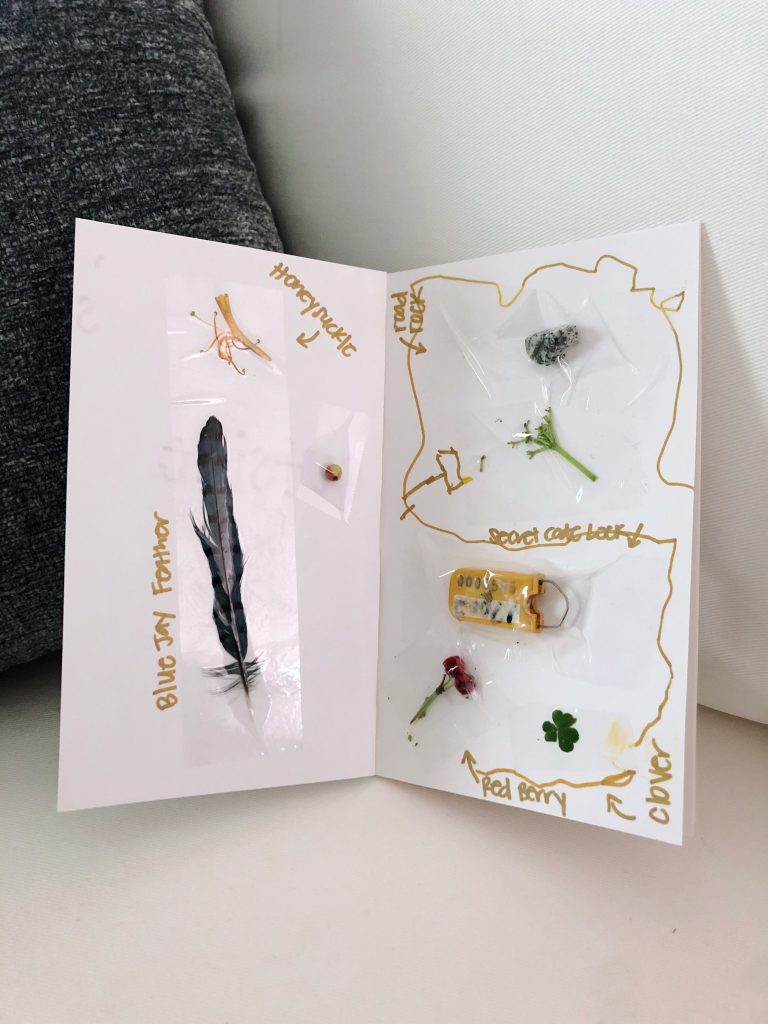 I shared this idea in a past Things I'm Loving Friday post but it's been the biggest hit with Chase over the past few weeks and still going strong in our house. The premise is simple: Create an outside journal for a child to tape outside treasures into to help them remember their outdoor adventures. Chase's journal now features everything from bird feathers and dried flowers to berries, small rocks, shells and more. He loves naming the treasures he finds or looking them up with our help to identify different feathers, plants and flowers.
Go On a Scavenger Hunt / Play the "Find It" Game
Create a list of things you see around your neighborhood outside and make your own scavenger hunt! Bonus points if your kids help you come up with the list of things to find ahead of time! (Can you tell Chase helped create the above list around St. Patrick's Day this year?)
We also love the "Find It" game (a la @dayswithgrey) which is similar to a traditional scavenger hunt but puts the emphasis on colors, sizes, shapes, etc. versus specific things and it could easily be morphed into an outside game, too! Both versions are a blast for the kids!
Create an Obstacle Course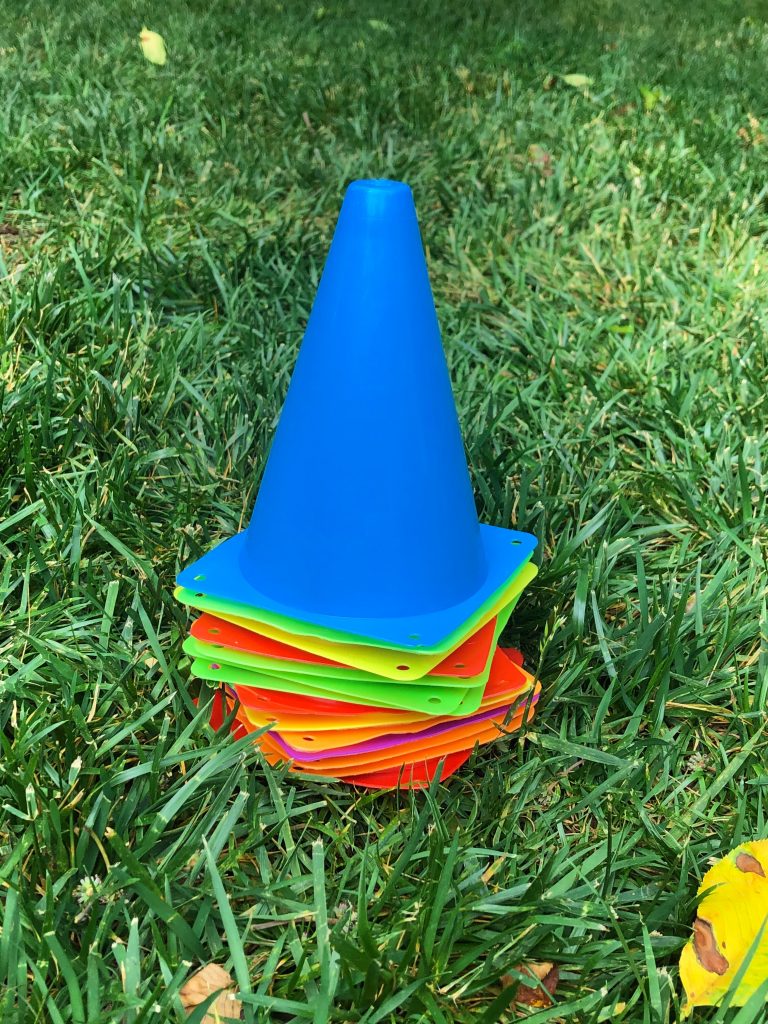 A set of cones was an awesome Christmas gift for the boys from my sister and brother-in-law and they've come in handy for creating everything from soccer goals for the boys to obstacle courses inside and outside of our house. (Sidewalk chalk also works well for driveway obstacle courses!)
Now that it's warming up outside, an obstacle course that incorporates water toys, slip 'n' slides, sprinklers and water play is all the better! The kiddos can cool off while moving their bodies and having fun in the sun!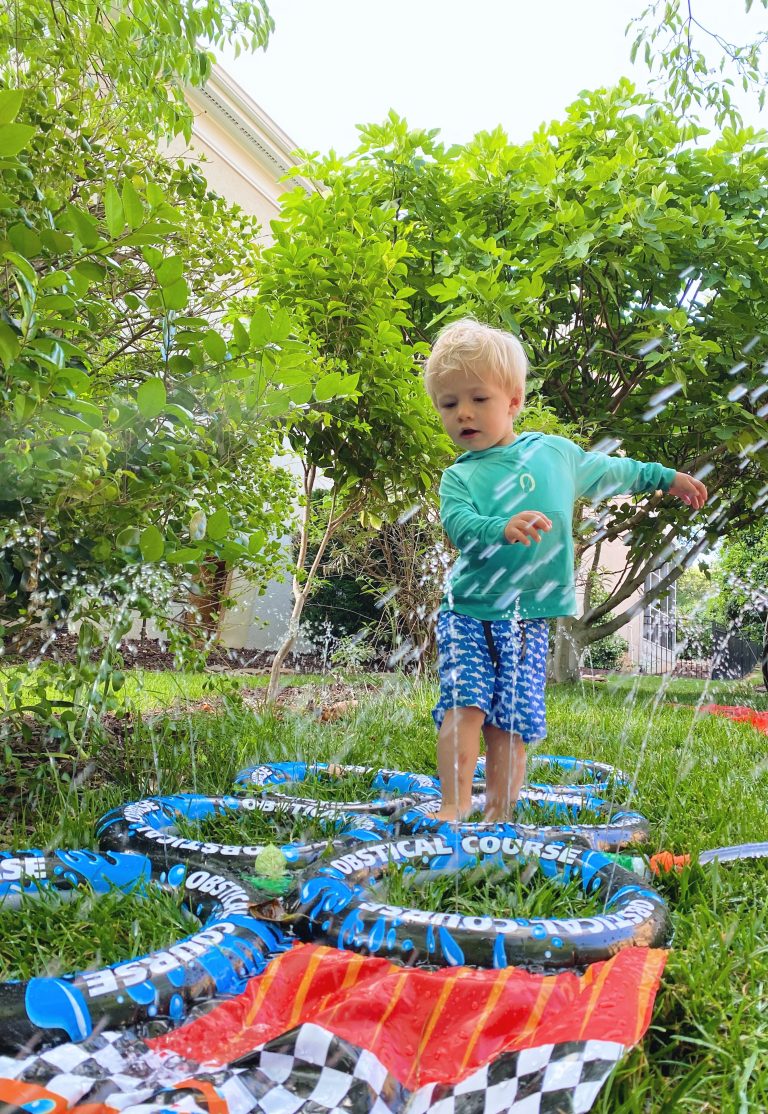 This water obstacle course came our way from Academy and oh my gosh the boys are SO into it!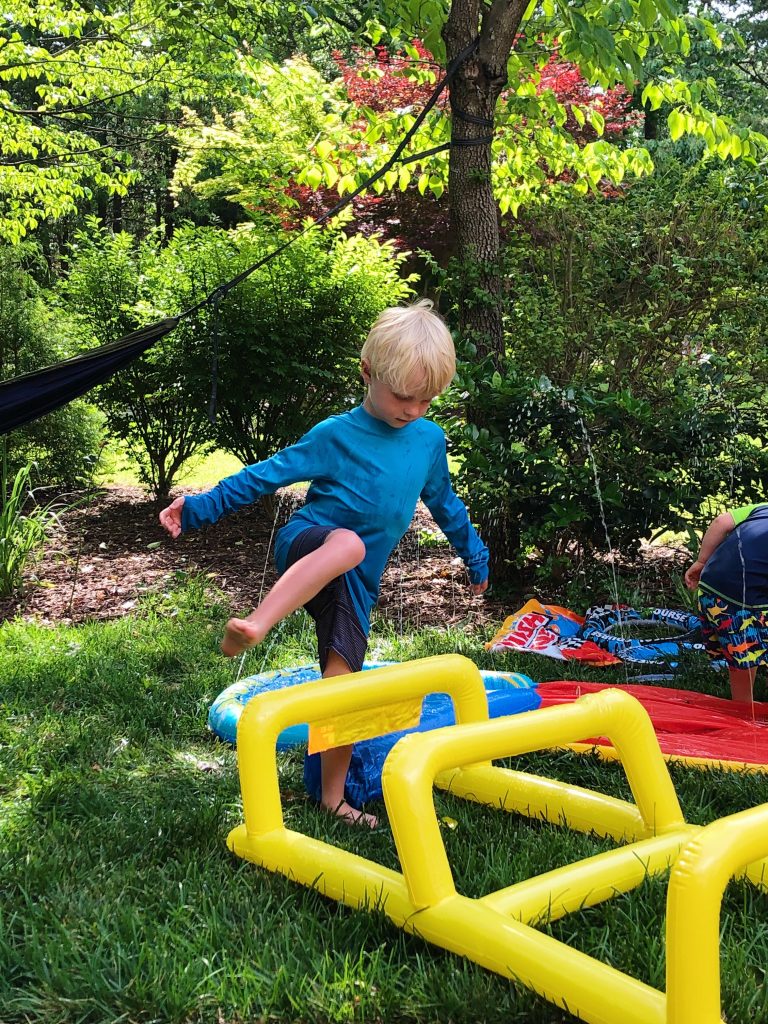 It has three separate stations — a hurdle to step or jump over, a slip-in-slide and tire station — and even though our kids are a little to young to really race each other, they love doing this course over and over again and just seem to enjoy running around in the water!
Oh and I must point out the rash guard top Chase is wearing in both blue and white in the above photos because it's only $8.50 and perfect for slim kids! I am forever on the struggle bus with finding clothing to fit Chase's slim frame and these UPF 50 tops are the best! I initially ordered the one in white from Academy and immediately ordered the blue one after I saw how well it fit Chase. For reference, he wears a 4T and I ordered him the XXS in white which fits perfectly but sized up to the XS in the blue so he can wear it a little longer. They also make this rash guard for bigger kids, too!
Go On a Stuffed Animal Safari
One of my friends did this for her daughter and told me about it and I thought it was the cutest idea! The basic gist: Roundup a bunch of stuffed animals and hide them all over your yard. Tell your little one it's safari time and have them go on a safari with you to find all of their animal friends! If you have an old camera, a disposable camera or Polaroid camera, they can also snap pictures of their furry finds as they come upon them!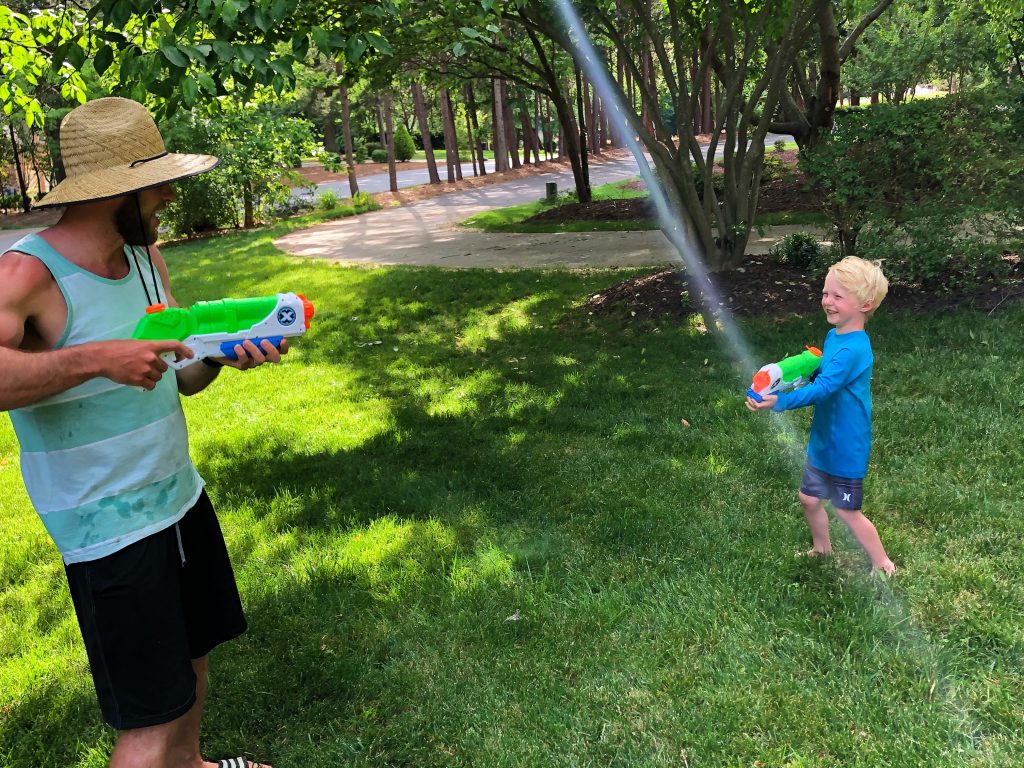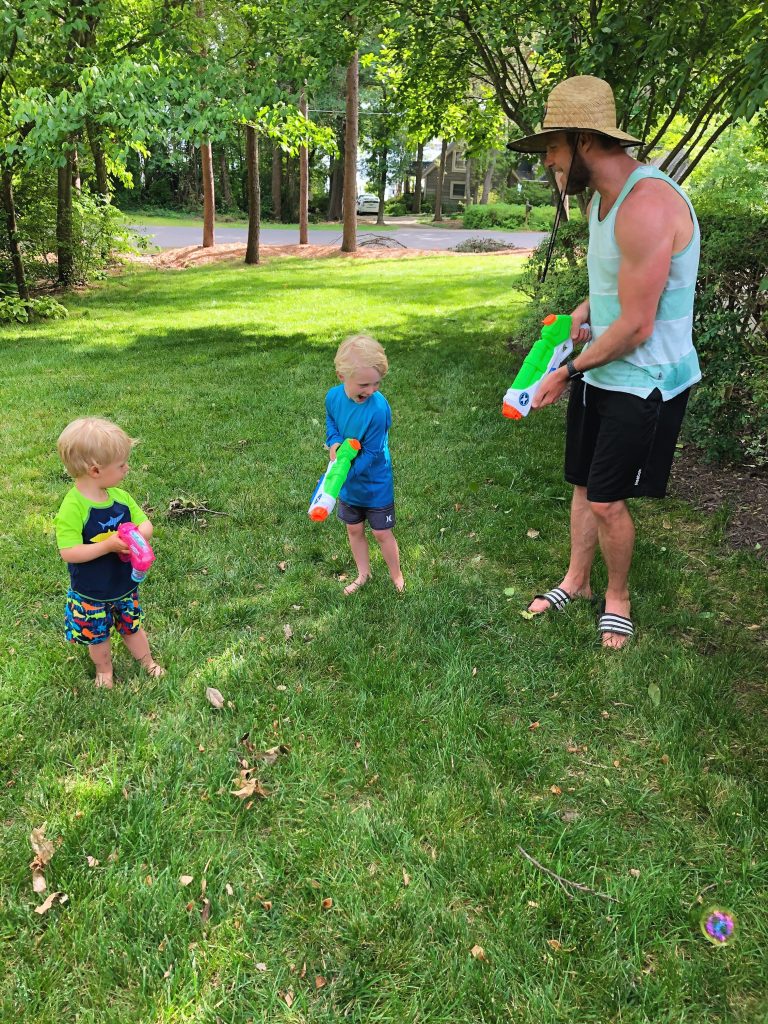 I have the BEST childhood memories surrounding hot summer days spent running all over our neighborhood with Super Soakers (are those still a thing!?) and water balloons. Even though our boys are a little young for intense water battles, they LOVE hide-and-go seek and hide-and-go seek with Mom, Dad, water blasters and water balloons just makes their favorite seek and find games all the more fun.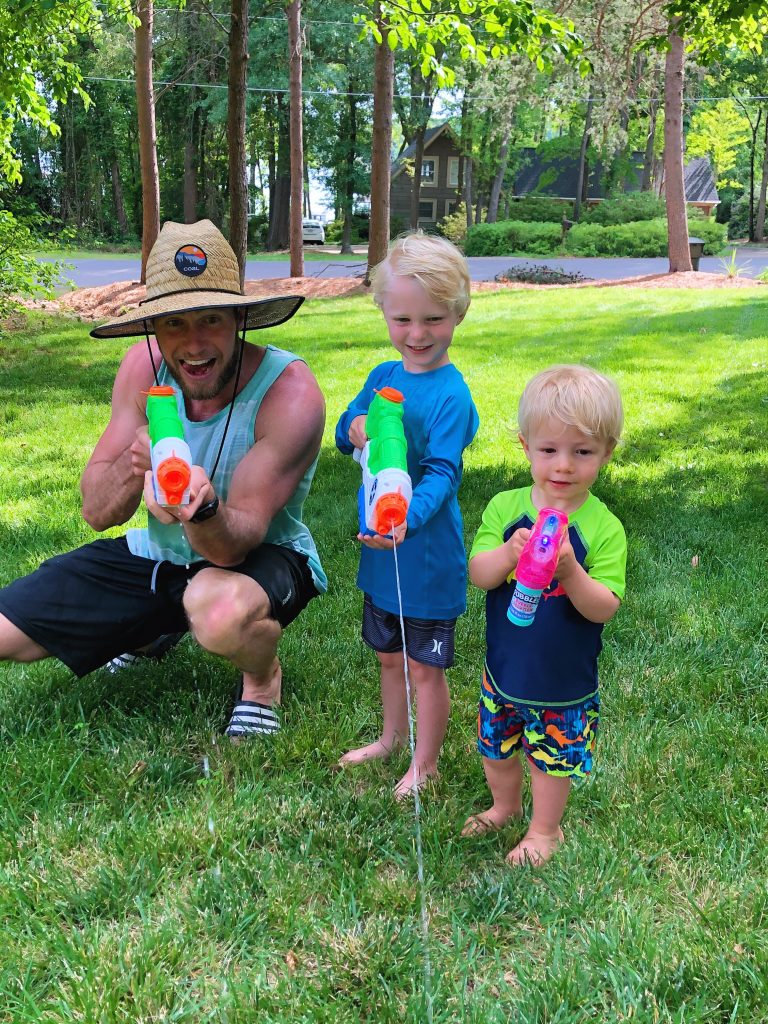 (I love the fact that Ryder thinks his Bubble Blaster is just as cool as Chase's Water Blaster. Haha!)
Also, water balloon battles have come a long way since I was a kid because they now make products that allow you to fill a bunch of water balloons at one time and — get this — they self-tie! What!?
Before becoming a parent, I will fully admit I had no idea just how mind-blowing bubbles are to kids of all ages! They're right in Ryder's wheelhouse of amazement right now and Chase still thinks they're fun to chase after, pop and blow, too. Some tips: I LOVE Fubbles bubbles because they allow Ryder to hold onto the bubble container himself and practice blowing his own bubbles without making a gigantic mess. Since he's Mr. Independent right now, they're the perfect find for him. If you're in the market for bubbles for a toddler, I also cannot recommend this Bubble Blaster from Academy enough. It lights up and basically blows Ryder's mind every time he uses it!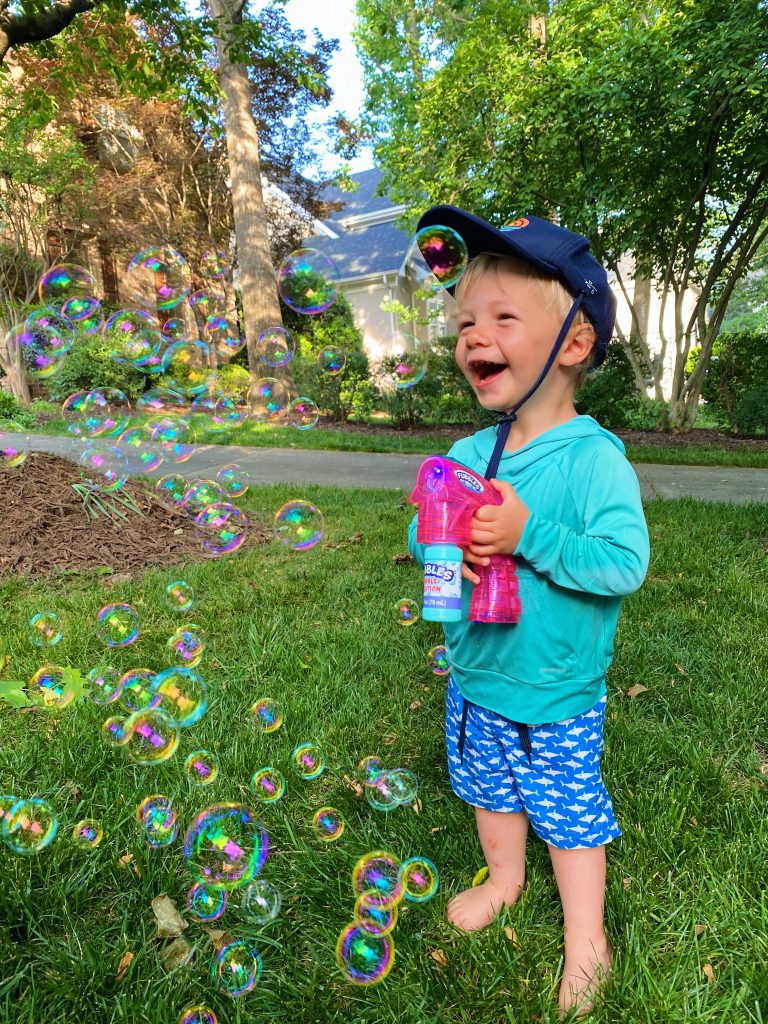 Let's just say this Bubble Blaster is going on my go-to birthday present list for toddlers from here on out because it's such a hit! Bonus: It's only $5 and easily refillable.
Decorate the Driveway (Side Walk Chalk, Chalk Paint, etc.)
I've loved seeing all of the amazing sidewalk chalk artwork around during this time of social distancing and even though the chalk drawings the boys and I create aren't going to win any awards, it's still a fun activity we all enjoy. Our sidewalk decorating abilities recently expanded a bit thanks to the sidewalk paint we got from Academy and I love the fact that this stuff keeps the boys entertained for quite a while! The chalk paint is also perfect for their current ages (4.5 and almost 2 years old) because they don't really care about making gorgeous pictures and just like painting race tracks for their cars and painting the steps up to our house.
Driveway Bike Wash / Scooter Wash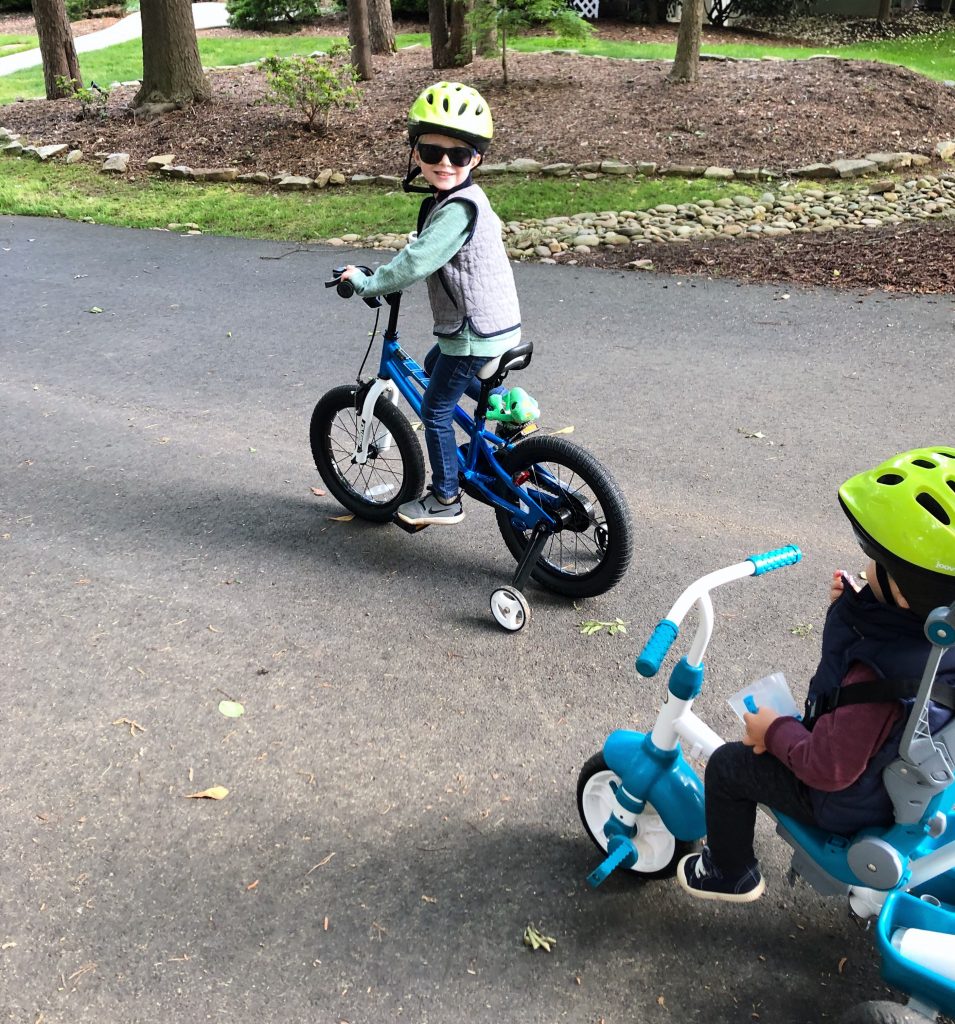 Something about washing our cars always seems to excite the boys (water + soap + bubbles = instant fun) so why not create a "bike wash" or a "scooter wash" for little ones to help clean up their favorite toys? This idea actually came to me when Chase was using one of his Water Blasters to "clean" his Power Wheels Jeep on a hot afternoon. When I brought out some old sponges and a bucket of soap to help with his "washing" he was so into it!
Search for Little Creatures
Going on a worm or a slug hunt is one of Chase's all-time favorite activities. We bring a bucket and a shovel and wander all over the neighborhood in search of little creatures. Chase calls himself "Creature Man" and could truly look for little critters for hours!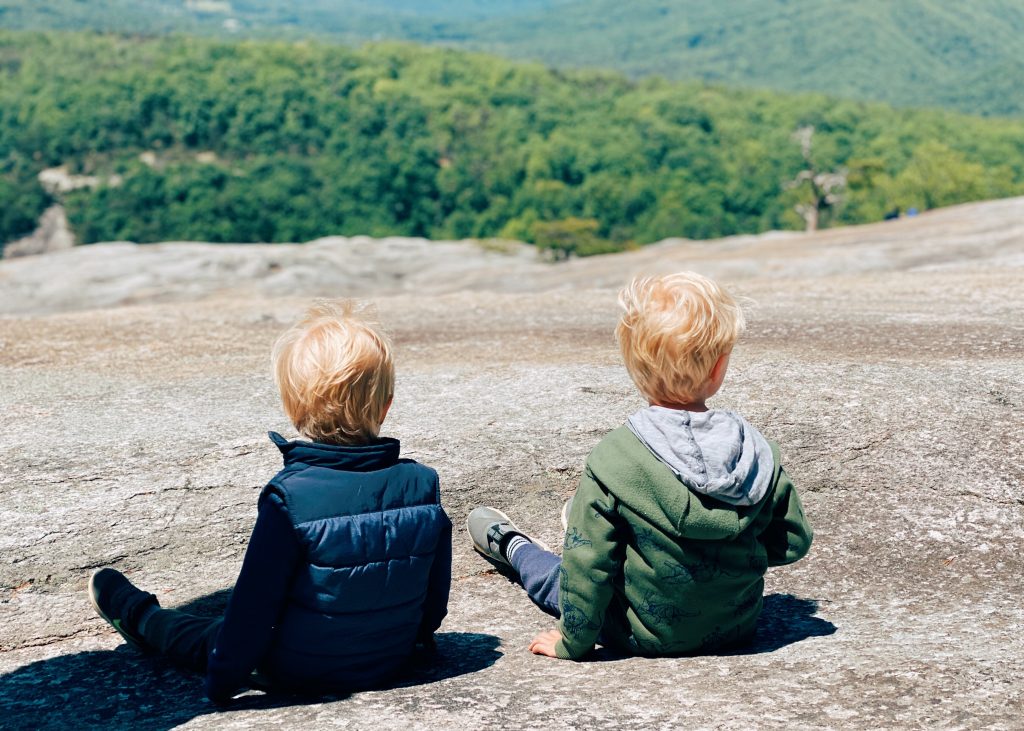 Taking the boys on a nature walk is one of my favorite things to do with them in the whole world! It doesn't have to be anything fancy but just taking the time to go somewhere we don't usually go for our daily walks and calling it a "nature walk" somehow breathes light into walking around and exploring outside. While hiking trails at state parks are an obvious favorite, driving to a local greenway or loading the boys in the stroller for a ride around a new neighborhoods is also the perfect way to explore our hometown in a way that feels a little different and exciting to the boys.
Question of the Day
What are some of your favorite things to do with little ones outside? 
The post 10 Outside Activities To Do With Kids appeared first on Peanut Butter Fingers.