— Recommendations are independently chosen by Reviewed's editors. Purchases you make through our links may earn us a commission.
Study after study shows that building literacy early gives children a leg up, not only educationally, but social-emotionally too. Sadly, more than 1 in 3 American children enter Kindergarten without the skills they need to learn to read.
Want to give your child a leg up on learning to read and write? Try toys! Say goodbye to boring old flashcards and letter-tracing worksheets. Here are 15 of our favorite toys that make reading and writing fun for early learners. Whether you have a little one who needs to start building reading and writing skills or a reluctant early reader, we've got you covered.
1. Alphabet Acorns Activity Set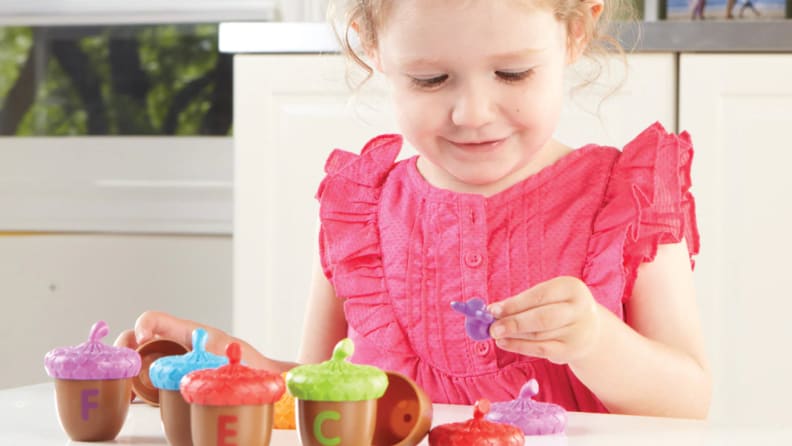 For Ages: 3 and up
Little ones can practice their ABCs and learn to make words with this fun and challenging twist on matching games. The acorns, and the hidden alphabetical treasures inside of them, are perfectly sized for toddler hands, and they help inspire learning and creativity by being a flexible toy that offers numerous ways to learn and play. This colorful toy not only helps kids with matching upper and lowercase letters with corresponding toys, it helps instill letter sound and word-making skills.
Get the Alphabet Acorns Activity Set at Kohls for $26.99
2. Magic Suitcase Magnetic Blackboard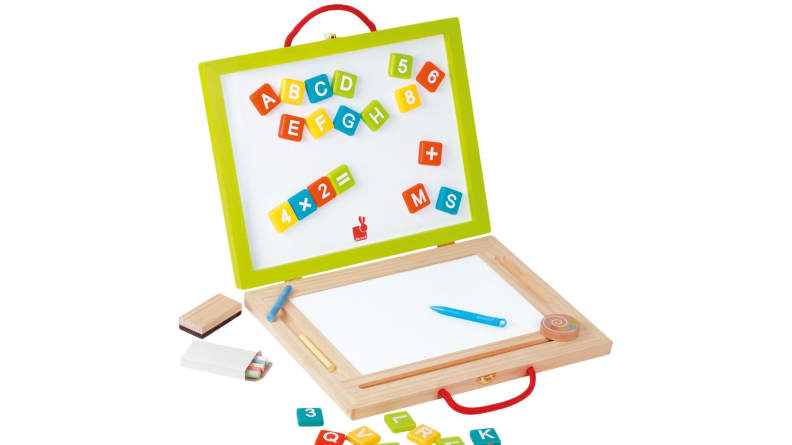 For ages: 3 and up
This 4-in-1 Magic Suitcase Magnetic Blackboard is a dry-erase board, chalkboard, magnetic board, and magnetic writing board all in one, giving kids loads of opportunity to practice writing letters, numbers, and ideas. It's packed full of magnetic letters and numbers, and comes with chalk and eraser as well as a magnetic pen. The blackboard wipes clean, and the magnetic drawing surface clears with the swipe of a dial, giving kids limitless opportunities to build hand strength and fine motor skills to practice and improve their writing.
Get the Janod 4-in-1 Magic Suitcase at Maisonette for $41
3. LeapFrog LeapStart 3D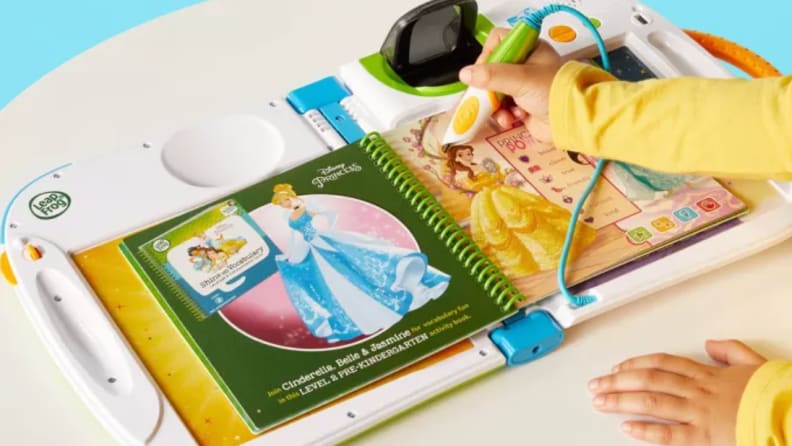 For ages: 2 to 7
The LeapFrog LeapStart 3D is an interactive learning system that gets kids excited about everything from reading to problem solving with fun re-playable activities that teach an array of literacy and learning skills. This is a complete learning system that magically brings books to life with audio and then enhances the learning with corresponding 3D-like animations. Little learners can progress from preschool to first grade with over 25 activity books, including two Learn to Read book sets.
Get the LeapFrog LeapStart 3D at Target for $41.99
4. VTech Explore and Write Activity Desk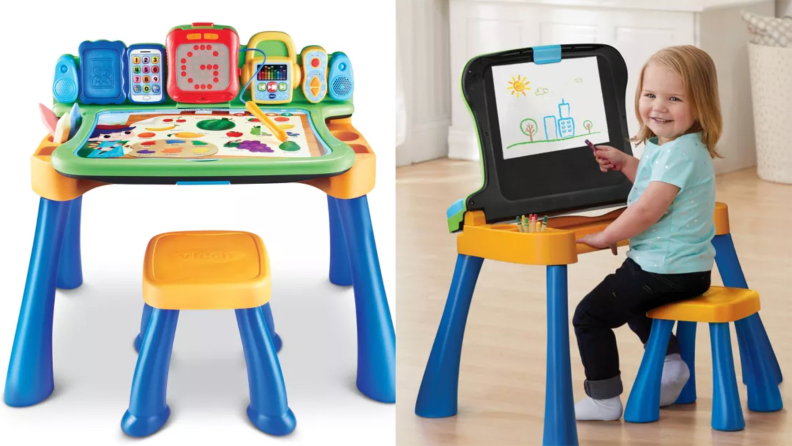 For ages: 2 to 5
"This completely interactive kids' desk will not only help kids learn, it is guaranteed to keep them busy for hours," says Laurie Schacht, Chief Toy Officer, of The Toy Insider, who named this as one of her favorite toys to help encourage younger children to read and write. Filled with engaging content including letters, numbers, music, colors and more, the desk is a full learning suite for kids learning to read and write. The desk has a pull-down writing pad with a light-up display that lets kids practice writing by tracing letters, numbers, and shapes with a stylus, and it transforms into an easel and chalkboard with plenty of storage space for art supplies. Parents can purchase additional expansion packs that focus on a specific curriculum like nursery rhymes, reading skills, animals, and numbers. 
Get the VTech Explore and Write Activity Desk at Target for $48.99
5. A personalized book by Wonderbly
For Ages: 0 to 6
One of the first words your child will learn to read and write is their name and Wonderbly has produced a whole line of kids' books that are personalized and engaging for young readers. Kids get excited by these books that can be custom-printed with your child's name and likeness. I Love You This Much is one of their newer offerings, and kids will love being read to about all the ways they are loved, as told through whimsical adventures. "It's a perfect book for families to read together and it makes an amazing gift," says Schacht.
Get "I Love You This Much" at Wonderbly for $29.99
6. Square Panda 2.0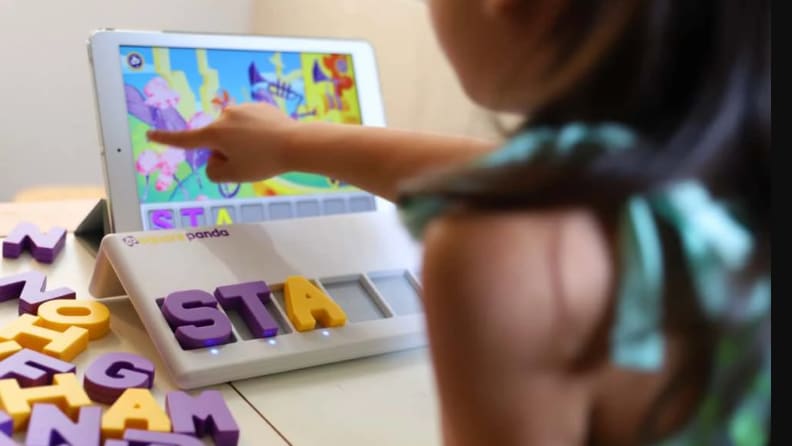 For ages: 3 and up
Even in the best of circumstances parents need screen time to get by—add a pandemic to the equation and very few of us are going to survive without a device stepping in to babysit here and there. This reading game, which attaches to a tablet, combines tactile play with a digital app; it feels like screen time to kids, but because of the game board and the magnetic letter pieces used to spell words and sound out letters, kids eyes are pulled away from their devices long enough to prevent them from turning into screen zombies.
What we love about Square Panda is that, as it's played, it adapts to your child's abilities so it constantly challenges them without frustrating them. It is also filled with positive reinforcement, to ensure kids don't become discouraged or bored over time. The playset rewards kids when words are spelled correctly and encourages them to continue if they're struggling, by using playful, fun, and friendly characters.
Get Square Panda 2.0 at SquarePanda.com for $49.50
7. Learn to Read With Bob Books and VersaTiles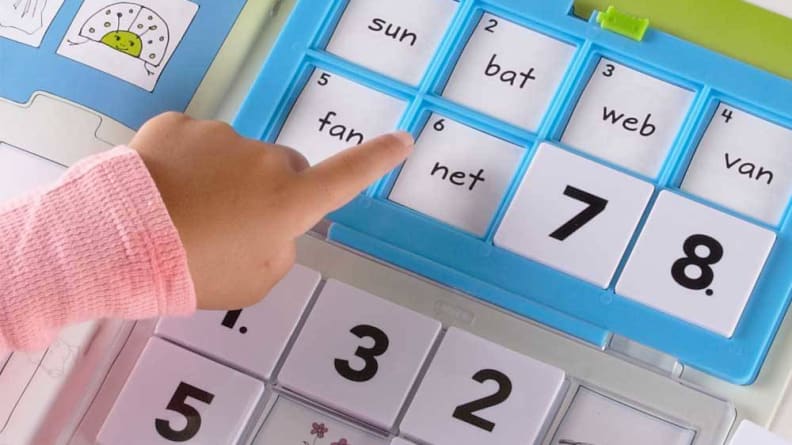 For ages: 4 to 6
Bob Books are a favorite for early readers and often recommended by teachers. Breaking down and building on sounds, they help reinforce phonetic awareness in kids who are just learning to read. This set combines practical skills with a fun, engaging, tactile element by pairing Bob Books with a corresponding VersaTiles workbook. This tried and true practice system creates a hands-on way of helping kids review what they are learning in their Bob Books. The tile answering game gives practice to the reading skills kids are building and helps children better comprehend what they are learning, giving them confidence in their reading abilities.
Get the Learn to Read With Bob Books and VersaTiles, beginning readers set at Hand2Mind.com for $34.99
8. VTech Write and Learn Creative Center
For ages: 3 to 6
The magnetic drawing board on the VTech Write and Learn Creative Center gives kids a fun way to get a head start on learning how to write, and gives an early lesson on stroke order for uppercase and lowercase letters. You can customize the creative center with your child's name and the screen will show them how to write it step-by-step.
We also like that you can choose drawing activities for your child, which will show them how to progress from simple lines and shapes to 26 different objects. Your little artist can then explore their creativity by drawing their own pictures with the included stencils and stamps while listening to cheerful music. "The benefits of this include giving kids a visual and tactile way to learn and helps skill development in letter formation, letter recognition, shape recognition, fine motor skills, eye-hand coordination, motor planning and how to hold a pen or pencil," says Schacht.
Get the VTech Write and Learn Creative Center at Target for $24.99
9. Mr. Pencil's Scribble and Write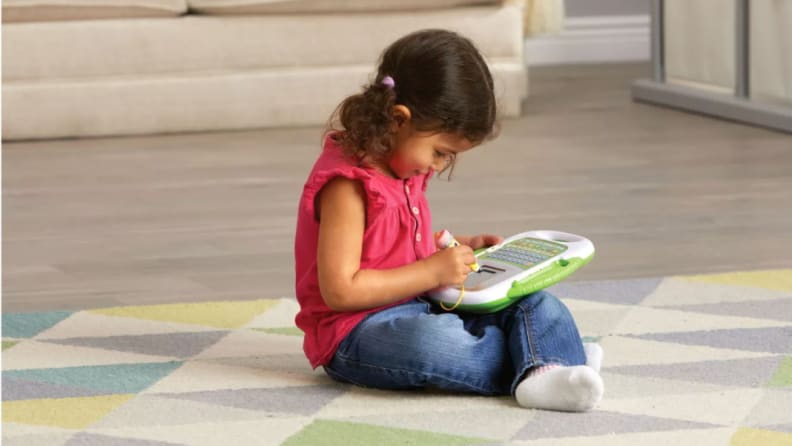 For ages: 3 to 7
Proper letter formation is so important. This is a rewards-based toy that helps kids follow the right steps to learning how to write their letters and numbers. Mr. Pencil explores six activities that introduce writing, drawing, and spelling. Step by step, children will learn how to draw numbers, shapes, and uppercase and lowercase letters by connecting dots and following arrows, all positively reinforced with fun digital shows performed by Mr. Pencil himself. If they get the pencil strokes right, kids can tap the screen to make writing come alive with cute animation that is both entertaining and positive reinforcement to motivate them to learn.
Get Mr. Pencil's Scribble and Write by LeapFrog at Target for $19.89
10. Hot Dots Jr. Succeeding in School with Highlights set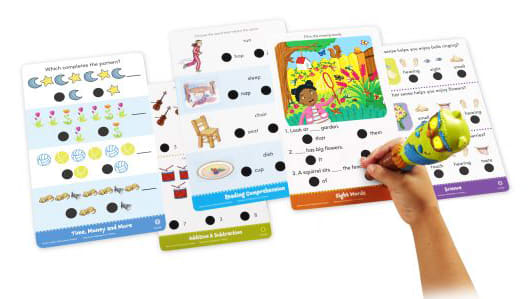 For ages: 5 to 7
Ollie, the talking and teaching owl pen, is what makes the whole Hot Dots line of learning toys so fun and interactive. Lights, music, and silly sounds get kids excited about reading and progressing forward—Hot Dots are such a fun educational model that kids won't even realize they are learning! The interactive pen provides immediate feedback and positive reinforcement to young learners and encourages self-paced, interactive learning that builds reading and information-dense literacy skills.
Get the Hot Dots Jr. Succeeding in School with Highlights set at Educational Insights for $39.99
11. Speak & Spell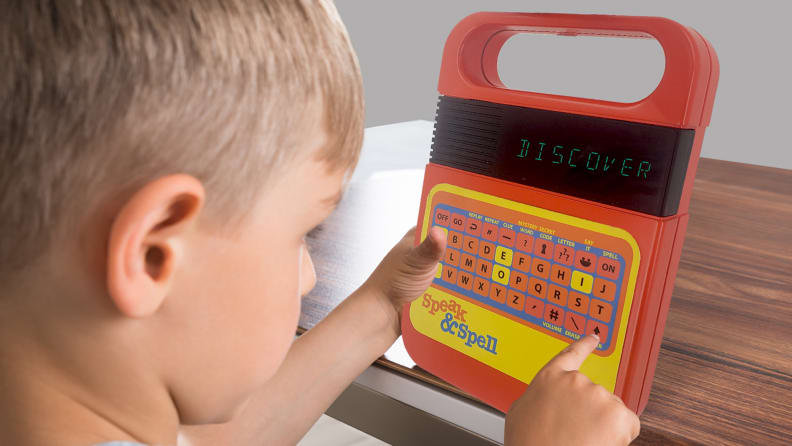 For ages: 7 and up
You probably had one of these when you were a kid and, we can assure you, this looks and sounds just like you remember it. Just like the original you loved way back when, the current version helps kids learn to spell more than 200 commonly misspelled words. The new Speak & Spell has multiple play modes and challenge levels to keep kids engaged. Kids will love the simple, retro look and feel, and parents will love sharing this tried and true blast from the past.
Get the Speak & Spell electronic game at Target.com for $24.99
12. Sight Words Swat! Sight Words Game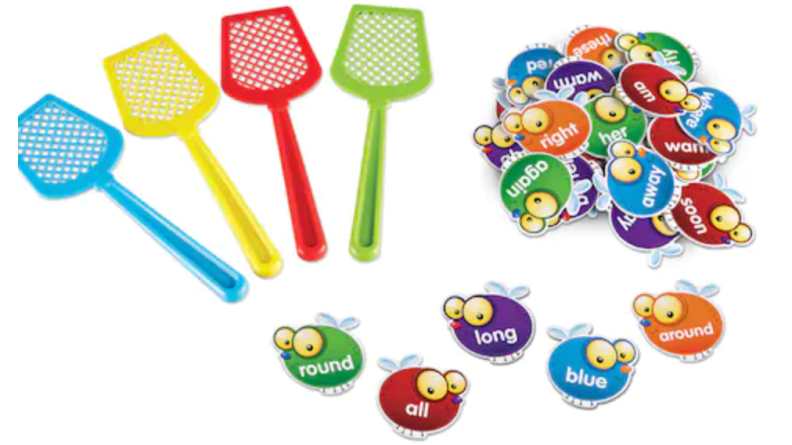 For ages: 5 to 10
Sight words can be tough to master, and a slog to get through. In my house we are always looking for ways to make the memorization of site words more fun. Kids will be buzzing with excitement over this fun, fast-past reading game. With five levels of play, kids will learn reading, spelling, and vocabulary skills in an exciting and silly way, all while gaining confidence and fluency in reading. The concept is simple: Kids swat sight words stamped on colorful "fly" cards as they are called and the player with the most bugs at the end of the game wins!
Get Sight Words Swat at Kohl's for $14.99
13. The Slam Ships! Sight Words Game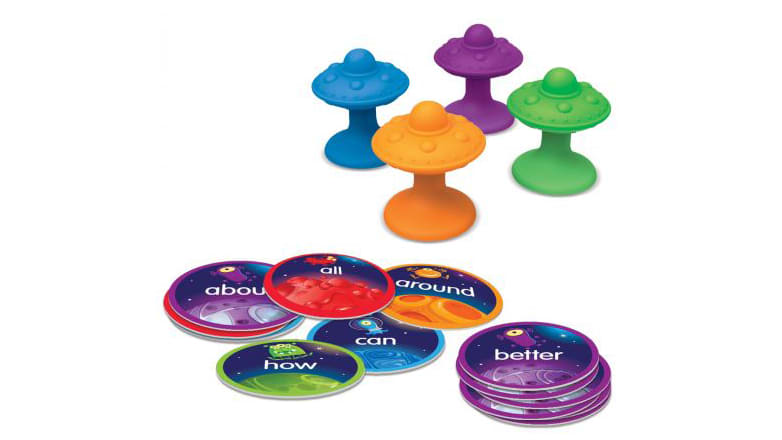 For ages: 5 to 8
It's the hear-it, see-it, slam-it sight word game of cosmic proportions! This fun and frenetic game helps build vocabulary and word recognition skills every time it's played. UFO slammers, each of which comes with a suction cup base, grab sight words as they are called, making for an out-of-this-world learning experience for early readers. Every time their UFO makes contact with the site word cards, kids build the vocabulary and word recognition skills they need to succeed at reading. The Slam Ships! Sight Words Game also grows with them: the set's 110 double-sided sight word cards come in 5 different vocabulary levels that help you increase difficulty and introduce new concepts for a fun twist on kindergarten games.
Get the The Slam Ships! Sight Words Game at Learning Resources for $16.99
14. Silly Street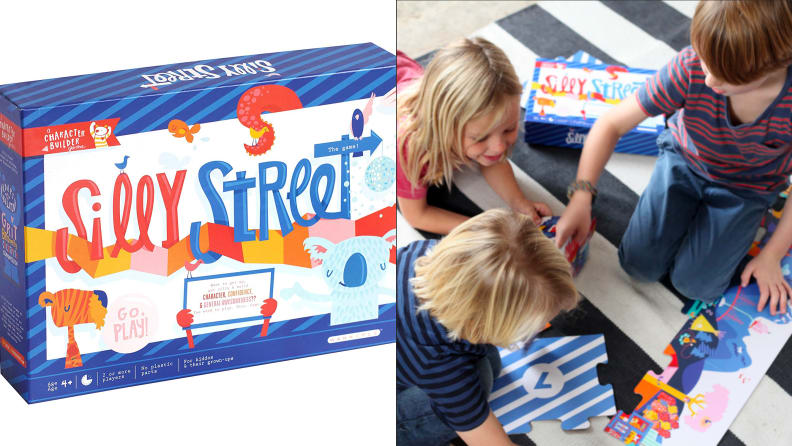 For ages: 4 and up
When you have a reluctant reader, sometimes books aren't the best motivator to get them to read. Tackling a whole book can feel overwhelming to a child who is anxious about building their reading skills. Silly Street's "silly cards" give short and sweet directions, lots of repetition of words, and visual cues. Since every card encourages goofy antics in the players, kids will be laughing even through reading errors, making for a more resilient and confident reader.
Get Silly Street at Oriental Trading for $15.97
15. AfterWORDS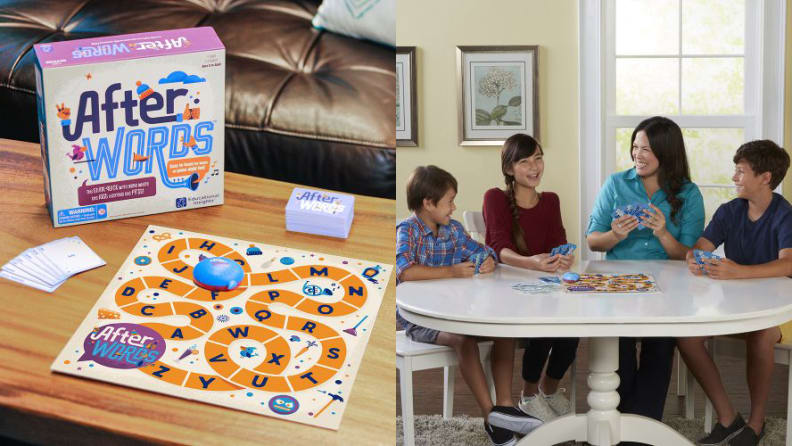 For ages: 8 and up
For building reading skills in your slightly older student—and for the family that wants to have a fun game night while they support them. This game is fun and easy to learn, yet it's challenging enough for the entire family to have a blast. Players must think fast before time runs out and name a word that begins with the letter in play on the board. This rapid vocabulary game encourages quick-thinking skills and is customizable with an adjustable timer that allows you to make the game more or less challenging, depending on the abilities of the players. Kids will love thinking of words in different categories and parents will love seeing their reader's vocabulary increase in this fast-paced game that doesn't take a ton of time to play.
Get AfterWORDS at Educational Insights for $21.99
The product experts at Reviewed have all your shopping needs covered. Follow Reviewed on Facebook, Twitter, and Instagram for the latest deals, product reviews, and more.
Prices were accurate at the time this article was published but may change over time.