26 adorable pieces of clothing that let kids show their Pride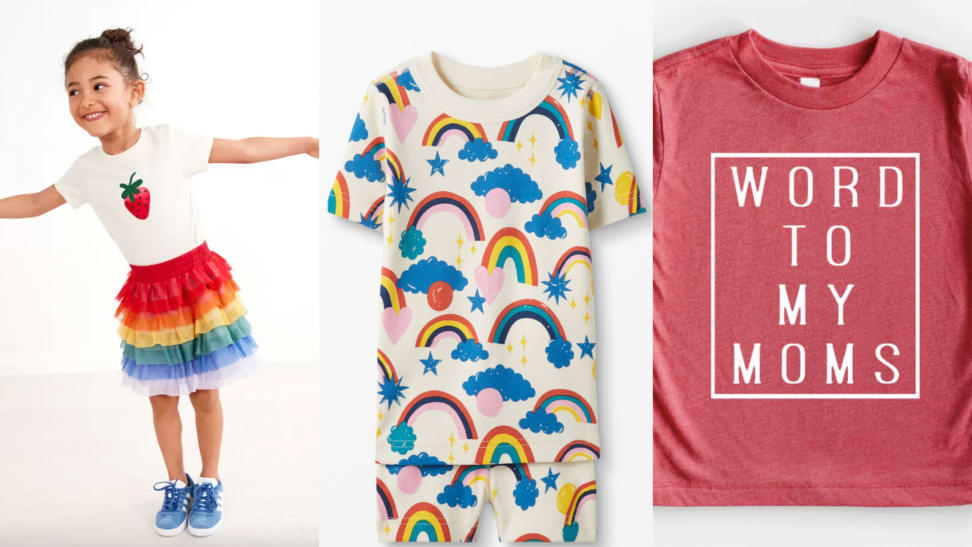 — Recommendations are independently chosen by Reviewed's editors. Purchases you make through our links may earn us a commission.
It's Pride Month, and millions of adults across the country will be celebrating and advocating for the dignity, equality, and visibility of LGBTQ+ people everywhere. But more and more young people are coming out as queer, and even more identify as allies or as members of queer families.
Save for a homemade sign and pint-sized flag, how can kids show their support for the movement? Thankfully, more and more retailers are producing kid-friendly pieces of Pride apparel, from socks to tees to tutus. Below, we run down 26 of our favorites perfect for all the tots who know that love is love, no matter what.
1. For the kid who loves Elmo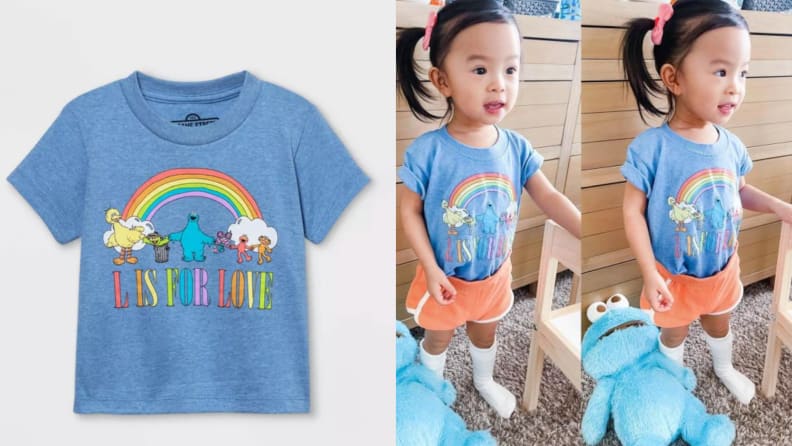 If your kid loves Sesame Street and social justice, this little number is for them. Part of Target's Pride offerings this season, the "L Is For Love" shirt boasts all their Sesame Street favorites hanging under a rainbow, and is available in sizes 2T to kids' XL. Everyone's always welcome on Sesame Street, no matter who they love.
Get a "L Is For Love" shirt at Target for $10
2. For the sweetest baby on the block
There are all kinds of families, and every kind of family should have access to its own Pride gear. That's why we like this ice cream print romper from Target. It's Pride clothing for babies that's both cute and age-appropriate, and they can wear long after June is over—provided they still fit into it. With its little rainbow ice cream cones, it's just as sweet as its wearer is bound to be.
Get the Ice Cream Print Romper at Target for $8
3. For the kid who knows that love is love, no matter what
Old Navy was one of the first mass-market retailers to produce Pride-specific shirts, so they've always been on the forefront of bringing the movement to the little ones—at least in shirt form. This year the company produced three different Pride shirts, but our favorite is one reading, "You are you. I am me. We are we. Love is love." It's a perfect message: Simple enough for a kid to understand, but also touching enough that it might even reach a few adults.
It's also available in toddler, kid, and adult sizes, meaning the whole family can get on board.
Get a We Are We shirt at Old Navy for $6
4. For future tattoo artists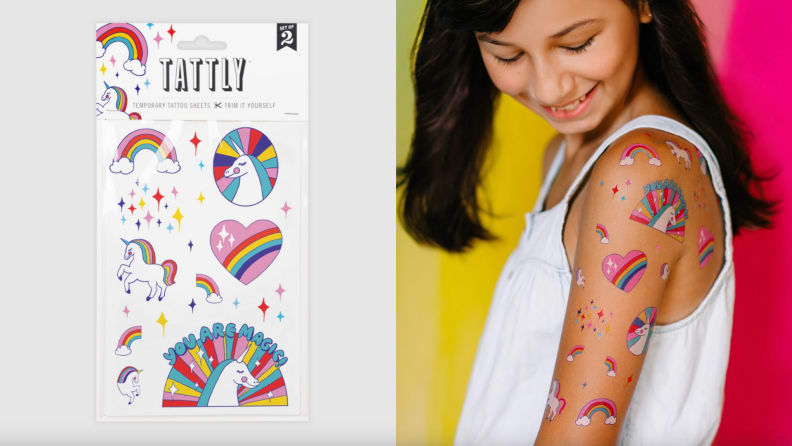 It's a truth universally acknowledged: Kids love fake tattoos. That's why we love these rainbow unicorn tattoos from Tattly. They're not Pride-specific, but that's cool: Repping subtly can be just as effective, assuming it comes with conversation. And if unicorns aren't your kid's thing, Tattly has a whole range of cool rainbow tattoos perfect for any Pride occasion.
Get a set of Rainbow Unicorn Tattoos at Tattly for $10
5. For kids who rep even in their sleep
Hanna Andersson has a whole bunch of rainbow-friendly items, from swimsuits for babies to dresses for big kids. We're partial to this pair of rainbow stripe long john pajamas, because Pride month doesn't stop just because your parents say it's bedtime. This particular set is shorts and a T-shirt because June can get hot, but they have it in pants and long sleeves as well.
Get Rainbow Pajamas at Hanna Andersson for $42
6. For the kid who loves a dress, no matter their gender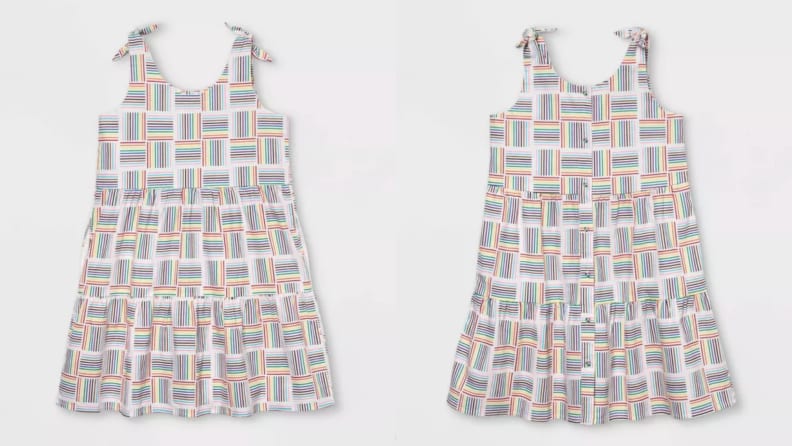 Target really won us over with this item, which is listed as a "gender inclusive kids' dress." Dresses aren't just for girls anymore! Available in kids' sizes small to XL, the sleeveless shift boasts a subtle rainbow basketweave plaid, a drop waist, and ties on the shoulders, and would be great to wear to the pool, playground, or anywhere else that gender norms need smashing.
Get the Pride Inclusive Kids' Dress at Target for $18
7. For the kid who loves to twirl
Fun and swishy, Hanna Andersson's rainbow tulle tutu skirt would be perfect Pride parade wear—or, really, perfect anytime wear. The company says it's "hand-me-down quality," and purchasers on the HA site have noted that they've bought it for both their rainbow-loving daughters and sons.
Get a Rainbow Tulle Skirt at Hanna Andersson for $26.60
8. For the future activist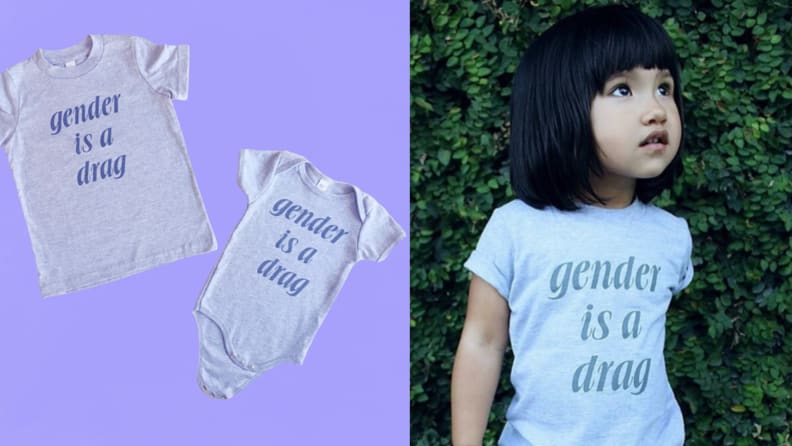 Available as both a onesie and a T-shirt, this "gender is a drag" shirt is cool for a number of reasons. First, it's a poignant message, and one that could lead to some interesting conversations with your kid—and with other families. Second, the company that makes the shirt, Otherwild, is a self-described "queer-identified woman-owned store, design studio and event space located in Los Angeles and online, centering ethics at the core of our business," so a purchase of this shirt not only supports a queer-friendly cause, but a queer-friendly business. Isn't that what Pride is all about?
Get a Gender Is A Drag shirt at Otherwild $15
9. For the Spanish-speaking kid who knows what's up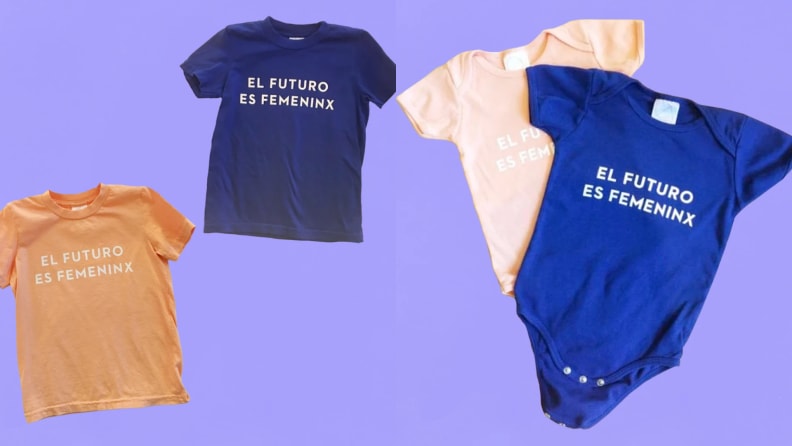 Another Otherwild creation, this "el futuro es feminine" shirt translates to "the future is female." As the company explains, "'feminine' has two meanings [in Spanish], those being the one that indicates the sex of a person and the feminine essence of something or someone. Depending on who is speaking, we would apply the word feminine or feminine since in Spanish we always imply gender. Trying to be more inclusive of all genders we have put an 'x' instead of an 'a' or 'o.' By putting the 'x' we are also challenging the idea that the 'future' is masculine." Pretty cool, right?
Get a Femininx shirt or onesie at Otherwild for $25
10. For the kid who cares about multiple issues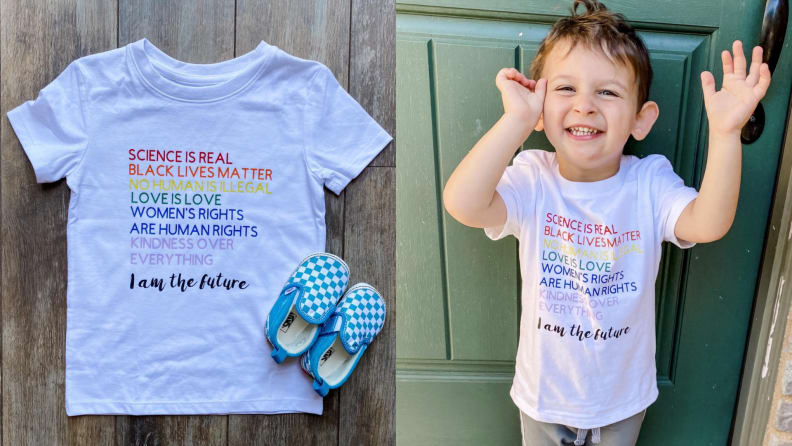 If your kid believes, as the popular yard signs say, that science is real, Black lives matter, no human is illegal, love is love, women's rights are human rights, and that we should value kindness over everything, then they're hopefully the future leaders of tomorrow. And, of course, there's a T-shirt for them. This Etsy item boasts all the above statements, and is available in toddler, kids, and even adult sizes.
Get an I Am The Future T-shirt on Etsy for $20
11. For the kid with two moms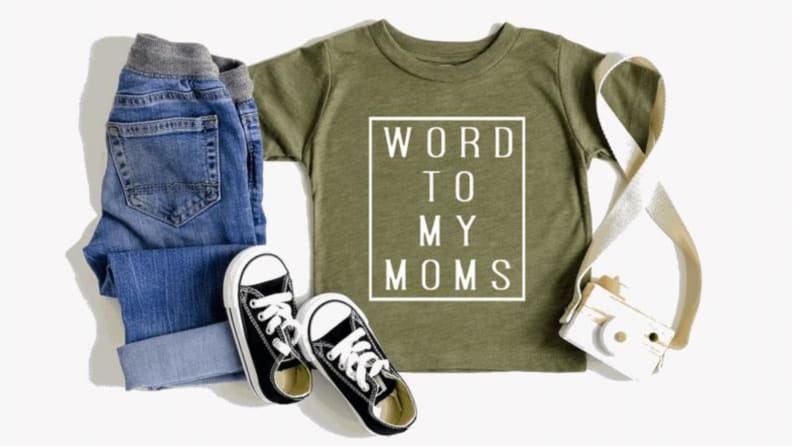 A smartly designed tee that's available in all sorts of gender neutral colors, this "Word To My Moms" tee is the perfect winking hip-hop reference that'll get the adults at the Pride parade chuckling. Visitors to this store also report that the shirts are so soft, and that purchases arrive quickly, which is always a nice perk.
Get the Word To My Moms tee on Etsy for $20
12. For another kid with two moms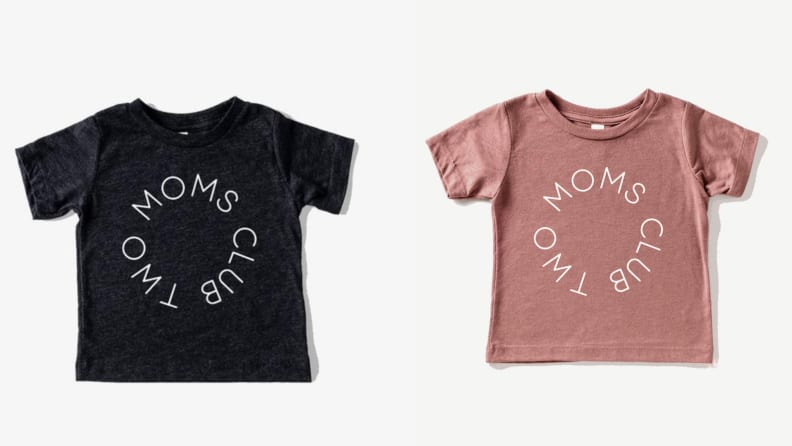 Another chic shirt from the same seller, "Two Moms Club" celebrates just that—having two amazing, loving moms who care for you. While this shirt is certainly Pride-appropriate, it can also be worn all year long, and is even available on a three-quarter sleeve baseball tee.
Get a Two Moms Club shirt on Etsy for $20
13. For the kid who loves SpaceX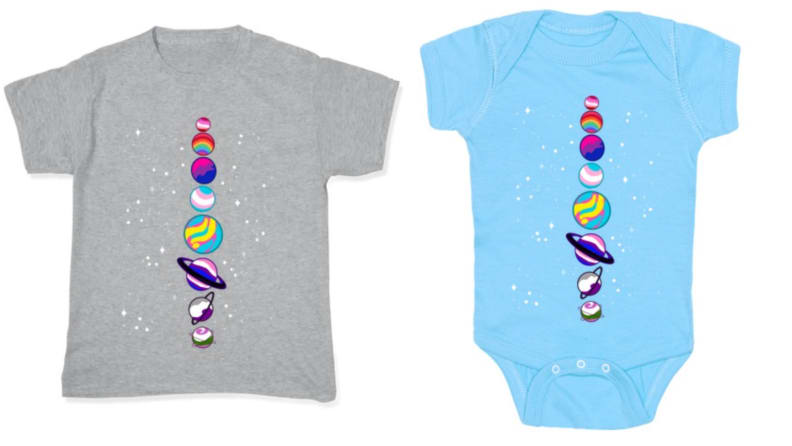 Got a nerdy kid who also wants to shout out their pride? Lookhuman's LGBTQ+ Planets shirt features the eight planets of our solar system (R.I.P. Pluto's status), each of which boasts a different color scheme based on a different orientation. That makes it kind of a deep cut for the average person on the street, but for those in the know, it's a great reference. As a bonus, this design also comes on a onesie.
Get an LGBTQ+ planets shirt at Lookhuman starting at $13.99
14. For kids of queer parents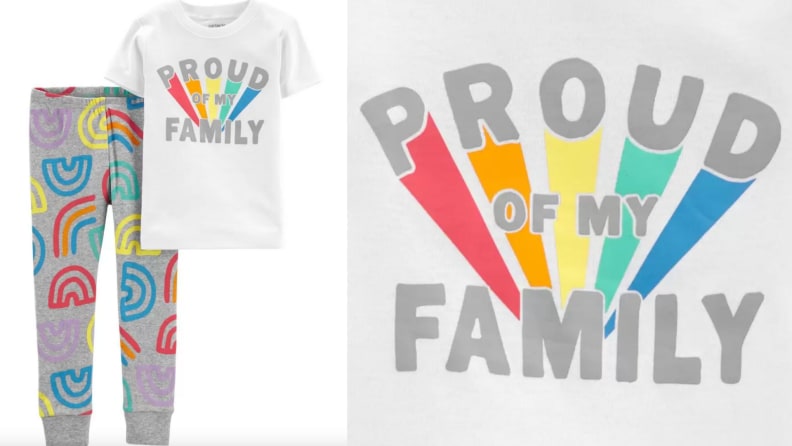 Carter's is back in the Pride game this year with a sweet little set of rainbow jammies with the motto "Proud Of My Family," complete with rainbow pants. Carter's pajamas are always a solid choice for kiddo sleepwear, and being able to double down and get something cute and pro-equality makes this set a no-brainer.
Get Proud Of My Family jammies at Carter's for $12
15. For the kid who loves everyone, no matter who they are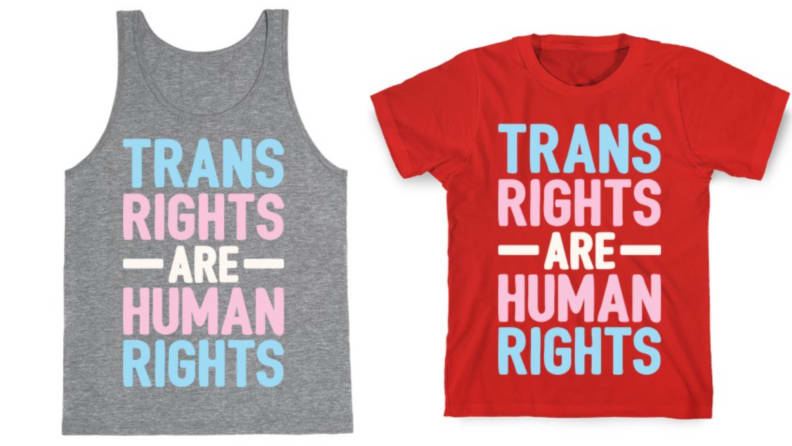 This year alone, over a dozen states have passed laws restricting the rights of transgender youth and transgender athletes. If your kid's been affected by these laws or even if they just believe that trans rights are human rights, then this shirt could be a great way for them to speak out and let the world know how they feel.
Get a Trans Rights Are Human Rights shirt at Lookhuman for $13.99
16. For tiny tots with kind thoughts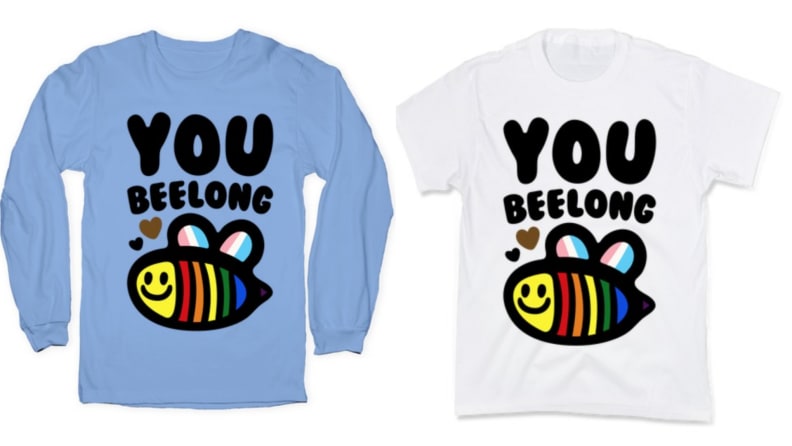 Pride is for all ages, and that's why we like this adorable bee tee from Lookhuman. Reading "You Beelong" and bearing a rainbow striped bee, it's perfect for everyone from the tiniest of tots to the hippest of old people. It's cute without being cloying, and it gets its message across with a little wink of adorableness.
Get a You Beelong shirt at Lookhuman for $13.99
17. For the kid who wants to walk for justice
No stranger to the equality game, Bombas has once again produced a line of Pride socks for the whole family. They've got tiny booties for babies, gym socks for adults,and grippers for toddlers.
Personally, we're feeling the pack they're offering for bigger kids, which features six different pairs of socks, each emblazoned with a motif inspired by the Pride flag. They're all incredibly fashionable, and, frankly, you're going to want a set for yourself. Best of all, for each purchase, the company donates six specially designed pairs of socks to someone affected by homelessness in the LGBTQ+ community.
Get a six pack of Pride Socks at Bombas for $34.20
18. For budding botanists
An off the wall tee for an off the wall kid, Lookhuman's "Plants against gender norms" is the perfect "huh?" shirt for anyone who loves questioning authority. It's also perfect for kids who love to help in the garden, or who can get down with a good hike. As the listing says, "Plants don't give AF about your gender norms. They're beautiful in all their expressions!"
Get a Plants Against Gender Norms shirt at Lookhuman for $13.99
19. For the kid who writes their congressperson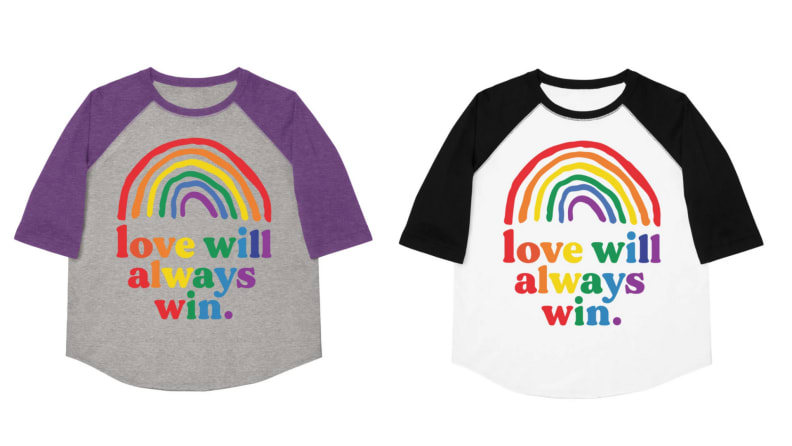 It might not always feel like it—in fact, most of the time it doesn't—but things are slowly, slowly changing for the better in terms of LGBTQ+ equality. Some lawmakers might be pushing back against the rising tide of change, but ultimately, we have to believe that, as this Free To Be Kids shirt says, "Love Will Always Win."
Get a Love Will Always Win baseball tee at Free To Be Kids for $19.95
20. For the kid who loves a statement rainbow
While National Pride Month happens in June, in some places, the actual Pride parades don't happen until later in the year. In San Diego, for instance, they're in March. It's important to be prepared for all kinds of weather when you're going out to celebrate Pride, and that's why we love this Rainbow cardigan from Mitz Kids. Made of soft knit wool and available for kids up to 10, this cardigan would be great for chilly summer nights, and for continued wear even after Pride. It's so darn cute, it would be a shame not to sport it.
Get a Rainbow cardigan at Mitz Kids for $32.99
21. For the sporty kid who loves labels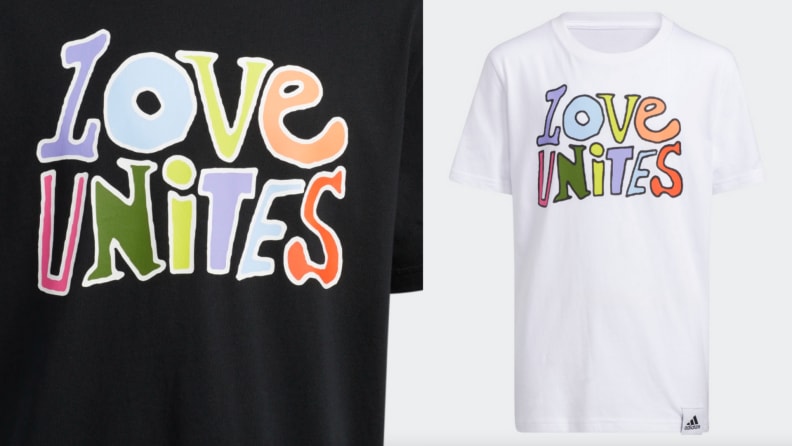 Another longtime Pride supporter, Adidas has released its entry into the marketplace this year, and it's pretty cute, especially if you've got a sporty kid who loves the brand. The "Love Unites" shirt is made of soft cotton and, as the listing says, is meant to remind people that "Love isn't just hearts and flowers. Love is a powerful force that guides growth, change and connection."
Get a Love Unites T-shirt at Adidas for $20
22. For the growing kid with footwear flair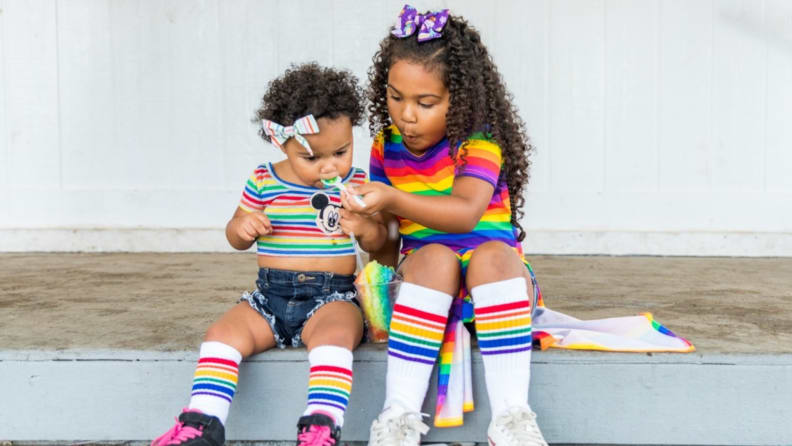 Here's a universal truth: Kids grow. And when kids grow, you inevitably need to buy them bigger clothes. This pair of Pride Socks seeks to alleviate that burden, at least somewhat. These non-slip socks can be worn by kids from infancy until they're about 5. According to the listing, the rainbow tube socks are about 10 inches long total, and will "be thigh-high for infants, over-the-knee for toddlers 1 to 3 years old, and knee-high for kids 3 to 5 years old." Pretty cool, right? They've also got little rubber hearts on the bottom that help kids grip.
Get a set of Rainbow Non-slip Socks at Pride Socks starting at $10
23. For a pride princess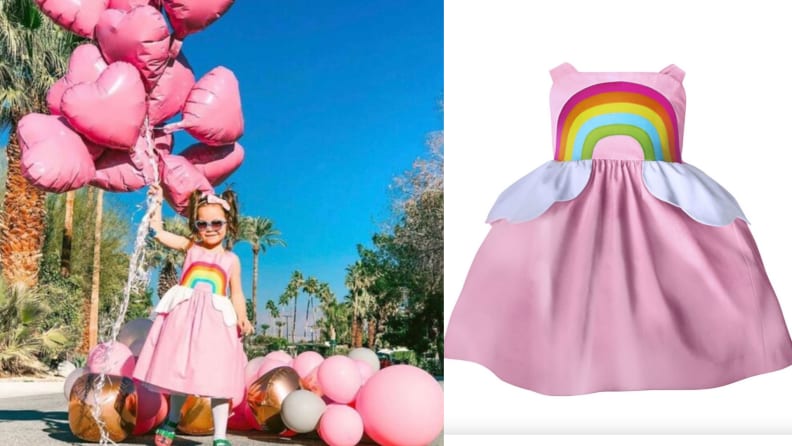 The perfect princess sundress for anyone with a flair for fashion, this Little Goodall dress boasts a rainbow bodice and cloud peplum. It's perfectly pink, and even contains a petticoat to add a little oomph to the skirt's volume. Available for kids from 1 to 9 years old, this dress would look sensational at any Pride event, any birthday party, or in any over-the-top playroom production of Cinderella.
Get an Over The Rainbow sundress at Maisonette for $85
24. For the jewelry mavens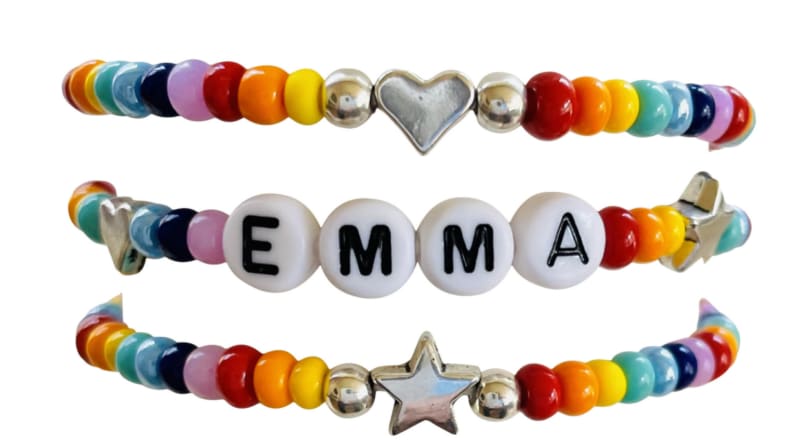 For the kid who loves to accessorize, we recommend this three-piece rainbow bracelet set from Risa's Pieces. It can be fully customized to feature whatever name or phrase the wearer wants, and is made to order when purchased. It's like a friendship bracelet, but without the hard work.
Get a rainbow bracelet set at Maisonette for $36
25. For the tie-dye trendsetters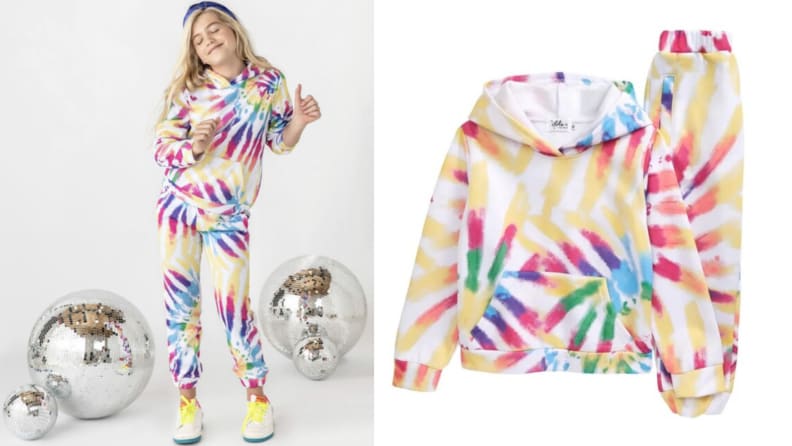 Tie-Dye is everywhere right now, especially in kidswear. That's why we've picked this extremely now rainbow tie-dye jogger set for our Pride list. It's cute, comfortable, and would be great for any kid looking to strut their stuff this Pride.
Get a Rainbow Tie-Dye Jogger set at Maisonette for $62
26. For fans of RuPaul's Drag Race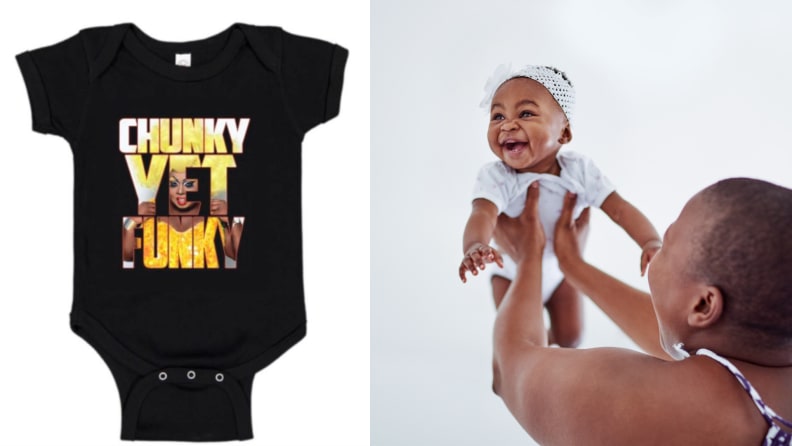 We'd be remiss if we didn't include at least one item of clothing on this list from someone who's appeared on RuPaul's Drag Race. Though only a few queens have made clothing both appropriate for and sized to fit kiddos, the ones that have gone the extra mile have done so with flair.
We're particularly partial to Latrice Royale's baby onesies, including the one that bears one of her catchphrases, "Chunky yet funky." Perfect for edible little baby thighs and trips to RuPaul's Drag Con, this onesie screams "I might be barely holding my own head up, but that doesn't mean I don't have taste."
Get a Chunky Yet Funky onesie at Latrice Royale for $25
The product experts at Reviewed have all your shopping needs covered. Follow Reviewed on Facebook, Twitter, and Instagram for the latest deals, product reviews, and more.
Prices were accurate at the time this article was published but may change over time.