School is out and camps are closed, find eight ways to keep the kids entertained this summer with our Camp Mom
School is out and camps are closed, find eight ways to keep the kids entertained this summer with our Camp Mom activities. We're back with week two and we've got some great ideas to keep the kids from driving you batty.
Related: Get Week 1 Activities Here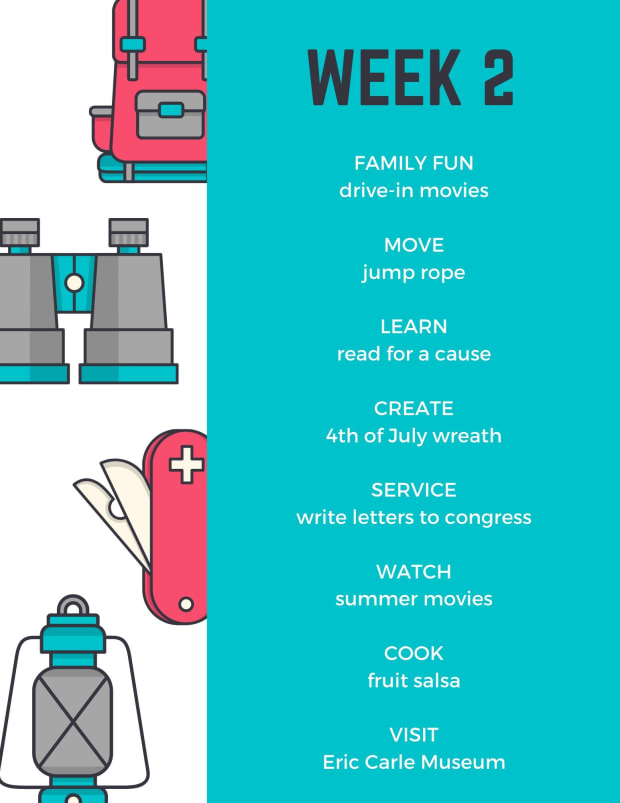 Family Fun: Head to a Drive in Movie
This week embrace the retro way to see a movie. There are currently only about 330 drive-in theaters that remain in operation in the United States (back in the 1950's there were over 4,000 drive-ins). Added to the classic theaters, many "pop-up" drive-ins have come on to the scene when traditional movie theaters shuttered. Look up the nearest drive in at https://www.driveinmovie.com/ or see if your neighbors know of a local spot that's showing outdoor movies. You can also create the same vibe by hosting an outdoor movie night in your driveway. Hang a sheet up and gather the lawn chairs for a viewing of a summer classic like  Jurrasic Park. Head here to get all the information you need for your family drive in.
Move: Jumping Rope
Jumping rope does wonders for building strength, and increasing overall muscle tone. Try a 21-day jump challenge with prizes. Start the kids on 5 minutes and add a minute each day!  Did you know there are nine ways to jump rope? Since we were talking about jump roping, start with a cool Double Dutch video. Head here to get a set of 6 for the whole family. I also love this set of two fully adjustable ropes. 
Learn: Connecting with Congress
Activism is in! Start with this old school schoolhouse rock video, then help your kiddos locate who represents your family in congress. There are a total of 535 Members of Congress. 100 serve in the U.S. Senate and 435 serve in the U.S. House of Representatives. First, look up who represents you and then have your kids send an email or postcard sharing a concern or idea.
Find your senator here www.senate.gov/senators/index.htm
Find your state representative here www.house.gov/representatives/find-your-representative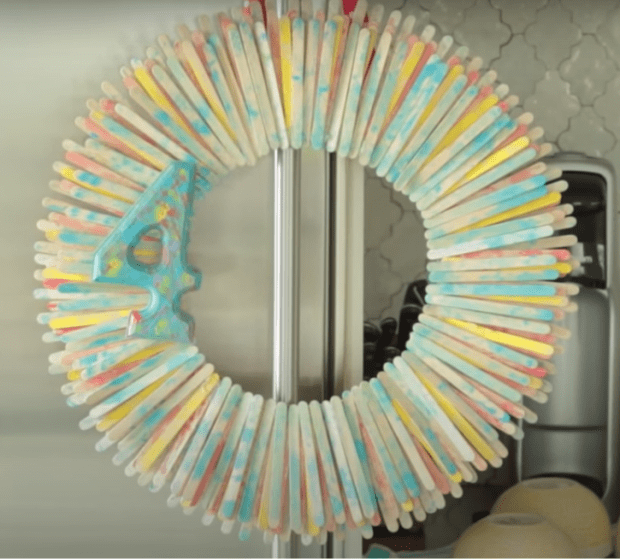 Create: 4th of July Fireworks Wreath
With Independence day coming up, it's the perfect time to create this DIY ornament for your door. Here's what you need:
Popsicle sticks (about 400--- a pack of 100 goes for $1!)
Paintbrushes
Paints
Wreath base
Hot glue
Ribbon
Get the directions here: www.momtrends.com/do/craft-corner-video-4th-of-july-firework-wreath
Service: 100 Days of Reading
Did you know that millions of children in America don't own a book? You can help! Simply read and log your minutes – every minute added will unlock books and educational resources for kids in need. Read with your children (or on your own!) and enter the number of minutes. Bookmark this page so you can come back daily! Get details here www.savethechildren.org/us/more-ways-to-help/read-a-story. 
Watch: Movies of Summer
Since you are setting up the outdoor theater, you're going to need some great movies. Head here for the list of the best-summer-movies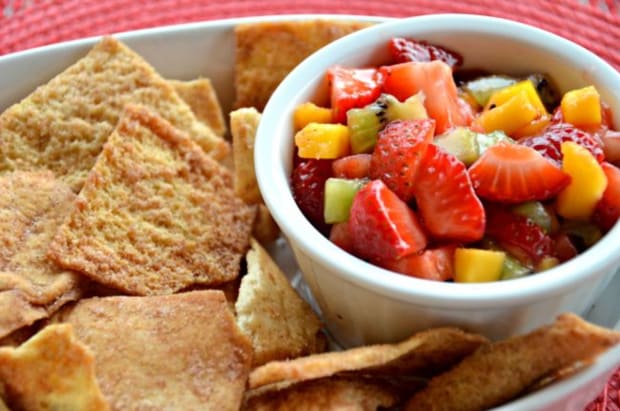 Cook: Make Fruit Salsa
We got this inspiration from a kid's cooking subscription kit. It's a healthy treat that even little ones can help make. Ingredients:
Strawberries (1 medium package)
Mango (1)
Kiwi (2)
Strawberry Jam - 2 tablespoons
Cinnamon sugar pita chips
Directions:
Chop your mango, kiwi and strawberries.
In a medium bowl mix your fruit with about 2 tablespoons of strawberry jam.
Serve with cinnamon sugar pita chips for dipping.
Visit: A virtual visit to the Eric Carle Museum
One of our all time favorite children's museums is the Eric Carle  museum in Amherst, MA. The Eric Carle Museum of Picture Book Art is a museum devoted to the art of the picture book and especially the children's book. If you can't make it to this magical spot, you can still pop into Carle's world and enjoy an online visit. They also have online book readings on their YouTube channel here. 
WHAT MOMTRENDS SUMMER CAMP
What will you get every week? Here's a look at our offerings each week. You've got to sign up to be linked to all the resources from Camp Mom this summer. Sign up for your weekly email here.
MORE KID-CENTRIC FUN FROM MOMTRENDS
PIN IT!
Need more ideas on what to do with the kids? Be sure to follow our Activities to Do with the Kids board on Pinterest here.