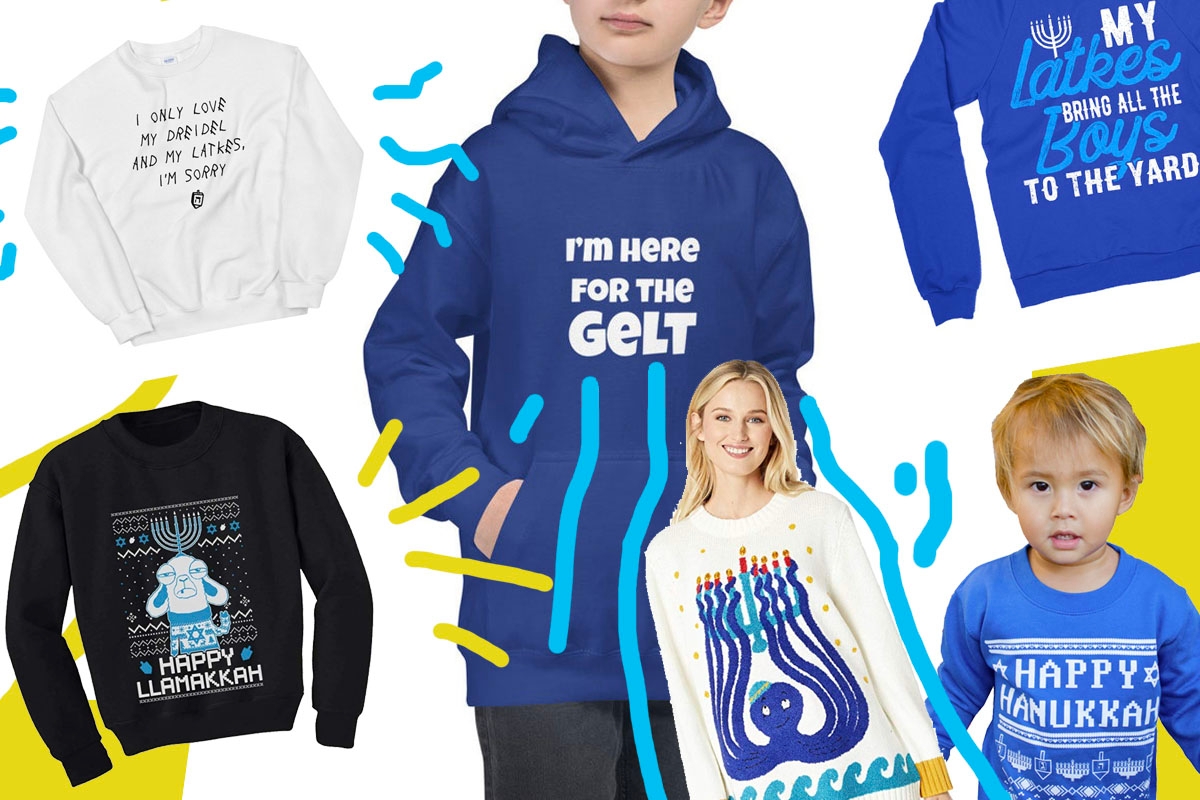 For me, the most exciting thing about Hanukkah, which is coming up on December 10, is getting to wear my Hanukkah sweaters every day.
I love, love, love Hanukkah sweaters. I grew up in Israel, so they just don't have the tacky Christmas party connotation for me. In fact, I wear some of my more fashionable Hanukkah sweaters all year round. Especially during quarantine, I've found comfort in my cozy, old Hanukkah sweaters — which nobody can judge me for wearing months in advance, because no one can see me anyway. Mwahaha.
Unfortunately, my favorite Hanukkah sweater company, Gelt Fiend, stopped making their gorgeous knit sweaters (seriously, they were inspiring works of art — one sweater even had actually gold gelt on it!). Let's be frank for a second, a lot of Hanukkah sweaters? They're bad. I mean, really, really bad. From using non-Hanukkah-related Jewish puns like "meowzel tov" to some slightly antisemitic stereotypes ("gelt digger?!"), these terrible sweaters are just super fetishizing and inappropriate. It's almost like… there's a non-Jewish person making all of these sweaters? Hmmm…
But, after wading through all the bad options, I've managed to pull together the creme de la creme of Hanukkah sweaters — or at least, a few fun, topical ones that you and your family might get a kick out of. So get ready for maximum Hanukkah cozy-ness:
Baby and Kids Sweaters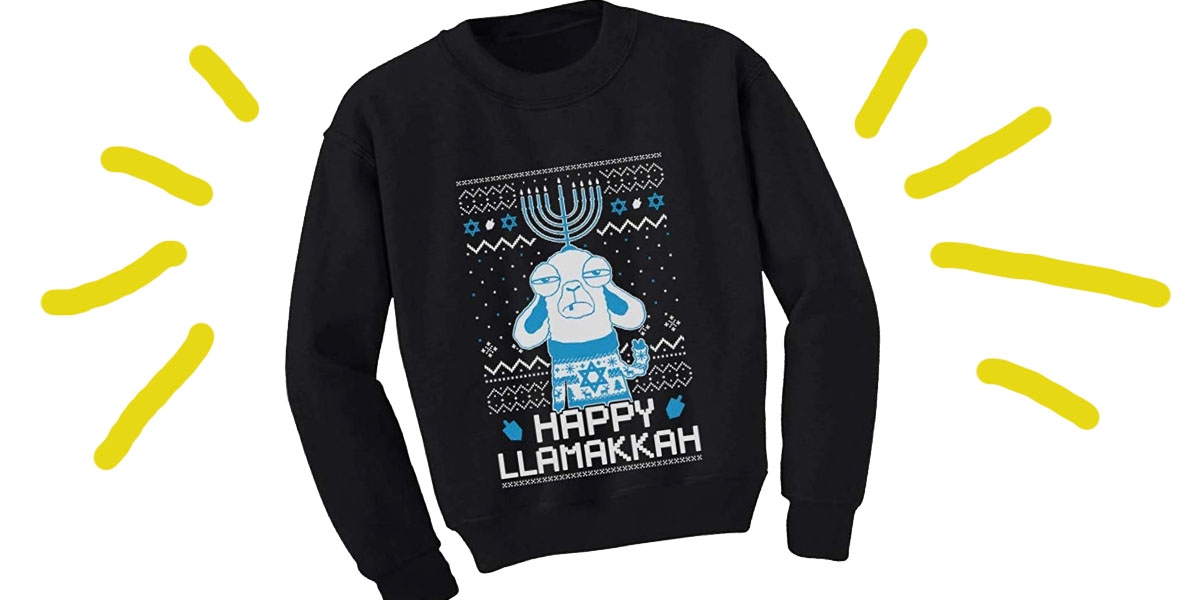 This youth-sized Hanukkah sweater has a llamakkah on it, which is a Hanukkah llama. As I mentioned in our
Hanukkah pajamas list
, I am not sure where the llamakkah came from, but llamas are adorable, so I'm here for the llamakkah. Also,
lama
means "why" in Hebrew, which works well for this somewhat confusing trend. And I truly love the ridiculous facial expression on this particular llamakkah.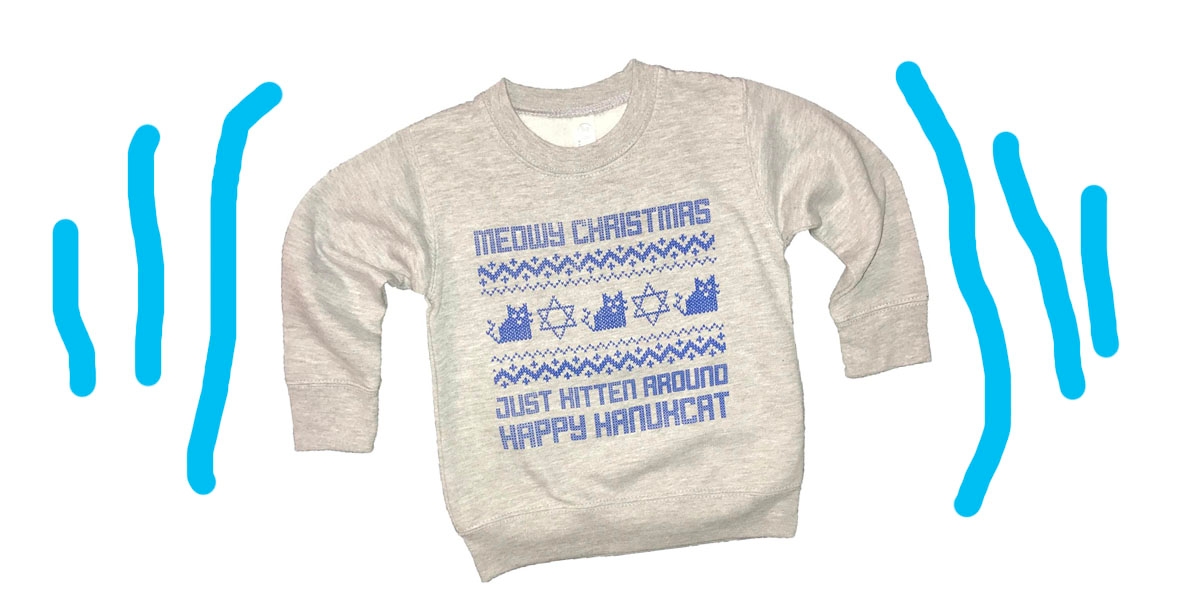 Meowy Christmas, Just Kitten Around, Happy Hanukcat Hanukkah Top (Etsy)
Do your kids love cats? Well, this Hanukkah sweatshirt —which has, quite literally, all the cat puns on it — is perfect for them!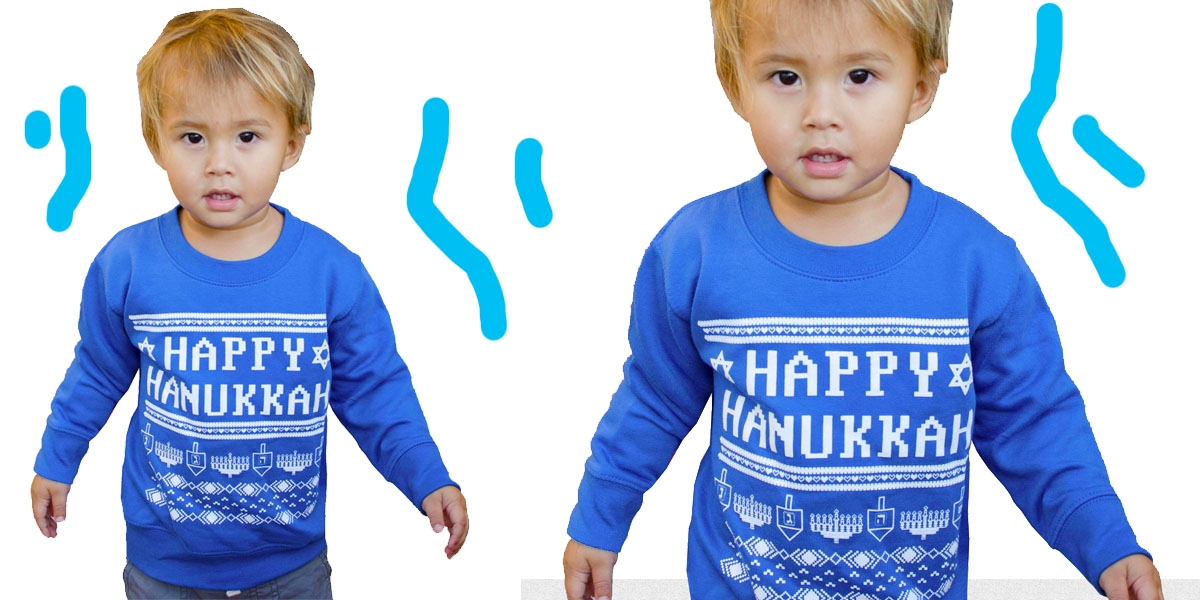 It's blue. It's white. It's got dreidels and menorahs. It's the most basic Hanukkah sweatshirt. And sometimes, that's exactly what you want.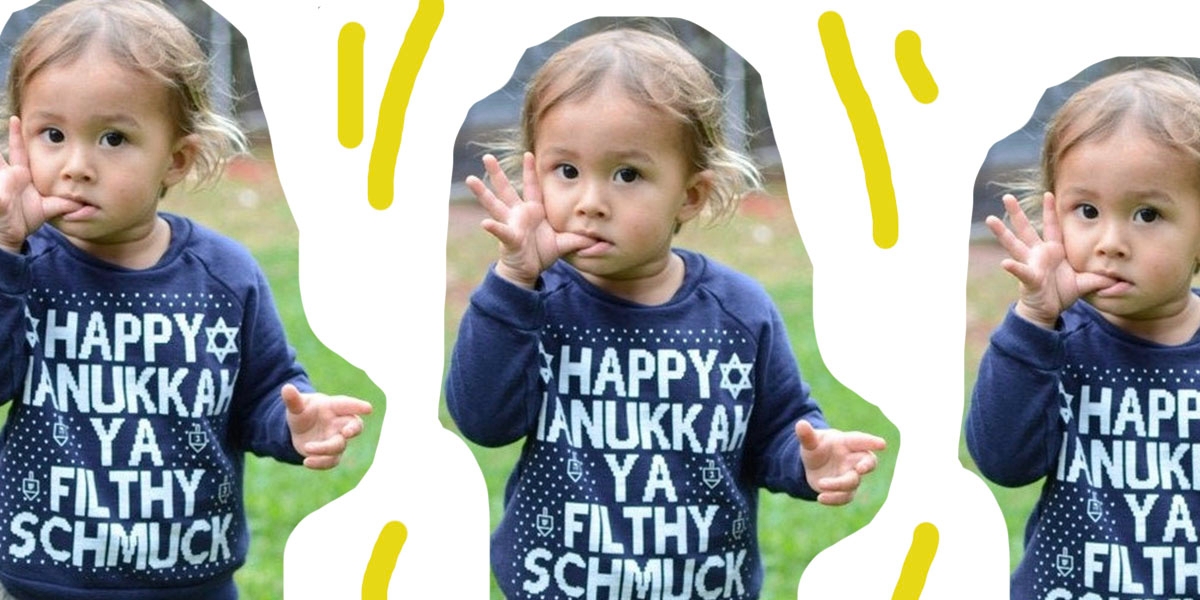 Let's face it — for some moms, there's nothing like putting a sassy, profanity-adjacent shirt on a baby. And the sassy Jewish-ness of the word "schmuck" just works for Hanukkah. This is the perfect Hanukkah kids' sweater for a very specific crowd, and if you're part of that crowd, you already know you need this.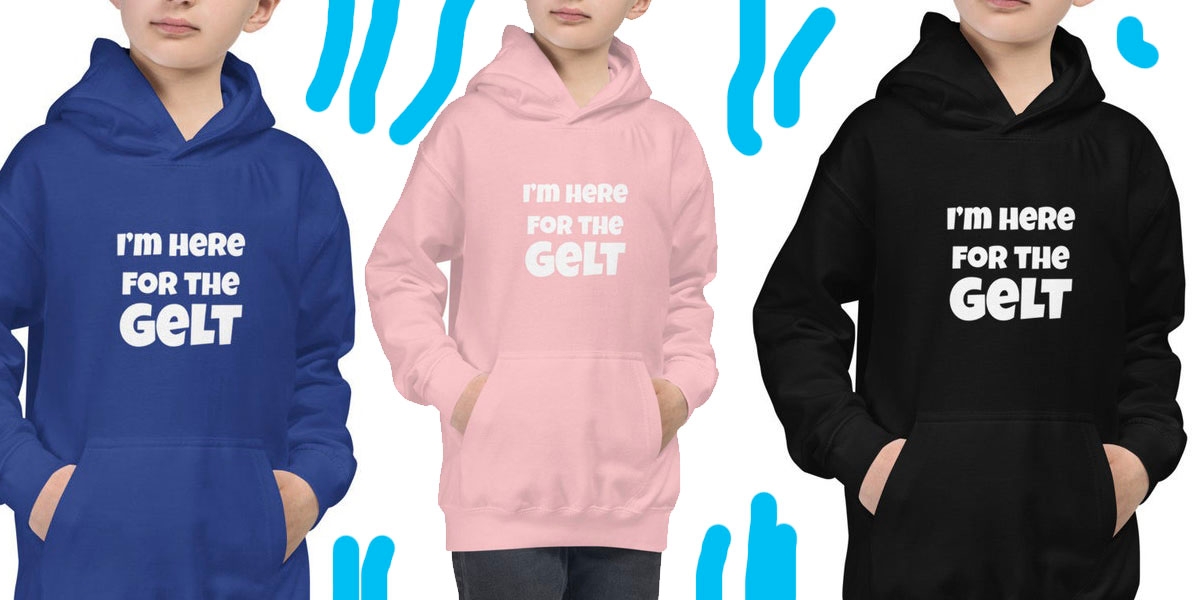 Hanukkah kid's hoodie, I'm Here for the Gelt (Etsy)
I'm not a fan of "gelt digger" sweaters, but I like a child that announces what they're at the party for, and if they're all about those chocolate coins, so be it. This hoodie will definitely get a chuckle at the family Zoom holiday party.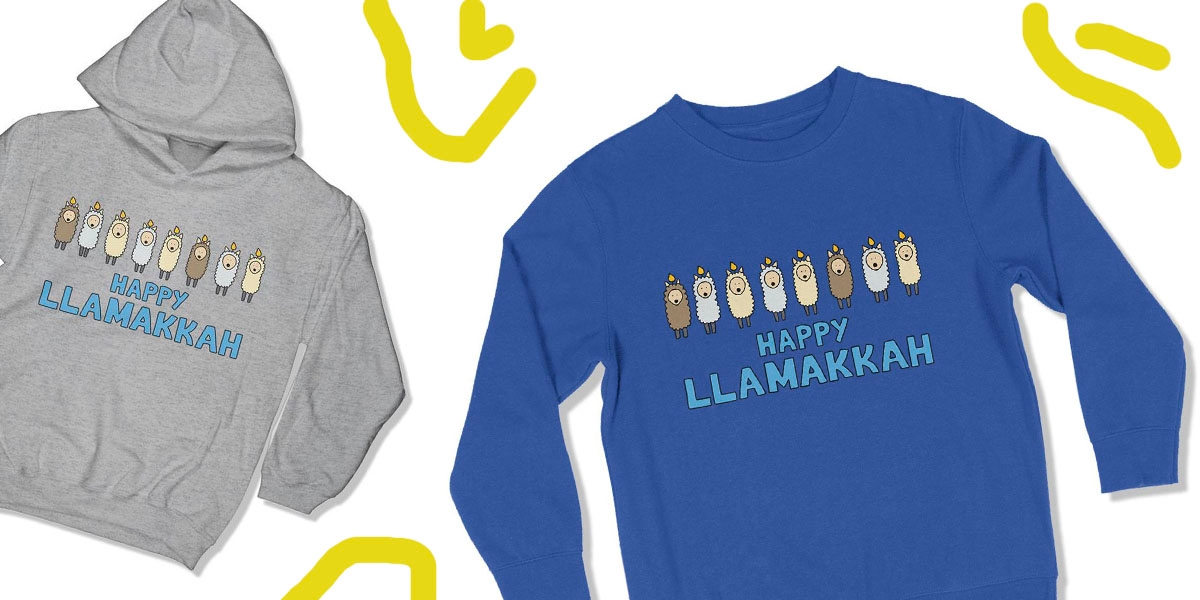 Happy Llamakkah Toddler / Kids Hanukkah Sweatshirt / Hoodie or Crewneck (Etsy)
This Happy Llamakah sweater is a bit on the pricey side, but I love the eight cartoon candllamas (that's candle llamas, yes) on it.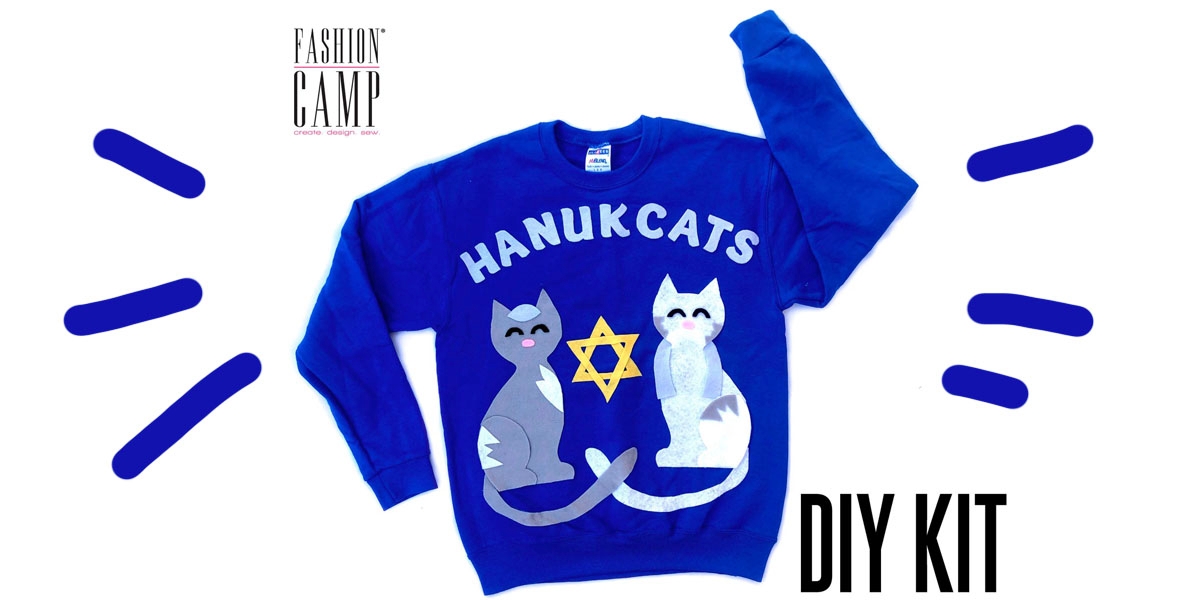 Hanukcats & Llamakkah DIY Hanukkah sweater kits (Etsy)
What's better than a new Hanukkah sweater? Turning an old plain sweater into a Hanukkah one, of course! These two kits either allow you to make adorable cat or llama-themed Hanukkah sweaters and honestly, they're just so friggin' cute. This is the perfect Hanukkah for a crafting project, and we can't think of a better one than this!
Grown-Up Sweaters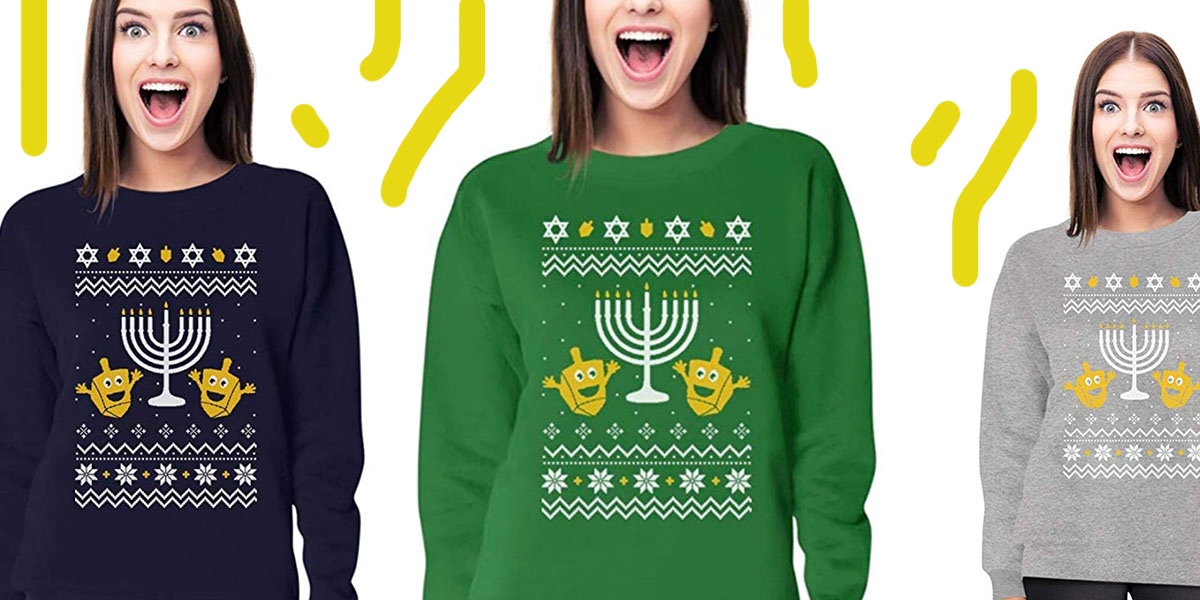 Surprised dreidels! Menorahs! A cheap Hanukkah sweatshirt that isn't trying to do anything new, but is fully functional and kinda cute. I'll take it.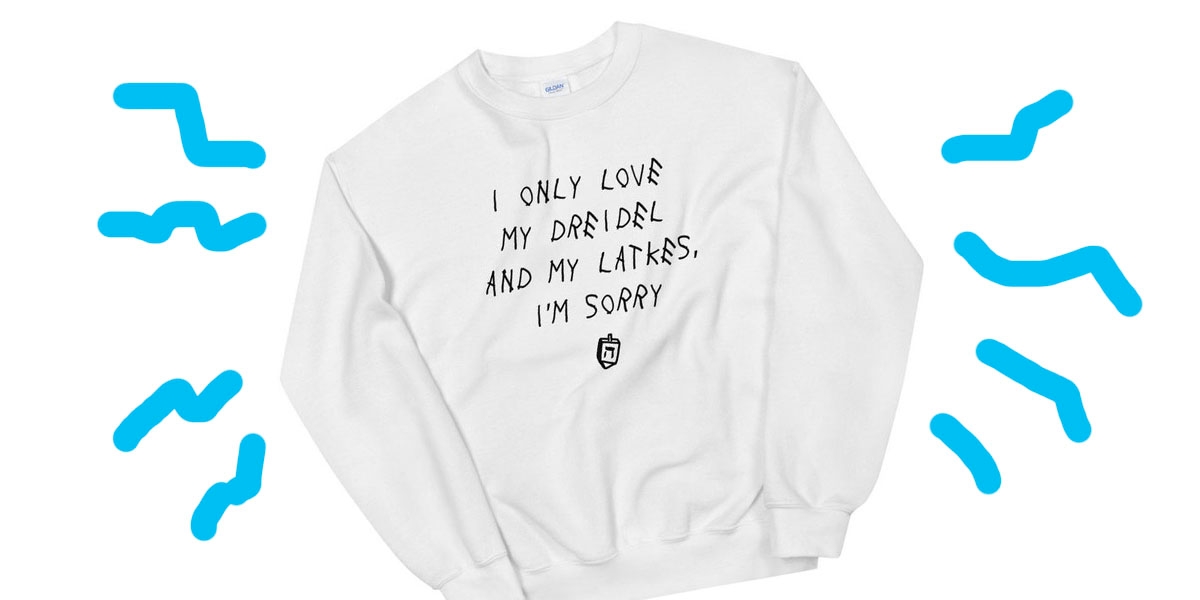 I Only Love My Dreidel and My Latkes I'm Sorry, Hanukkah sweater (Etsy)
This one's for the Drake lover in your family. This one uses the scribbles featured on the cover of the Jewish rapper's mixtape, "If You're Readin This It's Too Late," and it riffs off a lyric from his song,"God's Plan." ("I only love my bed and my mama, I'm sorry" — he's talking about his Jewish mom, aw!) Plus, the Hanukkah sentiment behind this particular sweatshirt is relatable for anyone.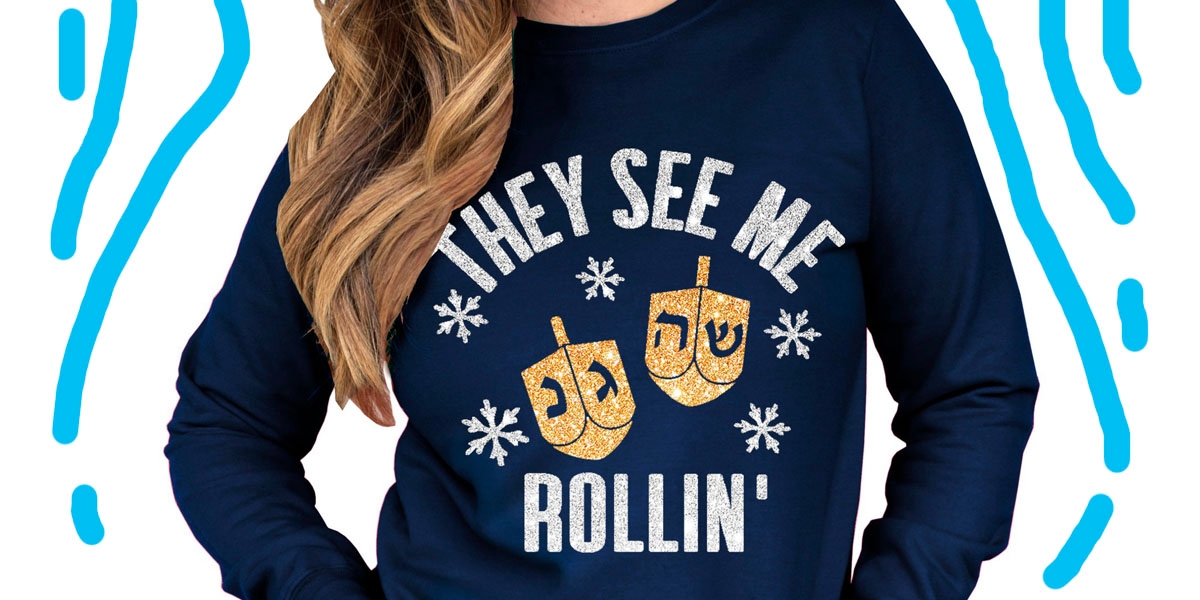 They SEE ME ROLLIN Hanukkah Sweatshirt (Etsy)
Hip hop and R&B puns have become a quintessential part of the Hanukkah sweater. "They see me rollin'" just works well, both as a reference to the Chamillionaire and Krayzie Bone song, and your excellent sweater and dreidel game!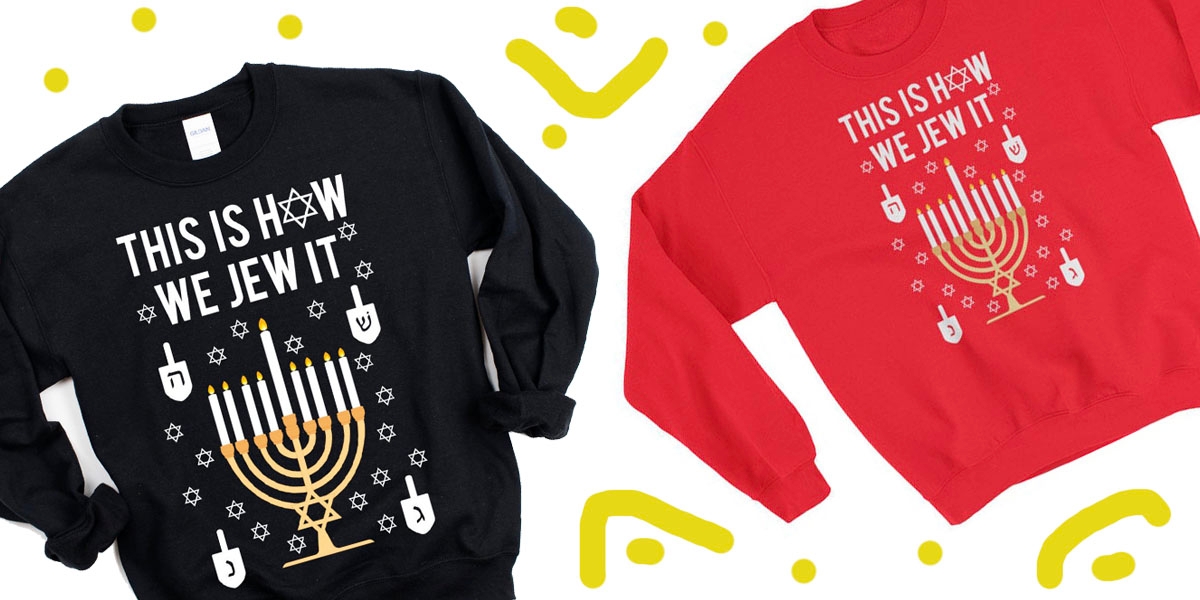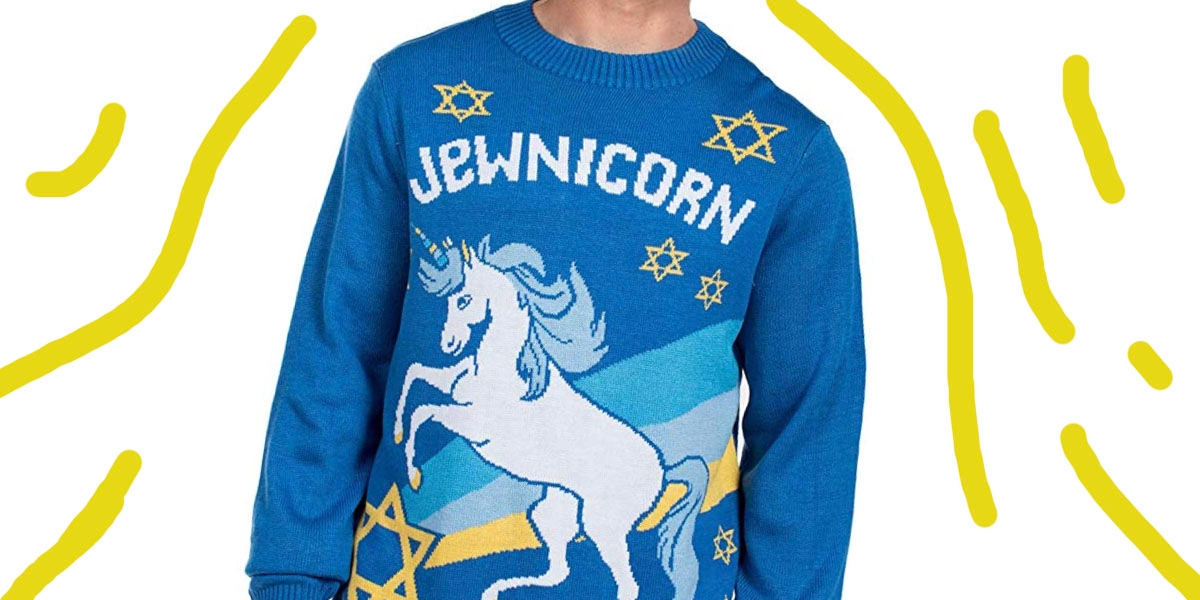 Men's Funny Jewnicorn Hanukkah Sweater (Amazon)
I'm not sure what to make of the Jewnicorn pun. It's not at all Hanukkah-related, but if you're the rare Jew at the Zoom Christmas party, this may be the perfect sweater for you!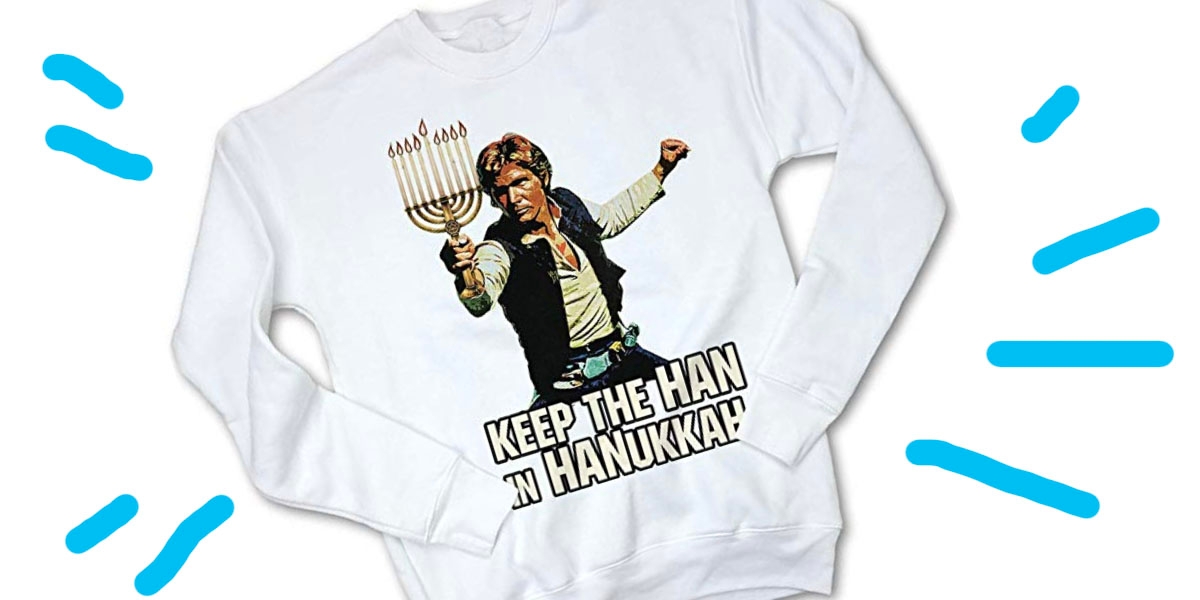 A Han Solo pun. This is the ideal Hanukkah sweater for the Star Wars lover in your family.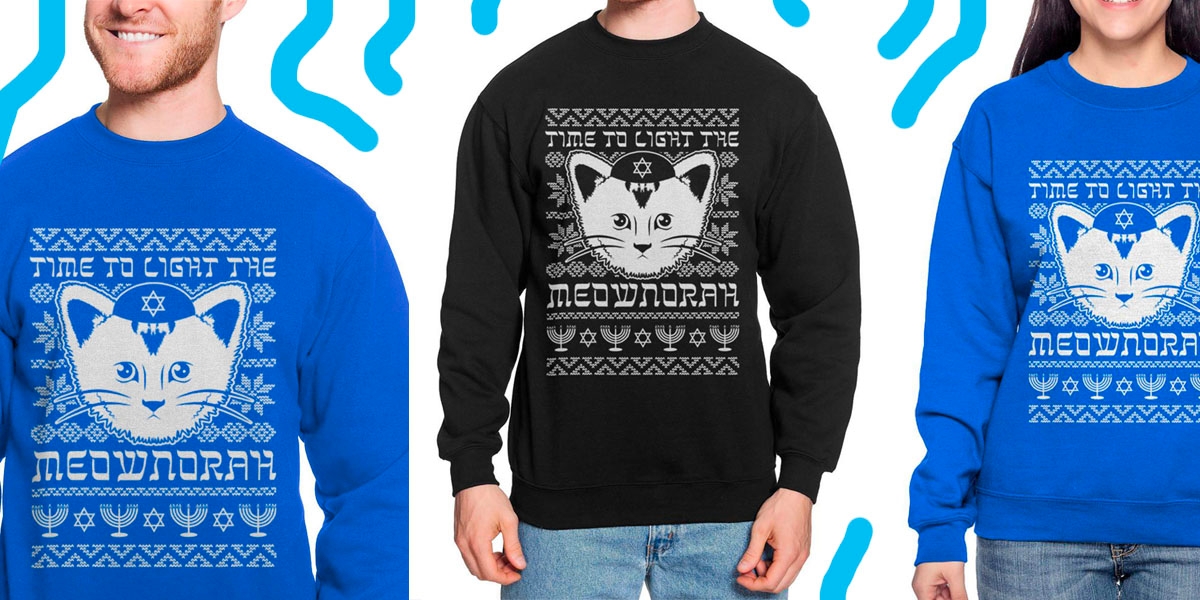 Time To Light The Meownorah Sweater (Etsy)
Unlike "meowzal tov," here's a good and appropriate Hanukkah cat pun. This cat looks very serious about his menorah lighting duties, and I'm not mad at it.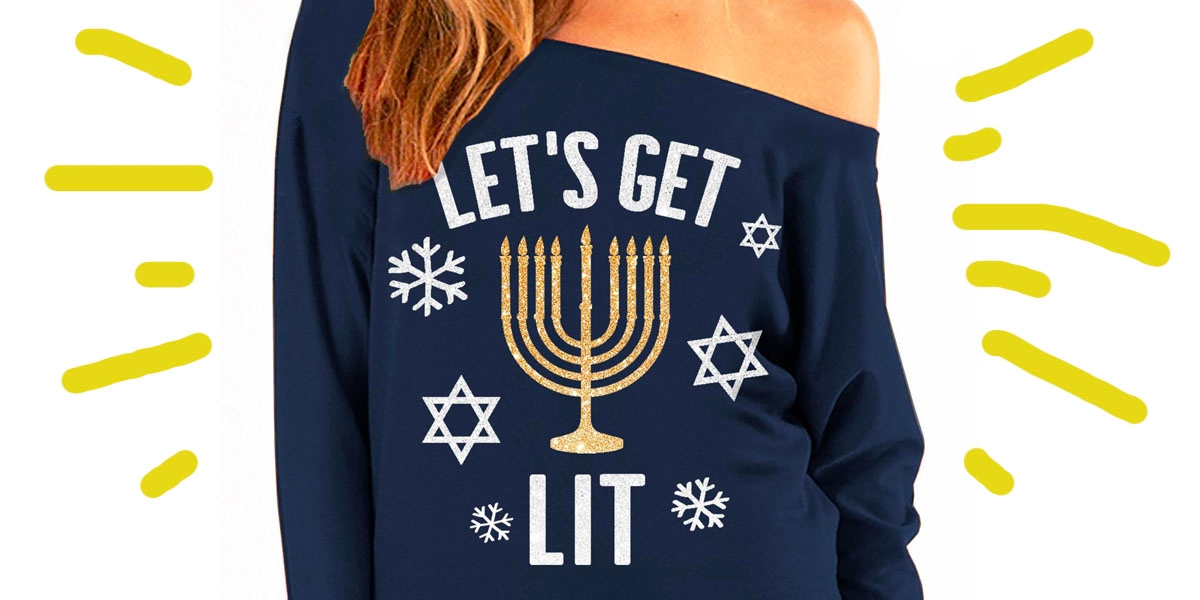 LET'S GET LIT Hanukkah Slouchy Sweatshirt (Etsy) 
A cute, slouchy, kinda sexy Hanukkah sweater with a fun pun. Even if you have nowhere to go, wearing a sexy Hanukkah sweater may make you feel a little bit more stylish and human this holiday season.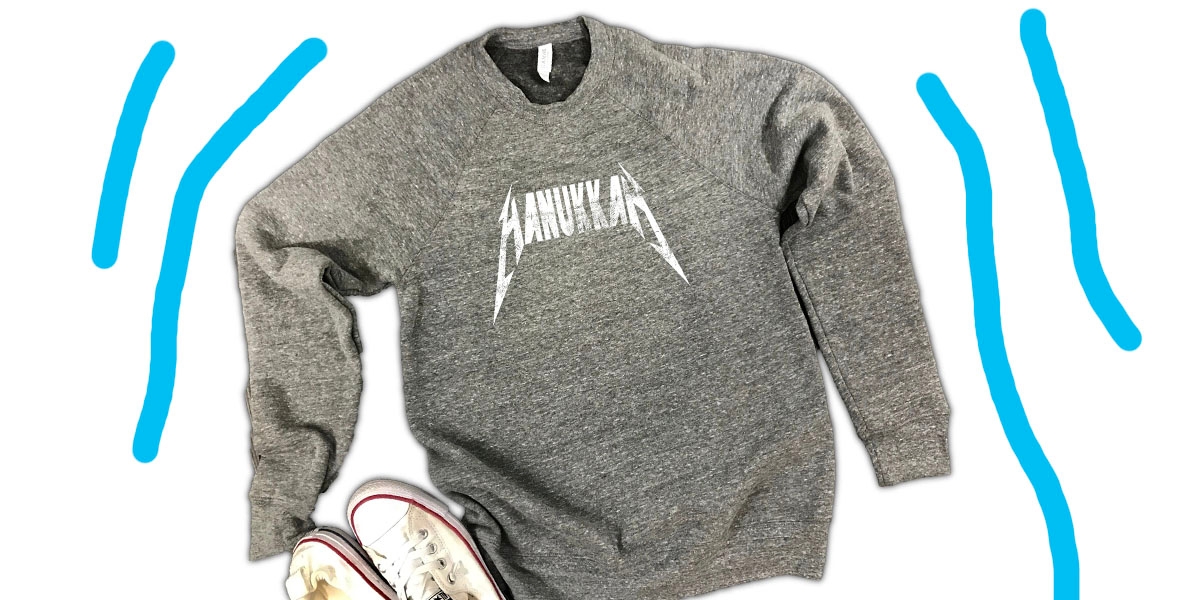 Hanukkah Unisex Triblend Fleece Sweatshirt (Etsy)
It says Hanukkah in a very Metallica font. It's grey. It's lined with fleece. It's the Hanukkah sweater you want to be wearing when you're heating up latkes from last night's Hanukkah dinner, rocking out to your favorite metal band.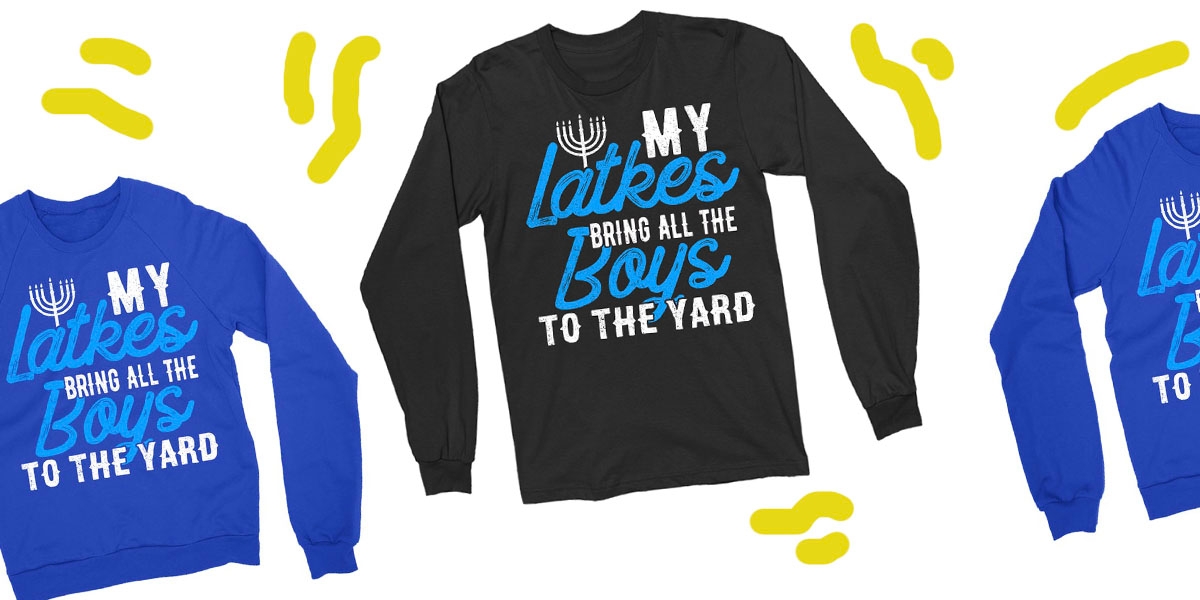 My Latkes Bring All The Boys To The Yard (Etsy)
If you're the latke queen, own it with this super fun sweater! (It's a reference to this wonderful Kelis song, just in case you've forgotten or — GASP! — didn't know).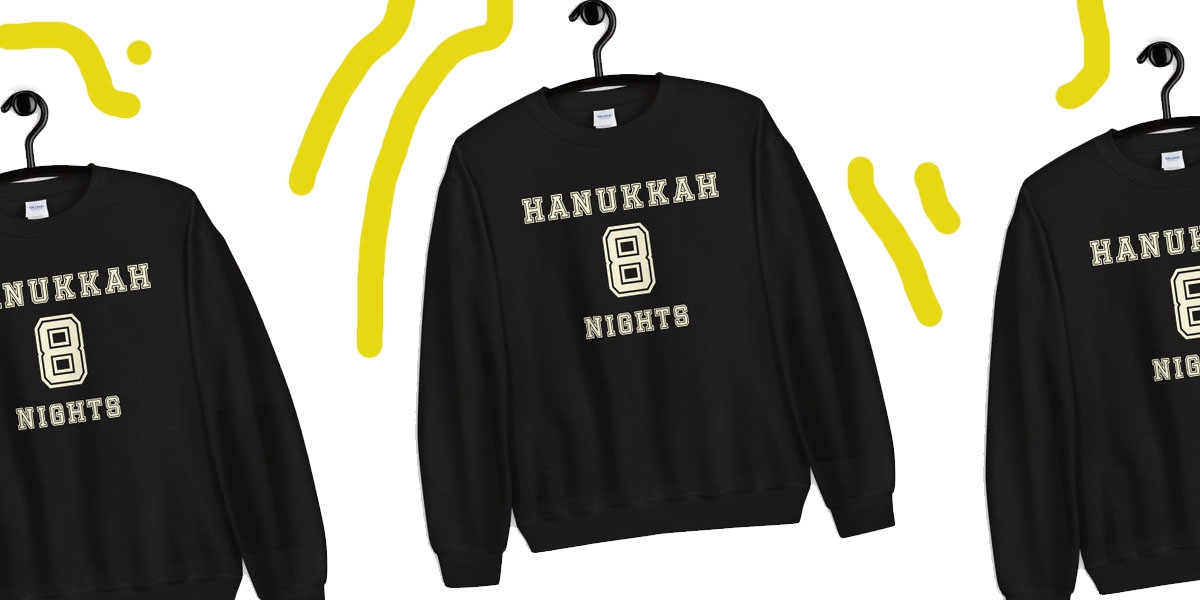 I like how this sweater looks like a sports team sweatshirt. I, too, am team "Hanukkah 8 nights."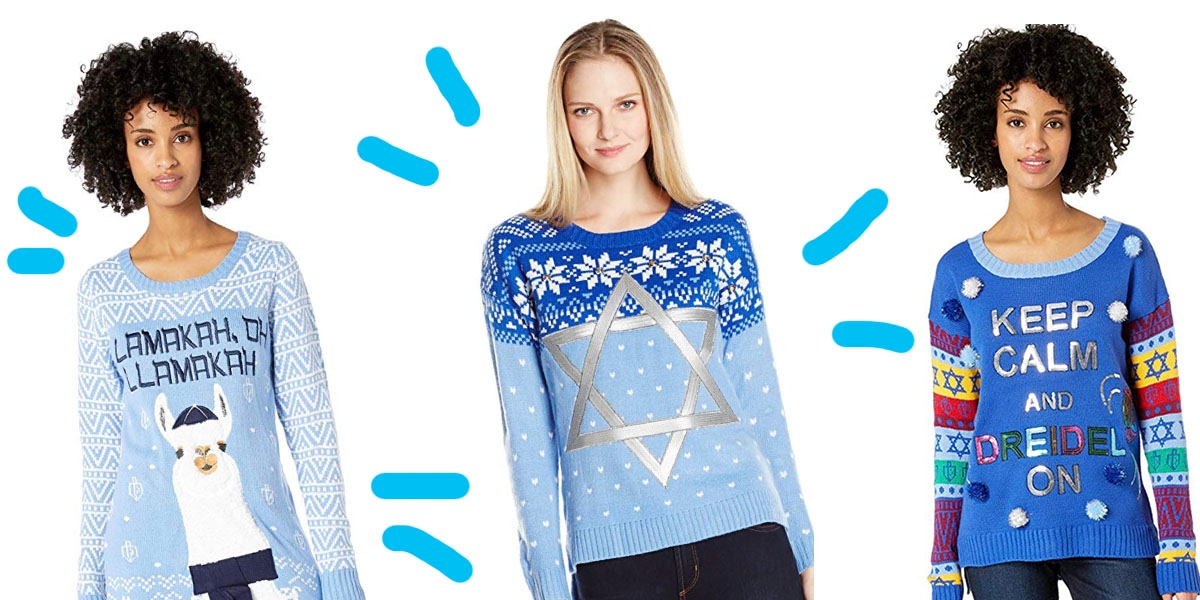 Blizzard Bay Women's Hanukkah Sweater (Amazon)
These three sweaters are garish and over-the-top, and I love them. They have shiny silver on them. The llamalkah sweater has an actual 3D scarf. The "keep calm and dreidel on" sweater has way too many colors. It's everything an ugly holiday sweater needs.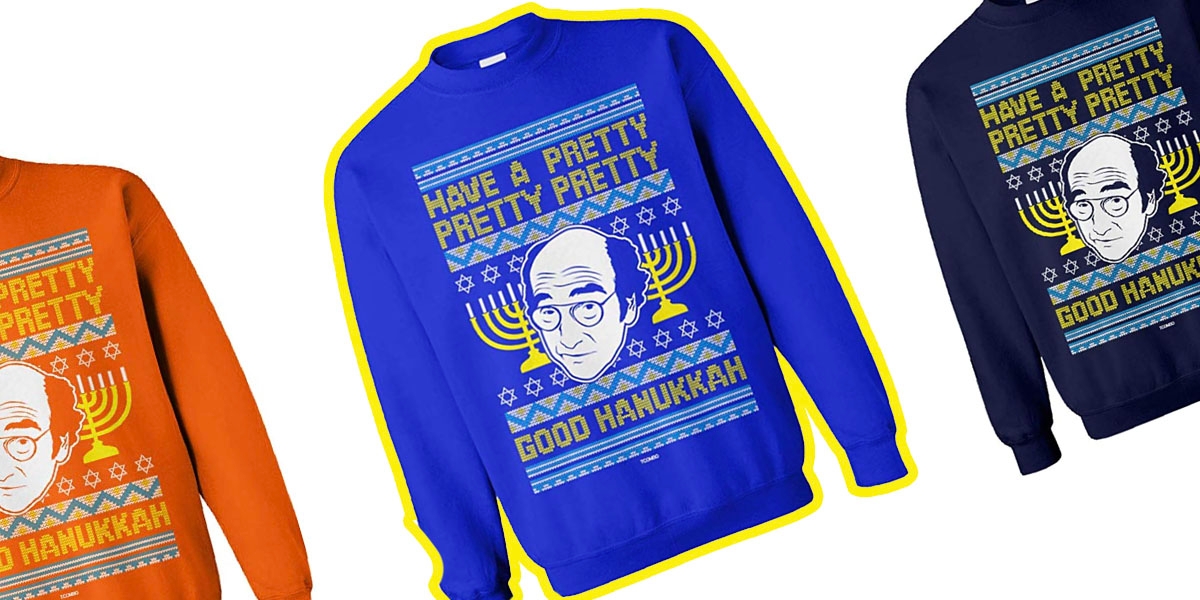 Have A Pretty Pretty Pretty Good Hanukkah Unisex Sweatshirt (Amazon)
It's Larry David. On a Hanukkah sweatshirt. It's pretty, pretty, pretty awesome.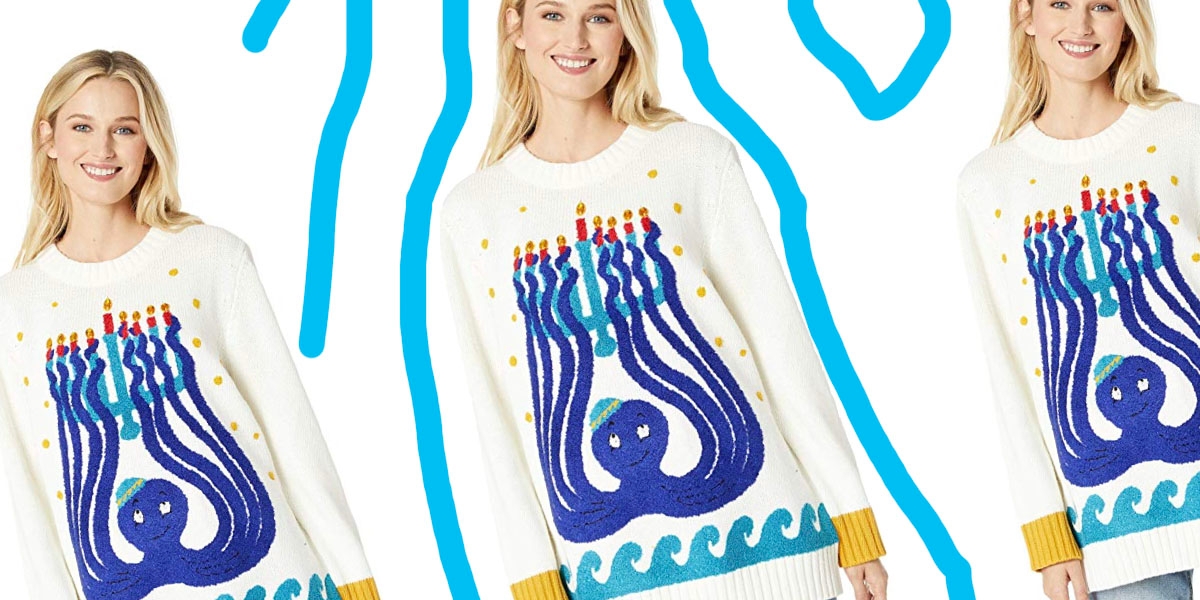 I love this sweater. I mean, it's a Whoopi Goldberg sweater — which makes it just extra-special (and in case you didn't know, no Whoopi is not Jewish, but she is perfect in every other way). It has a cute octopus on it, which is great because, just like a menorah, the octopus has eight arms. And it's wearing a kippah, which may be a bit on the nose, but also pretty adorable. It also seems really sheepishly happy about celebrating Hanukkah. Good stuff.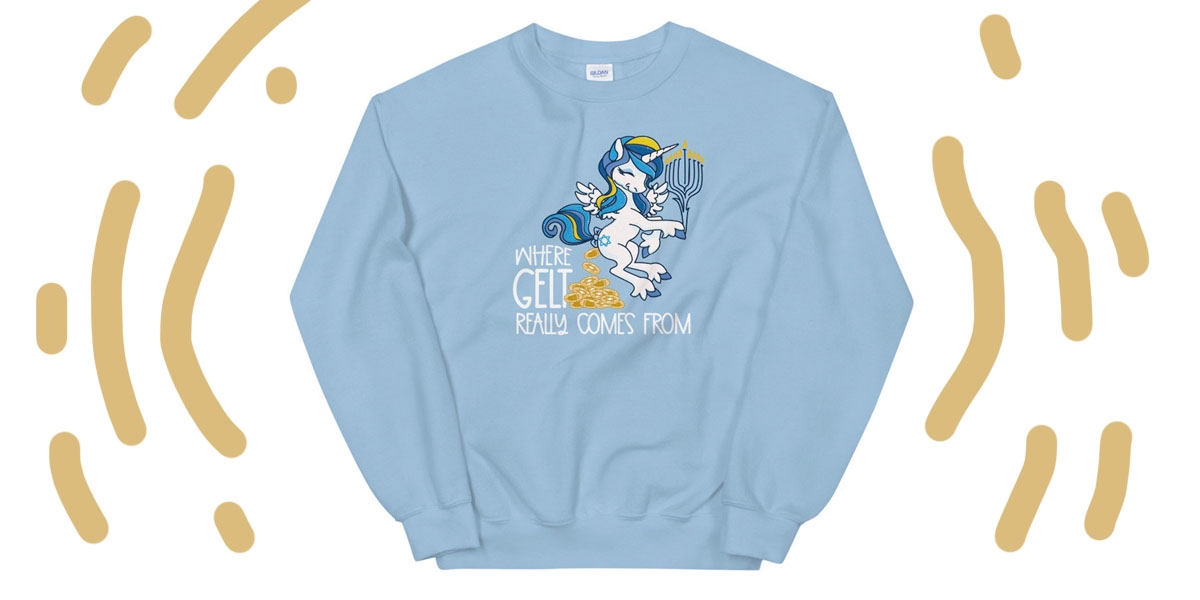 Where Gelt Really Comes From sweater (Etsy)
You know, this is the internet, so there is a sweater of a unicorn pooping gelt and holding a menorah, because, you know, there's truly everything for everyone. While this particular item, while strangely adorable, is a bit much for us, you might know the perfect person for a sweater with a Jewish unicorn pooping gelt.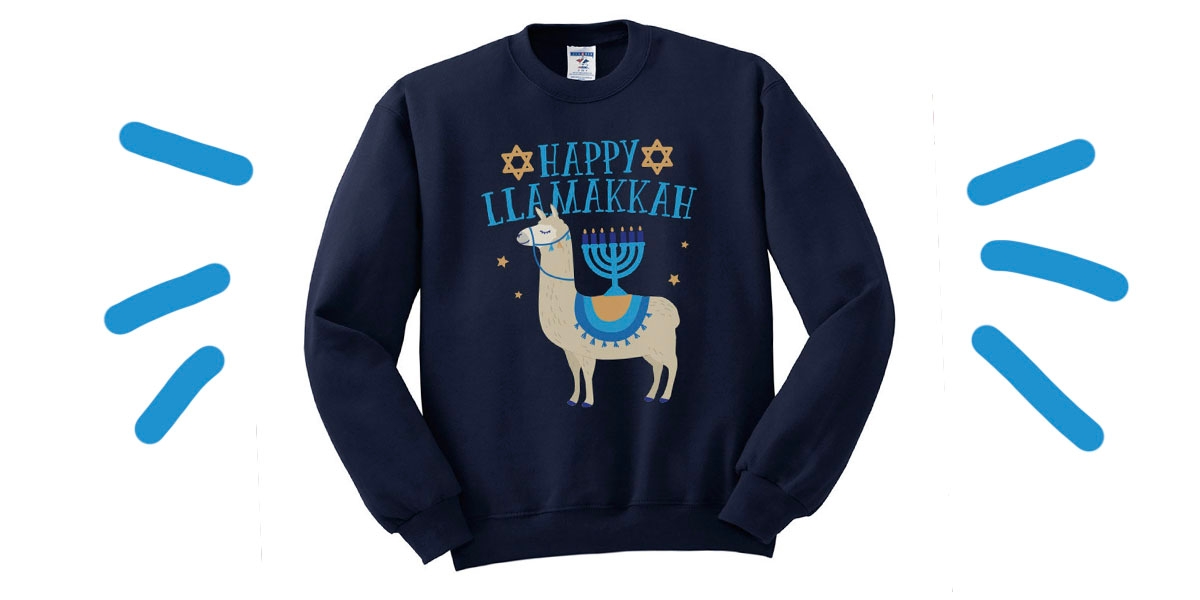 Happy Llamakkah crewneck sweater (Etsy)
I really love the vibe of the llamakkah on this sweater, it's so sweet and so serene. It just feels like it a really good headspace — and we all need more of that right now. I aspire to be in the mood this llama is in forever.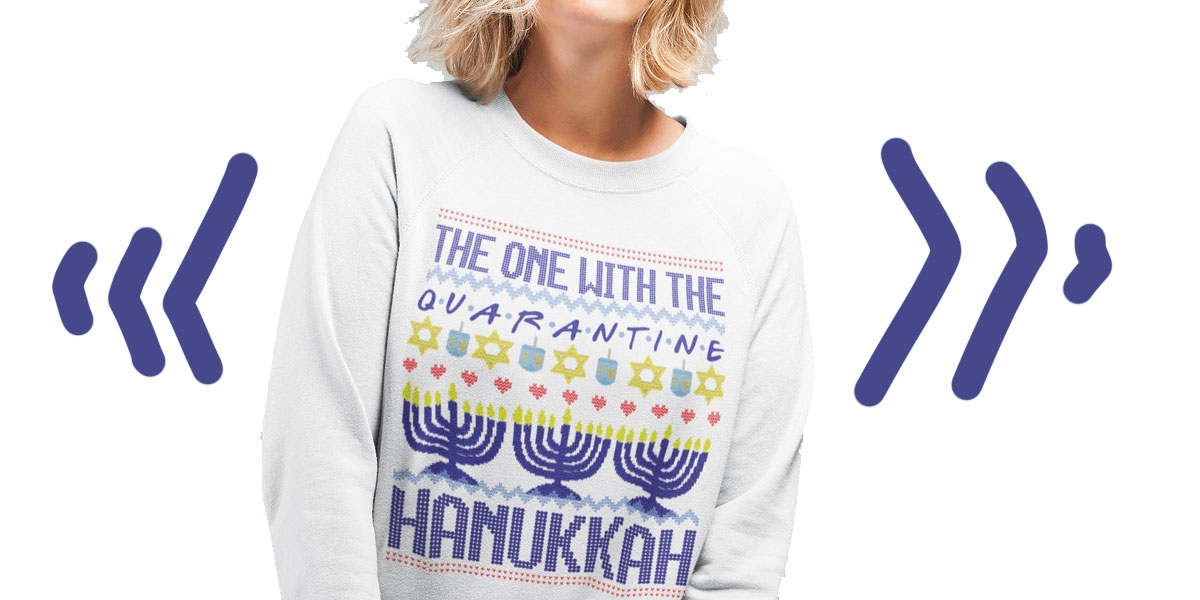 The One with The Quarantine sweater (Etsy)
Love Friends, Hanukkah, and on-the-nose pandemic humor? Well, this sweater is  for you, my friend.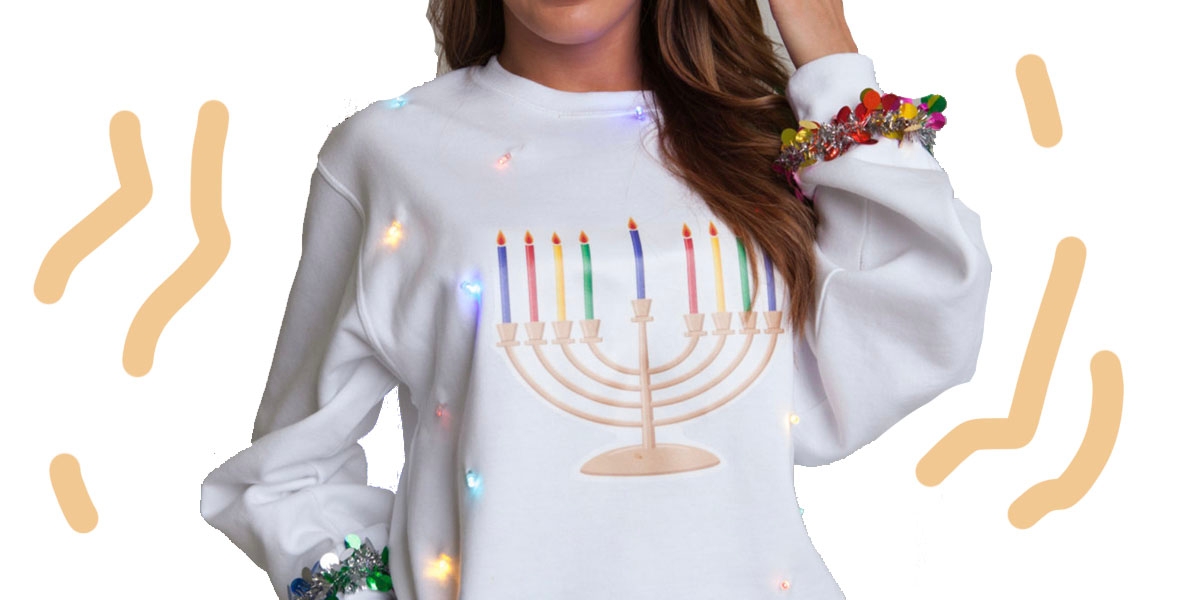 Hanukkah sweater with lights (Etsy)
A Hanukkah sweater that lights up is an important part of any Hanukkah sweater list, and we've got one here for you. It's bright, colorful, and it has a menorah, while also seeming imminently wearable.
Bonus Dog sweater: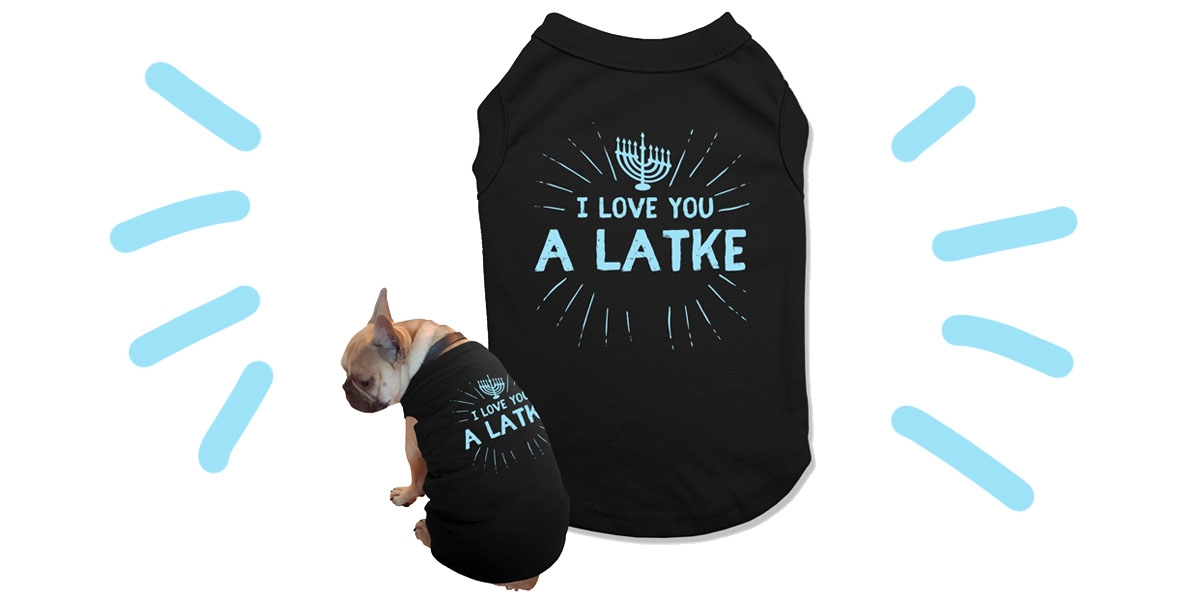 I love you a latke dog sweater (Etsy)
If you, like most dog owners, love your dog (a latke), this dog sweater is for you.  Your dog has been keeping you company and providing emotional support during the pandemic — doesn't it deserve a Hanukkah gift, too?
The post Hanukkah Sweaters for the Entire Family appeared first on Kveller.