5 Ways to Clean and Protect Your Floors
An ounce of effort will keep your vinyl, tile, and even wood floors looking great year in and year out By Tobie Stanger
Keeping your home's floors clean and protected is a year-round job. In winter and spring, snow, mud, and grains of ice melt that end up indoors can make a mess of your floors, in addition to leaving scratches and damaging the finish. In warmer months, there's beach sand and garden-variety dirt to contend with.
And diligent floor care does more than just preserve your flooring's good looks—it also contributes to a healthy indoor environment. Especially if you have a crawling infant at home, you'll want to keep your floors free of tracked-in contaminants, including de-icing chemicals and oils that can irritate a child's skin and, if ingested, mouth and stomach, says Aparna Bole, MD, chair of the American Academy of Pediatrics' Council on Environmental Health and Climate Change.
Around some homes, lead is also a concern. "When soil containing lead is tracked in, crawling babies and toddlers can be exposed from hand-to-mouth behaviors or putting toys from the floor into their mouths," Aparna says.
Here are five simple ways to keep your floors pristine year-round.
1. Establish a No-Shoes Policy
This practice is followed in many countries worldwide to prevent grit, dirt, and other nasties from entering the home. But like the metric system and tiny cars, it's not as common in the U.S. Eevi Jones of Falls Church, Va., says it's the norm in Germany, where she was born. "Entering the living space with street shoes is a big no-no," she says.
"My Argentinian mother would sooner throw a chancleta at my head than allow us to even think about sneaking inside the house with outdoor footwear," says Joy Moy of Huntington, N.Y., recalling the flip-flop-like shoes worn where she grew up. "Now that I'm married to a Chinese man, same thing: No shoes worn in the house."
Consider placing a shoe rack by your door for outdoor shoes, and another rack or basket with inviting slippers or cozy socks for your household and guests. You could also provide disposable paper slippers for workers to don before they enter your home. Use pet booties when you take your pup walking, or dry off your pet's paws at the door.
If there's room, keep a chair or bench by the door so it's easier to get footwear on and off, says no-shoes advocate Jonathan Perez. While the floors in his Port Saint Lucie, Fla., home aren't subject to tracked-in snow melt, he has his reasons for asking that shoes be doffed at the door. "We have a constant battle against sand," he says.
If you can't ban all footwear indoors, at least ask those entering your home to remove high-heeled shoes. Stilettos and other pumps can have an impact of 2,000 pounds per square inch, enough to dent the surface of some wood floors.
2. Be Strategic
Place a boot scraper outside the front door. This will reduce the amount of mud and other grime getting tracked indoors. We recently found boot-scraping coir doormats for as little as $8 in a Google search, as well as handheld boot-scraping brushes, and standing metal boot scrapers incorporating designs of birds, butterflies, cowboy boots, curlicues, and a surprising variety of dachshunds.
Use doormats, indoors and out. "We have small decorative mats that are easy to vacuum and clean," says dietitian Wendy Bazilian. The floors in her San Diego home don't get assaults from winter elements, but because they're made of relatively soft bamboo, they still need protection from nicks and dents.
Protect a wood floor in the kitchen. Place a mat in front of the sink and range to prevent steady foot traffic from wearing bare spots into the finish. A cushioned version can also help prevent back strain.
Use plastic or felt protectors under furniture legs to prevent scratches. When rearranging furniture, always lift pieces instead of sliding them.
Keep shades down, when possible, to minimize UV exposure to wood floors. Our flooring tests reveal that ultraviolet rays can take a toll on some of them.
3. Sweep and Vacuum Regularly
Daily sweeping is essential to maintaining the integrity of a floor's finish, regardless of the material. Vinyl and laminates, for instance, have a plastic surface, so it is important to sweep or vacuum them regularly to remove hard dirt particles that can leave scratches, says Rico de Paz, who heads up CR's flooring tests. "This is especially important if you live in a sandy area, like close to the beach or the desert," he adds.
Ceramic and porcelain floors have a hard, permeable surface, so any broom should work. For wood and other flooring types, use a soft-bristle broom. If the floorboards have a beveled edge that traps dirt and crumbs, use your vacuum cleaner instead. 
Susan Booth, who leads vacuum cleaner testing for Consumer Reports, says you can best protect your floors from scratching when vacuuming by using your vacuum's soft-roller attachment or by turning off the brush roll. "If there isn't an option to turn the brush roll off, set it to 'low' or its bare floor setting, which will spin the brush roll slowly," Booth says.
In Consumer Reports' tests, we find that stick vacs can offer a more convenient alternative to upright vacuum cleaners for cleaning bare floors; our stick vac ratings include dozens of options. You also can use a canister vac; as a group, they perform admirably on bare floors. The trade-off is that they can be heavier and pricier than other vacuum cleaner types. For more on choosing a vacuum cleaner, check out our vacuum cleaner buying guide.
4. Do a Deeper Clean Periodically
If you sweep or vacuum your floors diligently, cleaning a few times a year with a product designed for floors might suffice. You'll want to take different steps, though, based on the flooring material.
Nonwood Flooring
Water alone might be sufficient to handle spot stains. "Most flooring today is easy to keep clean," de Paz says. "Stains normally don't soak in, so they can be removed with plain water."
Before using a store-bought liquid floor cleaner, check to make sure that it is suitable for your flooring type. Cleaner labels typically will specify, but if you're not sure how the cleaner will behave on your flooring, try it on an inconspicuous area of the floor first, de Paz says. Put a few drops of the cleaner on the floor, let it sit for an hour or so, and wipe it off with a wet paper towel. After the spot dries, look for damage. Shine a flashlight on the spot and move it around at different angles to see whether the gloss on the spot is different from that on the rest of the floor. 
Wood Flooring
The cleaner you use will depend on the wood's finish. If you don't know what type of finish is on your wood flooring, apply a few drops of water in an inconspicuous area. If white spots appear within 10 minutes, the finish is wax. If no white spots show up, it's polyurethane. Another way to test: Scratch the surface (again, in an out-of-the-way area) with a coin or another sharp object. If the finish does not flake, it's polyurethane.
Clean wood floors with a polyurethane finish using a solution of 1 cup distilled white vinegar and 3 to 4 gallons of warm water. (Or use a water-based cleaner designed specifically for urethane finishes, such as Bona.) Damp-mop the floor—don't soak it. To do this, dip a terry-cloth towel into the solution, wring the towel of excess solution and cover a standard flathead mop with the towel to clean the floor. Clean wax-finish floors with a solvent-based cleaner and liquid wax designed specifically for wood floors.
Regardless of the finish, never use products intended for vinyl or tile on wood floors, because they can dull the finish and make the floors slippery. Be careful when using a sponge mop; some have hard metal edges that can scratch floors. And avoid using a steam mop on wood; the hot water can warp them. "If you're not careful, they can do some damage," says Larry Ciufo, CR's test engineer who evaluates steam mops.
5. Use a Humidifier
With wood floors, excessive dryness can shrink floorboards, creating gaps and making them creak. In northern regions, that's more likely during winter, when dropping temperatures outside lead to drier air inside. To prevent this, use a humidifier to maintain room humidity between 30 and 40 percent in cooler and drier seasons. As a benefit, you'll be protecting your wood furniture and leather goods from cracking and splitting. 
Choose a humidifier based on the room size; the packaging will indicate the range of square footage the unit is designed to cover. See CR's humidifier buying guide for more information, and refer to our ratings of dozens of humidifiers in five different sizes.
Best Flooring From Consumer Reports' Tests
When you need to install new floors, read Consumer Reports' flooring buying guide, and check out our latest test-based flooring ratings, including engineered and prefinished solid wood flooring, linoleum, plastic laminate, and wood-look porcelain. Here are the top products in each category.
Prefinished Solid Wood
Teragren Portfolio Naturals Wheat TPF-PORTTG-WHT
CR's take: While Teragren Portfolio Naturals Wheat TPF-PORTTG-WHT planks may look like solid bamboo, they're actually made from long bamboo fibers glued and pressed together at high pressure. This flooring earns an impressive Excellent rating for resisting dents; all the other prefinished wood floors we've tested receive a Poor score in this test. Its rich finish does an exceptional job holding up against scratching and staining, too. The only downside is that you may see some fading from sun exposure over time based on our simulated sunlight test.
Engineered Wood
Lumber Liquidators AquaSeal 72 Engineered Bamboo Water Resistant Click Strand Toffee 10046516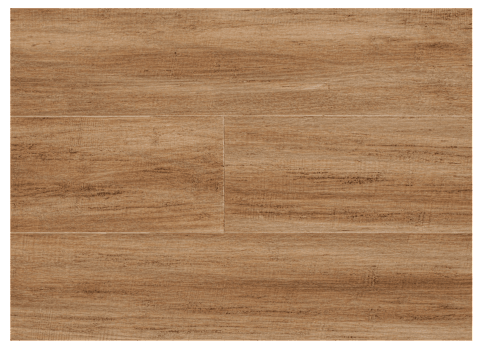 CR's take: Lumber Liquidators AquaSeal 72 Engineered Bamboo Water Resistant Click Strand Toffee 10046516 earns Excellent marks in almost every one of our tests, including resistance to foot traffic, stains, water, and slipping. What's more, its performance in retaining its color when exposed to ultraviolet rays is top-notch, so you can expect that it won't fade as much as others might in sunny rooms. It receives a Good rating for resistance to scratches and dents; in fact, its dent resistance is better than that of any other engineered wood flooring model in our tests. This flooring can be installed either as a floating floor or glued to a plywood subfloor. This AquaSeal model has a slight texture and comes in medium-hued wood shades.
Laminate
Lumber Liquidators AquaSeal 24 Tapestry Oak 10047713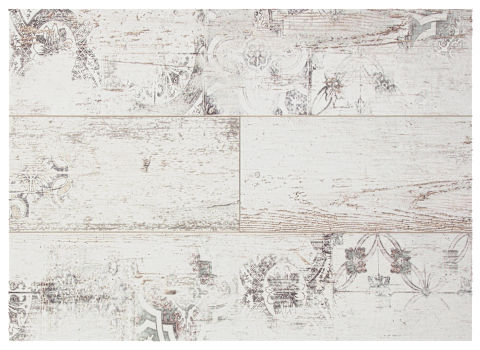 CR's take: Lumber Liquidators AquaSeal 24 Tapestry Oak 10047713, a CR Best Buy, is stellar in almost all categories, earning Excellent marks for resisting foot traffic, stains, water, sunlight, scratches, and slipping. The textured, floating flooring receives only a Good score for withstanding dents, though. Made of a plastic film over high-density fiberboard, AquaSeal 24 Tapestry Oak is available only in light shades.
Vinyl
Congoleum DuraCeramic Sierra Slate SI74 Golden Greige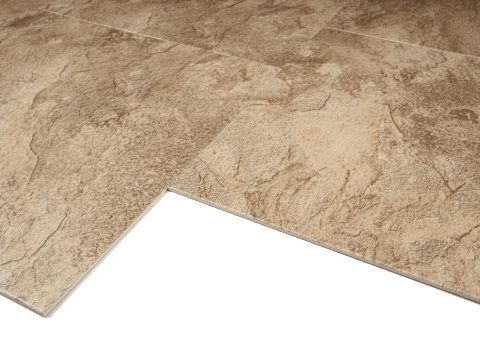 CR's take: For those interested in a vinyl floor with the look and feel of stone, the Congoleum DuraCeramic Sierra Slate S174 Golden Greige is a top choice. It earns a rating of Excellent in our tests for staining, denting, scratching, and resistance to fading, making it a solid bet for sunny kitchens.
Porcelain Tile
LifeProof Shadow Wood LP33624HD1PR (Home Depot)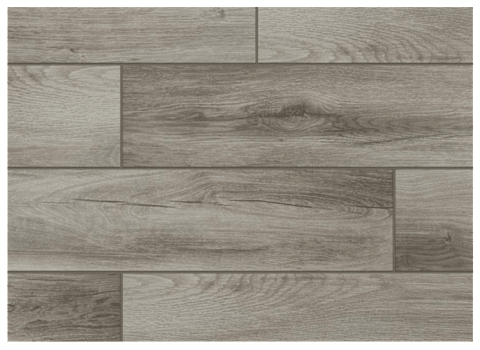 CR's take: LifeProof Shadow Wood LP33624HD1PR is a hardy, wood-look ceramic tile at a competitive price, earning it a CR Best Buy designation. The flooring earns Excellent ratings for resisting foot traffic, water, colorfastness against sun exposure, scratches, and slips. Its performance repelling dents and stains earns a Very Good score. This textured tile comes in light, medium, and dark shades. For Lowe's shoppers, the smooth-textured Style Selection Natural Timber Ash 553878 scored comparably in our tests but costs twice as much.
Consumer Reports is an independent, nonprofit organization that works side by side with consumers to create a fairer, safer, and healthier world. CR does not endorse products or services, and does not accept advertising. Copyright © 2022, Consumer Reports, Inc.