Gear of the Year: All of the Best Outdoor Products in 2021
Hurtling toward a new year, here's a look at the best outdoor and adventure gear our editors saw in 2021.
Here we go! Winding down another year of gear and tech, we've pared down our favorite outdoor-ready products that hit the market in 2021.
Our Gear of the Year picks represent innovations in design, tech, and performance. To be sure, there's plenty of great gear that's not on this list. But to be eligible for our top picks, brands needed to bring something groundbreaking to the table.
The gear below stood out because it made noteworthy advances in sustainability, ingenuity, and overall helping you enjoy outdoor adventure.
So let's get to it!
GearJunkie Gear of the Year 2021
Five Ten had a decades-long winner with their original Moccasym, so I was super skeptical when the brand announced a makeover of its popular slipper. But to my total surprise, the new Five Ten NIAD (Nose In a Day) Moccasym transformed the brand's true slipper into a more well-rounded rock climbing weapon.
Five Ten traded a bit of sensitivity for added stiffness, and that transaction was well worth it, according to our climbing editor. Along with the improved edging ability, the NIAD Moccasym fit much better at the heel, partly due to a new two-piece slingshot rand.
A rubber patch on the toebox added toe-hooking prowess, and the leather is more resistant to tearing, a common issue on the original Mocc.
Mocc fans can rest assured that the powerful, asymmetrical last was retained, as well as the second-skin fit that forms over time. The Five Ten NIAD Moccasym is the rare shoe update that our climbing editor didn't hate.
Check Price at REICheck Price at Backcountry
While aerogel has been used in jackets and insulating equipment for several years now, Sitka doubled down on the world's lightest solid substance in its Aerolite collection. And wow, have we been impressed.
Focusing primarily on outerwear and one sleep option, the Aerolite collection aims to outfit hunters with the best warm-when-wet technology the market has to offer.
It uses PrimaLoft Gold Insulation with Cross Core technology. This premium insulation performs incredibly well as jacket insulation. But it really finds its calling in hunting gear, which tends to get wet, dirty, and abraded more than most outdoor equipment.
Offerings begin at the revamped Kelvin jacket and Kelvin vest in the midlayer range. And from there, three separate outer layer jacket and bib combinations exist for the waterfowl hunter, the Western big-game hunter, and the whitetail hunter.
On the gear side, the Kelvin Aerolite Sleeping Bag is the clincher of the system. Designed to work in tandem with your hunting gear, this lightweight bag adds another layer of insulation as well as a dynamic zipper system. This makes it an option for glassing, hanging around camp, and hands-free chores when it's cold. It combines with the outerwear system while sleeping, allowing the hunter to be fully at the ready when the pre-hunt alarm goes off.
We've worn this gear all over the West this fall, and it's become one of our go-to apparel systems for col-weather hunting.
Helly Hansen's first backcountry ski kit with zero chemical additives for women debuted this year. That "zero chemical" designation is thanks to the brand's Lifa Infinity Pro, a waterproof-breathable fabric that doesn't require a chemical DWR coating (yes, not even a PFC-free DWR).
How does it work? Helly Hansen creates the waterproof textile from its proprietary hydrophobic Lifa fiber, plus a polypropylene membrane, which has microscopic holes that allow vapor out yet prevent moisture from entering in.
On top of it being chemical-free and DWR-free, the shell is also solution-dyed. This process dyes yarns before production instead of after, which saves both water and energy. We had two different staff test the Odin Infinity Lifa Pro Shell, and both loved its waterproofness, durability, and performance.
Note: Helly Hansen introduced the chemical-free Lifa Infinity tech in men's ski jackets in 2020. But the revolutionary tech is finally available in a women's insulated jacket, women's shell jacket, women's bib, and men's pant this year.
With up to 80 hours of battery life in GPS mode, the Garmin Enduro GPS smartwatch is an ideal training and race day tool for endurance athletes. It features a solar charging lens and dozens of features and apps that track performance, help with navigation, receive smartphone notifications, and more.
It is also the first smartwatch approved for sanctioned adventure racing.
We tested the Enduro and Garmin's new Adventure Racing activity profile during a 30-hour Adventure Race this year (2021 USARA National Championship). It performed flawlessly. At the end of the race, 27 days of battery life remained.
For those who train and race tirelessly, it's exciting to now have a GPS smartwatch that can keep up.
Check Price at REICheck Price at Amazon
Cyclists who enjoy high-end components have always looked to ENVE Composites for wheels, bars, and stems. The Ogden, Utah-based brand quietly launched the Custom Road program this year and the results are stunning, to say the least.
Using proprietary carbon frame tubes and lugs, ENVE can offer a true custom frame with matched cockpit parts, finished in mesmerizing custom paint schemes, all handmade in Utah for roughly the same price as the big brands' top-tier road bikes.
The frame straddles the middle ground — between aerodynamics and comfort, light weight and durability. But what it doesn't compromise is getting the customer exactly what they desire, all the way down to water bottle cage aesthetics. Each bike is truly made-to-order. And there are two versions of the frame: race and all-road.
ENVE wheels carry a reputation of cutting-edge aerodynamics but also astronomical MSRPs. After visiting the production facility and reviewing the custom road processes, manufacturing methods, and geometry formulations as well as witnessing the art of human input into each road frame, he walked away thinking the pricing was too low relative to stock options from other brands.
With so many options for bike carriers and vehicle storage, it has been tough to pinpoint one as the standout. That's doubly true when so often, different brands' racks, boxes, and other roof- or hitch-mounted doohickeys look like variations on the same theme.
But Yakima blew the doors off the vehicle cargo category when it launched the EXO system to the public this year. Effectively a modular, double-decker design, the EXO allows car (or truck) owners to carry a wider array of cargo on their hitch.
For example, have the EXO DoubleUp Bike Rack on top (via the EXO TopShelf) carrying two bikes, and the EXO GearLocker cargo box carrying a few duffels on the bottom EXO SwingBase. No bikes? Keep the TopShelf in place and swap in the EXO GearWarrior basket and lash in your cooler.
As you may have guessed, the TopShelf and SwingBase — which swings out to allow hatch or tailgate access — are the heart of the EXO system. From there, the possibilities are numerous, and growing! There's also a BackDeck tabletop and WarriorWheels attachment to transform the cargo basket into a gear wagon.
Read our full review.
Check Price at REICheck Price at Backcountry
Quality smartphone cases with magnetic mounting options aren't new, but Peak Design has elevated the product category to new levels of utility, quality, and feel with its Mobile line of products. While Peak Design is best known for its photography products, the brand has been steadily expanding into a variety of areas with great success over the past few years. After extensive use and testing, we can assure you that its Mobile line is a winner.
The Everyday Case feels good in the hand and pocket, is incredibly durable, is super protective, and is lightweight. Add in the ability to attach it to a wide range of magnetic accessories, both Peak Design's and others, and you really can't ask for more out of a phone case.
With mounts for your car, bike, wall, and more, the Peak Design Mobile line allows you to securely and comfortably use your phone anywhere you go. Our favorite accessory in the lineup is the super versatile Mobile Tripod.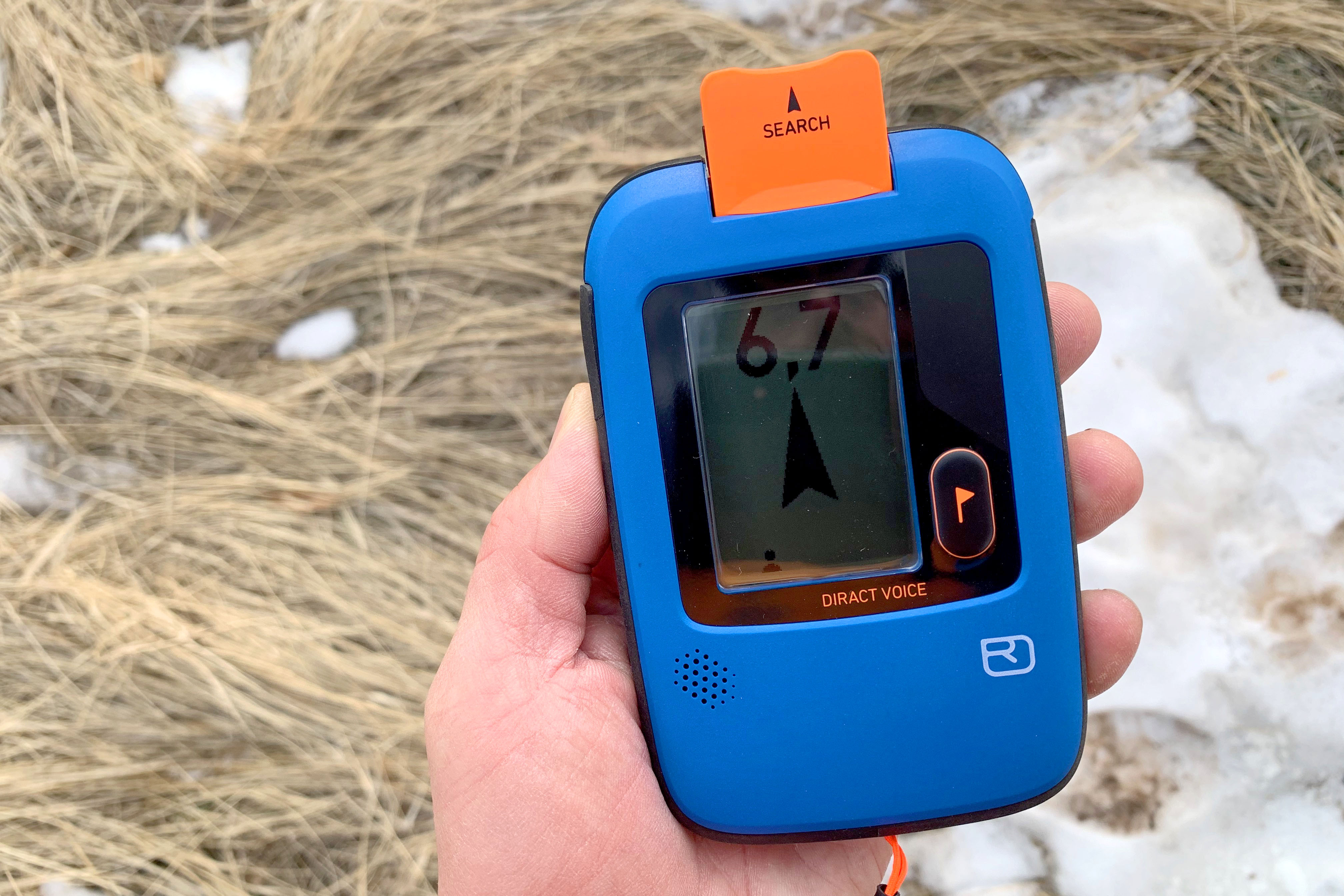 When a skier is buried by an avalanche, every second counts. Rapid rescues simply save lives.
So Ortovox came up with an avalanche beacon that gives voice guidance when in search mode. It's the first avalanche beacon on the market to do this, and the experience of using the beacon was eye-opening. Read our full review of the Ortovox Diract Voice here.
In short, the transceiver provides voice commands that will prompt rescuers to do a correct search and recovery during an extremely stressful event. We found that the prompts like "run in 50m search strips and look out" reminded us of our avalanche training. While no substitute for education, the Ortovox Diract Voice reinforces what you've already learned and helps you along the way. It could be a literal life-saver during a stressful avalanche rescue.
Beyond the revolutionary audio prompts, this is an overall solid beacon. It even has a second revolutionary feature, a rechargeable lithium-ion battery built-in. This is something you also won't find in other beacons. So the Ortovox Diract Voice stands apart from the crowd. This beacon is a major innovation in this life-saving category.
Check Price at REICheck Price at Backcountry
When Salomon announced in 2020 it wanted to create a fully recyclable shoe, the want, need, and excitement from many in the industry was there. But this isn't just a shoe with recycled components, or one that could be recycled (with a lot of work figuring out how). Nope, Salomon's Index.01 all-around running shoe and training shoe is designed so it can be disassembled in a flash and recycled immediately at the end of its lifespan.
This shoe isn't just a great running shoe with a sustainable design, but a huge step forward in circular product initiatives. In terms of recycling, the bottom TPU portion and one-piece synthetic upper separate nearly instantly for easier recycling. And this is all done by Salomon — all you have to do is print a label, ship the shoes back, and the brand will take care of the rest.
In terms of the shoes' features, the Salomon Index.01 has a TPU-based foam sole, a thin and breathable mesh synthetic upper, stretchy textile laces, and a reverse camber.
Due to delays as a byproduct of COVID-19, the Index.01's weren't available until spring of this year. We put over 100 days of testing (running and commuting) in our first four months in the shoes since they hit the shelves, and have loved every minute. So far, I've got about 370 miles on my pair. And aside from a bit of discoloration, they are still going strong.
Check Price at REICheck Price at Salomon
Following our early 2020 preview of the Hustle Bike Labs Avery REMtech magnetic pedals, the goods are finally here.
We tested these broad pedals through hundreds of miles of high-alpine and desert terrain, mountain biking and bikepacking, and variable conditions from snow and mud to river crossings.
The robust design is durable, the customizable pins provide extra stability for foot placement, and the strong foot-to-pedal bond increases power with each stroke. Plus, pebbles don't get stuck to the seamless magnet face.
Check Price at Hustle Bike Labs
Smith did what we all want gear brands to do: finally acknowledge that 2021 is the future! The brand's 3D Imprint I/O Mag goggle debuts first-of-its-kind tech (something we always love to hear).
In short, before buying these goggles, you'll need to download the Smith app and scan your face with your phone. Smith will digitally "map the terrain of your face." Then its whizbang computers 3D print a frame and face flange uniquely tailored to the contours of your face.
Why? According to Smith, these bespoke goggles improve comfort, remove pressure points, and reduce light leakage.
This specially designed frame pairs with Smith's magnetically swappable I/O Mag goggles and ChromaPop lens tech to create a truly advanced set of specs. Read our full write-up.
Edelrid unlocked the problem of incorporating the superior abrasion and cut resistance of inelastic Aramid into a dynamic single climbing rope, creating the first-of-its-kind Swift Protect Pro-Dry 8.9.
Creating a revolution in the climbing rope game is difficult; brands have steadily made ropes smaller and lighter and recently, sustainability has been improved. But changes that separate one single dynamic rope from another in a significant way are hard to execute.
But Edelrid succeeded with the skinny Protect Pro Dry 8.9, delivering added peace of mind to climbers on the sharp end and tipping the scales a little more in their favor. Internal testing showed the Aramid improved cut resistance of the 8.9mm cord to match the performance of a 10mm.
Our climbing editor cannot think of any reason not to improve your odds with this rope.
Check Price at REICheck Price at Backcountry
Suspension engineers have a gargantuan task of creating suspension that maintains pedaling efficiency while simultaneously absorbing terrain obstacles. These demands are at odds – maintain stiffness so the most pedaling energy transfers to the rear wheel, but remains plush to absorb terrain obstacles.
If you could have a little genie operating your shock and fork remotes and suspension clickers in real-time, that would be the holy grail. RockShox gets you one step closer to that imaginary scenario with their Flight Attendant.
In a nutshell, the Flight Attendant mates a series of sensors on the cranks, shock, and fork with an algorithm processing unit and motor to predictably manipulate the Open, Pedal, and Lock suspension modes, at the rate of 200 times per second.
For now, the technology is only available as OEM on bikes from Trek, Canyon, and YT.
Yeah, it's pricey, but in the case of the Speedland SL:PDX, you get what you pay for and then some. Developed in collaboration with running industry experts and elite trail runners, the SL:PDX is chock full of thoughtful engineering and design tweaks.
The upper knit is reinforced with Dyneema fabric to stand up to scree and brush abrasion and the dual BOA fit system dials in a perfect, easily adjustable fit. Below the foot, a removable carbon plate adds two-way flex and doubles as a rock plane. The Michelin outsole with customizable lugs adapts the shoe to whatever terrain you run on.
Its price point may scare off the casual runner, but if you've got the dough and you want a light, fast, comfortable shoe that's at home on any terrain, it might be a perfect fit.
---
The Best Backpacking Stoves of 2021
The right stove makes life on the trail better. From ultralight canisters to four-season and multifuel options, we've found and tested the best backpacking stoves. Read more…
The Best Backpacking Sleeping Bags of 2021
A sleeping bag is one of the most important pieces of camping gear. We've found the best backpacking sleeping bags for every use and budget. Read more…
The post Gear of the Year: All of the Best Outdoor Products in 2021 appeared first on GearJunkie.