Making a Functional Entryway in the Middle of a Stairway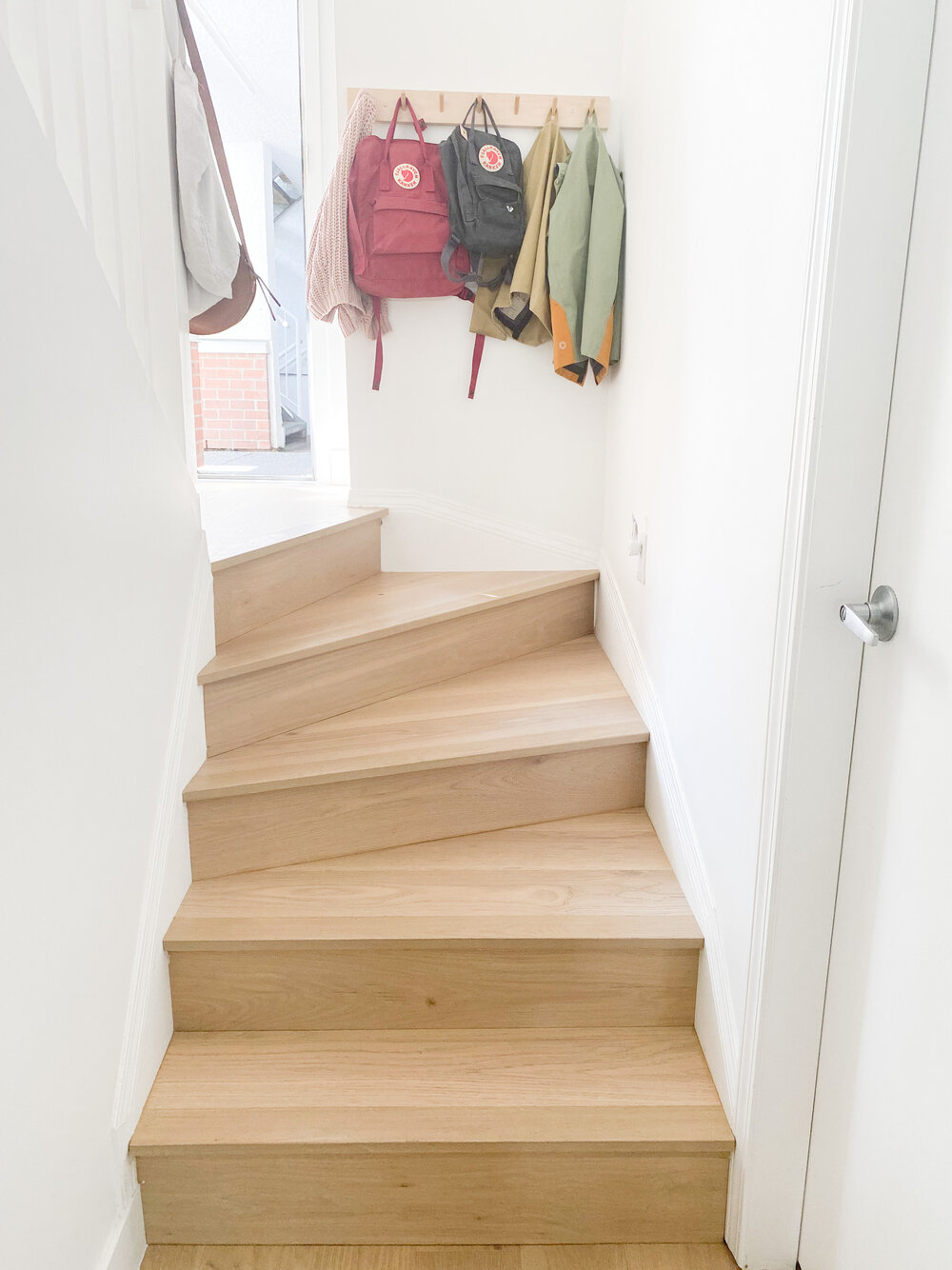 I'm going to preface this, that it is still a work in progress and we haven't yet survived a winter in this space. But as our entryway in our new space is especially small and awkward I wanted to share what we cobbled together mostly from items we already had to make our entryway as functional as possible for 4 people.
Our entryway is in the middle of our stairs. The landing has room for about one person to stand and open the door, so it's really fun when there are four of us trying to get out at the same time ;). There is a small closet about 19" wide. How our previous entry worked at our old apartment wouldn't work in our new space. We had built custom closets (previous blog post HERE ) and basically stored everything we needed to get out the door in those closets including storing seasonal items up really high. Now we barely have room to stand let alone store items so I needed to get back to basics. What was the absolute minimum items that needed to be kept at the front door? And where could the rest go?
ITEMS
2 backpacks
8 pairs of shoes
2 Adult coats
2 Kid coats
Masks (lots)
Mail Drop Zone
Keys
1 small bag (for me)
SMALL DRAWER UNIT
The ideal scenario would be a custom closet built into the nook to hold shoes and bags. But budget constraints led me to find temporary and affordable solutions for this tricky spot. I added a 3 drawer IKEA Nordli unit because it was one of the only narrow enough options for this closet. One drawer for each kid and one for me. Then I added a hanging organizer for Trevor's shoes, reusable bags and umbrellas. There is room for about 3-4 coats beside the hanging rack. I could have just added a shoe rack in this closet but I find shoe racks always look messy so I prefer everything hidden.
PEG RAILS
I repurposed the peg rails that I had in our previous apartment. One for kids backpacks and coats placed on the wall above a wider stair. The second peg rail holds masks on the wall behind the door. In my experience these hooks are the easiest for kids to use and they know to put their coats, backpacks and shoes away when they come in the door (with at least 5 reminders from us everyday).
MAIL ORGANIZER
Won't overstate how much this helps us. We had it on a shelf in our previous entry but only had room to hang it on the wall here and feeling good about adding that cut out on the back. For Sale HERE (currently sold out but restocking soon).
KEY STORAGE
Keys are on the inside of the closet on a wall mounted key rack. Sorry I couldn't get it in the photo.
MULTIPLE STORAGE SOLUTIONS
I often recommend to others with small entryways to move the overflow of additional shoes, coats, sports gear etc. to another area of the home with more storage and just keep the absolute necessities at the front door. When I installed these narrow Pax in our bedroom it was to provide additional storage for the entryway. The first is for coats and rain gear and half of the second is for more shoe storage. Also seasonal swapping and vaccuum packing coats away can be really helpful in saving space.
I find this requires a bit of shuffling and reorganizing of the hooks and shoe cabinet due to the weather but I don't find it too much trouble.
FEWER BETTER
And finally, having fewer but better quality coats and shoes I have found the best way to keep an entryway organized. I try to invest in items that last many years for me and at least a full year for the kids. For the past few years I buy them one pair of boots (blundstones), one pair of rain boots, 1- 2 pairs runners, sandals/natives. Trevor is great about coats and will wear the same one for years but his amount of bags are a topic for another day…..