NÜOBELL Adjustable Dumbbells Review
In a world full of CrossFit® gyms, app-tracked heart rate monitors, full-body workout exercise bikes, TRX straps, and on-demand rowing machine classes, there is still room for dumbbells. The problem for many muscle-toning enthusiasts is finding a place for all those dumbbells in their home gym.
Adjustable dumbbells — like the NÜOBELL Adjustable Dumbbells — can be a solid option for those who are building out a home gym space: One pair of adjustable dumbbells occupies just a few square feet. The NÜOBELLs can be adjusted from five pounds to 80 pounds using the handles as dials. These adjustable dumbbells are not only likely to save space, but despite their ostensibly higher price point, they may be more affordable than buying individual dumbbell pairs.
Main Takeaways
NÜOBELL Adjustable Dumbbells have an impressive weight selection range. They can be set to weigh as little as five pounds each and users can add weight in increments of 5 lbs all the way up to 50 or 80 pounds per dumbbell, depending on the set you choose.
One pair of these adjustable dumbbells replaces up to 16 pairs of weights (if you chose the 80-pound option), which saves seriosuspace and money.
The dumbbells adjust to heavier or lighter weight with an easy twist of the handle, and they are secure and mostly rattle-free while in use.
NÜOBELL Adjustable Dumbbells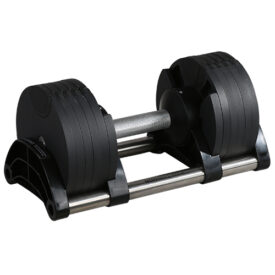 NÜOBELL Adjustable Dumbbells
This Swedish-designed "smart" dumbbell adjusts from 5 pounds up to 80 pounds — all you have to do is twist the handlebar. Its sleek, modern design will make a great addition to any home gym. 
NÜOBELL Adjustable Dumbbells Highlights
Taking up a fraction of the space that 32 separate dumbbells would consume, the NÜOBELL Adjustable Dumbbells only require the space of a single 50- or 80-pound dumbbell pair. Aside from their spatial practicality, these dumbbells' dial function has been finely engineered for ease of use. Unlike some other adjustable dumbbells where it can be difficult to change the weight setting or remove the weights from their cradle, we found these incredibly easy to remove and nestle back into their home.
One downside for those who may be working with low weight for higher repetitions is that the lighter weights may feel a bit clunkier than your average 10- or 15-pound dumbbell — the weights at the end of the dumbbell are quite large, even at five pounds. Though the price may sound steep, buying all of your dumbbells at once could save you money in the long run. 
Who Should Buy the NÜOBELL Adjustable Dumbbells
Anyone who wants a gym's worth of dumbbells that can be stored in a small space for a decent price.
People looking to build and maintain muscle through popular free weight exercises like curls, military press, and standing rows.
Households where various people of differing size and strength all want access to reliable dumbbells.
Who Shouldn't Buy the NÜOBELL Adjustable Dumbbells
Anyone who's not looking to drop a lot of money on dumbbells all at once.
People focused on precision lower weight exercises for whom a smaller dumbbell is a better choice.
Anyone who does not need heavier dumbbells and is unlikely to enjoy the full value of this set.
These dumbbells do not have a rubber or urethane coating, so the exposed metal can be tough on floors if dropped or set down firmly. It also may not be the most comfortable feel with movements where skin is in contact with one or more heads of the dumbbell.
Price
The 50-pound pair of NÜOBELLs costs $595. For the 80-pound set, you'll spend $745. And for a rack that holds the weights up off the ground (which isn't necessary, but it is helpful), you'll spend an additional $195. While this may seem like a lot, most adjustable dumbbells cost many hundreds of dollars, so these are going for a fair market price. And compare the price here to what you'd pay for the same variety of individually paired weights of any decent quality, and you'll see you're actually saving hundreds of dollars — at least.
Overall Build and Quality
While many pairs of adjustable dumbbells can be difficult to maneuver and not the most sturdy, the NÜOBELL Adjustable Dumbbells offer an impressively solid build.  Their knurled stainless steel handles and steel weight plates are stable, and changing the weight setting is as easy as a twist of the wrist. Adjusting the weight on these dumbbells feels smooth and the click at each weight interval is satisfying. Overall, this pair of dumbbells feels solid, with very little plastic built into the design. 
Features
Each of these dumbbells can be set to a weight as low as five pounds or, depending on which you choose, as heavy as 50 or 80 pounds. They nestle securely into the included cradle when not in use, and they slide up and back into it for easy adjustment.
Adjustability
Adjusting the weights involves nothing more than grabbing the grips while the weights are in their cradle and twisting toward the plus to add weight, and toward the minus to reduce it. You can switch from the heaviest to the lightest weight and anywhere in between in a matter of seconds. Take caution: Switching to the 80-pound setting is a lot smoother than picking up the dumbbells at that weight.
Weight Options
Regardless of whether you choose the 50- or 80-pound weight option, the lowest weight to which you can set these dumbbells is five pounds, and they adjust up in five-pound increments from there. So click the handle a twist toward the "+" sign and you have a 10-pound weight. Another twist gives you a 15, then a 20, and so on.
Handle Grip and Comfort
The grips of the NÜOBELL Adjustable Dumbbells are sized well for an adult's hand, big enough for a larger man but not so thick that a smaller woman couldn't easily manage them. They are made of a knurled stainless steel that's easy to grip even as you sweat throughout a hard workout. We really like the grips on the NÜOBELLs, as knurled handles are more common on fixed, traditional dumbbells, but less common on adjustable dumbbells.
Weight Plate Design
The incremental weight plates these dumbbells use are engineered to stay snug to one another as you lift, not rattling or shaking, which would be at best annoying, and at worst, a detriment or danger as the weights become unstable. Plus, they're made of a highly durable matte black steel that will not only last, but may also add a sleek look to your space. 
While the design of these weight plates is smart, we found them to rattle ever-so-slightly while in use. They're one of the most secure adjustable dumbbell sets we've exercised with, but they are not 100% rattle-free. 
Product Specs 
Adjustable dumbbells are both a space and money saver, and the NÜOBELL Adjustable Dumbbells are one of the most modern pairs on the market. They're easy to adjust and take up only about four square feet of space. Plus, if you want to move them, you need only pick up and maneuver two adjustable dumbbells and their cradle, rather than 16 separate pairs.
Dumbbell Type
These dumbbells function just like a standard weight save for the fact that they can be adjusted (by turning the handle) to many different weights. There's rarely a need to adjust an exercise to accommodate them, though as noted they may be a bit clunky for some lighter exercises
Size and Dimensions
Each dumbbell takes up about the same amount of space as a shoe box for a pair of running sneakers, and that's including their stands. Another way to think of it? They are the size of two large dumbbells — 65cm x 61cm.
Portability
Sure, these weights are quite heavy to maneuver when you're on the highest weight adjustment, but that's the point. They're far easier to transport than 16 separate pairs of dumbbells — at least with these, you need only make one or two trips to move them.
Warranties
This product comes with a two-year manufacturer's warranty, and you can buy an extended warranty — adding an additional one to three years of coverage — to the manufacturer's warranty, as well. 
Places to Buy
You can buy NÜOBELL Adjustable Dumbbells from online retailers like Finer Form, Amazon, and more.
Company Information
SMRTFT, the brand behind these dumbbells, is states on their website that they are committed to "ethical manufacturing, impeccable quality, innovative developments and timeless design" in products made for the "professional athlete, weekend warrior or a stay at home parent" who wants to get and stay fit.
Final Word
With so many dumbbells on the market, the NÜOBELL Adjustable Dumbbells stand out for their seamless adjustments, sleek look, and solid grip. On top of that, they have a wide range in weight that goes all the way from five pounds up to 80 pounds. One pair of these weights can replace 16 pairs of dumbbells, freeing up a good amount of floor or rack space in your home gym. All-in-all, if you're serious about investing in a pair of dumbbells, we would strongly recommend this pair. 
Before you buy, you'll want to make sure you lift heavy enough to make use of all of the weight options provided — otherwise, you may be better off opting to buy a few lighter pairs of dumbbells to save money. However, if you're often using dumbbells in the 60- to 80-pound range, these dumbbells will make a solid addition to your space.
FAQs
Are these NÜOBELL Adjustable Dumbbells worth the money?
In a word, yes. If you use more than three or four sets of dumbbells as part of your workout, then these weights are worth the investment, it's as simple as that. They replace myriad pieces of hardware — 16 pairs of dumbbells per one pair of NÜOBELL Adjustable Dumbbells you purchase.
How easy is it to adjust the weight of these dumbbells?
Very easy. If you can turn on a faucet or twist a doorknob, you have the wrist control and strength to switch from one weight to another with these dumbbells — all you need to do is twist the handle.
Are adjustable dumbbells durable enough to last for years?
They are indeed. That's why the company is comfortable offering an automatic two-year manufacturer's warranty with the purchase, and the option to buy an extended warranty in either one-year or three-year increments.
The post NÜOBELL Adjustable Dumbbells Review appeared first on BarBend.