The most relaxing hotel in Paris: Le Roch Hotel and Spa, a Design Hotel
Paris has no shortage of points hotels, especially in the Marriott portfolio. Most Marriott brands make an appearance, like Westin, Renaissance and Courtyard. But after a year of limited travel, I wasn't interested in having just another Marriott stay. Instead, I wanted to try one of the group's unique hotel offerings in Paris: the Le Roch Hotel and Spa.
This hotel is under Marriott's Design Hotels brand. It takes a relaxation-first approach, with an on-site spa, fine dining restaurant and rooms equipped with spa amenities. I'd heard great things about this hotel online and went into the stay with high expectations, especially since the room rate was well over $350 per night.
Spoiler alert: The hotel shattered my expectations and is officially my new go-to in Paris. It offered the perfect mix of gastronomy, relaxation and Parisian flare I was seeking. Let's take a closer look at my stay and see why you should consider Le Roch for your first trip back to Paris this summer.
For more TPG news delivered each morning to your inbox, sign up for our daily newsletter.
Booking
I booked my stay at Le Roch through Marriott's website and paid 330 euros per night after VAT. This is just under $395 per night, putting it on the pricier side of hotels in Paris. That said, it's still cheaper than the $800 per night at the nearby Park Hyatt Paris-Vendome, and points rates are reasonable.
Le Roch is a Category 7 property, so you'll spend 60,000 Marriott Bonvoy points per night on nights with standard award availability. That said, the points price drops to just 50,000 points per night on off-peak dates, so you can use a 50,000-point free night certificate to cover your stay. This is an excellent deal and — in my mind — one of the best ways to spend your free night certificate if you find yourself in Paris on off-peak dates.
Need to stock up on Marriott Bonvoy points? Consider applying for a Marriott card like the Marriott Bonvoy Brilliant™ American Express® Card. Right now, the card is offering a welcome offer of 75,000 bonus points after you spend $3,000 in purchases within the first three months of card membership.​ Plus, you'll earn up to $200 in statement credits for eligible purchases at U.S. restaurants within the first six months of card membership.
The card has some nice perks too. You'll get an annual award night worth up to 50,000 points upon account renewal, an up-to-$300 annual statement credit on eligible purchases at participating Marriott properties, Gold Marriott Elite status and the ability to earn Platinum with $75,000 in annual spending on the card. The card has a $450 annual fee (see rates and fees), but you can get far more in value if you maximize the free night certificate.
Related: Is the Marriott Bonvoy Brilliant Amex worth the $450 annual fee?
Location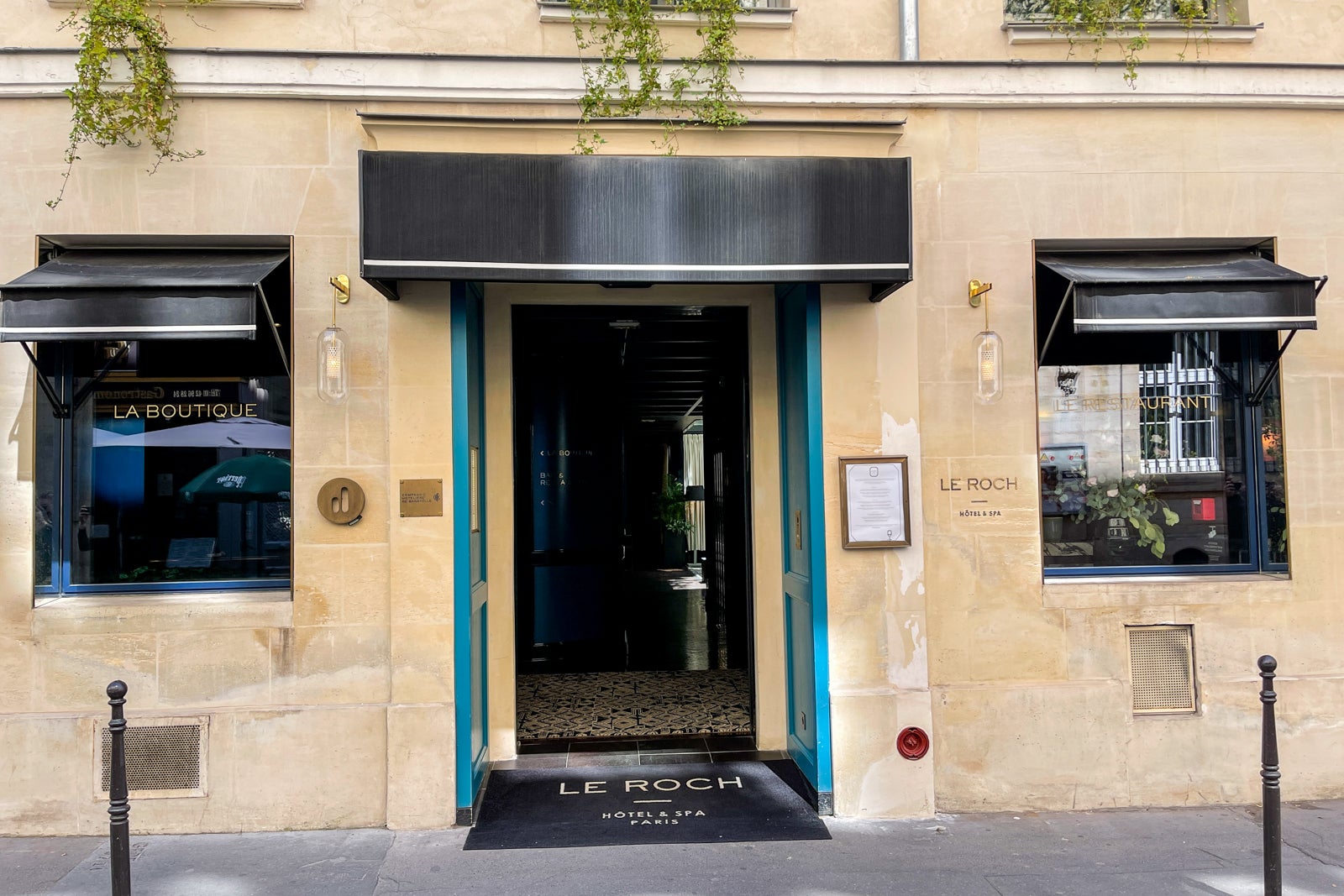 Le Roch is in the heart of Paris near Place Vendome. The hotel isn't quite as centrally located as the Park Hyatt, but it's within walking distance of many high-end shops, restaurants and cafes. It's also just two blocks away from the Jardin des Tuileries and the Louvre, and an easy Uber ride to the Eiffel Tower. The hotel's location is a jumping-off point for all the major tourist attractions.
You're close to the Opera and Palais Royal-Musee du Louvre Metro stops, too, giving you access to a plethora of transit options. The RoissyBus from Charles de Gaulle Airport (CDG) also stops near the Opera Metro stop too. This gives you a cheap and easy way to Le Roch from the airport.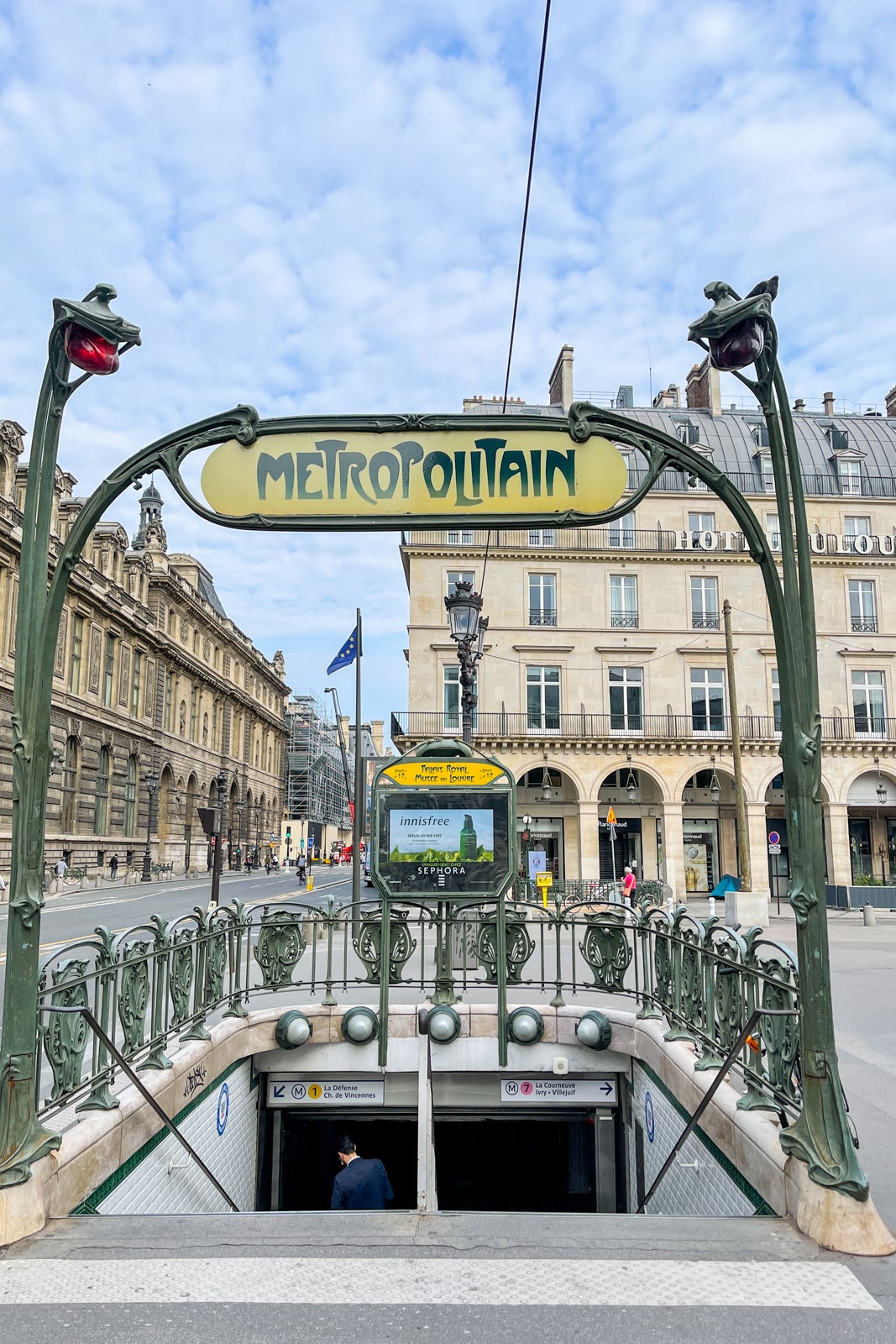 One of my favorite things about Le Roch is its inconspicuous location. The hotel is on a quiet side street with just a few restaurants and shops. The area is peaceful at night, but you're still close enough to the action for a fun night out.
Related: France is open to Americans; here's what it's like now and when to go
Check-in
My flight arrived in Paris around 8:30 a.m. and I cleared customs relatively quickly. Due to Paris' notoriously horrible traffic, I arrived at the hotel around 10:45 a.m., well before the hotel's 3 p.m. check-in time. I walked into the hotel and was immediately greeted by a friendly receptionist who checked to see if a room was ready. Much to my delight, he said he could have a room prepared in 20 minutes — and that he upgraded me to a suite.
You could tell the receptionist was excited about France's borders reopening. He told me I picked the perfect day to arrive since indoor dining was finally reopening. He then took my luggage, showed me to the hotel's small lobby and offered me a cup of coffee. This was badly needed after a transatlantic red-eye.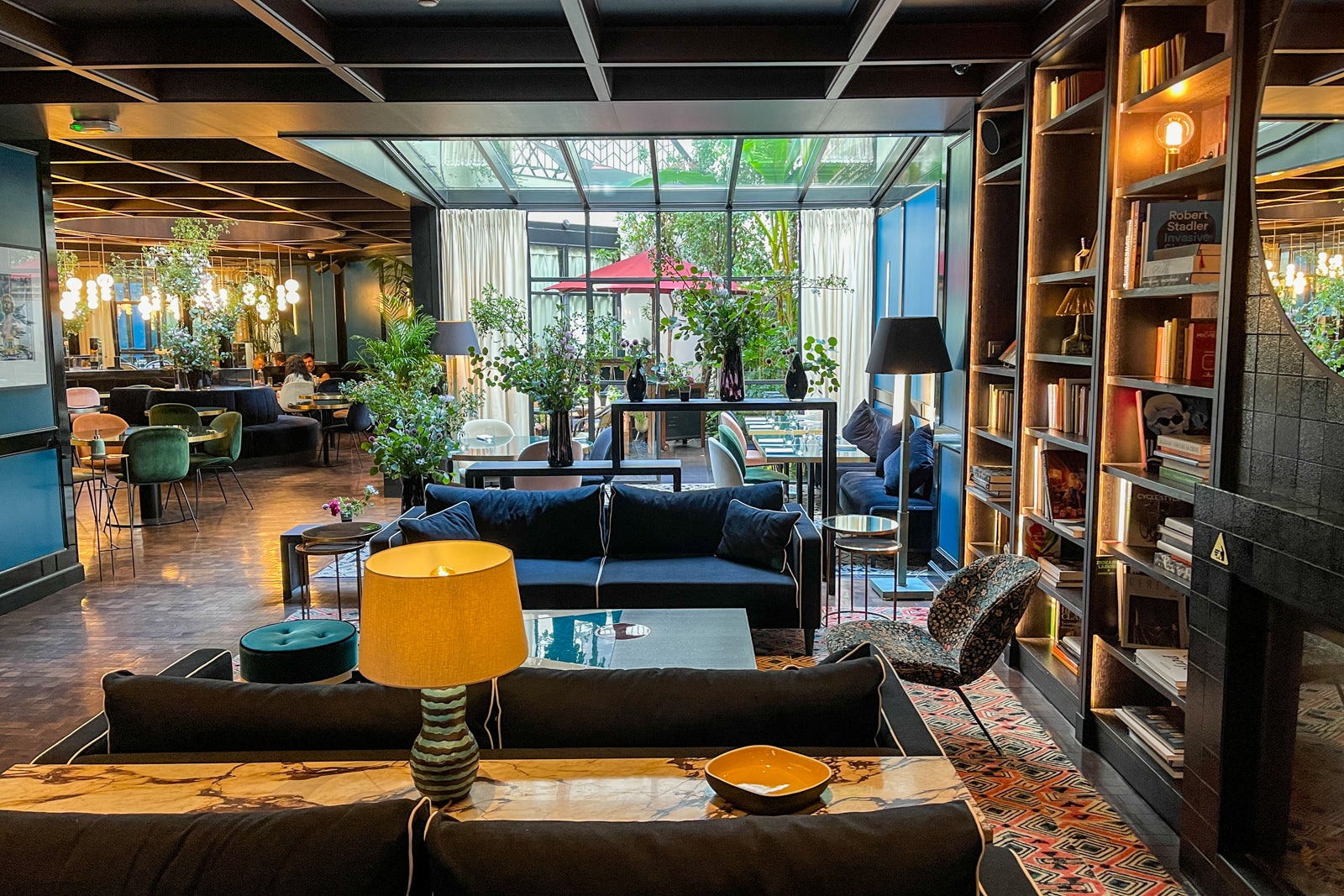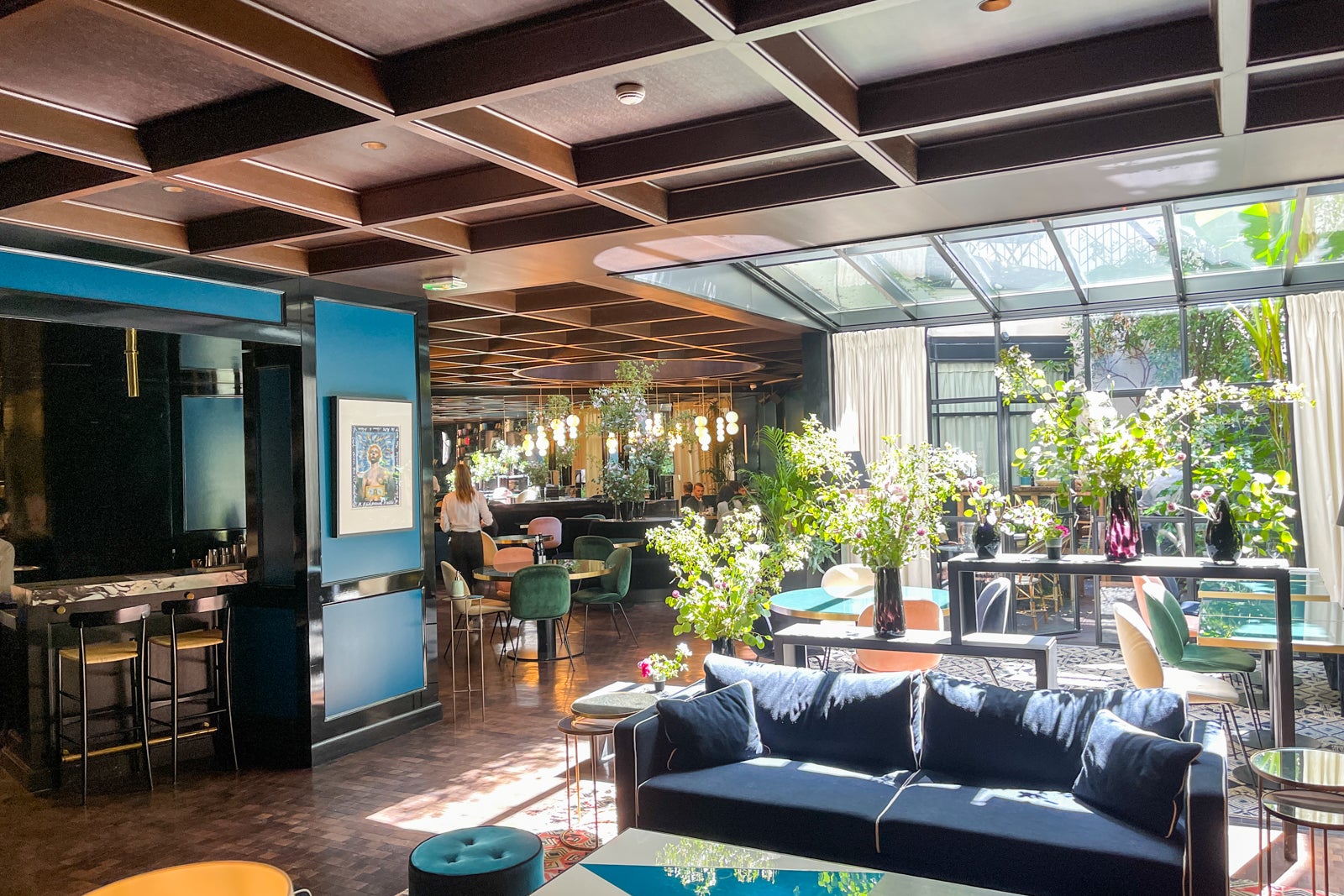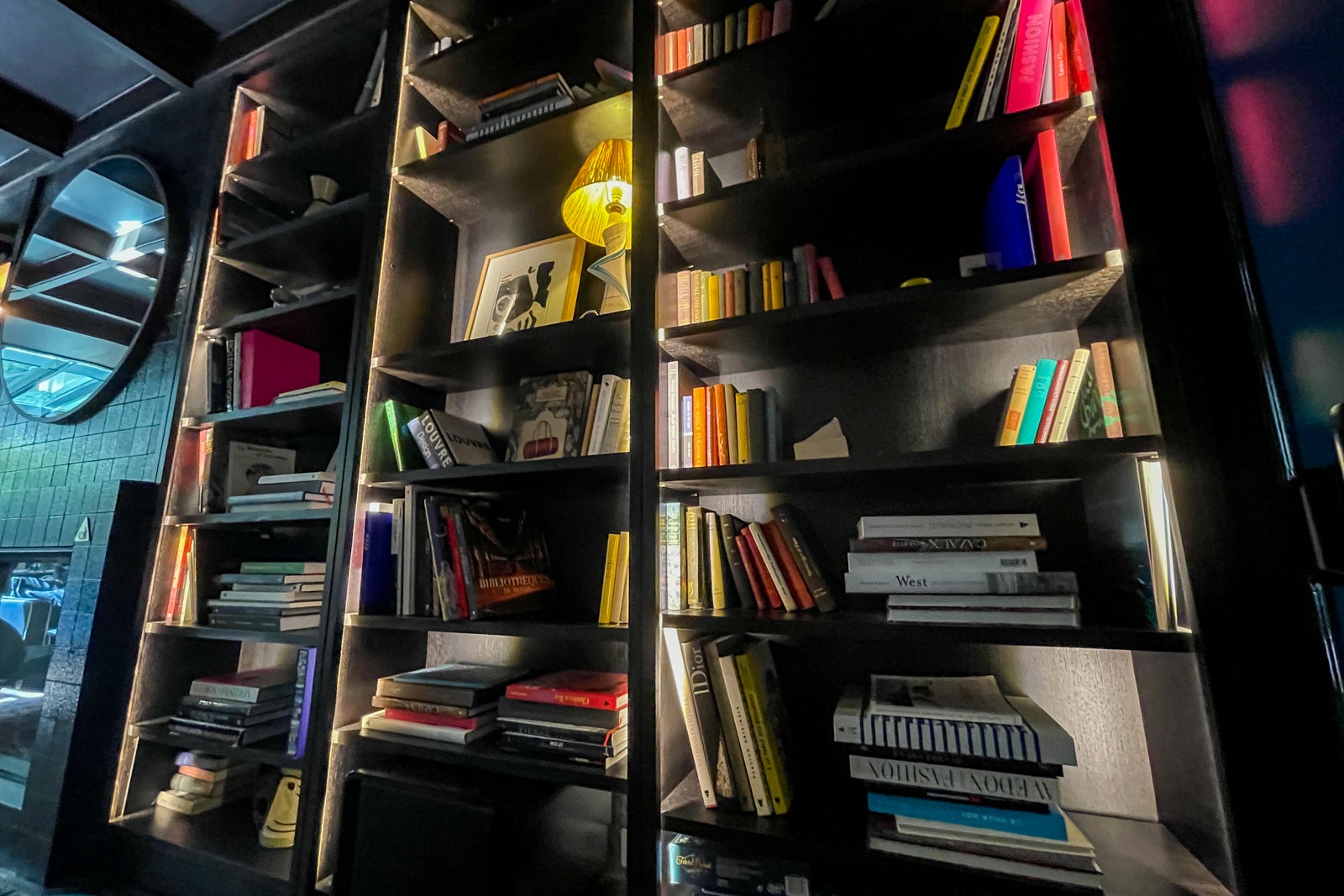 You'll find a couple of rows of large leather couches and a few coffee tables in the lobby. It's not ideal for working, but a great place to relax. The on-site bar and restaurant are connected to the lobby too. The lobby has a dark and calm atmosphere, with books and knickknacks lining the walls.
Related: Paris on points is possible — here's where to stay
Room
I booked a standard room at Le Roch, but my Platinum Elite status got me an upgrade to a suite. Upon walking into the suite, you'll see a living area with a couch, chair, table and TV. Behind the sofa is a hanging bookshelf with art and design books that were nice to flip through.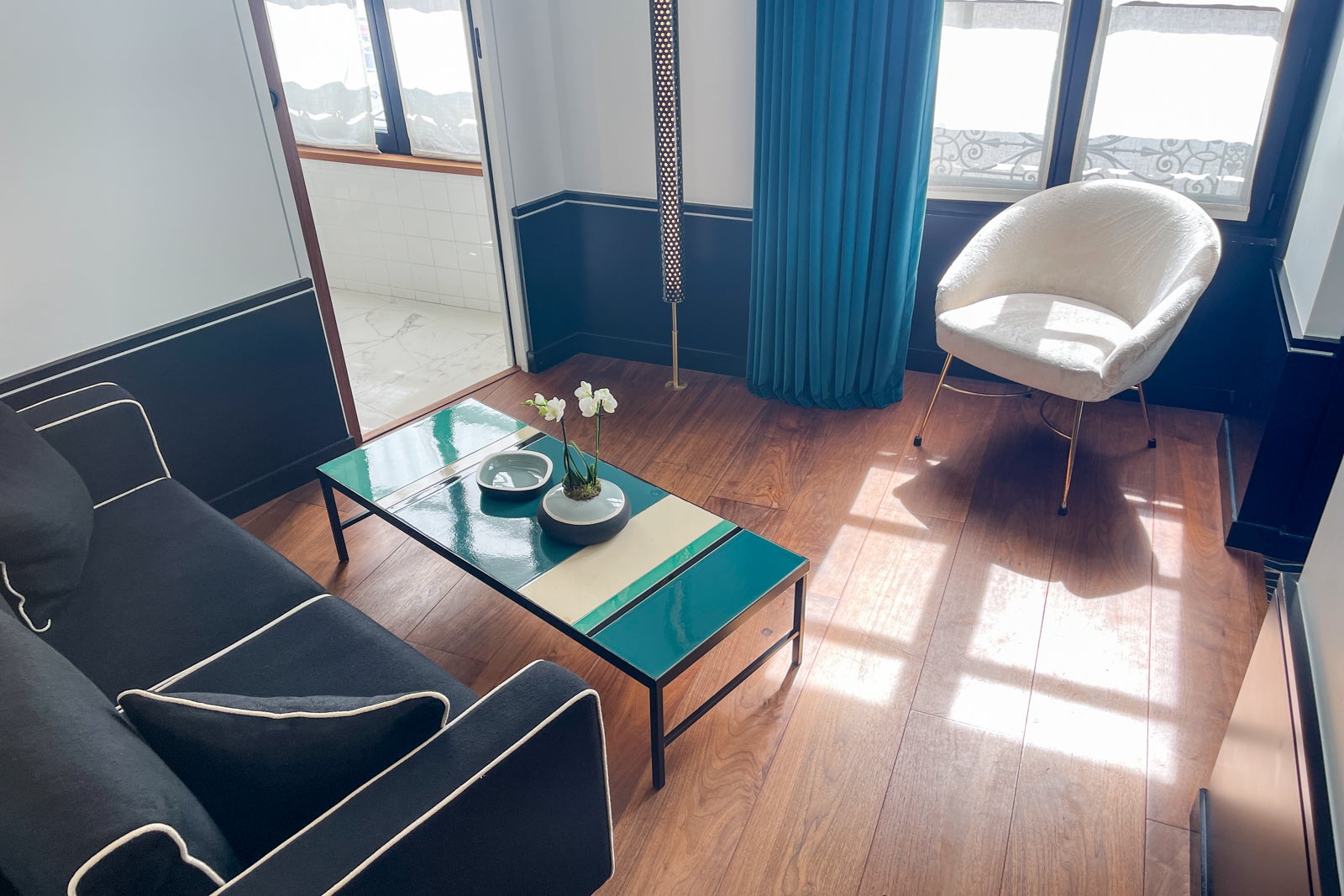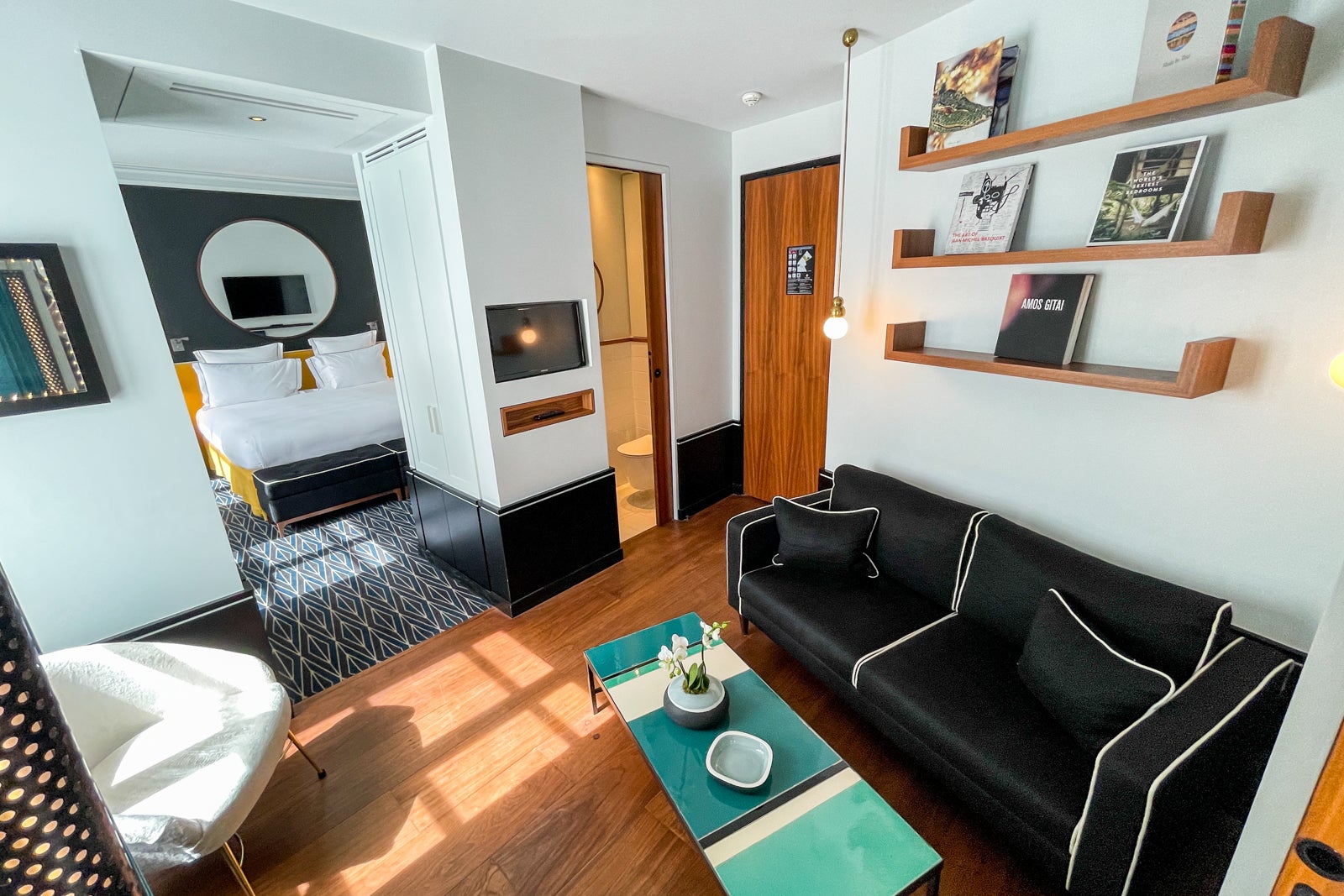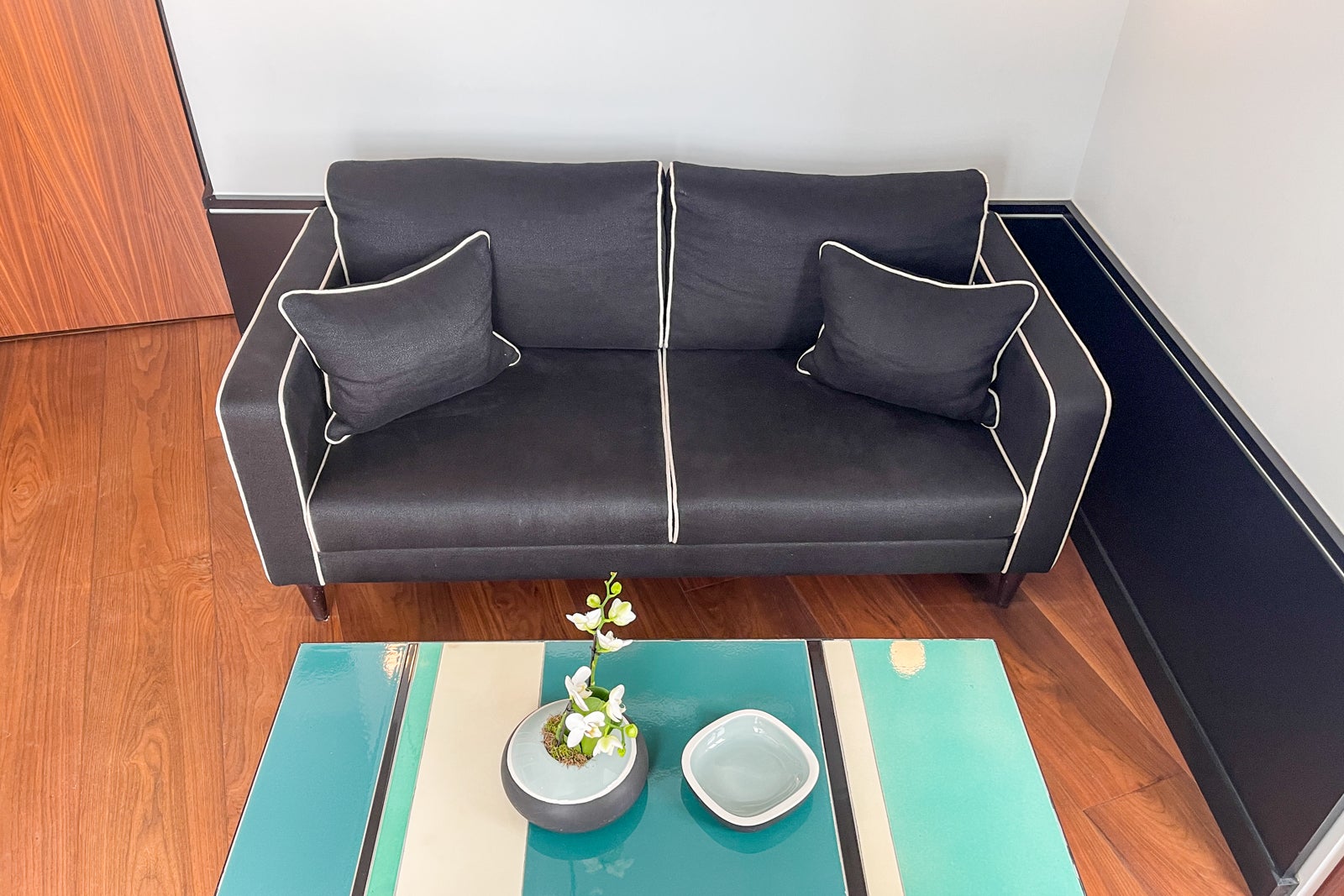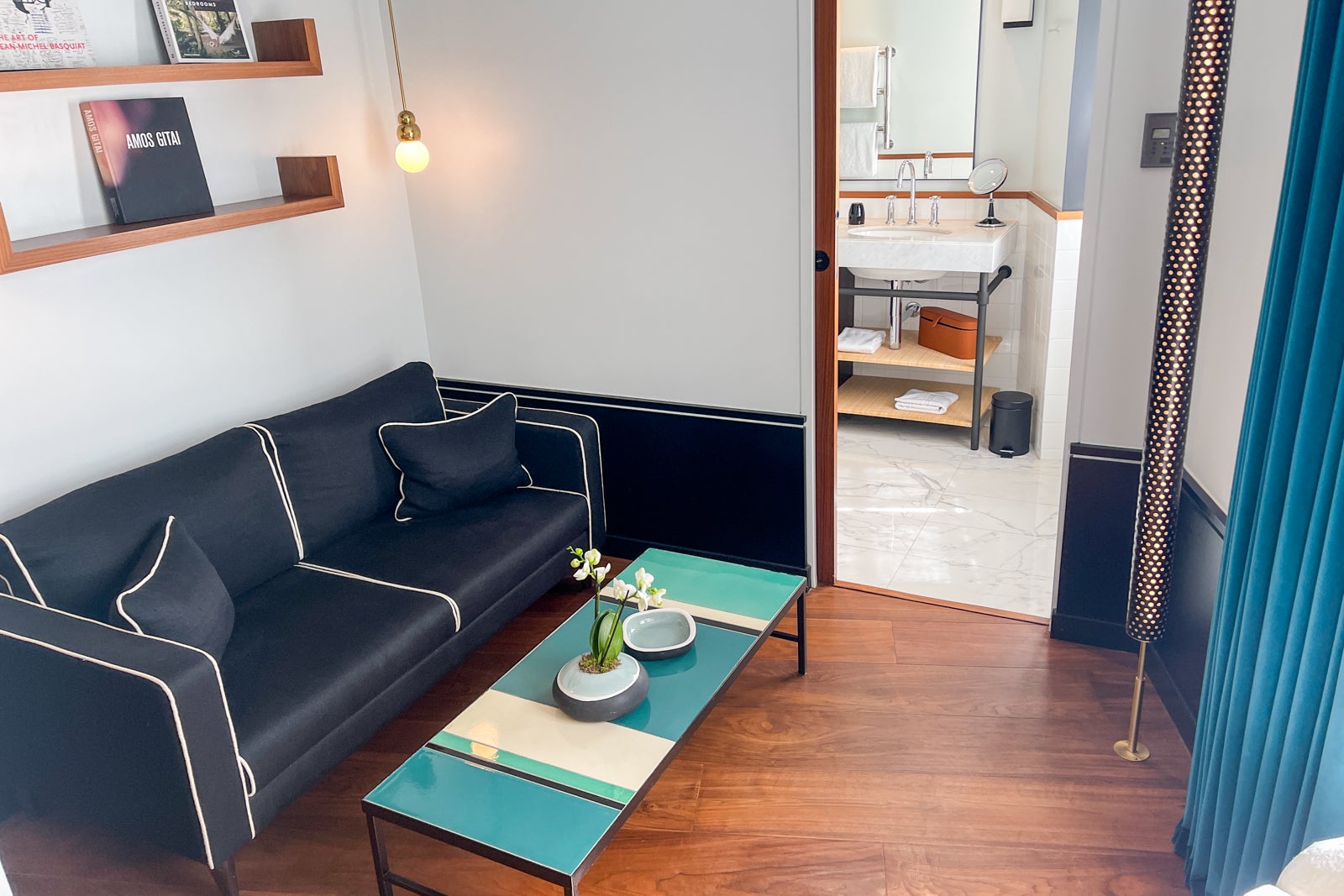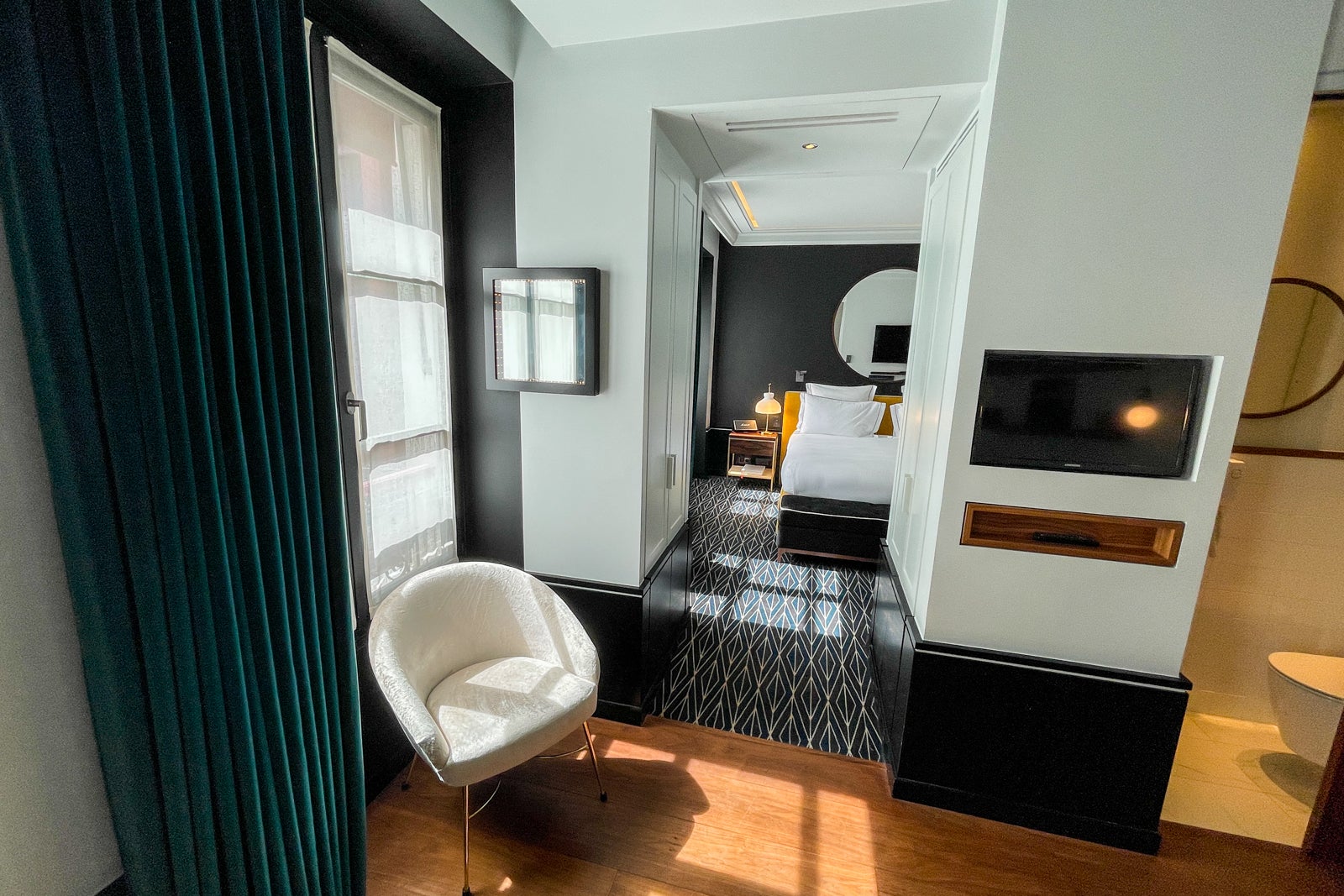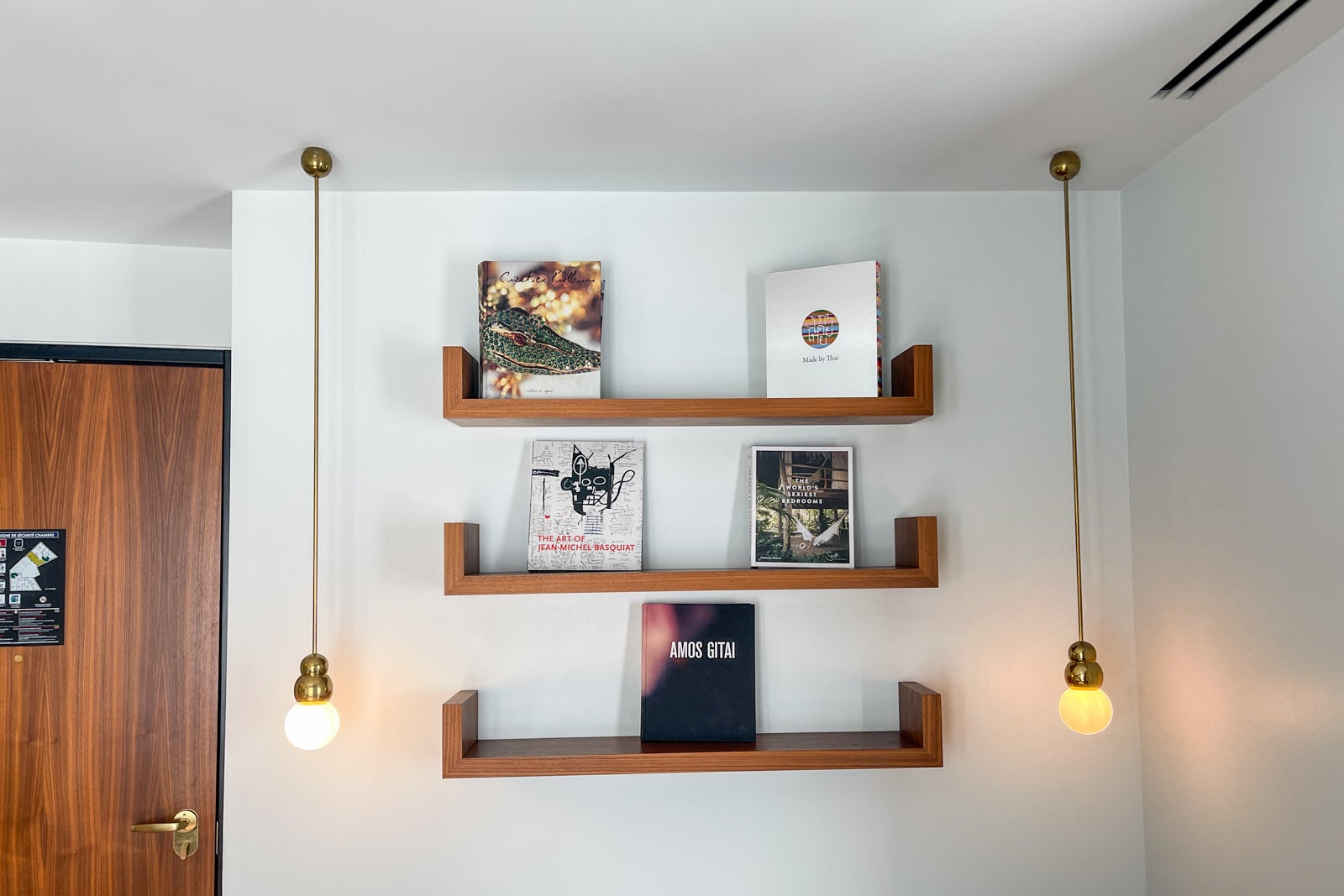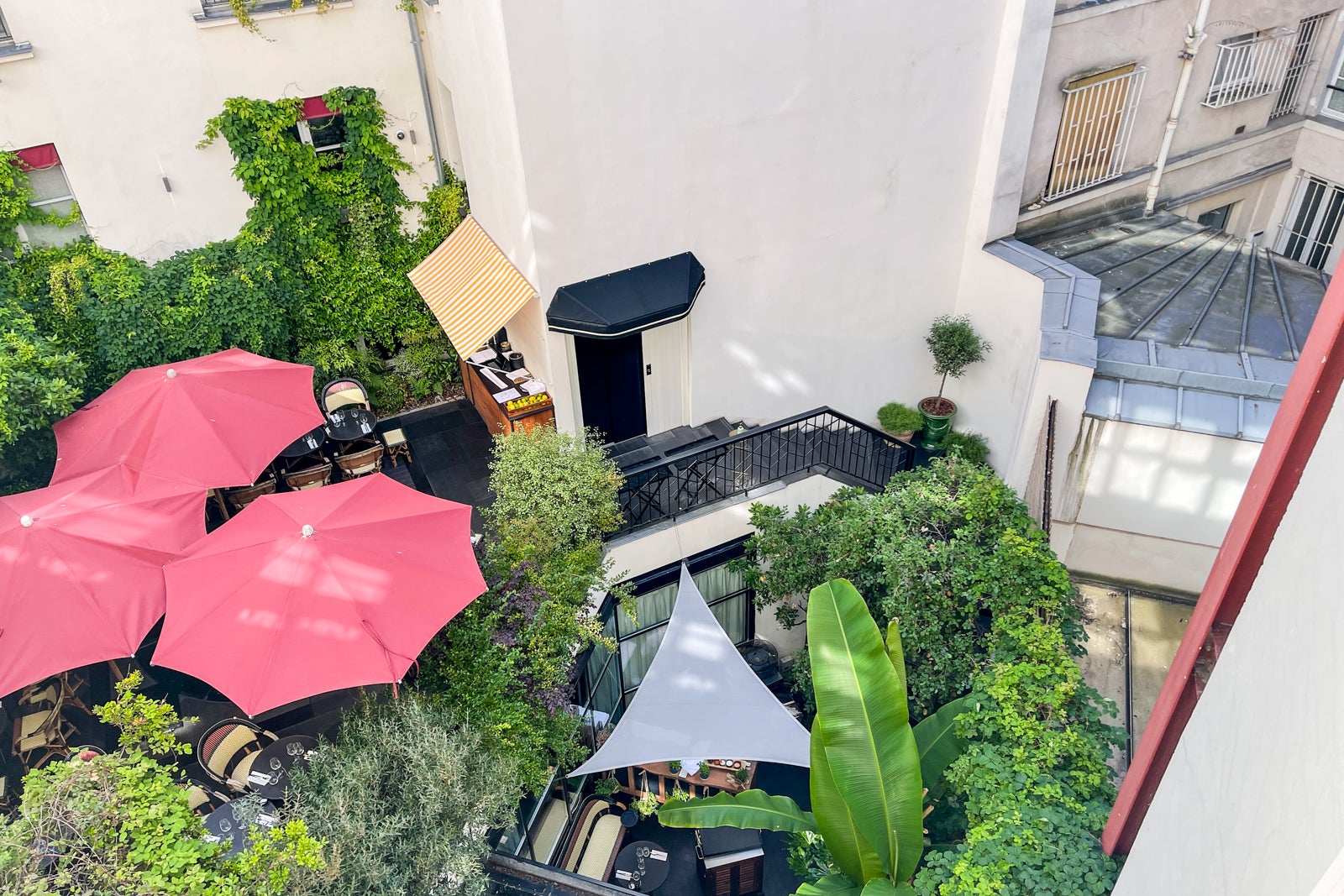 Off to the side of the living room is the water closet — or as the French say, "WC." The separate WC is pretty typical for hotels in Paris. The WC was a little bit claustrophobic for my liking, but it was clean.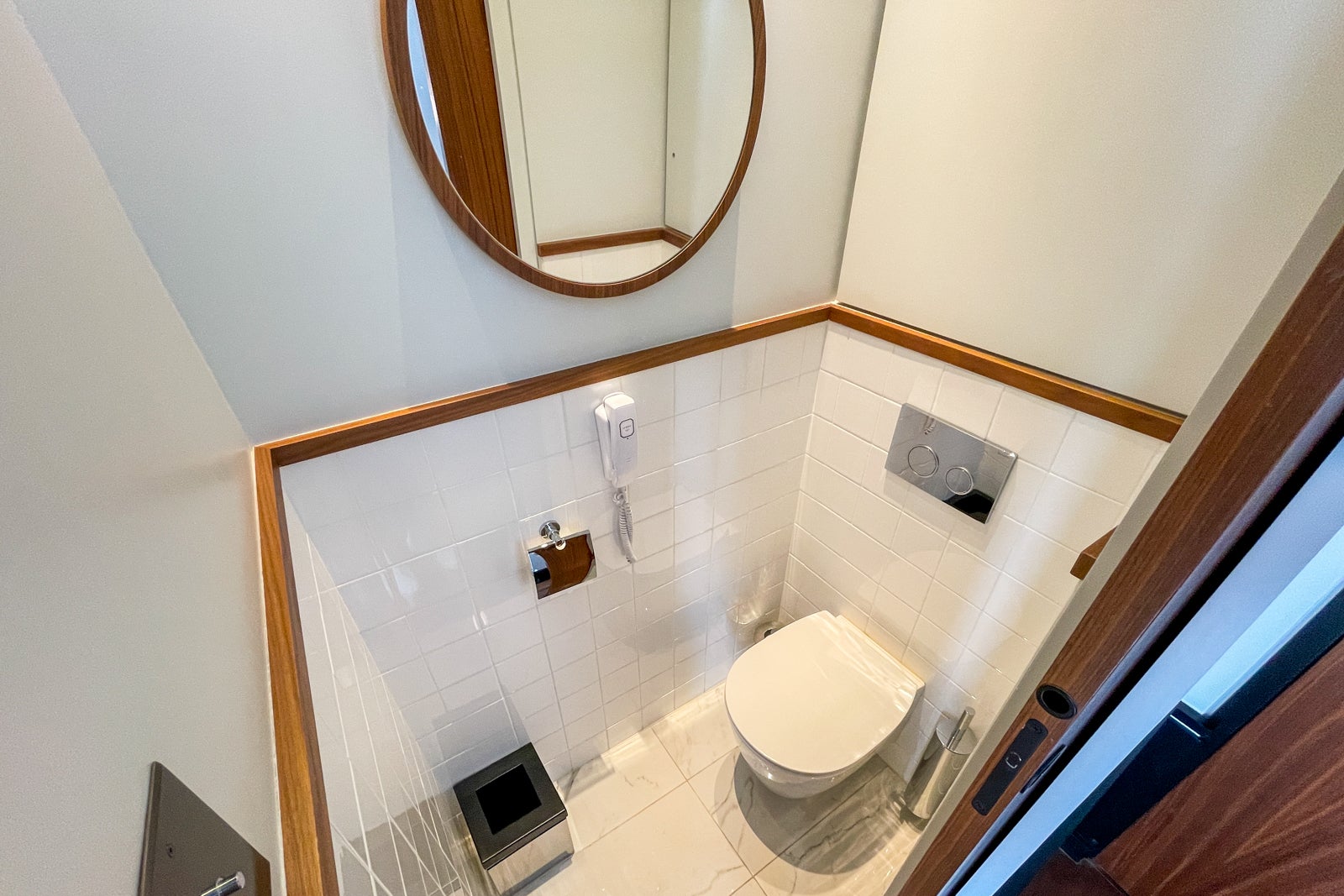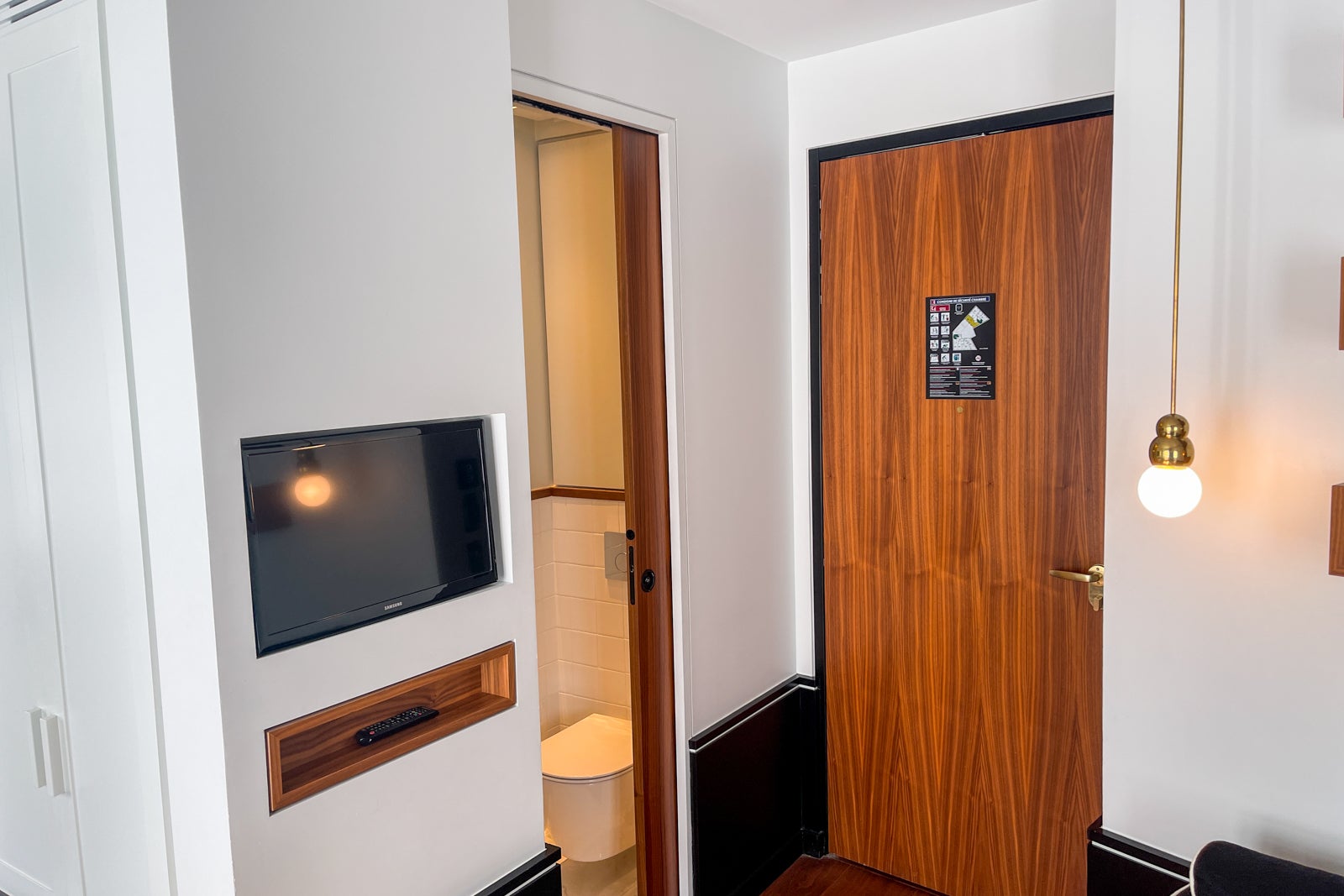 The bedroom has everything you'd expect. There's a large king-size bed with ultra-soft pillows and a plush comforter across from a large desk and TV. There are plenty of outlets on each nightstand and on the desk, so you can keep your gadgets charged without issue. There's also a Marshall-branded Bluetooth speaker on the nightstand.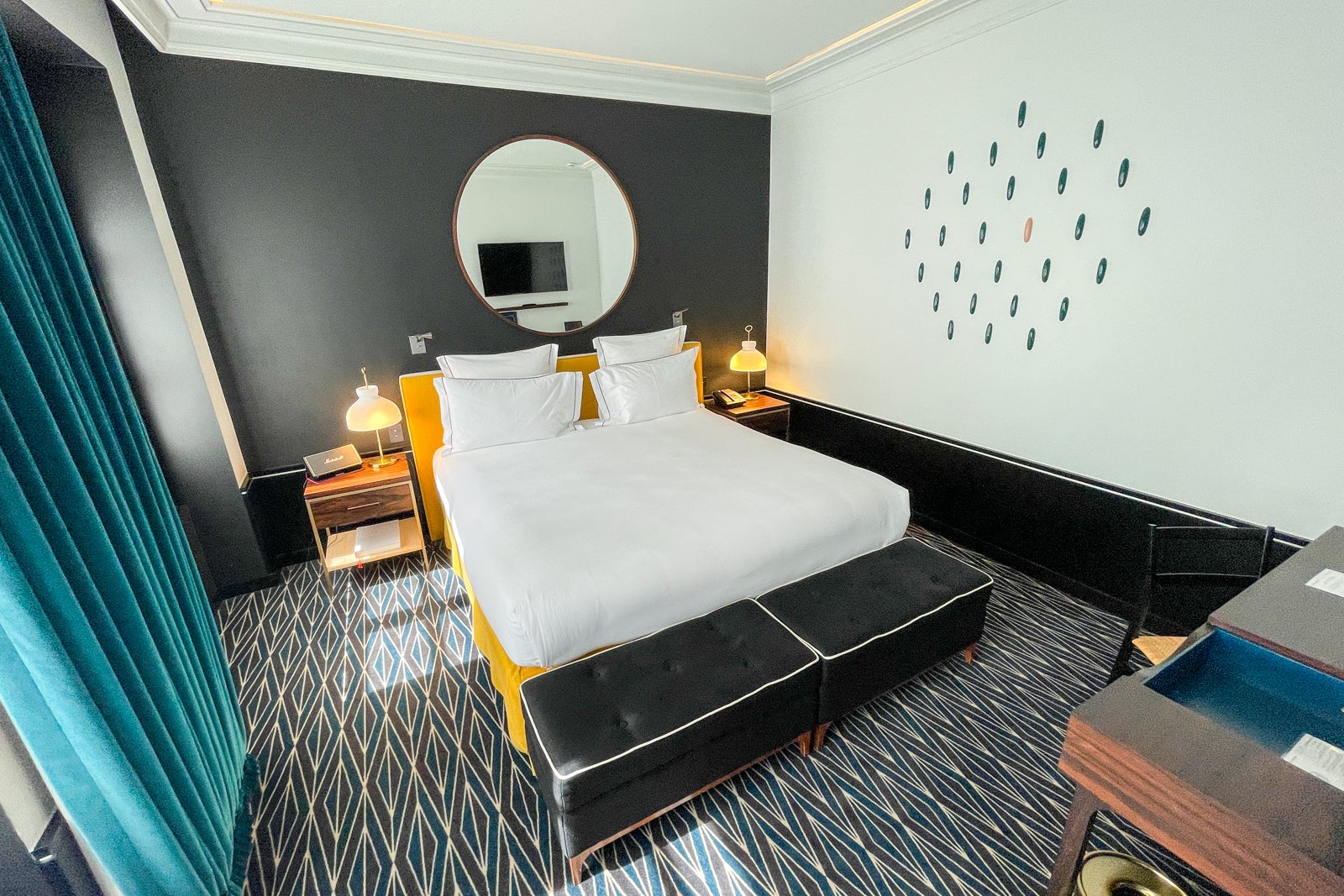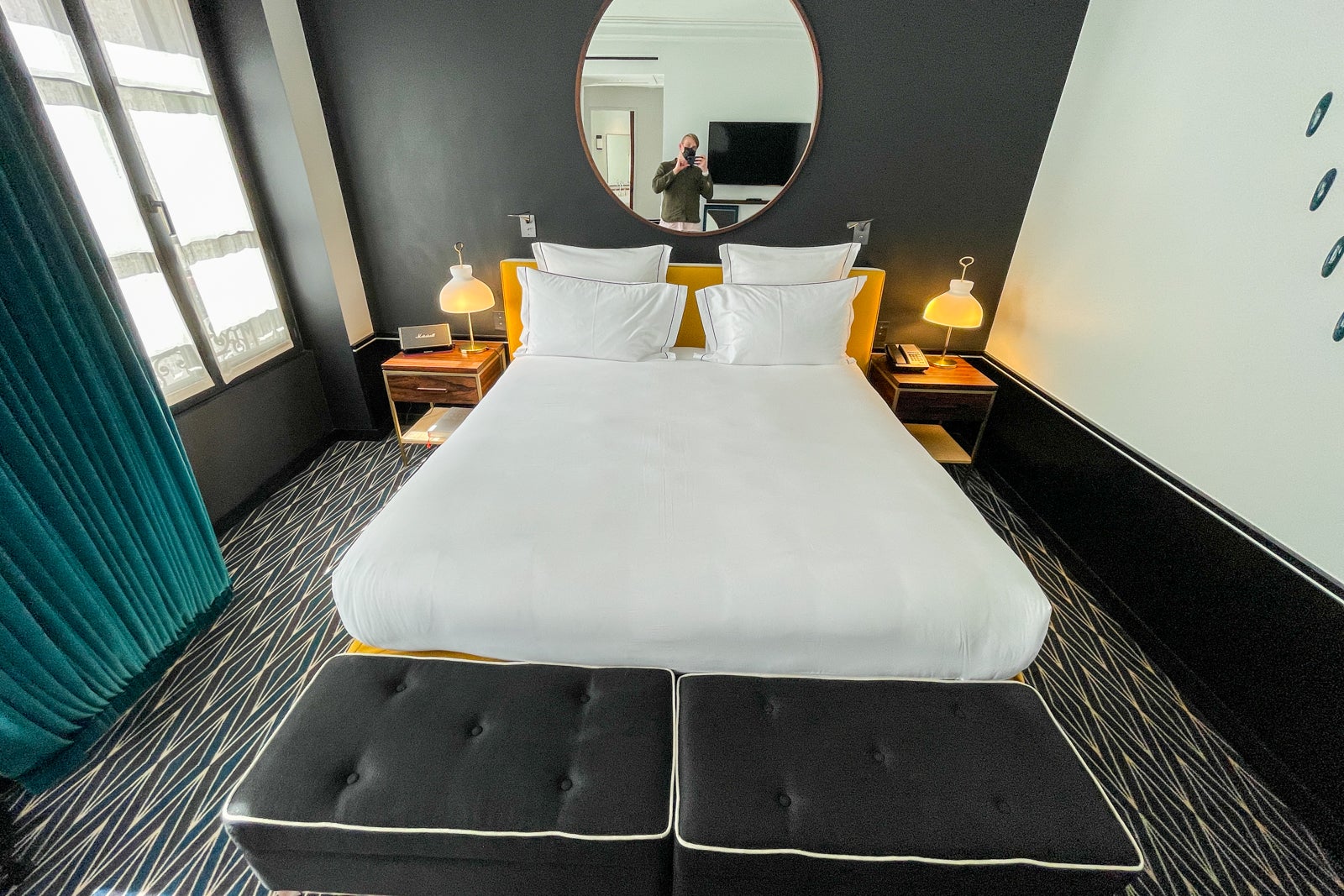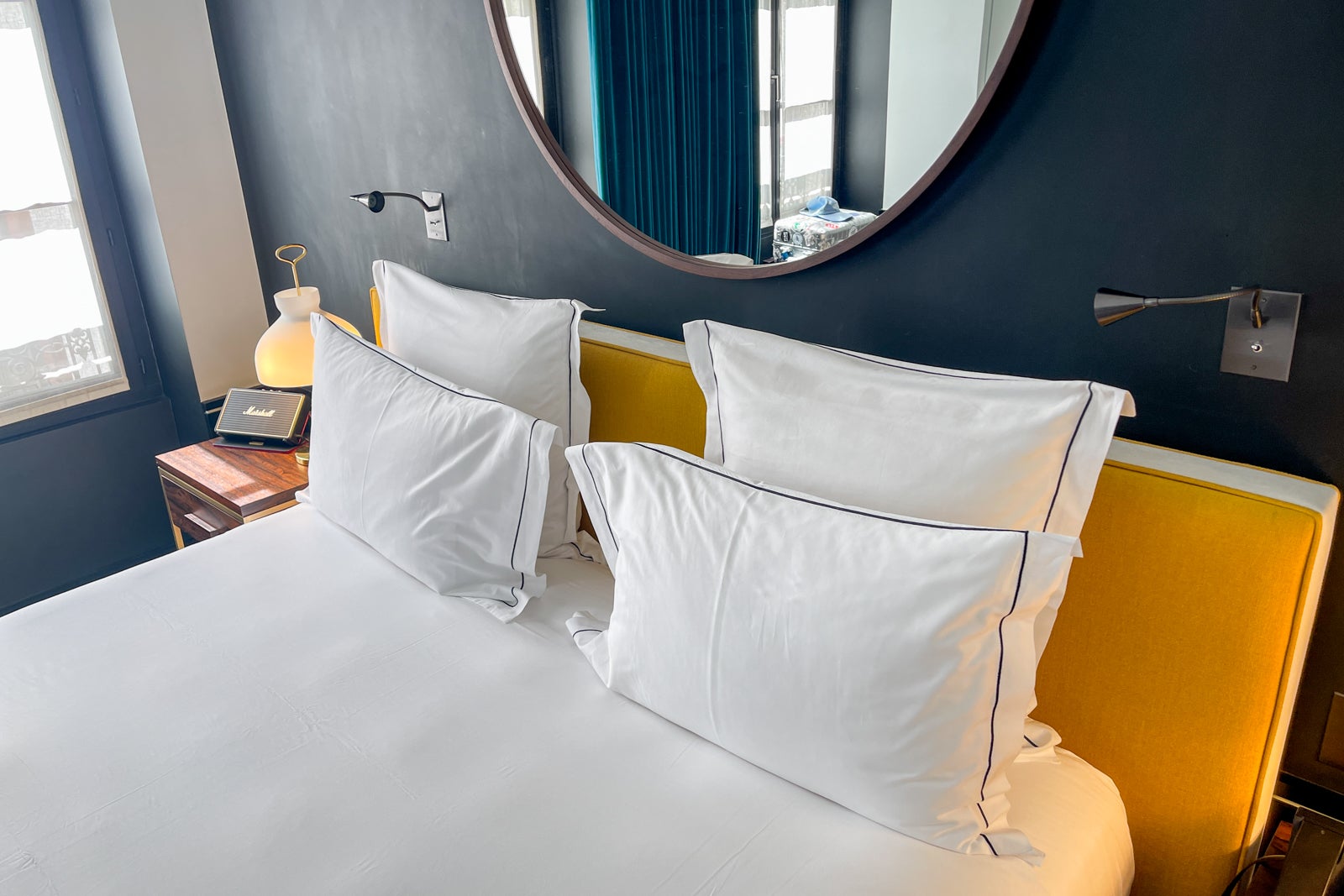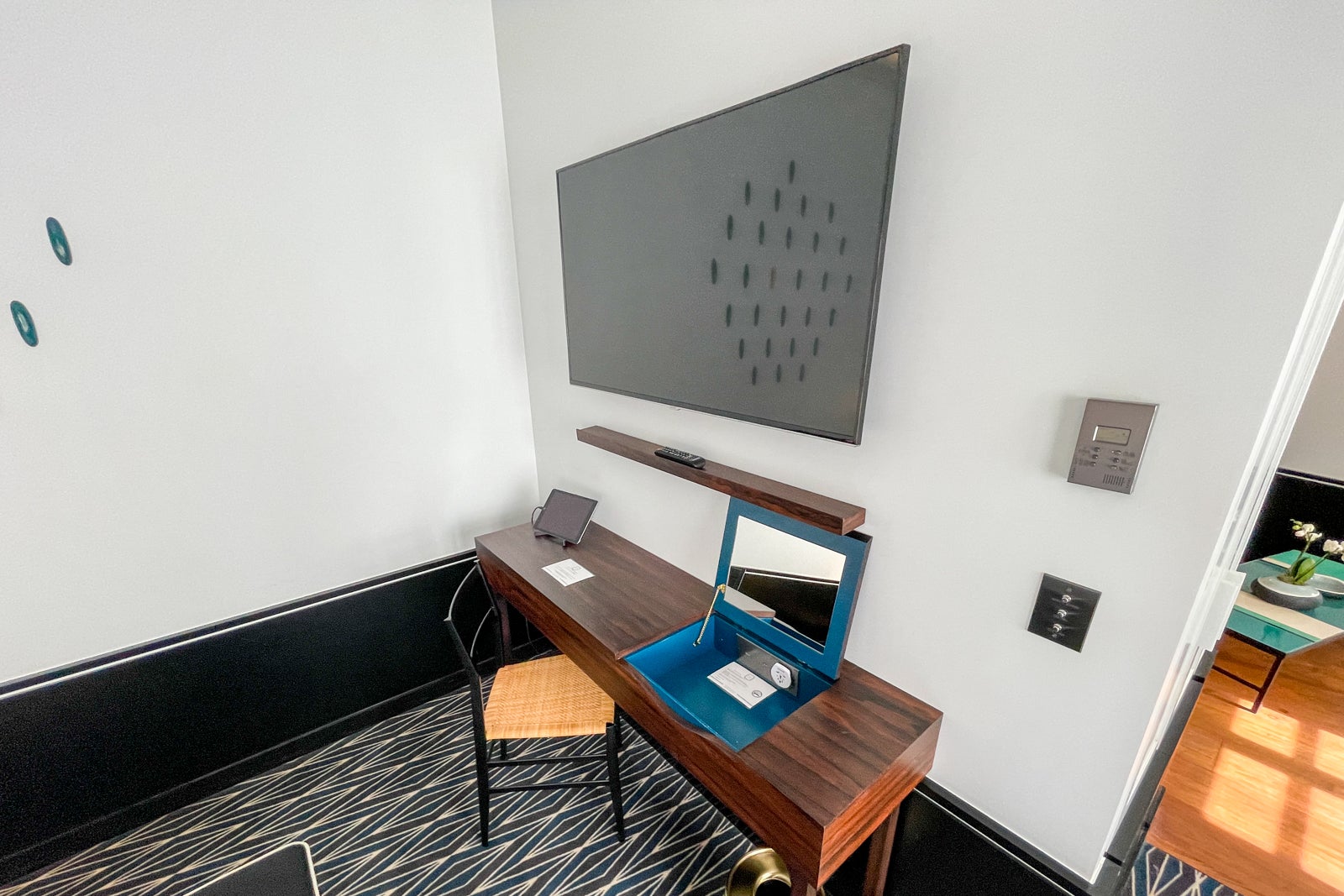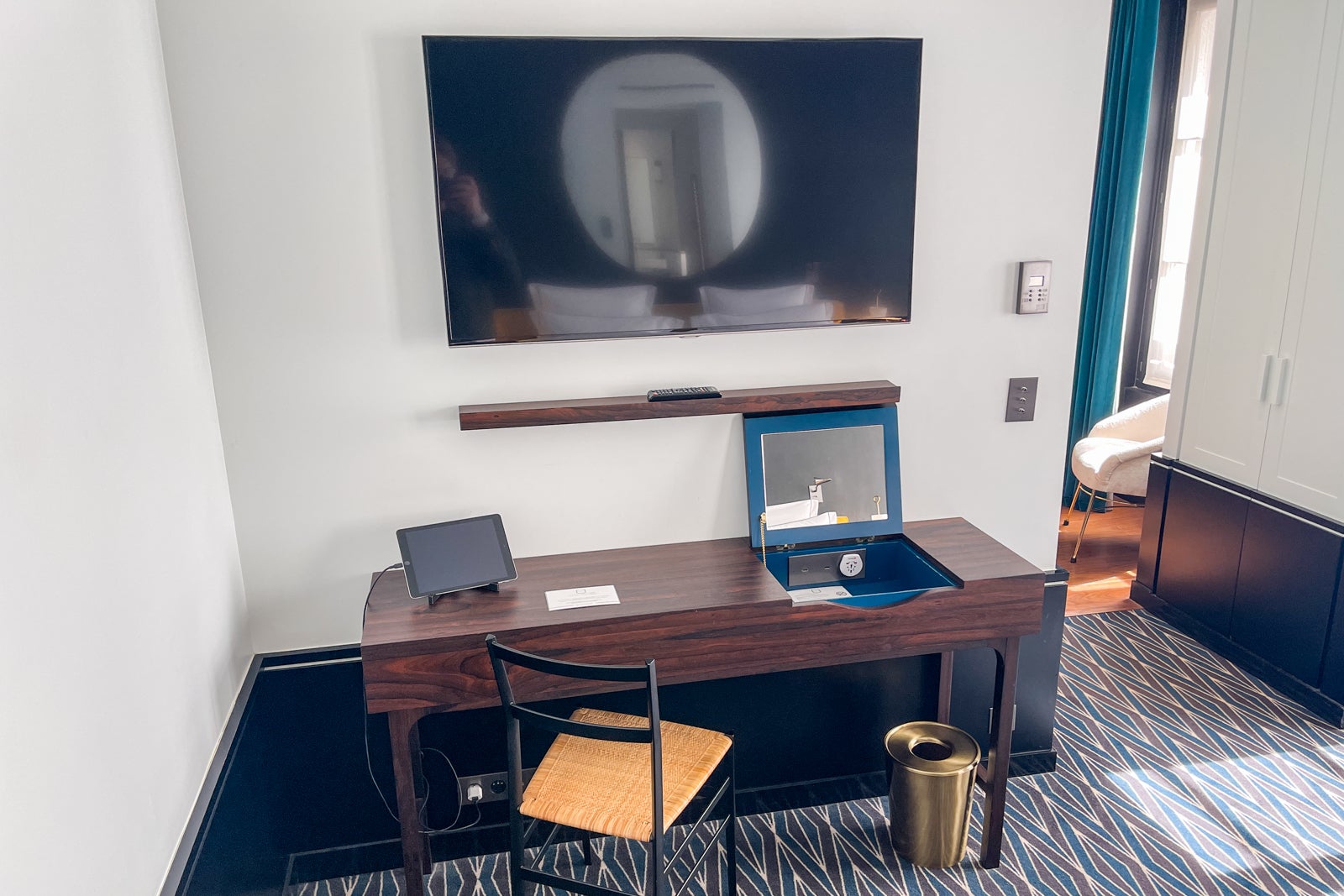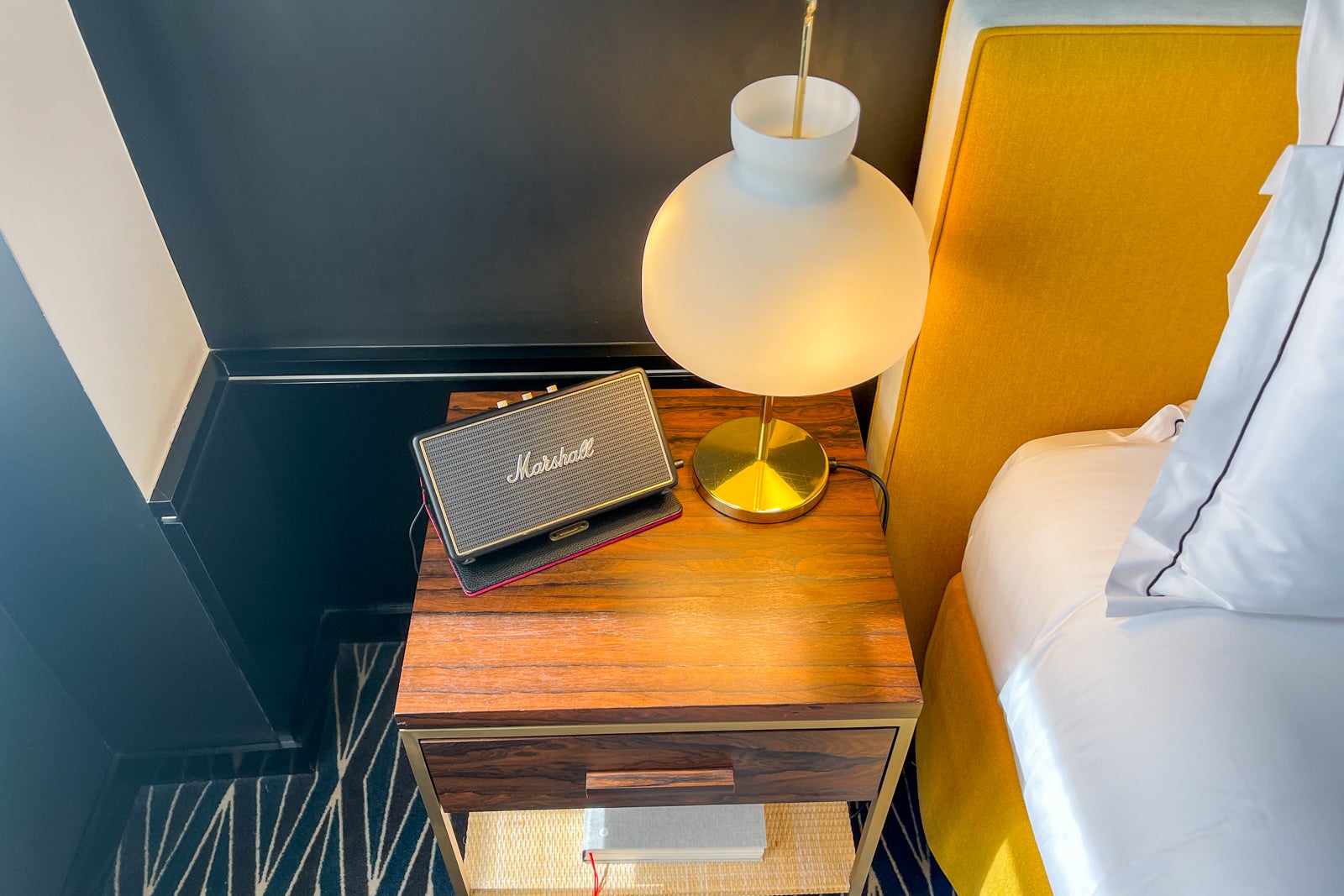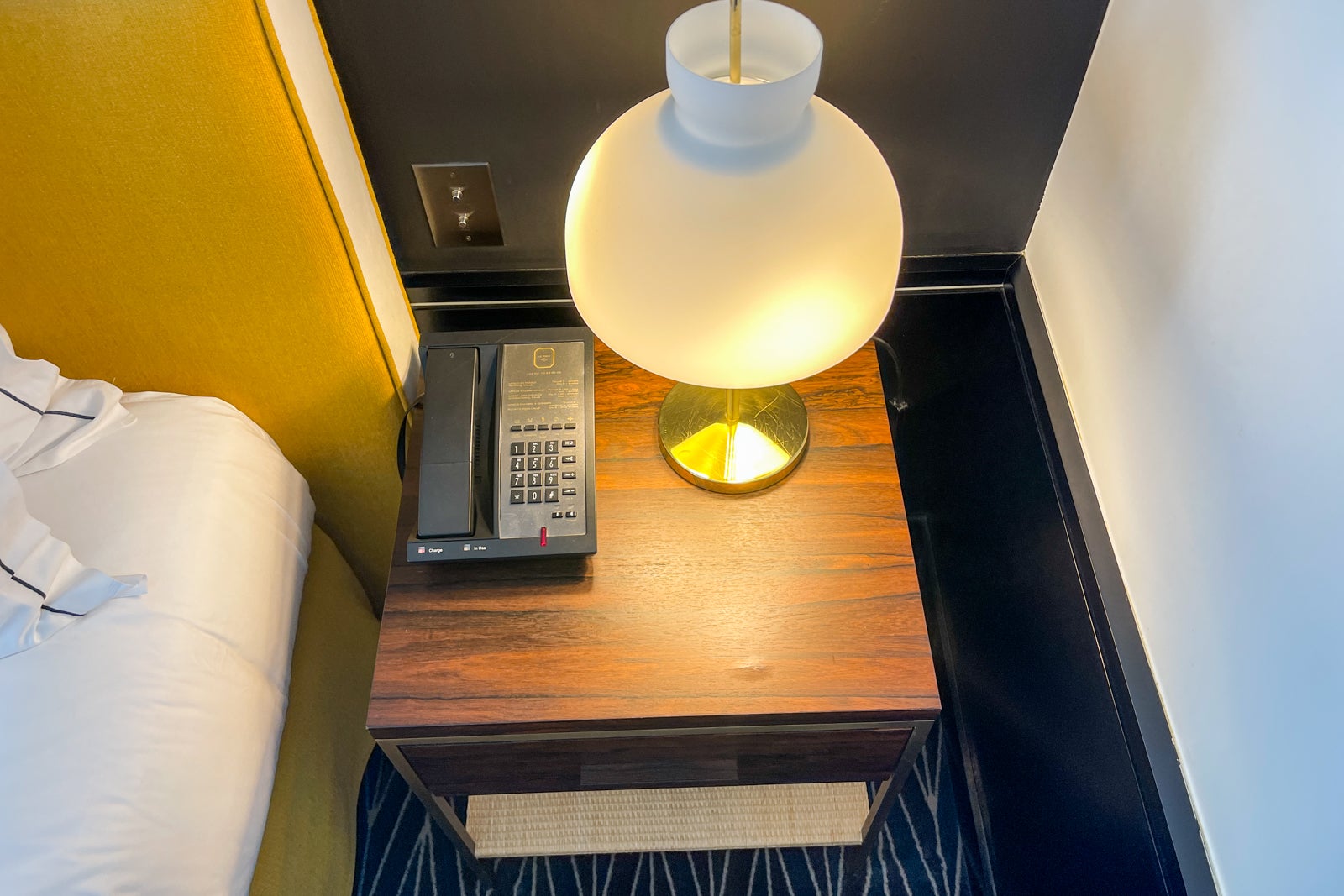 The hotel provided turndown service every night, when housekeeping laid out new pillows and left a little bottle of nighttime moisturizer. I was surprised to see Le Roch still offering turndown service in a COVID-19 world where hotels are moving toward a contactless future. Regardless, it was nice to see a bit of normalcy.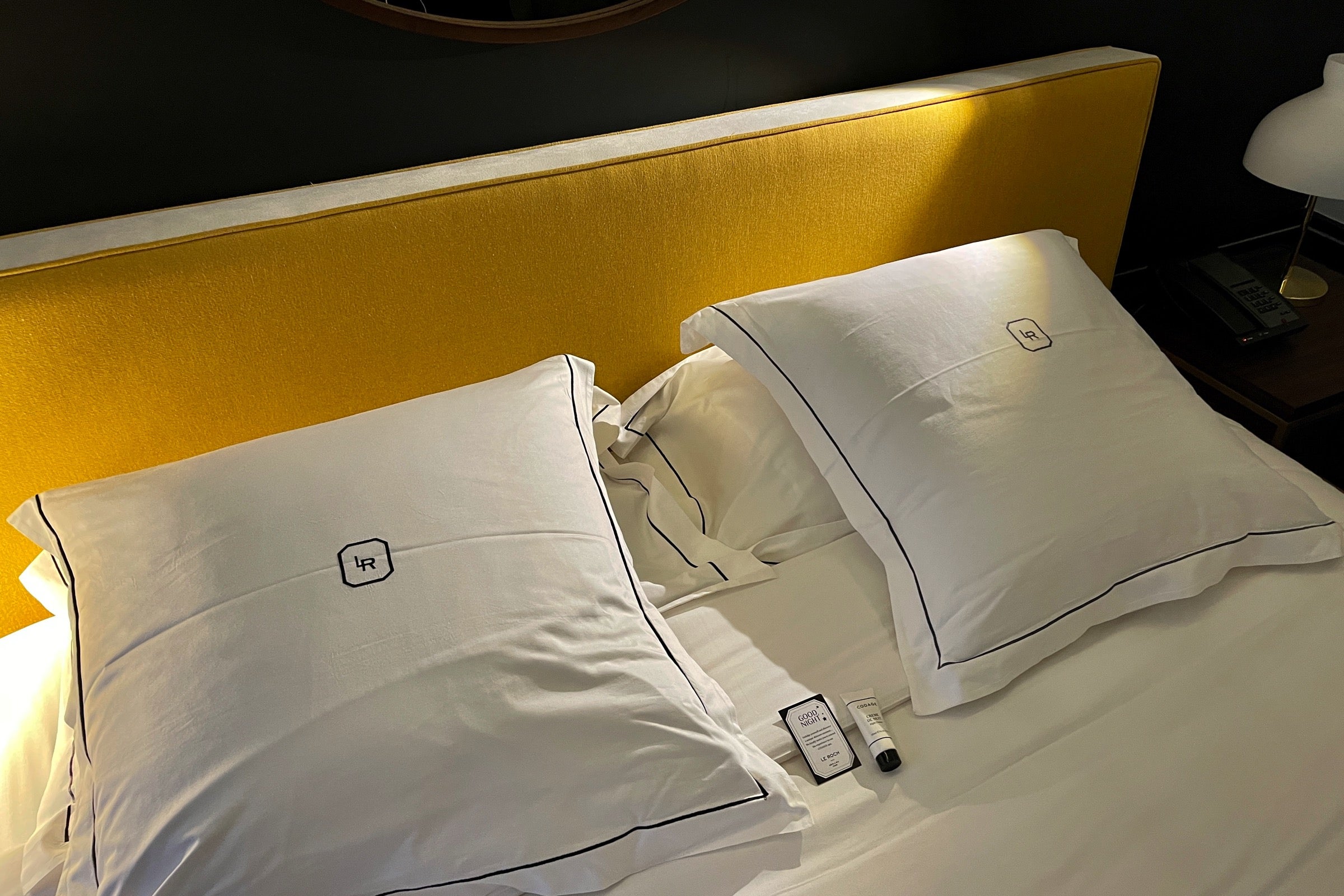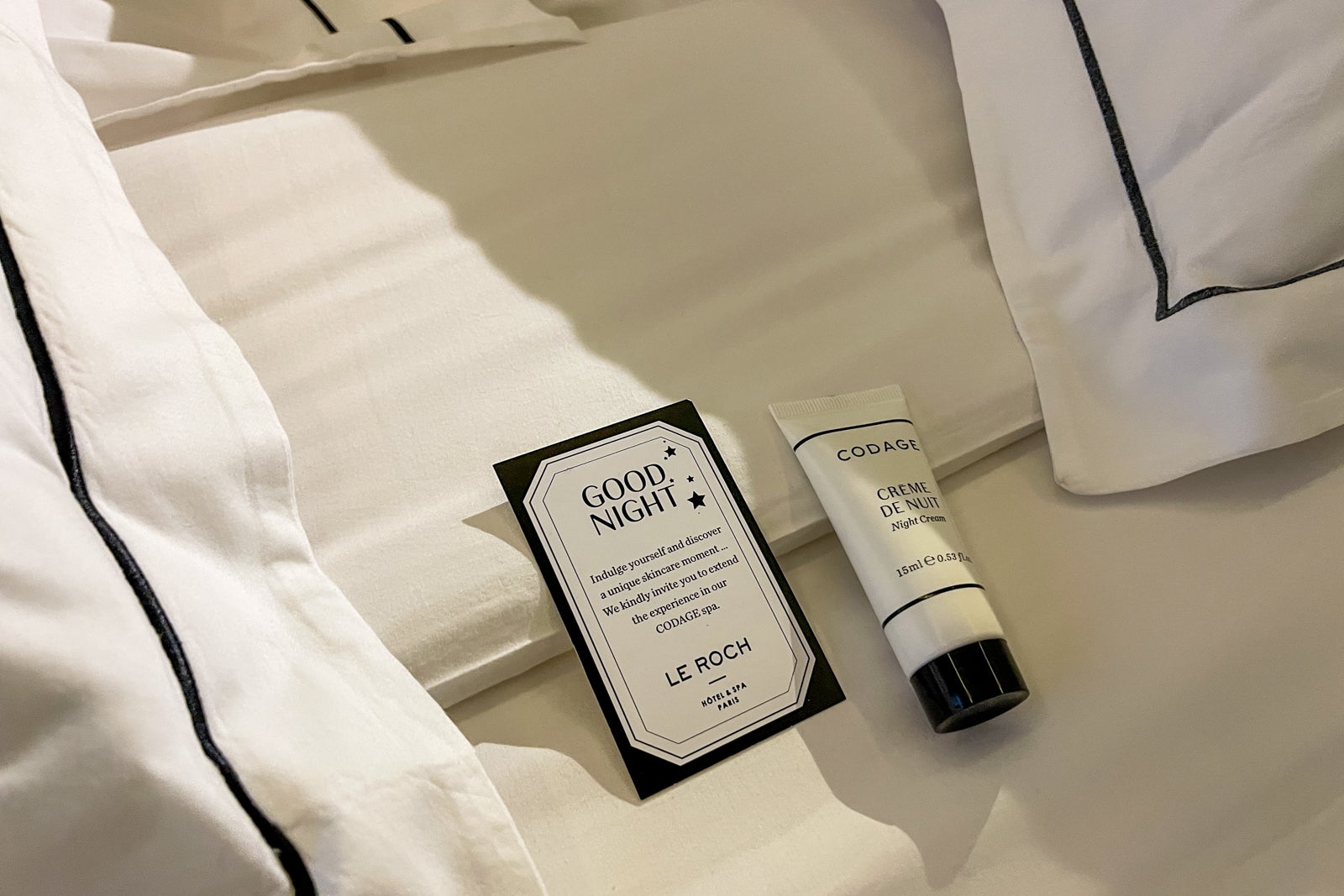 There's an iPad on the desk that you can use to order room service and get in touch with the front desk. The tablet was handy to have and made ordering room service almost too easy.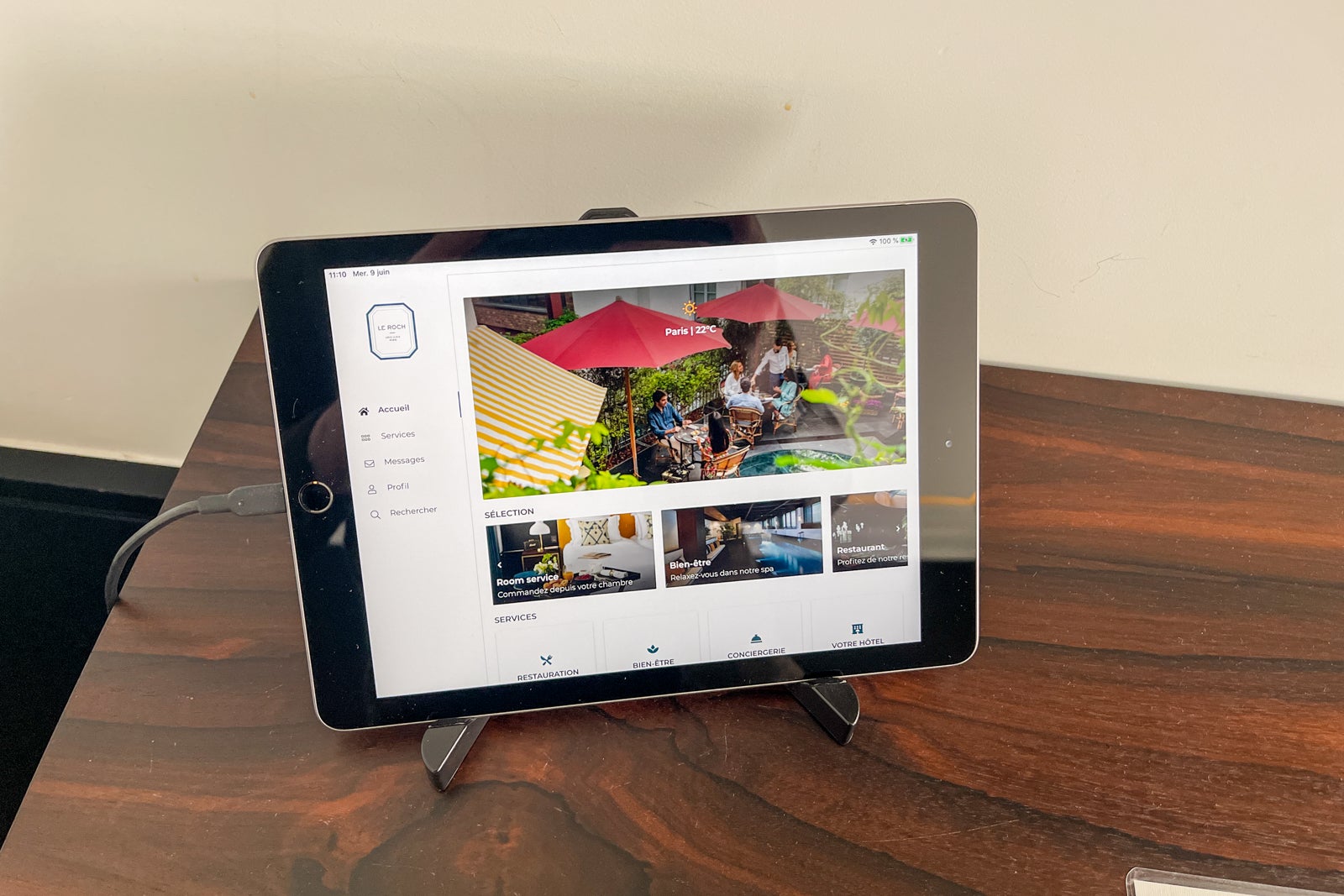 Between the bedroom and living area is a small hallway. You'll find closets on each side, one of which houses the minibar and coffee maker. Each room has a Nespresso machine — one of my favorite European hotel amenities — and espresso pods are restocked daily. The minibar was fully stocked but exorbitantly expensive. Think 10 euros for Pringles and 8 euros for a Coke. Thankfully the espresso was complimentary.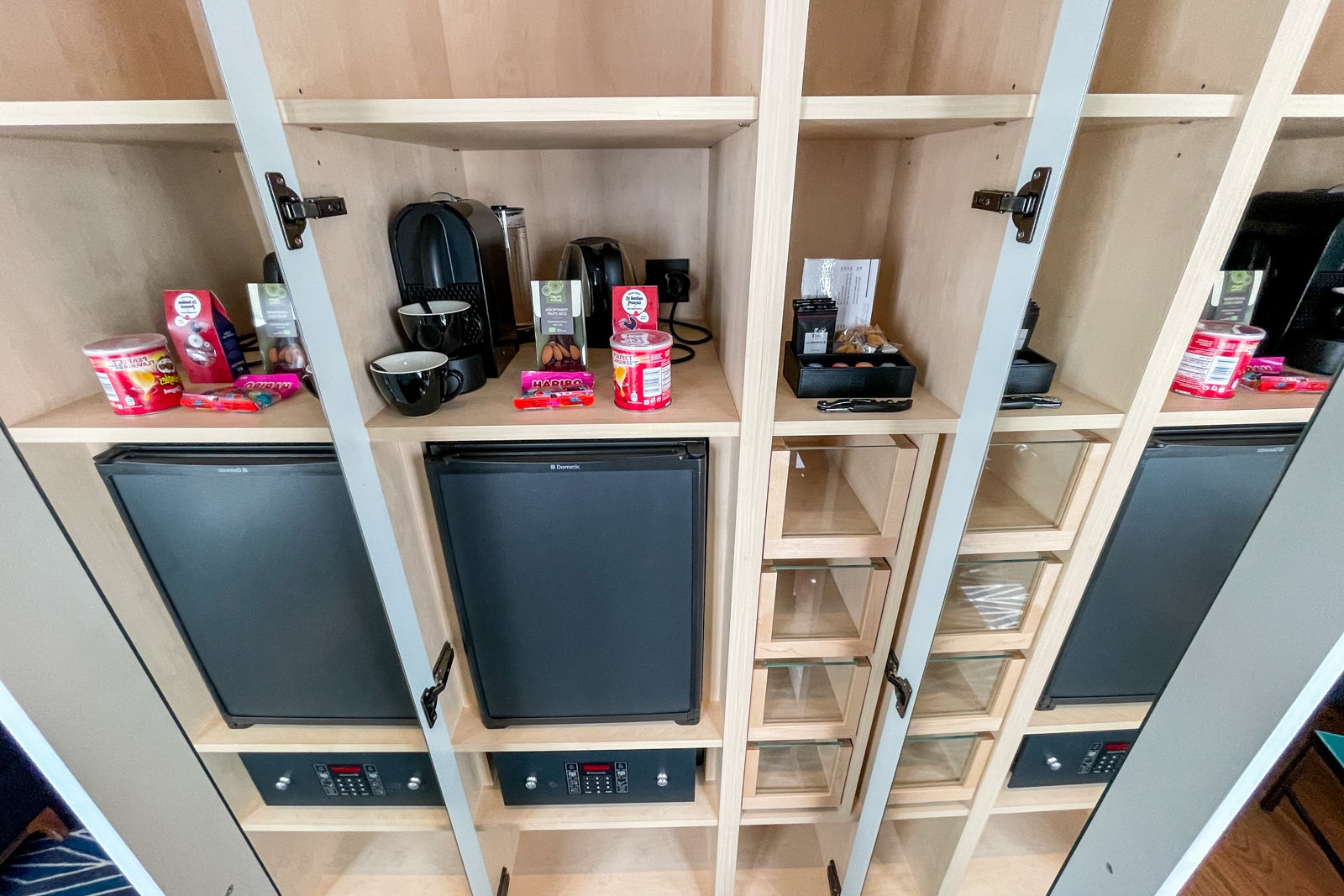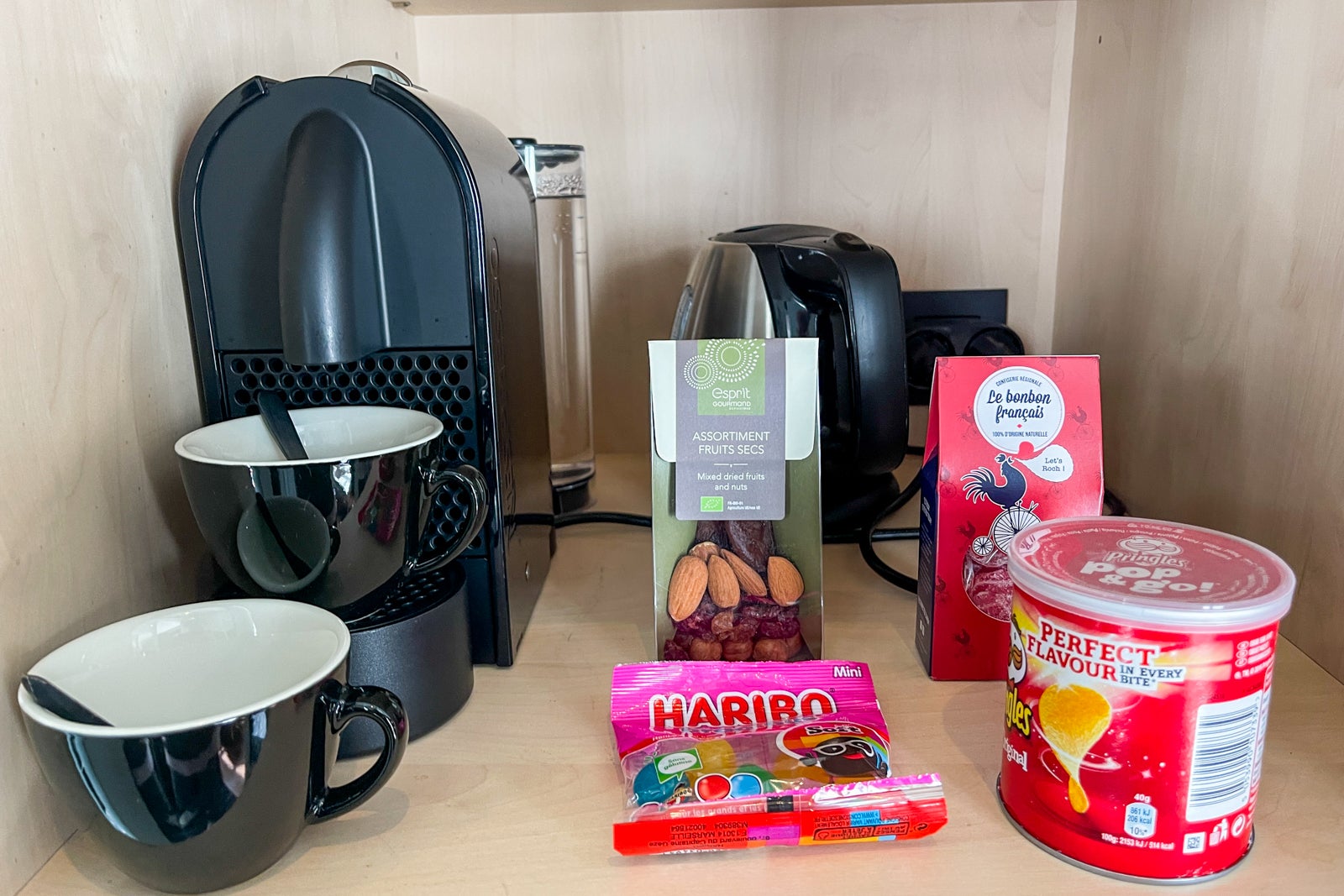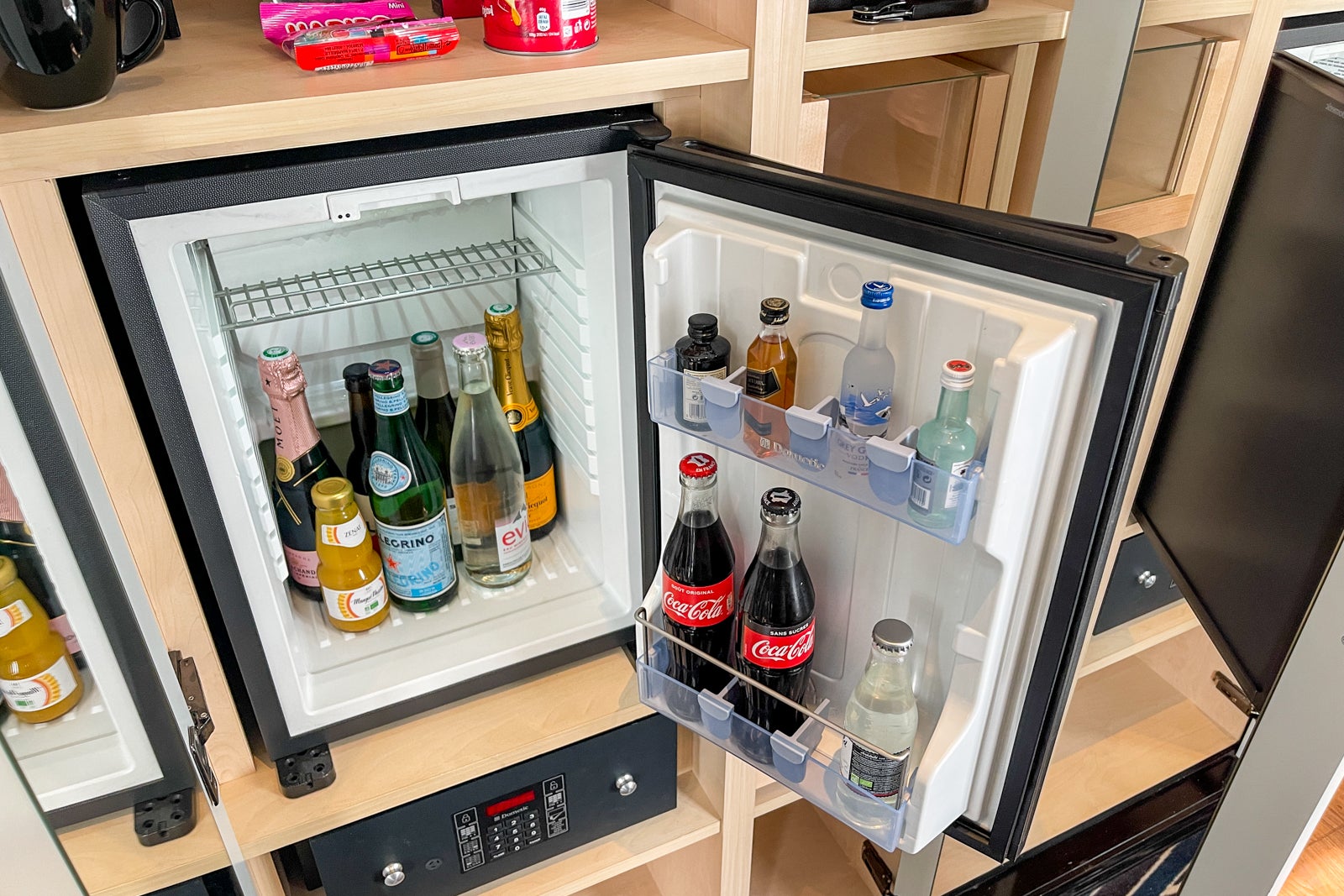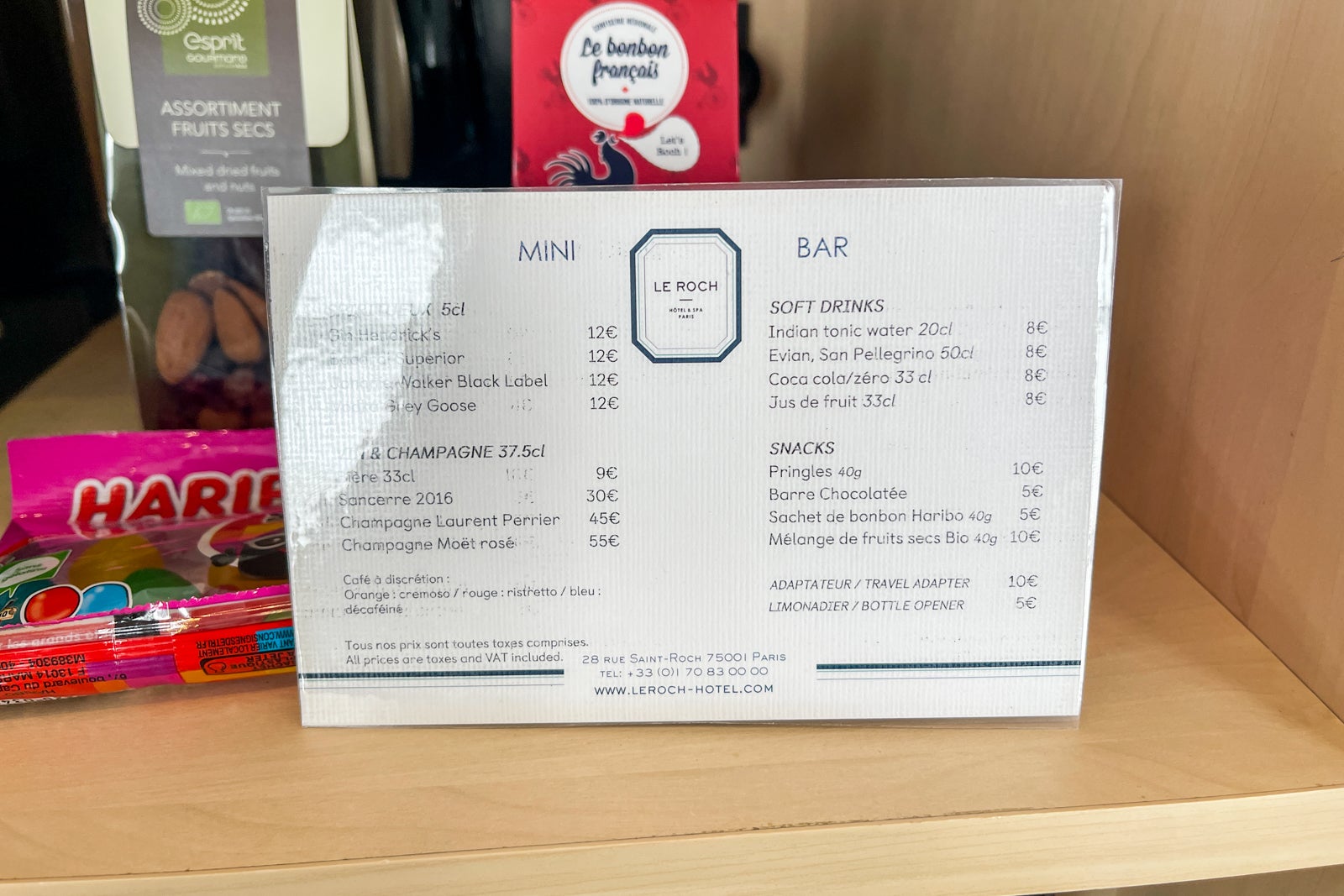 Across from the minibar, you'll find a closet with robes, a laundry bag, a shoe mitt and a sewing kit.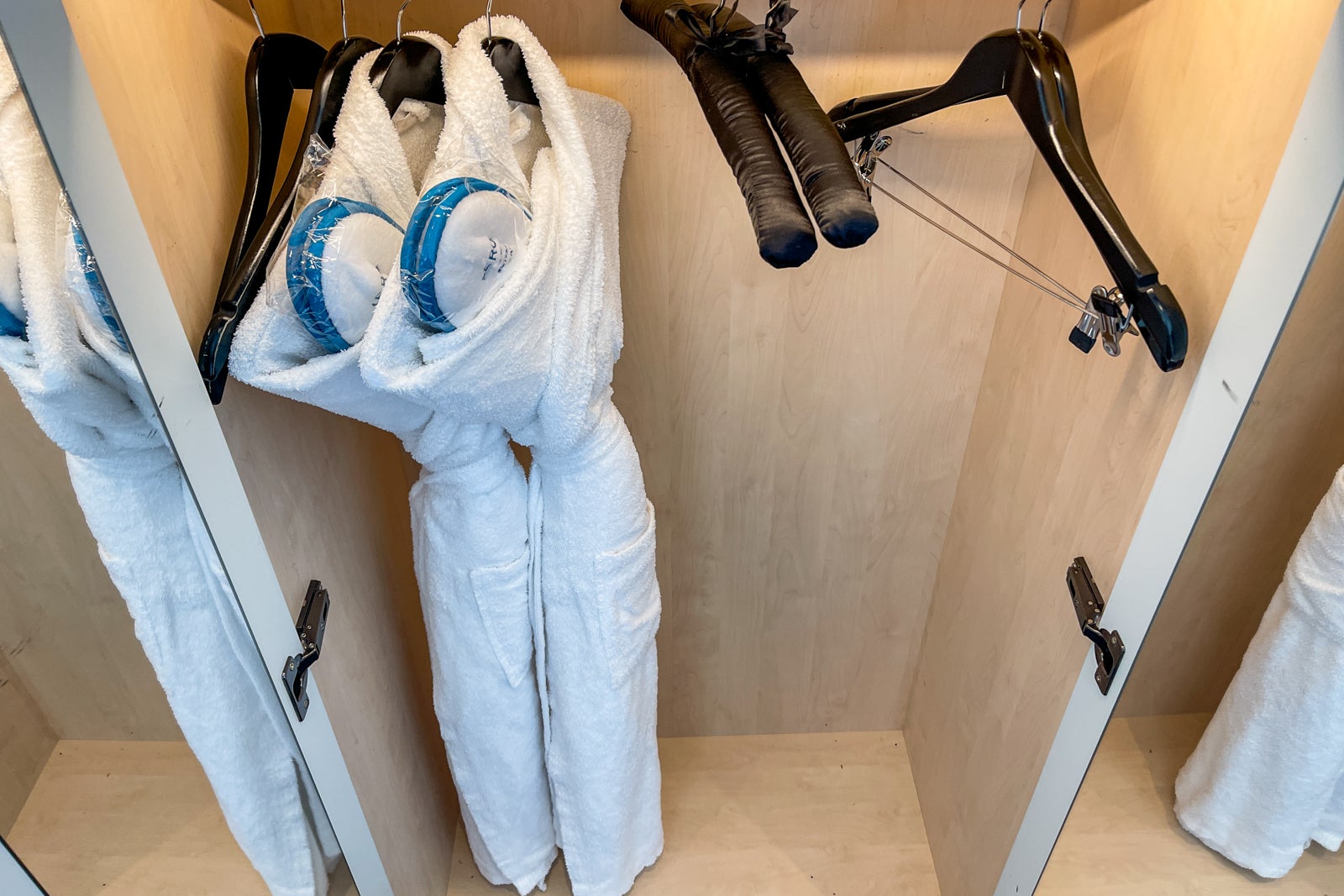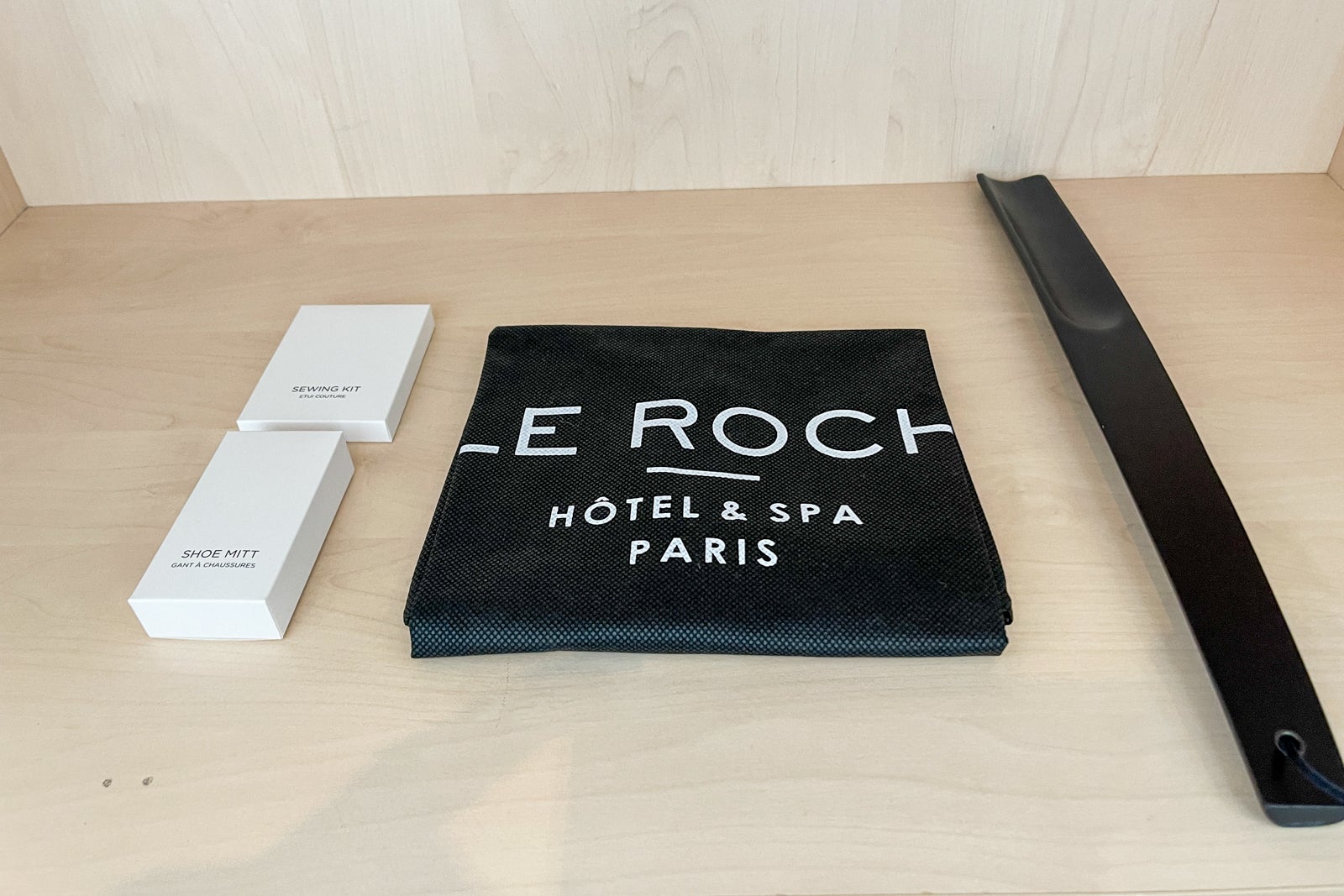 Now for the best part of the room: the washroom. This is no average washroom — it's more like a spa in your room. When you walk in, you'll see a vast vanity, two sinks and cups. Underneath, you'll find a super cool Dyson hairdryer and extra hand towels. The whole vanity is well designed, and — despite not needing a hairdryer — I found myself wanting to purchase one from Dyson. Across from the vanity is a heated towel rack.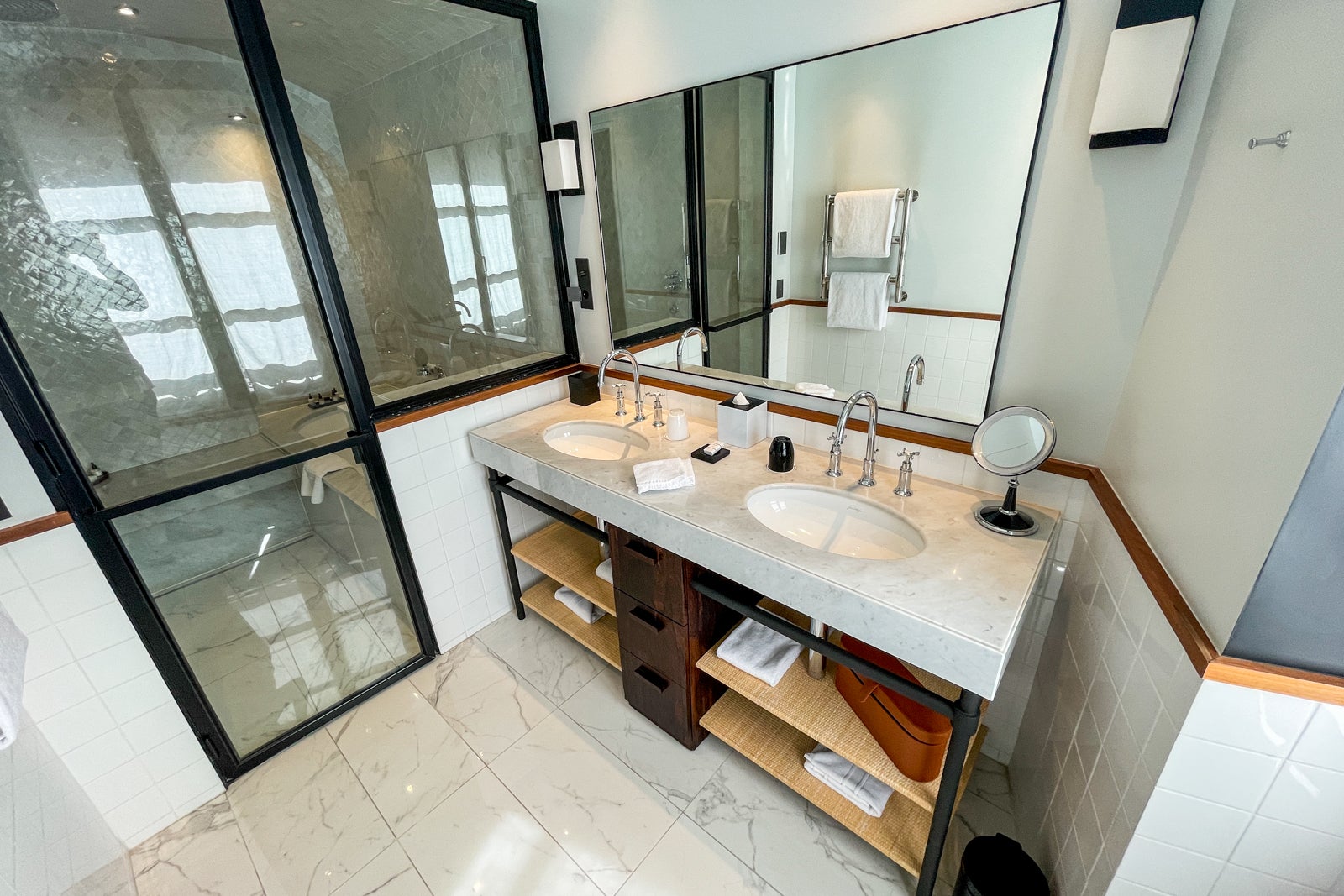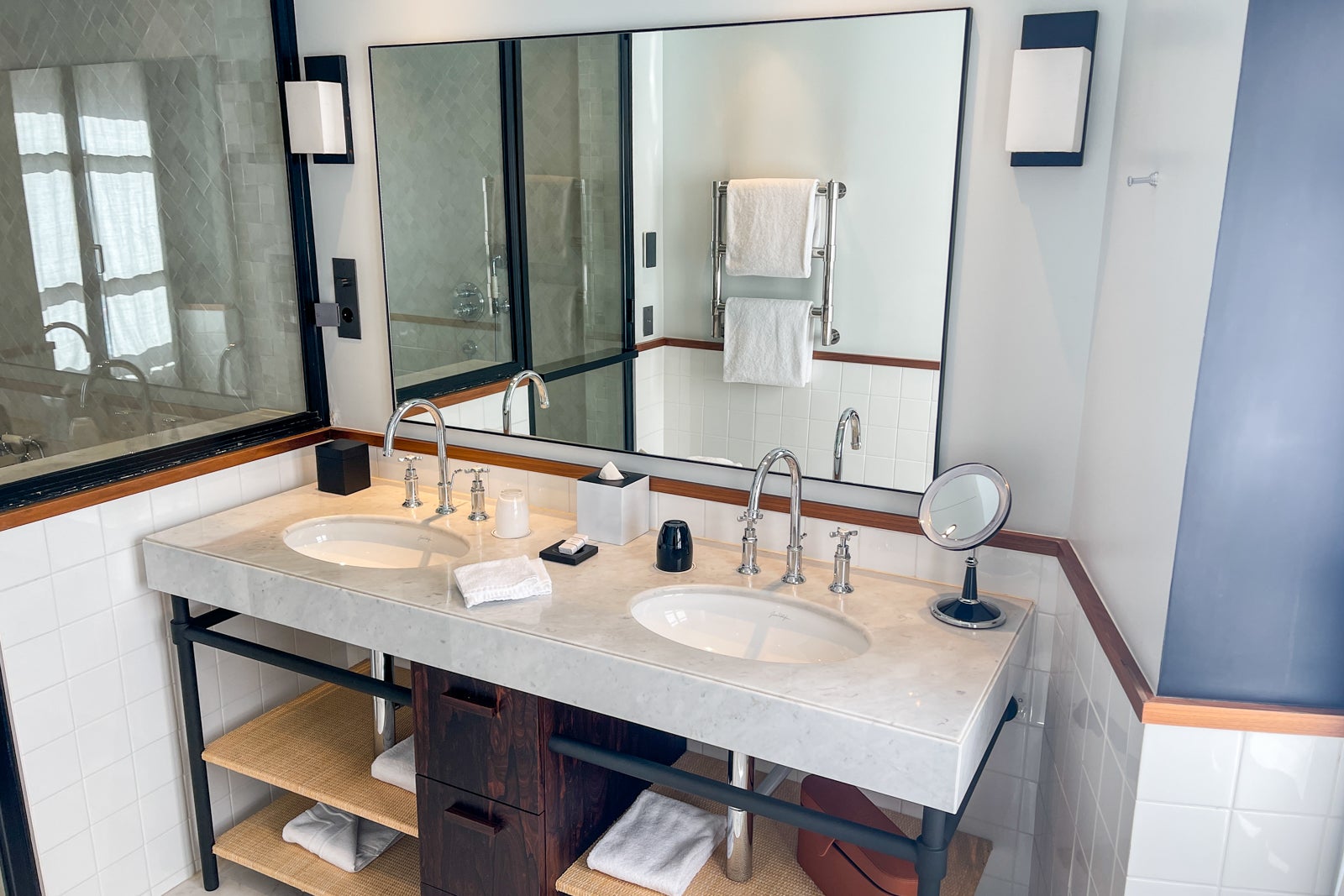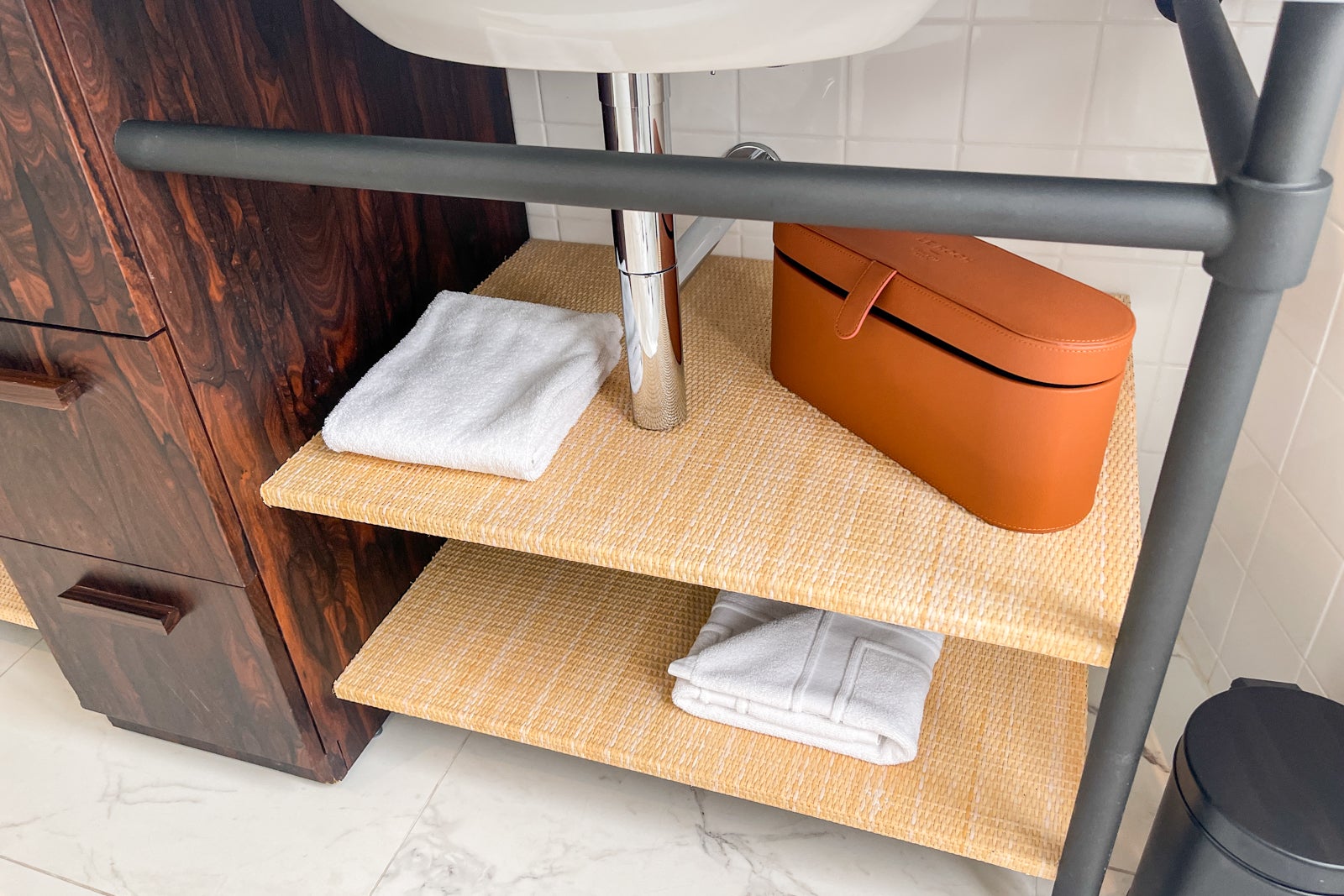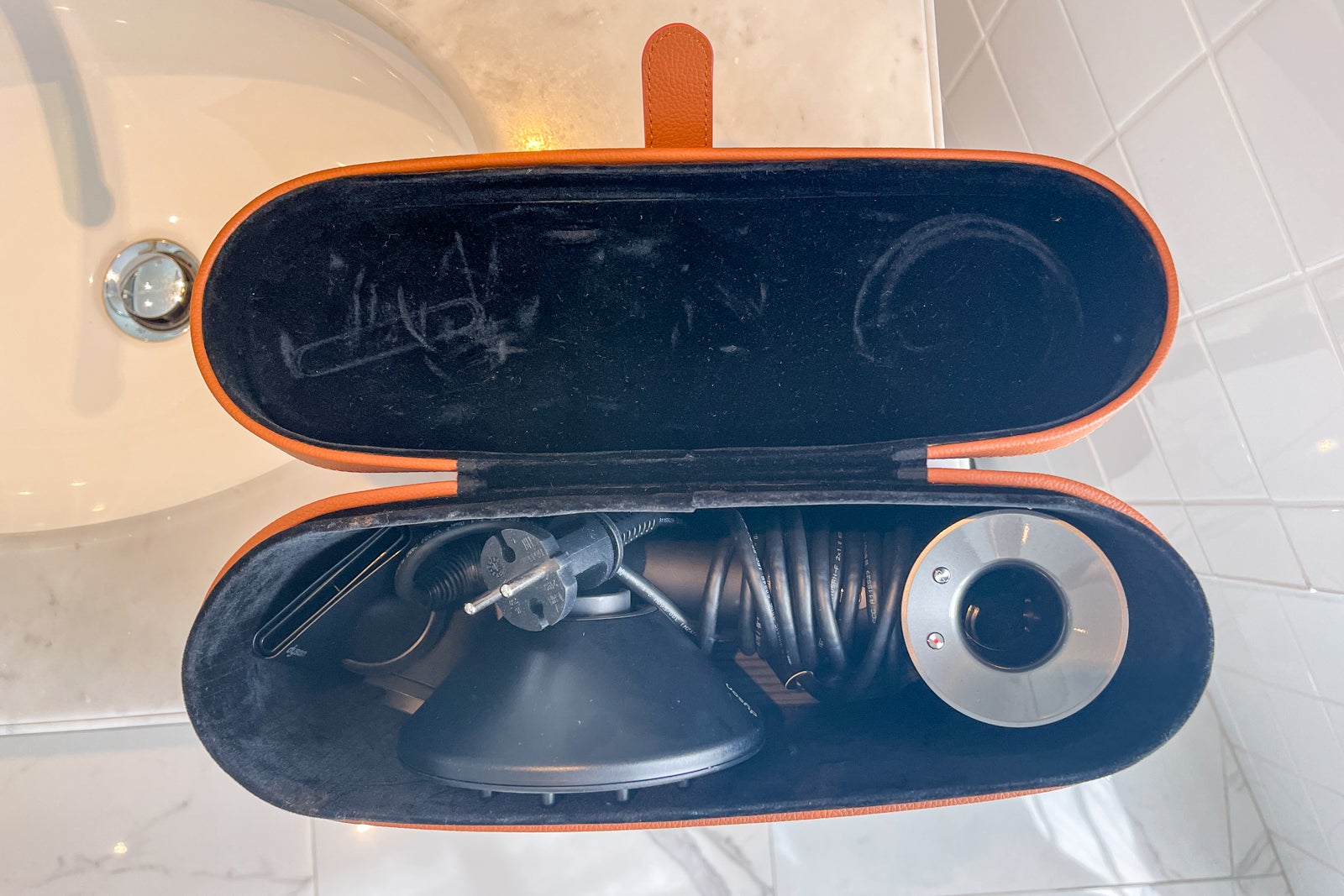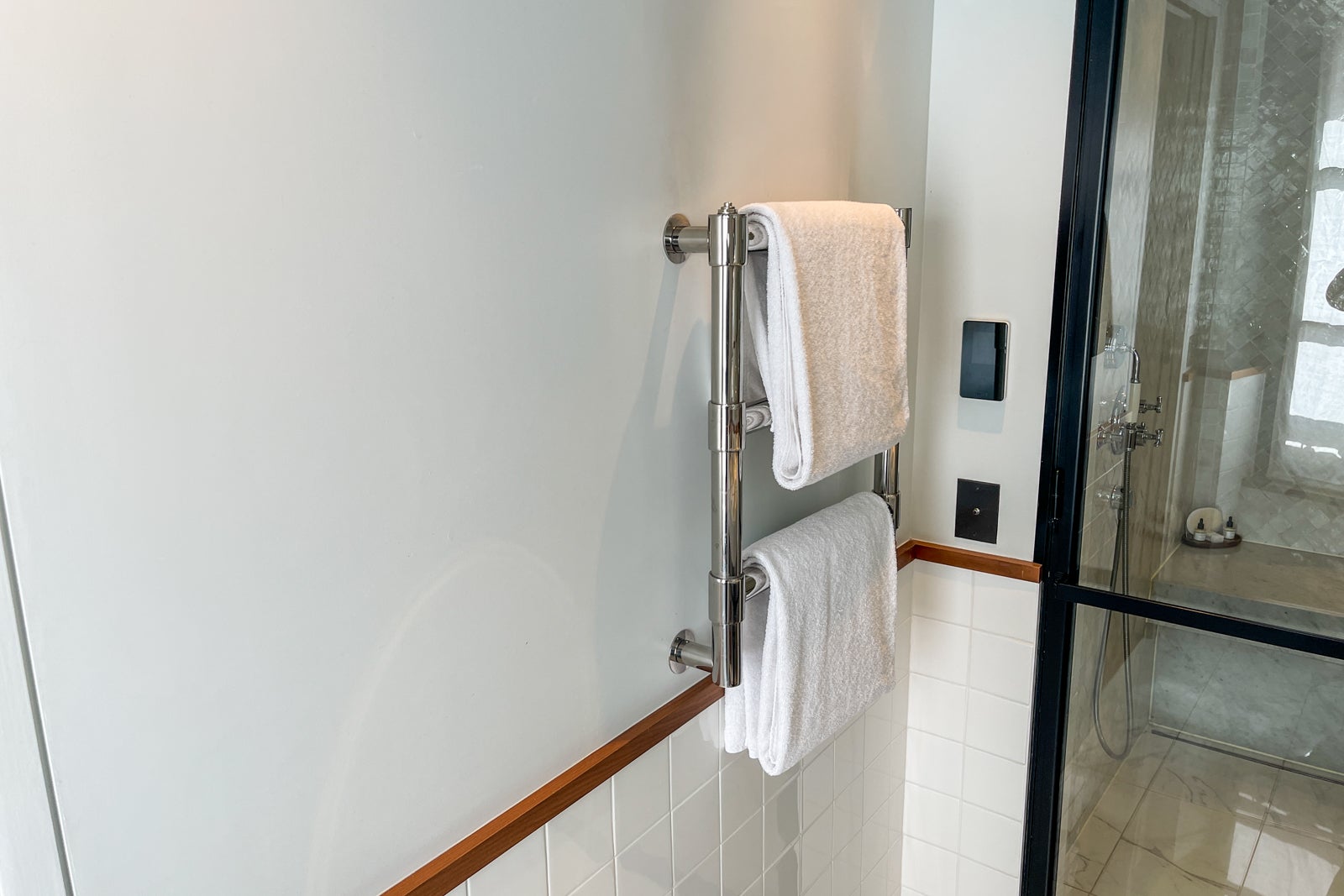 The best part of the washroom is the shower room. Inside, there's a rainfall shower and tub. It's stocked with high-end single-use toiletries and bath salts, which I much prefer to shared toiletries. Even more astonishing, it doubles as a steam room that you can control with the touch screen outside the entrance. Trust me when I say that a sit in the steam room is the perfect way to recover from a transatlantic flight.
Just one word of warning: Close the door after using the steam room to let it ventilate. Otherwise, you'll set off the fire alarm. The receptionist was sure to tell me this after he showed me to the room.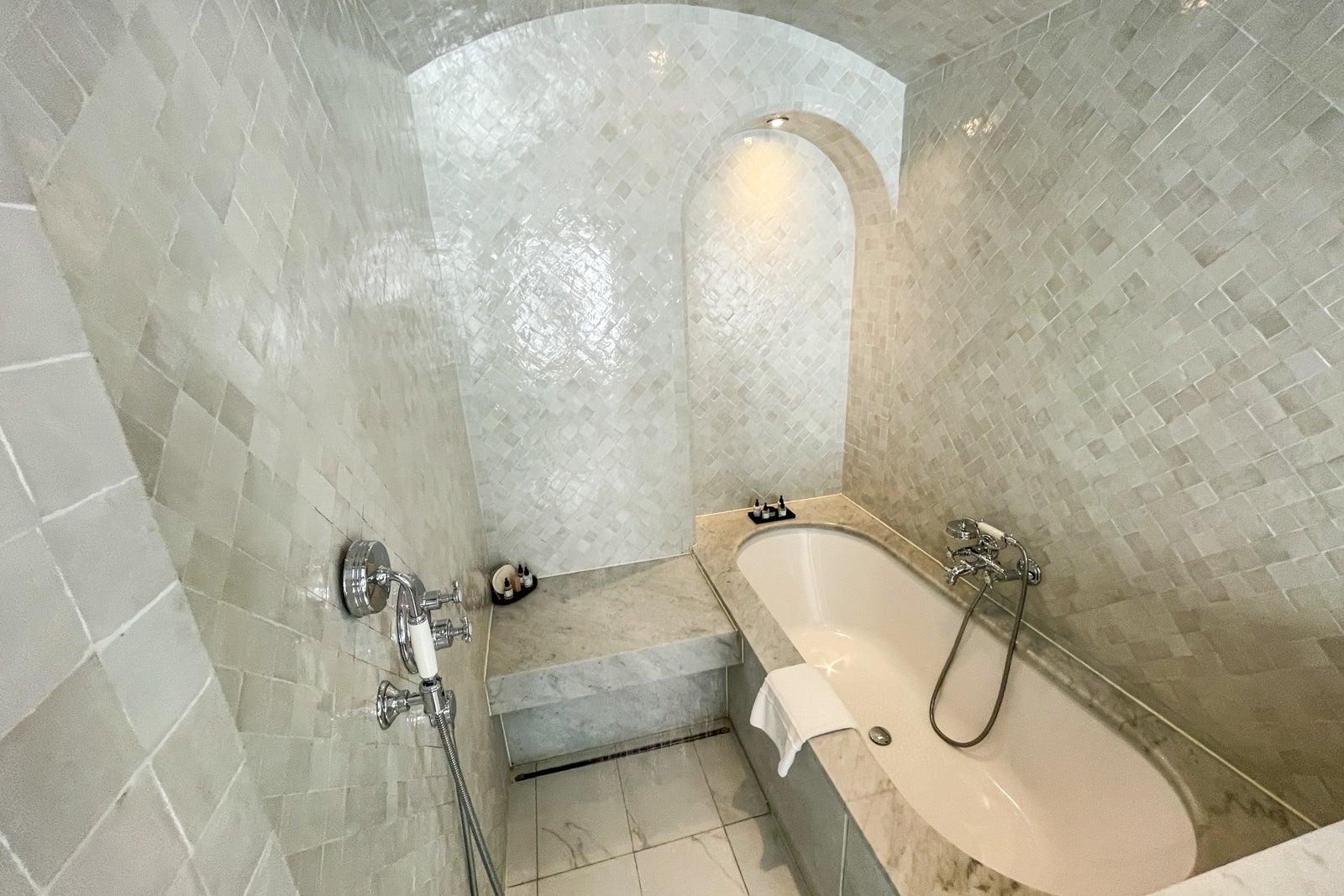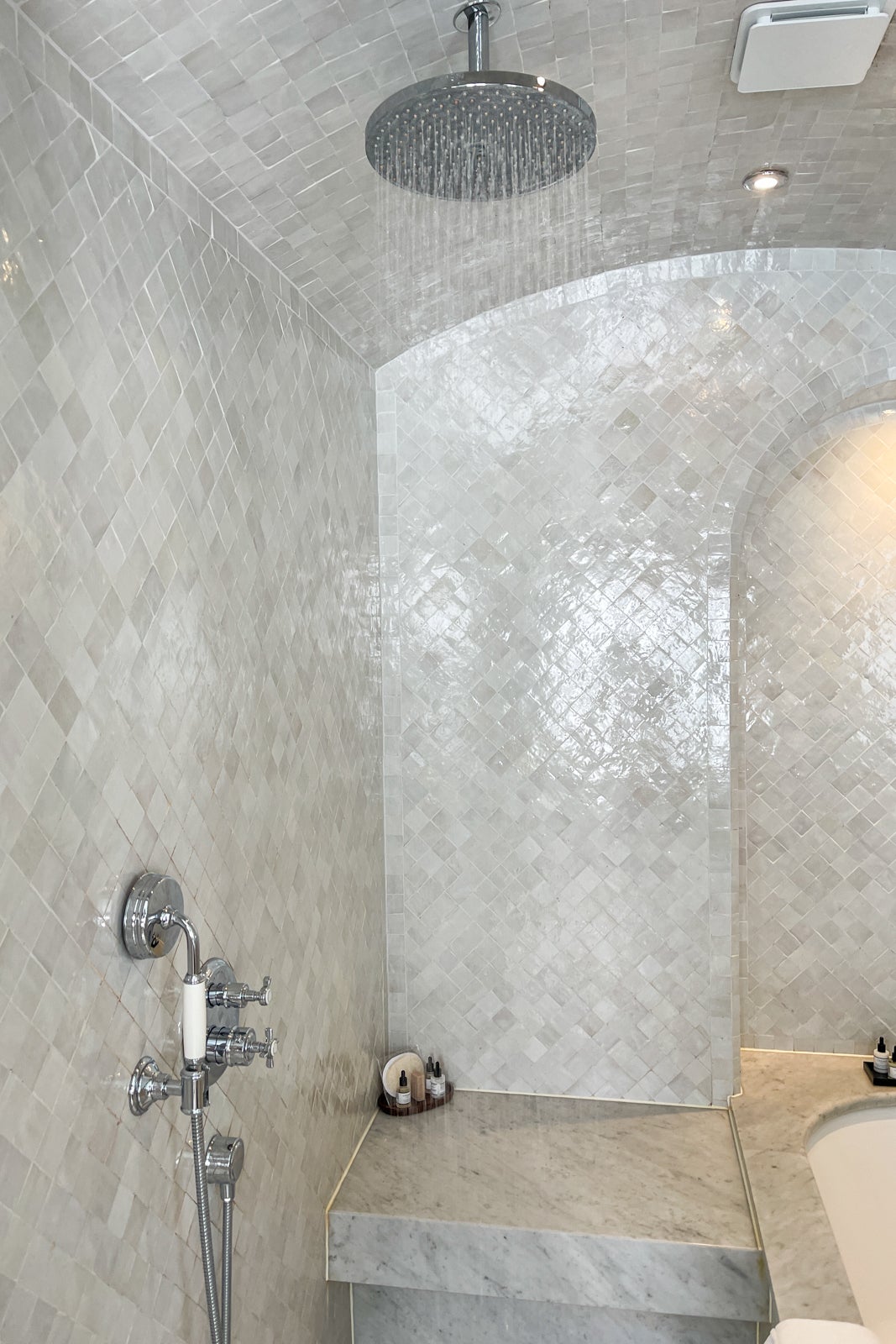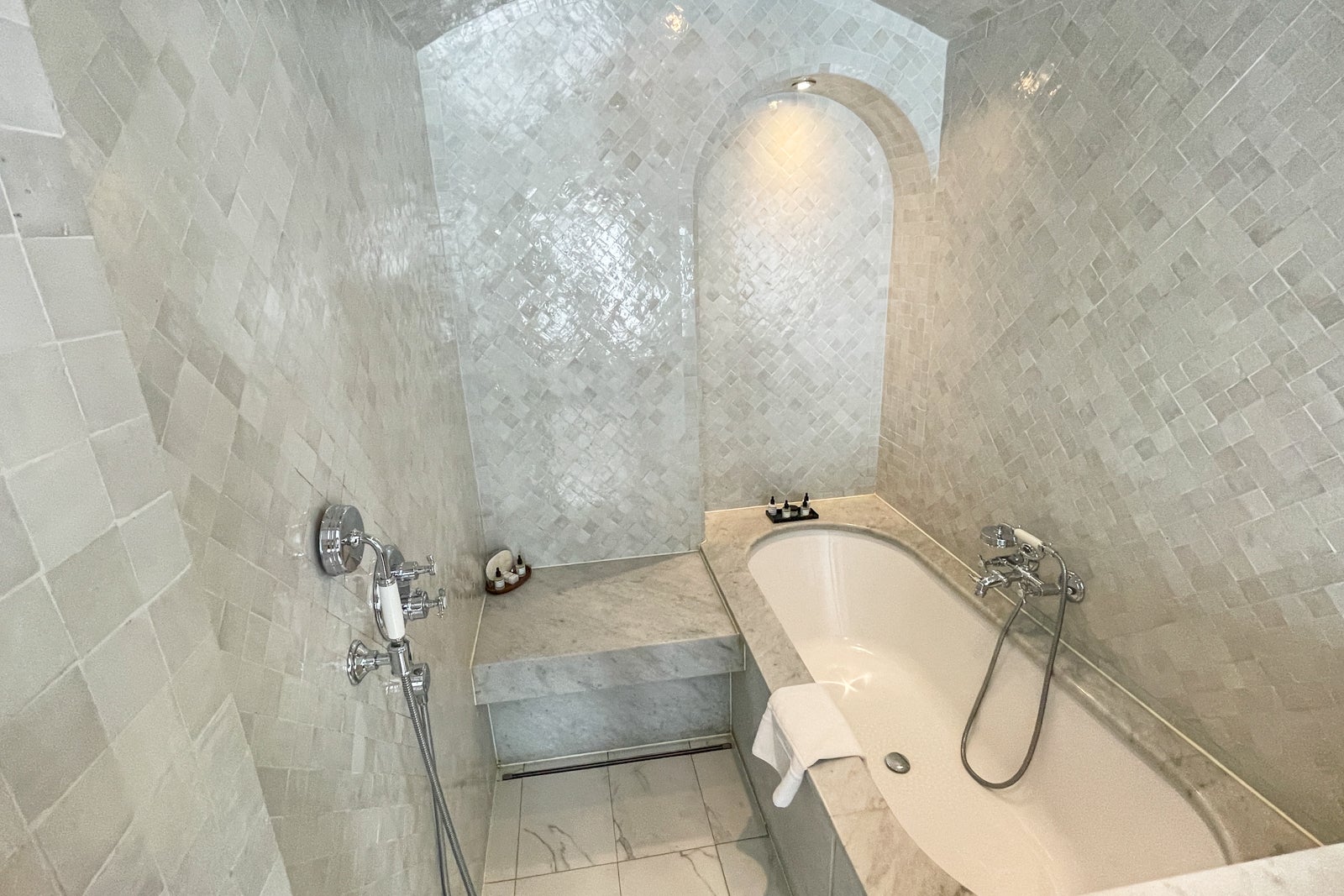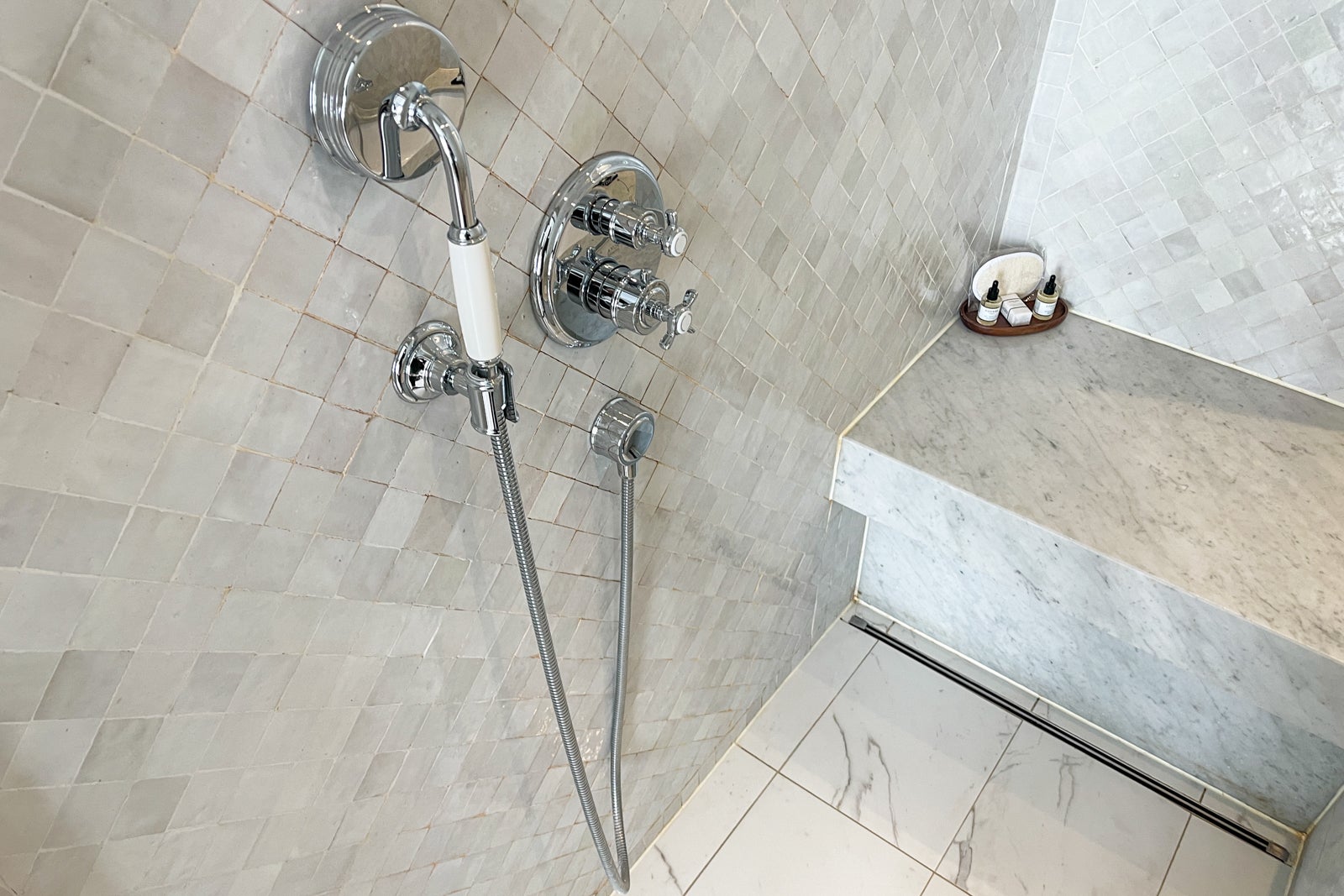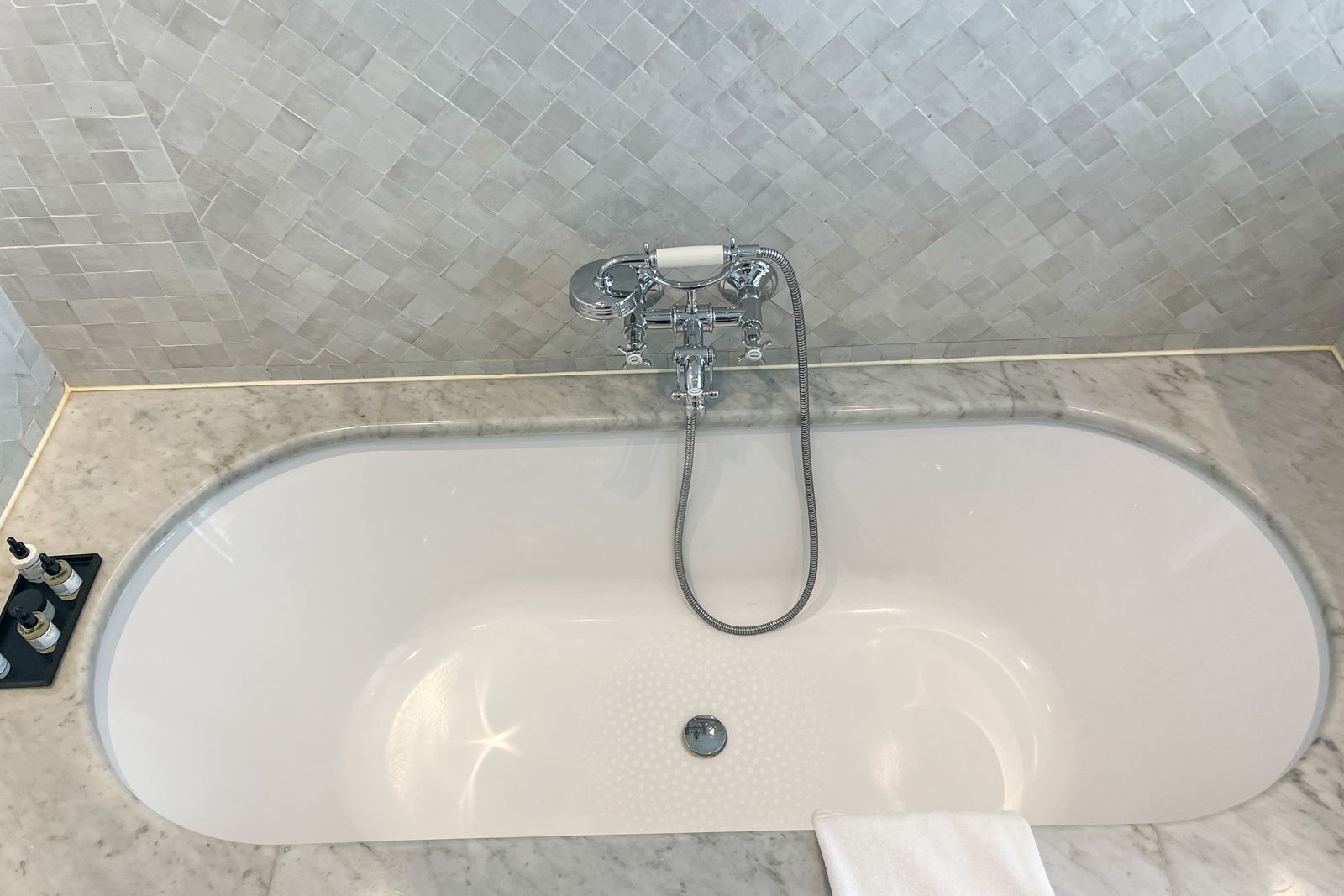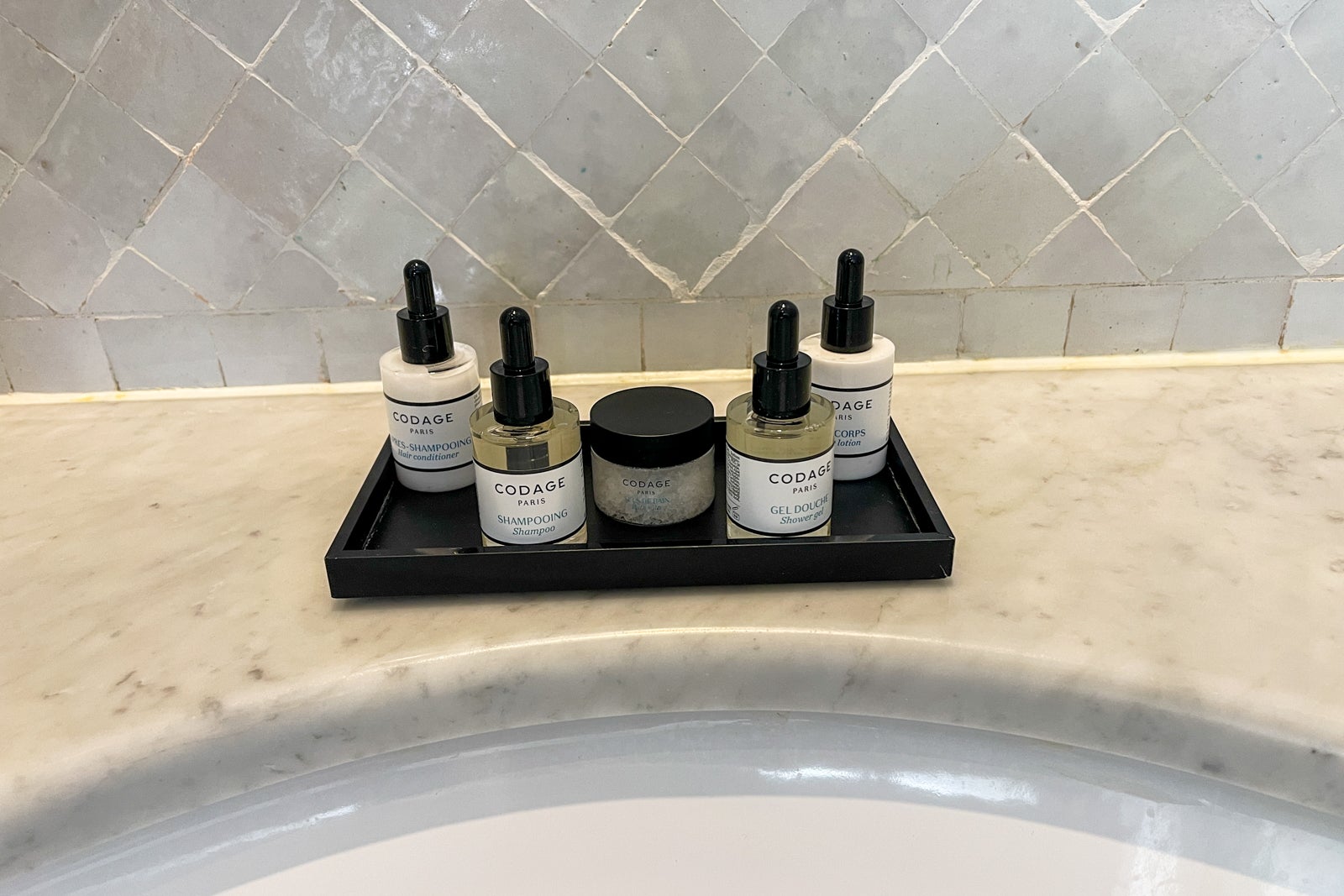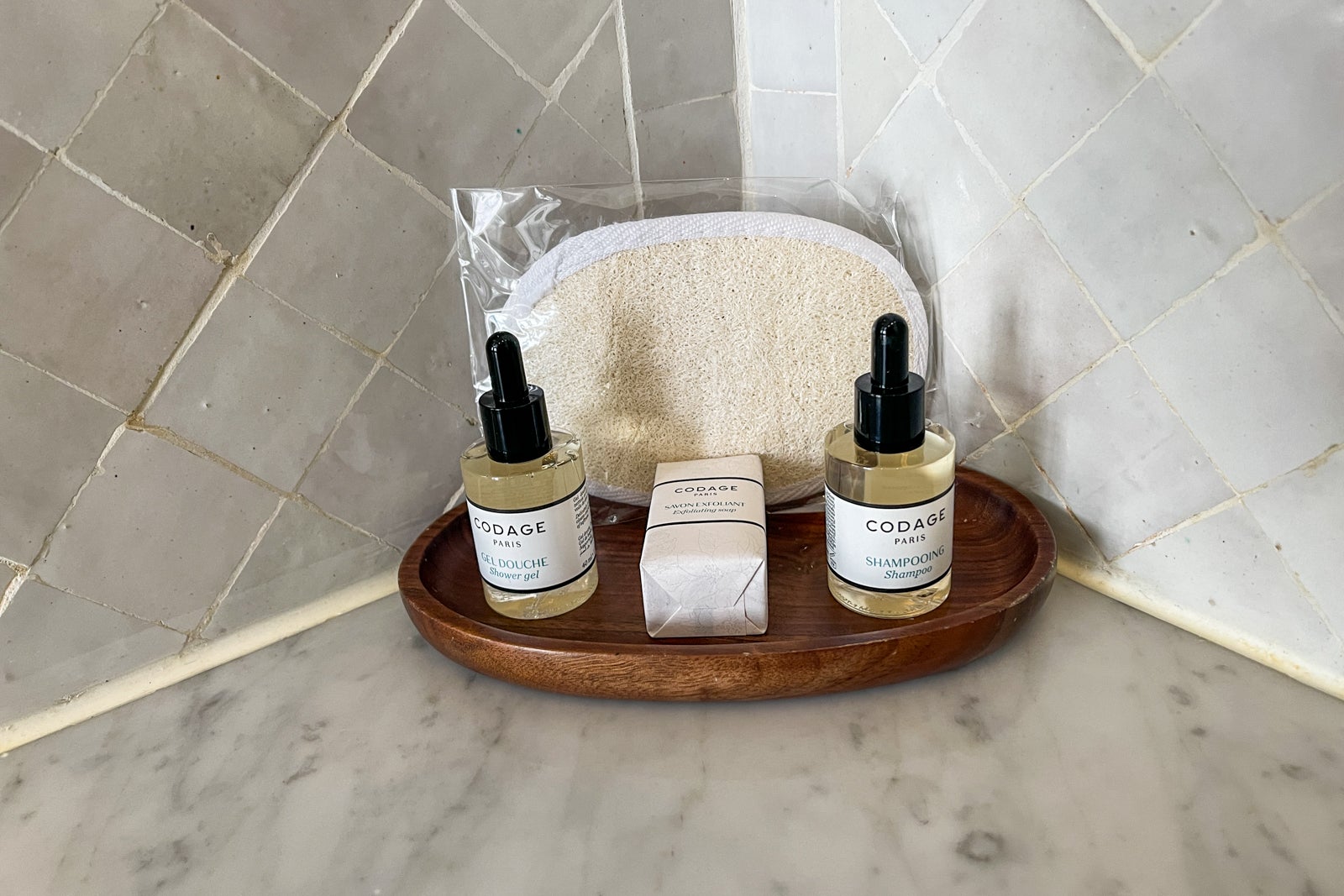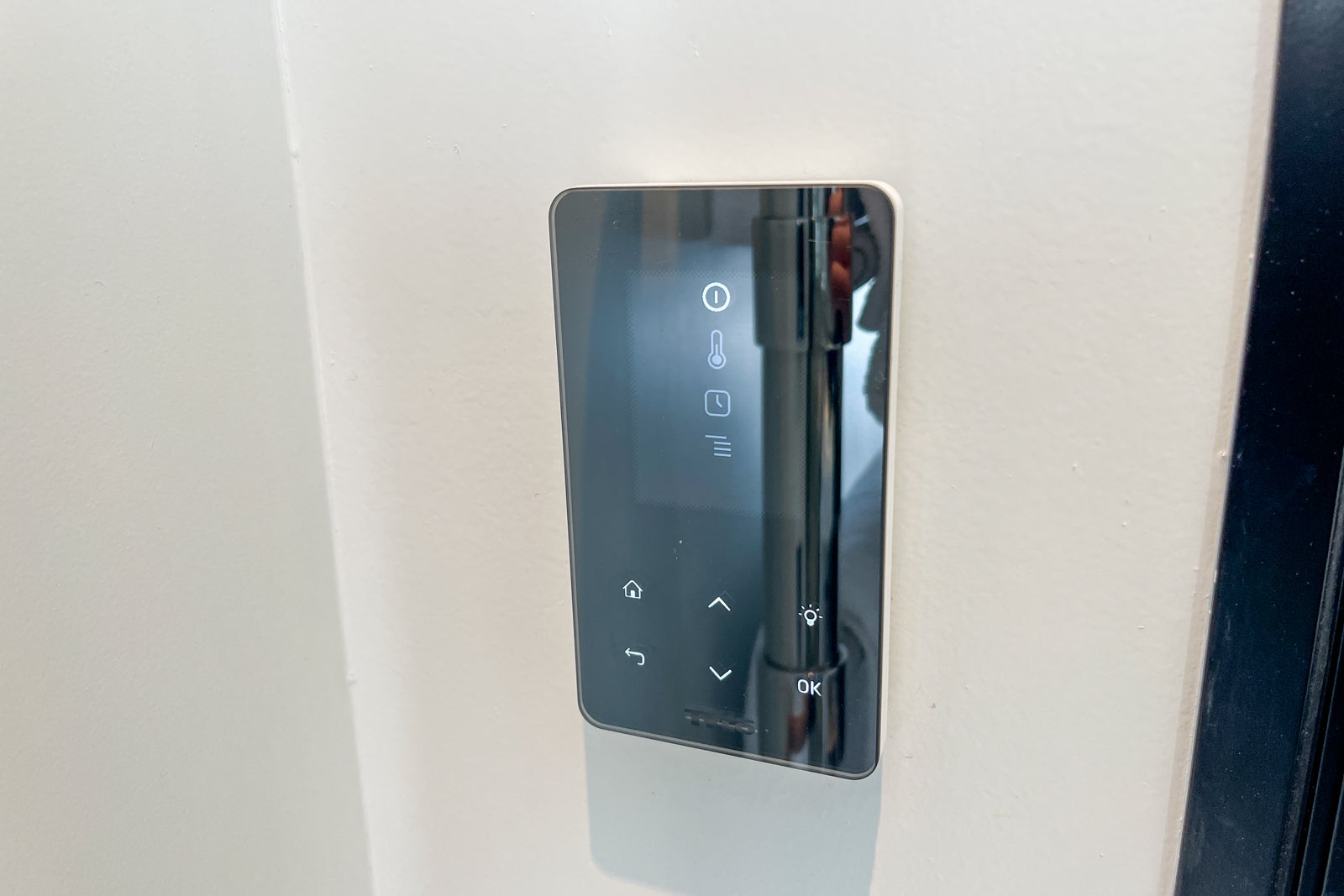 All in all, my room at Le Roch was excellent. It was large and well designed, and the steam room is a great touch. It's like having a spa right in your hotel room and makes it clear that Le Roch's top priority is relaxation.
Related: 19 hotels you'll want to book just for the incredible bathtub
Amenities
On-site, you'll find a fitness room, spa and a small indoor pool. Unfortunately, I couldn't take photos in the spa and pool area, but it has a modern design and various spa treatments. My only complaint is that all of these amenities are in the basement, so it's a bit too claustrophobic for my liking.
Note that there is no on-site business center, so you'll have to head to a nearby cafe if you want a place to work outside your room.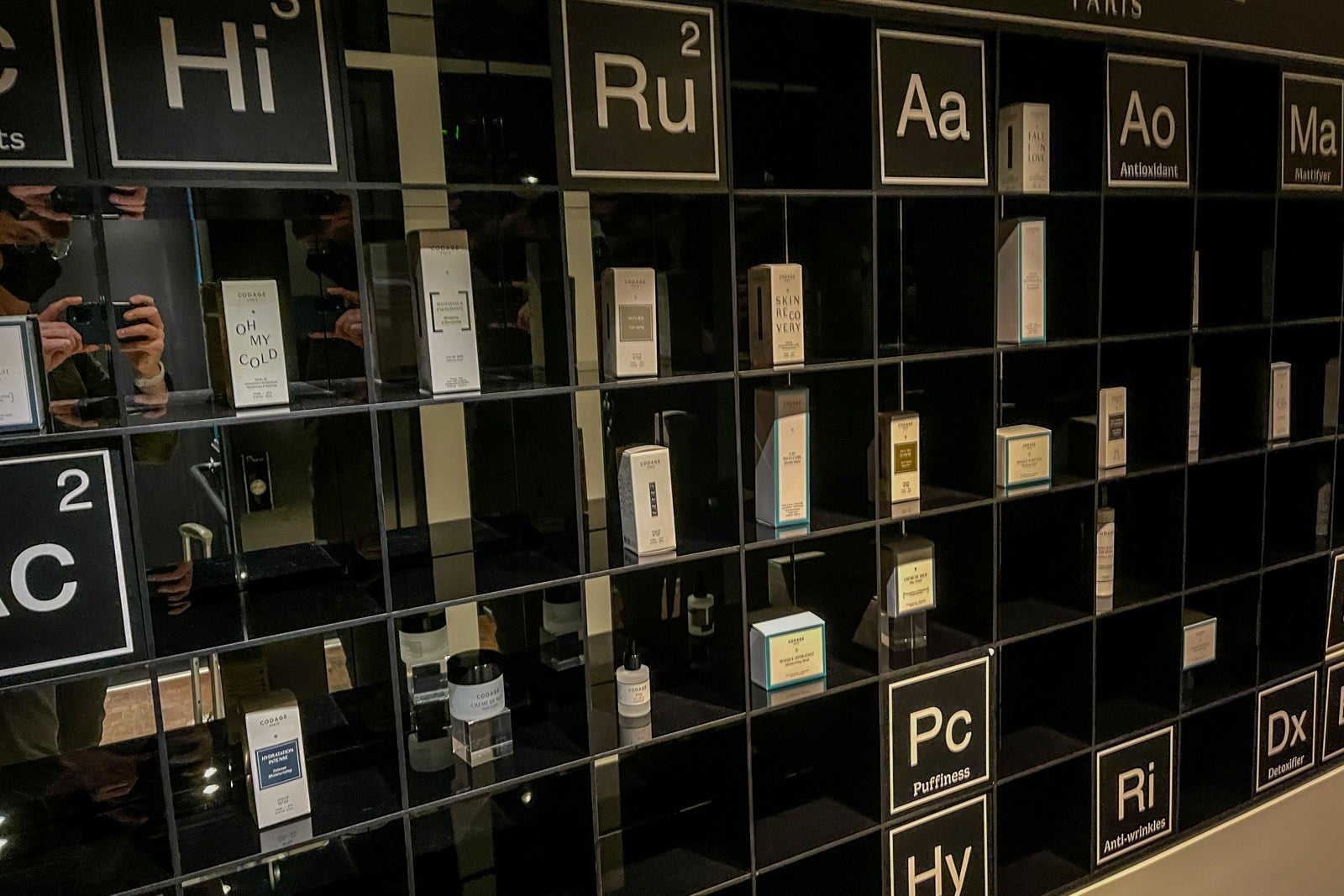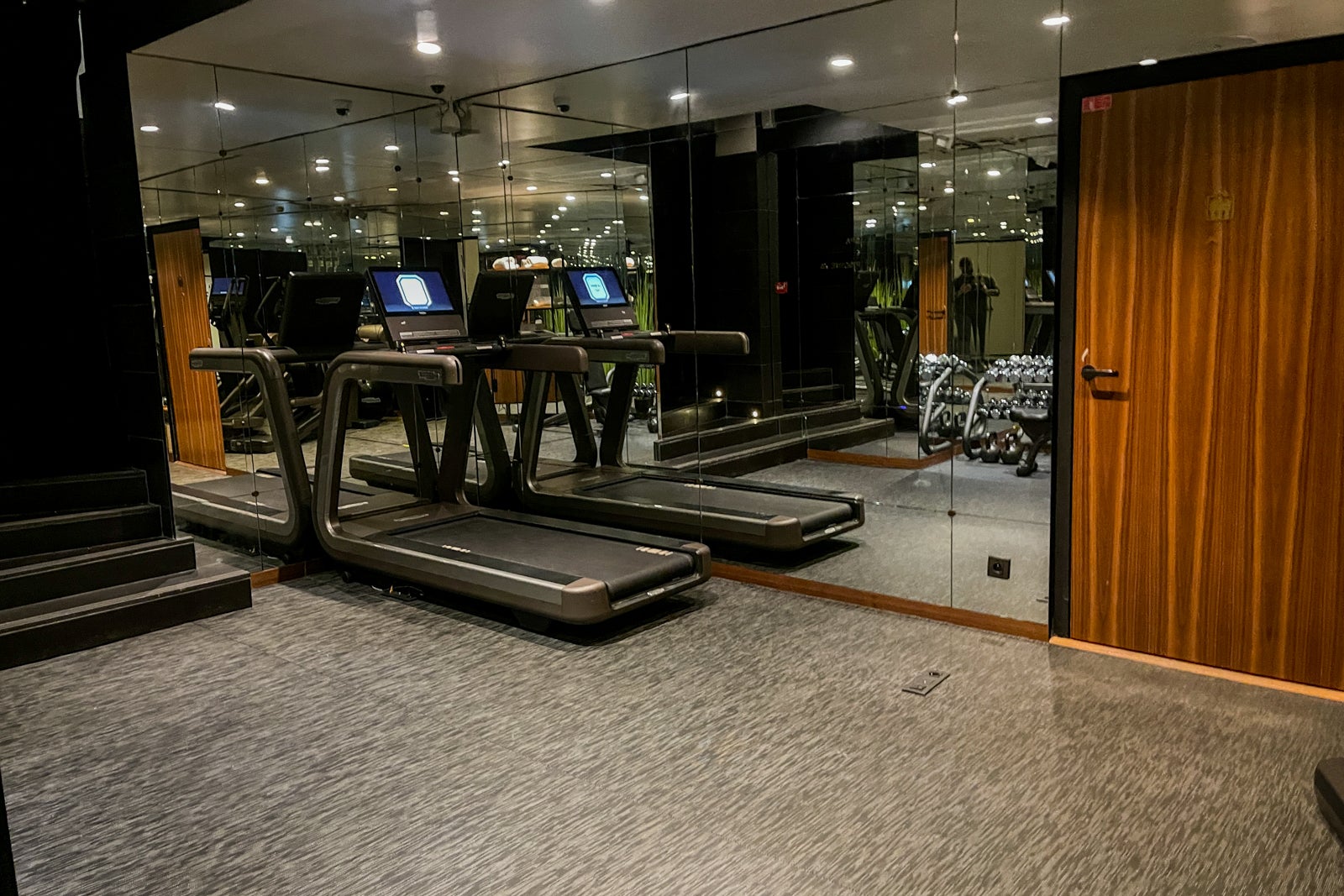 As you'd expect, there's free Wi-Fi in the lobby and in each guest room. Speeds were great with roughly 90 Mbps for download and upload.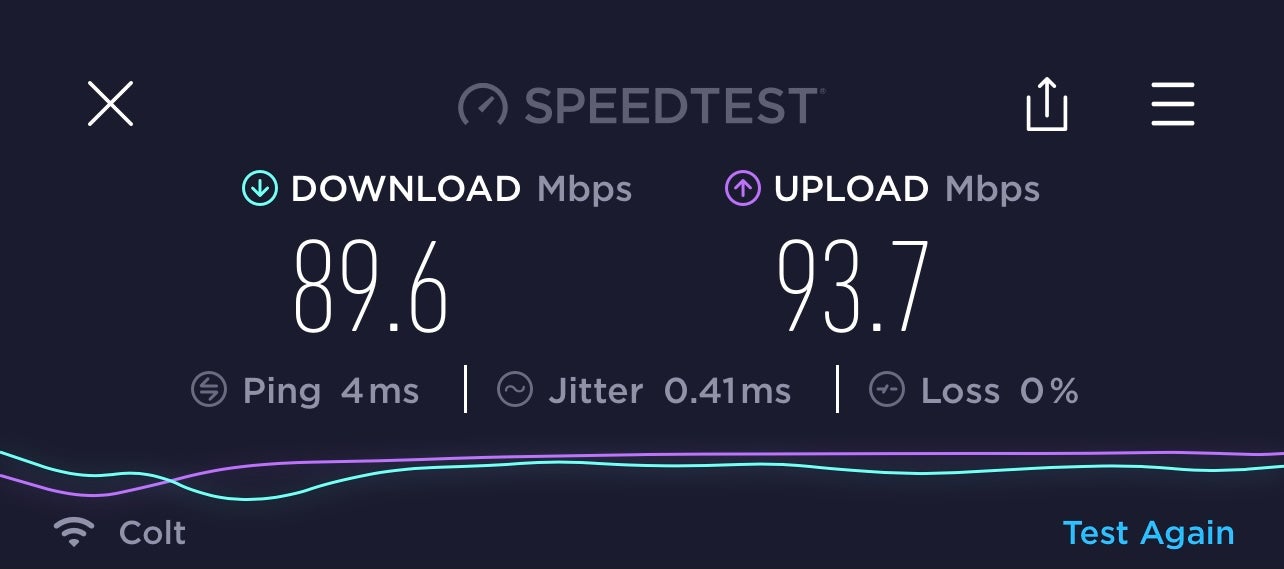 Related: 29 of the most beautiful hotel pools around the world
Food and beverage
Le Roch has a fine-dining restaurant and bar. I went for a late lunch on my first night at Le Roch and made a reservation online. Reservations are recommended since the restaurant is operating at a limited capacity during the coronavirus pandemic. You'll find the restaurant at the far end of the lobby.
The restaurant only had outdoor dining when I visited. One of the first things you'll notice outside is the overwhelming scent of a campfire. All food is cooked on an open-air wood-burning grill. This made for a great atmosphere, but my clothes smelled like a campfire for the rest of the day.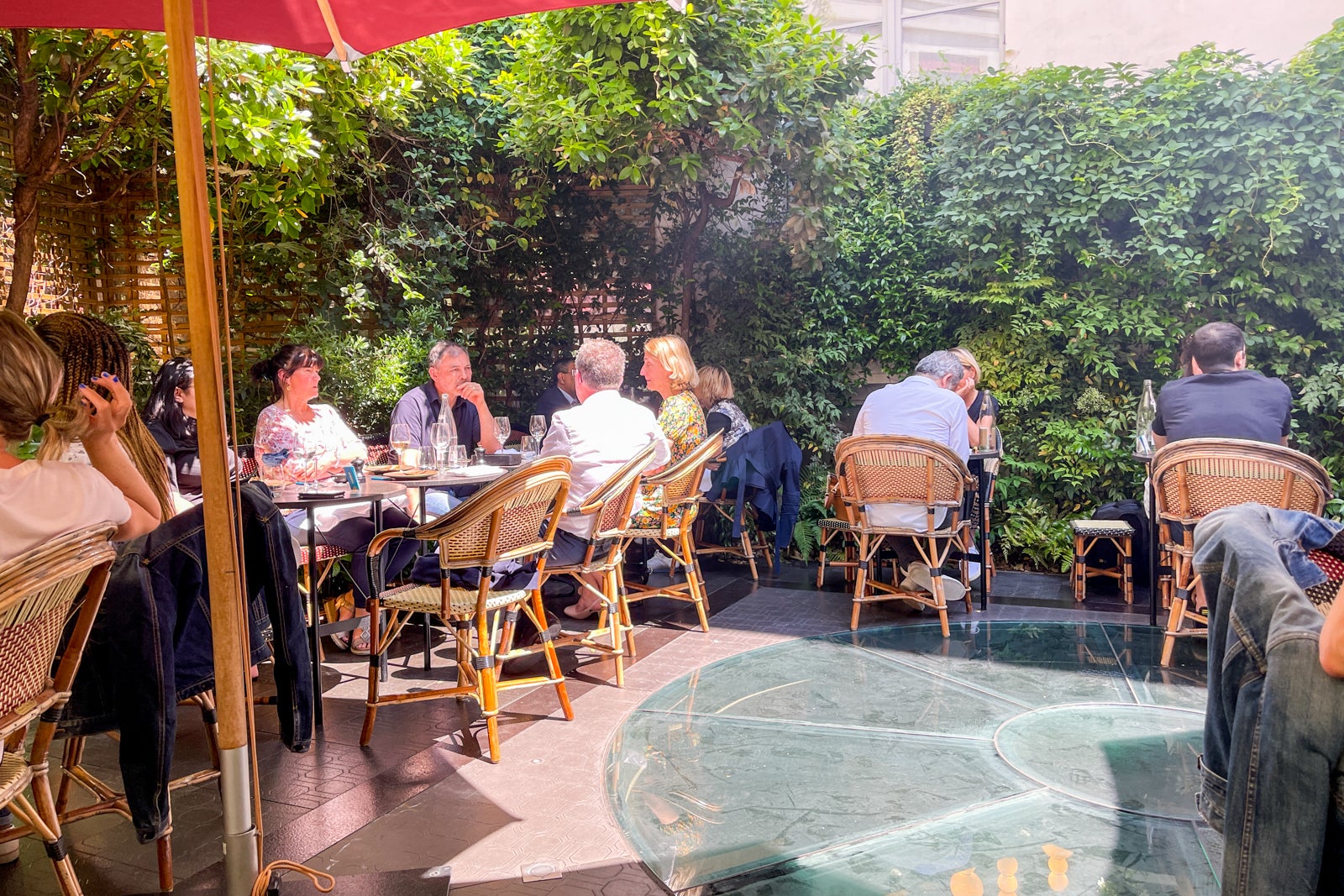 I started with a house gin and tonic and a bottle of mineral water. The waiter served the gin and tonic in a build-your-own fashion, so the ice, tonic and gin were delivered separately. I liked this presentation, and it's great for those who are particular about their drinks. The restaurant also has an extensive list of specialty cocktails and wines.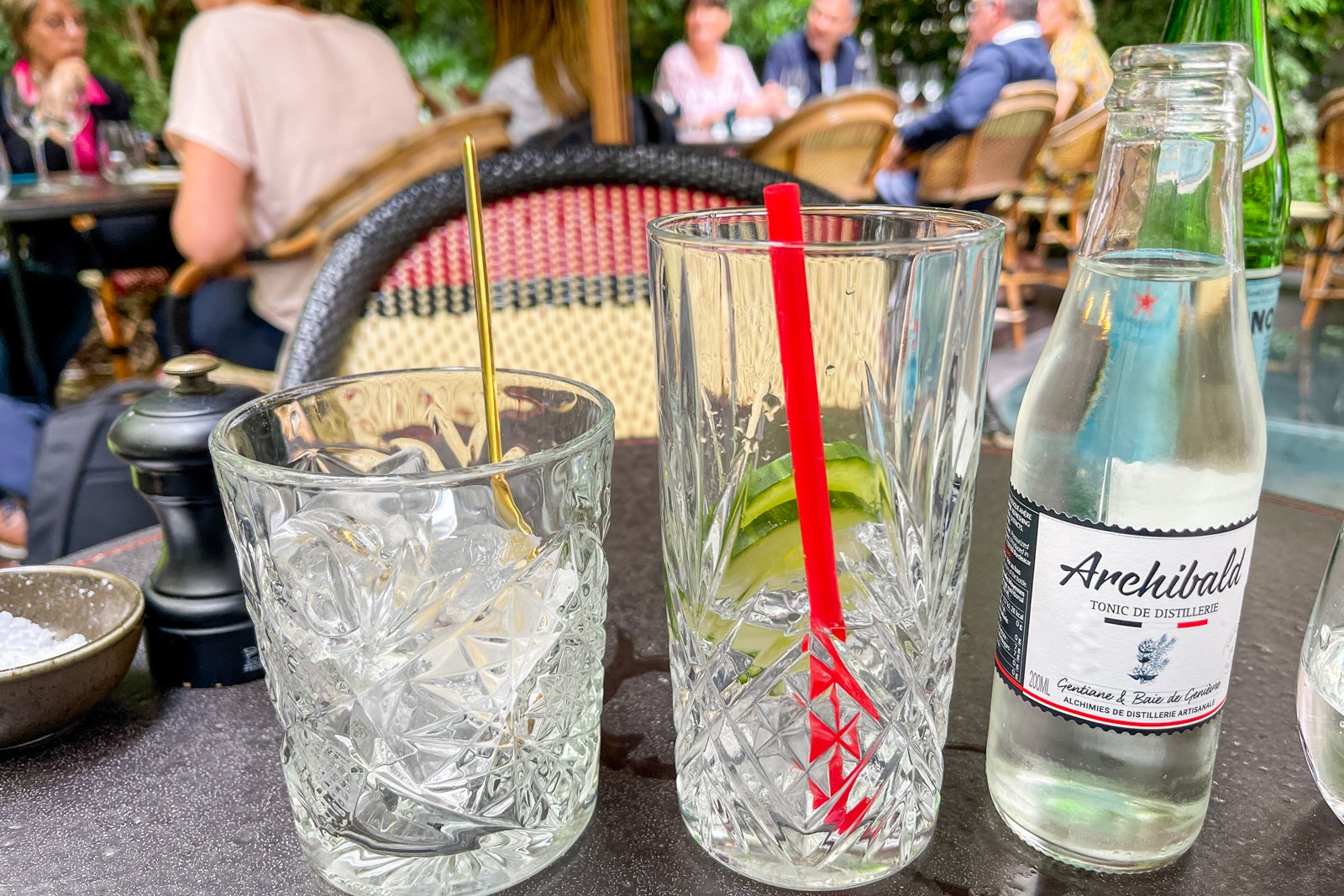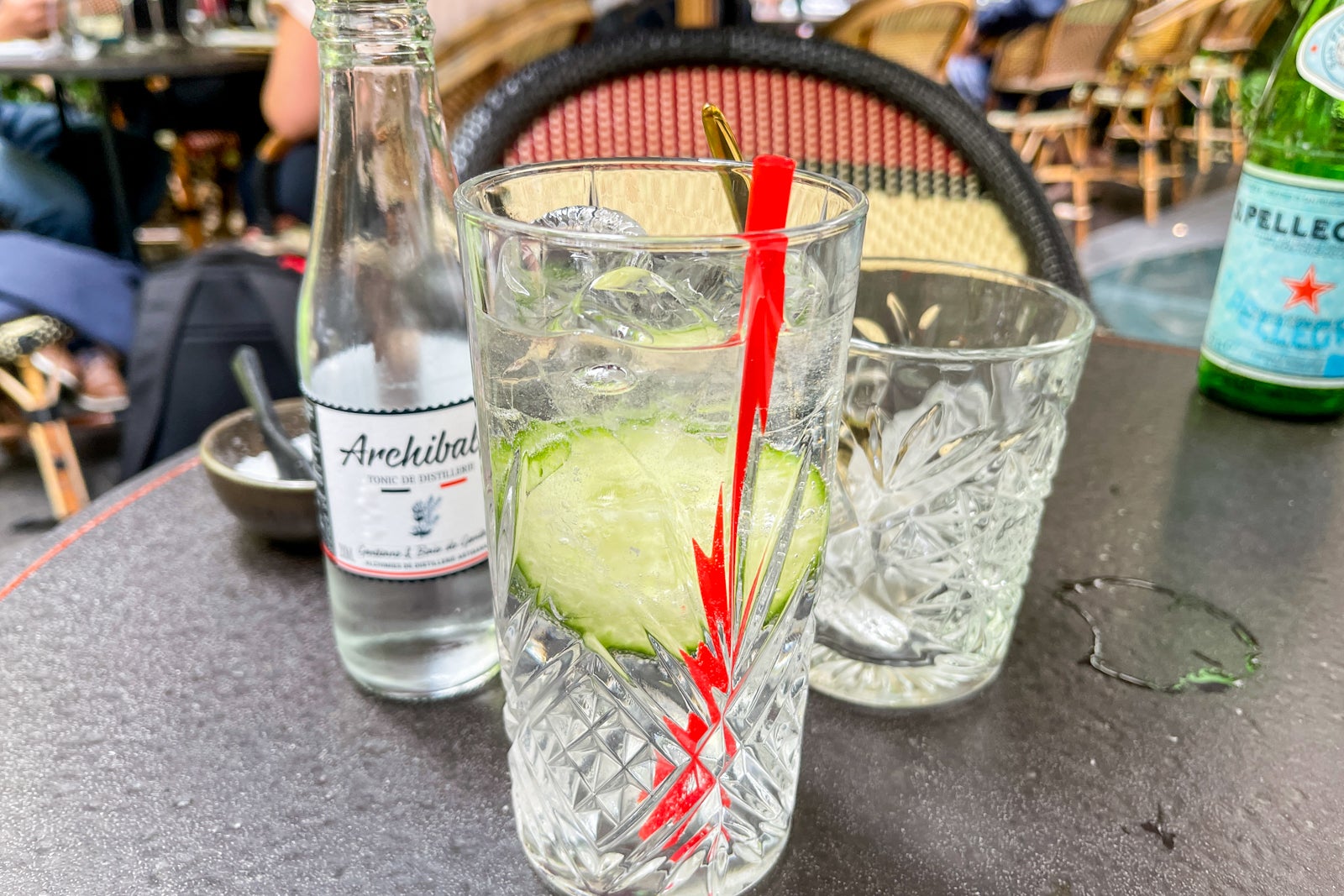 Lunch is served in three courses and includes an appetizer, main and dessert. For the appetizer, I ordered Le Roch's take on gazpacho. This dish was flavorful and had an excellent consistency. I particularly enjoyed the addition of smoked burrata cheese and bread chips that added just enough texture to make the dish truly memorable.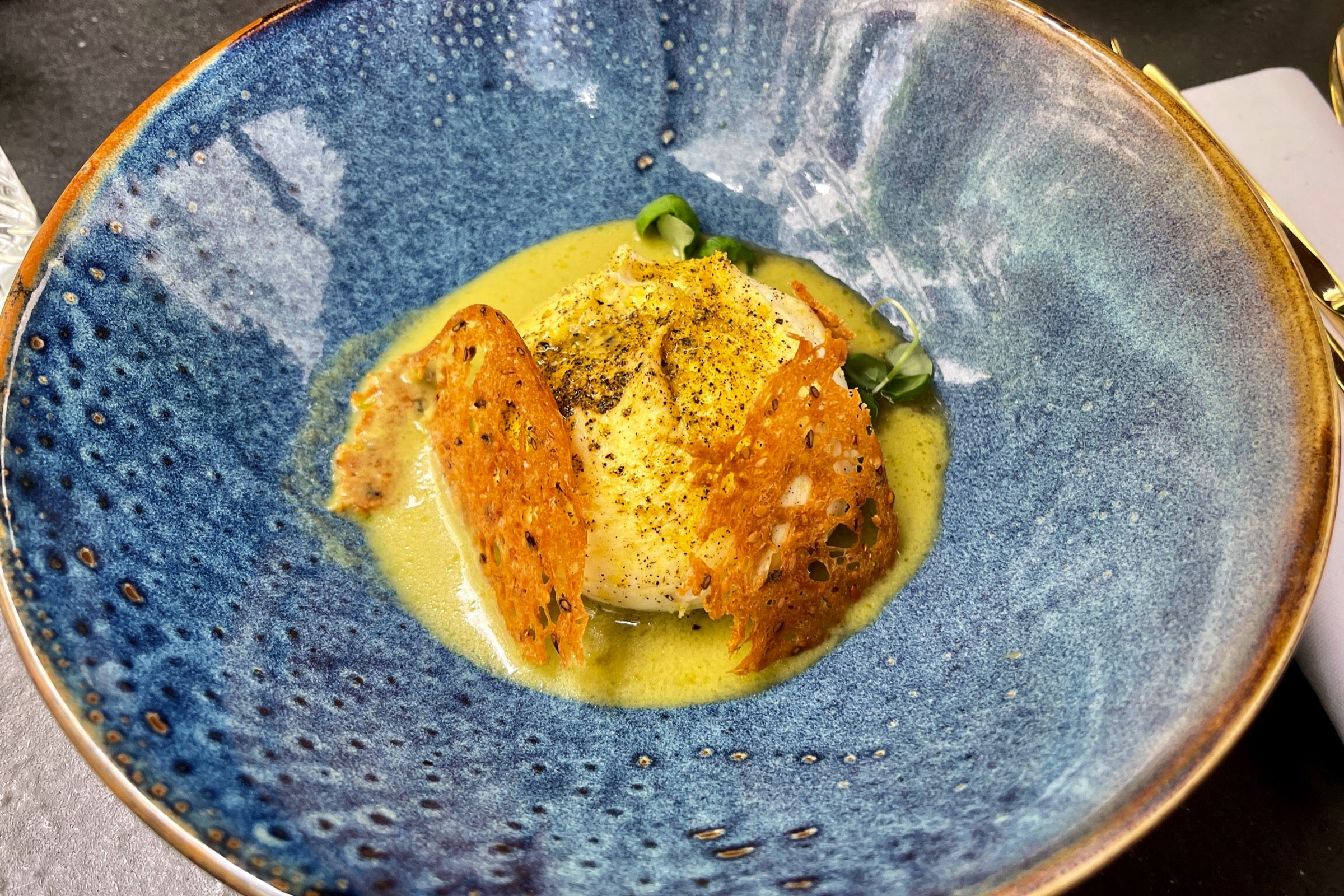 I had the grilled octopus for my entree, which was nothing short of incredible. The fennel and smokiness from the wood-burning grill made the dish really pop. My waiter also gave me a complimentary pour of red wine to pair with the octopus.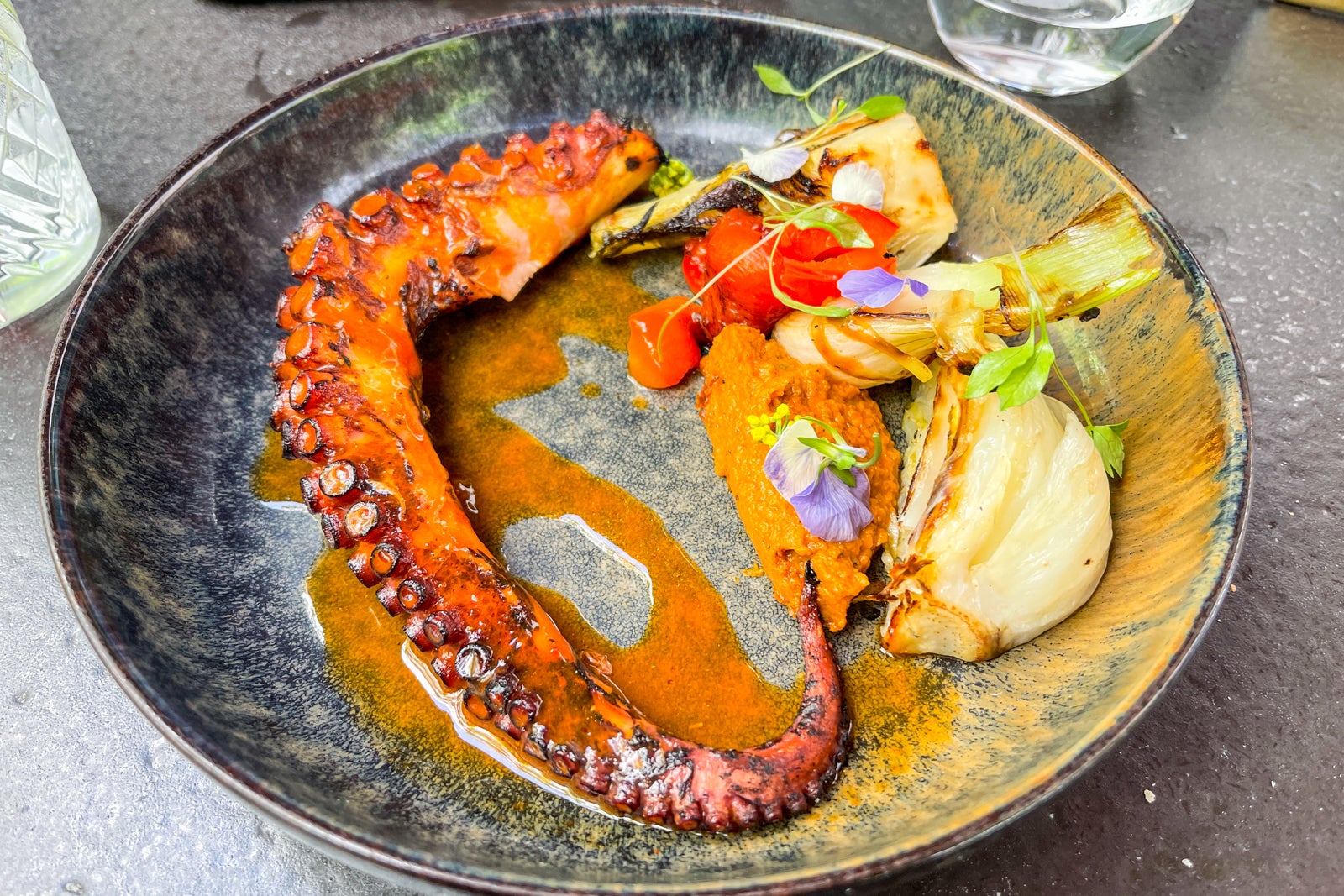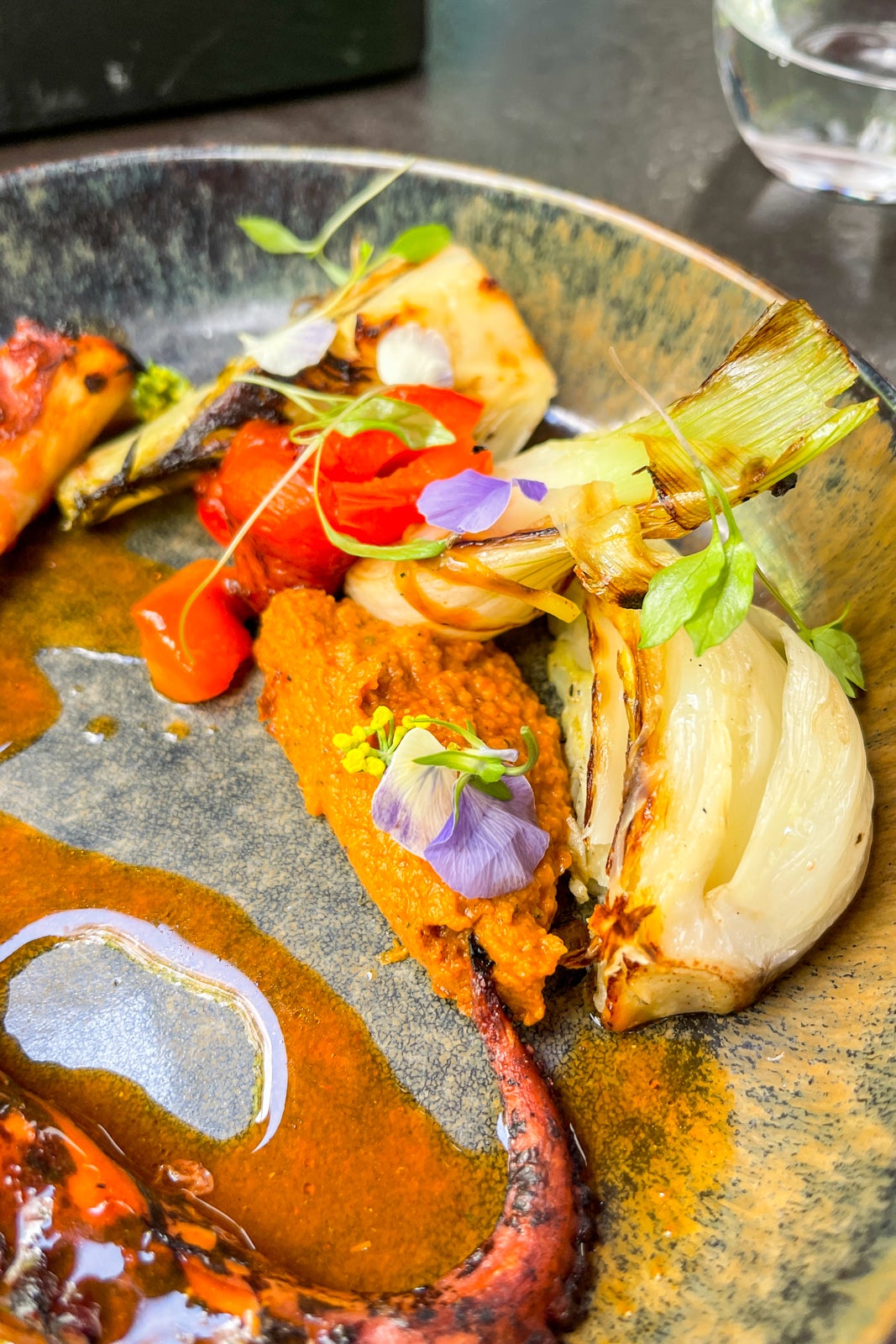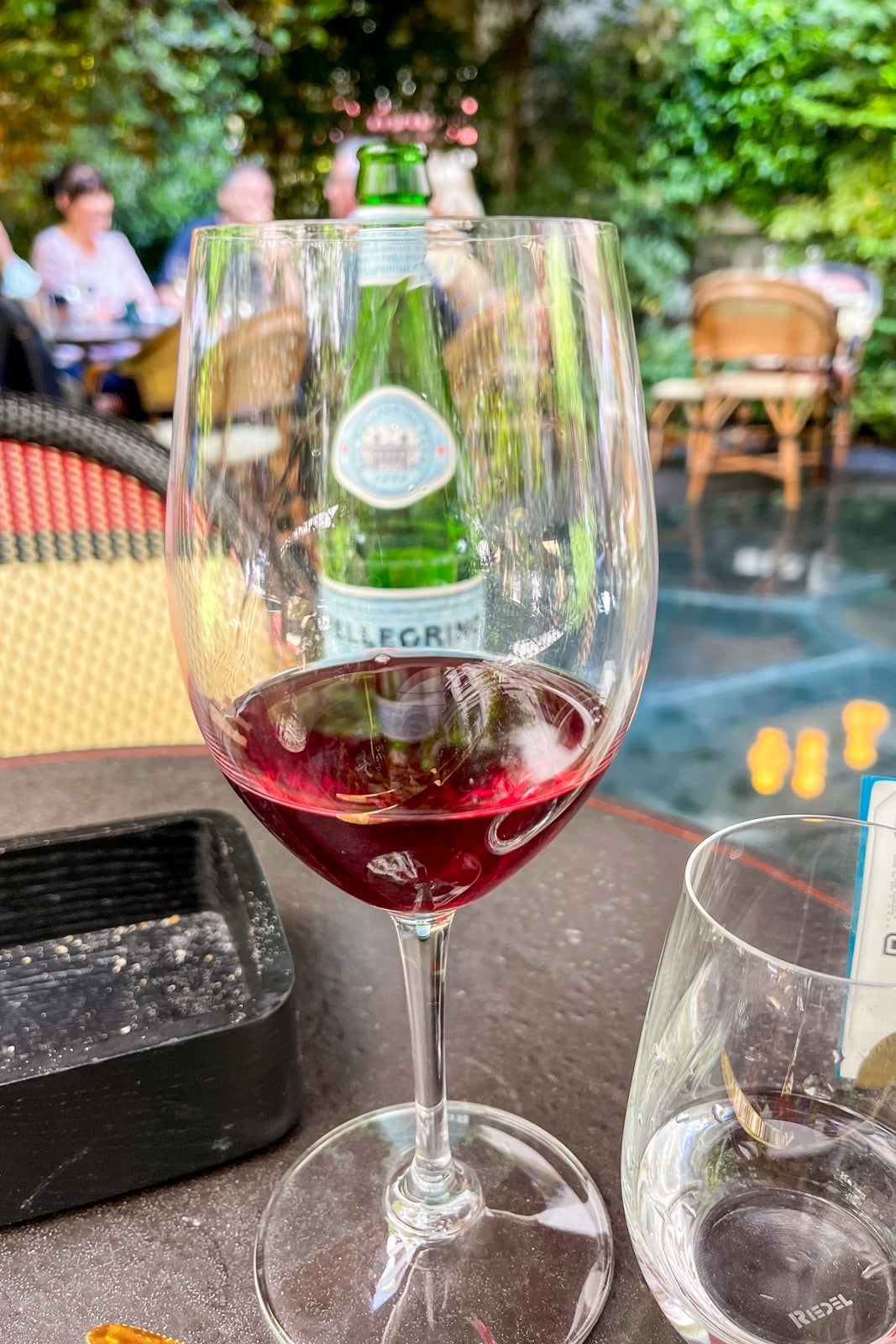 For dessert, I had a delicious cherry clafoutis and yogurt sorbet. The waiter also brought me a small glass of Champagne and told me to enjoy my time in Paris.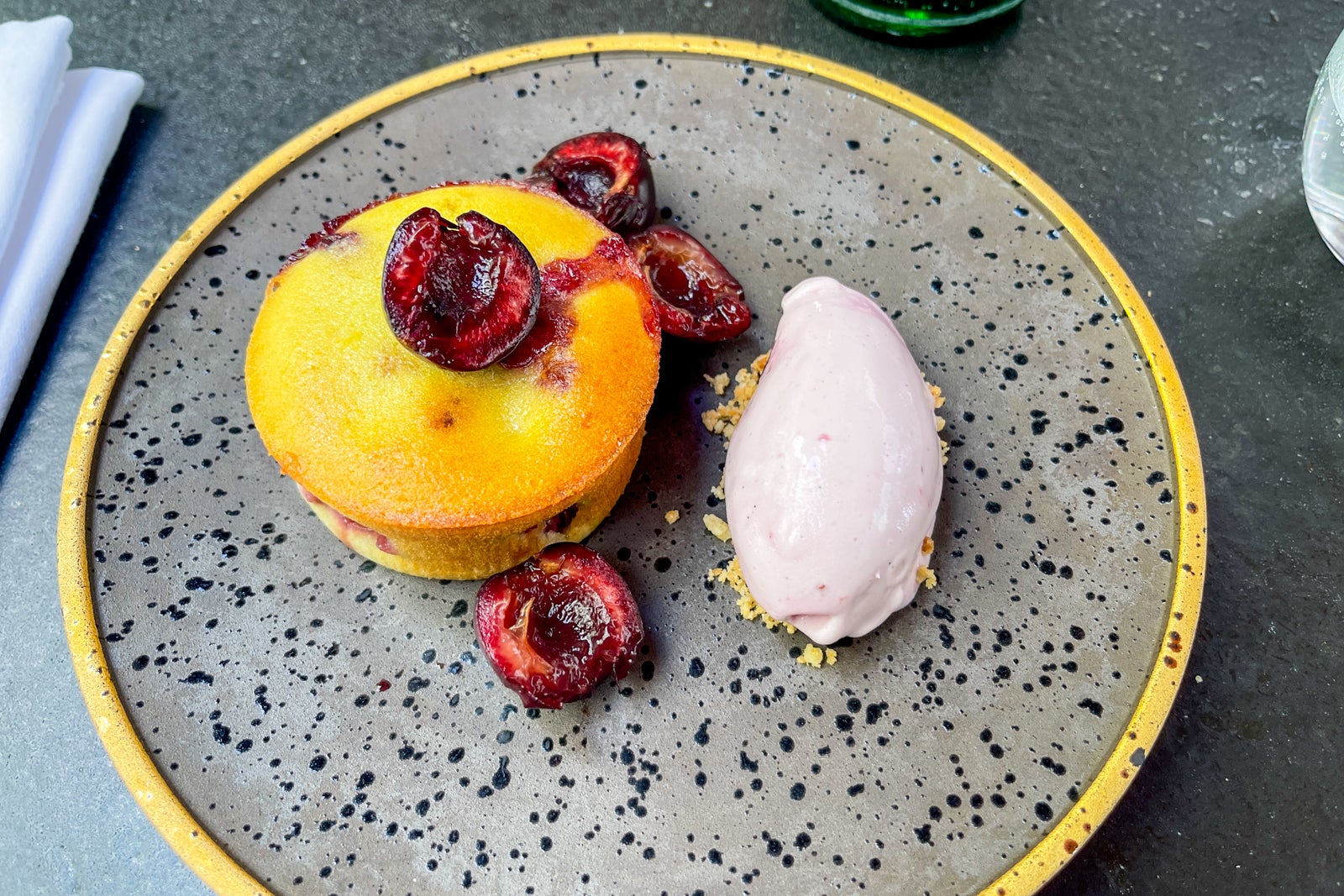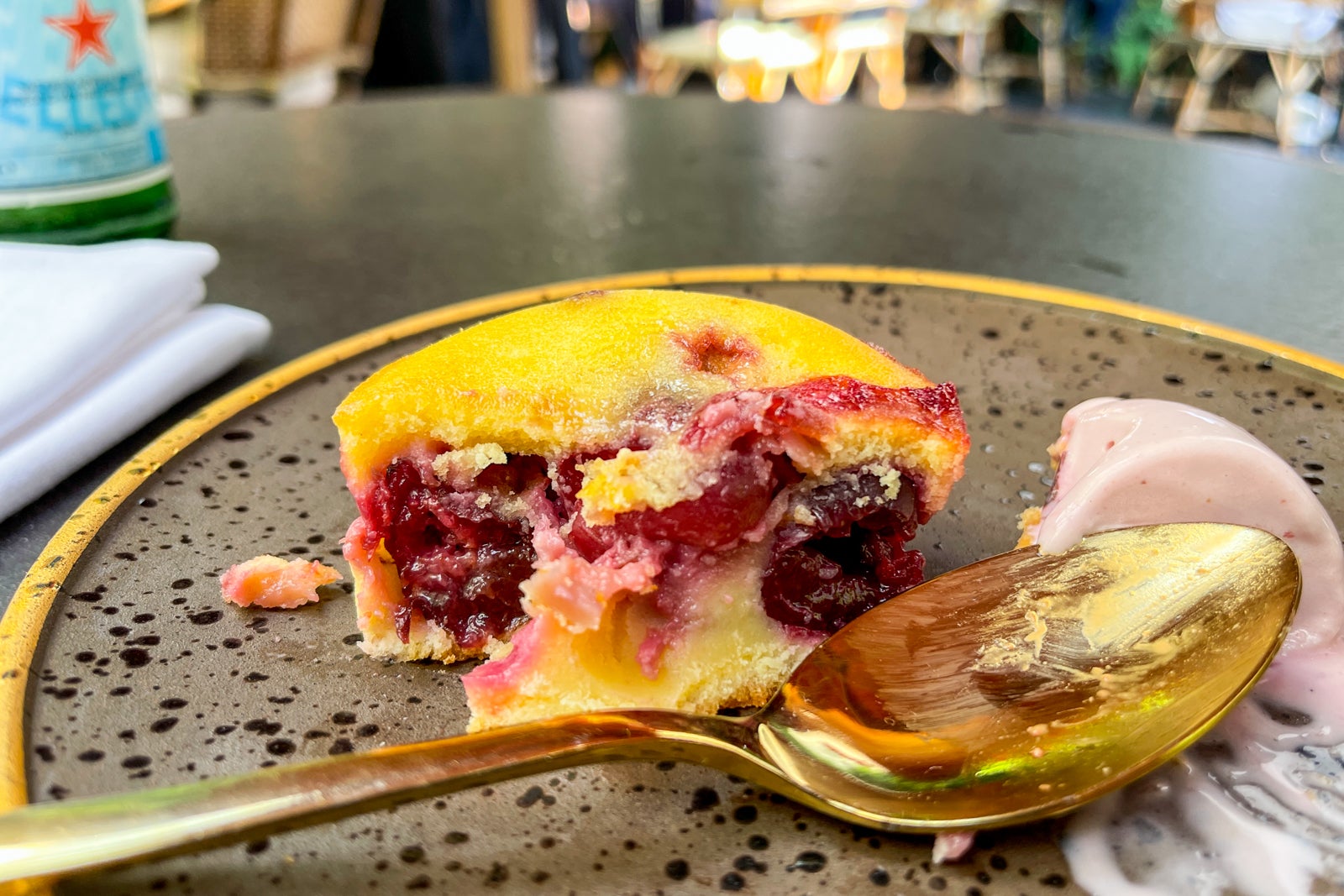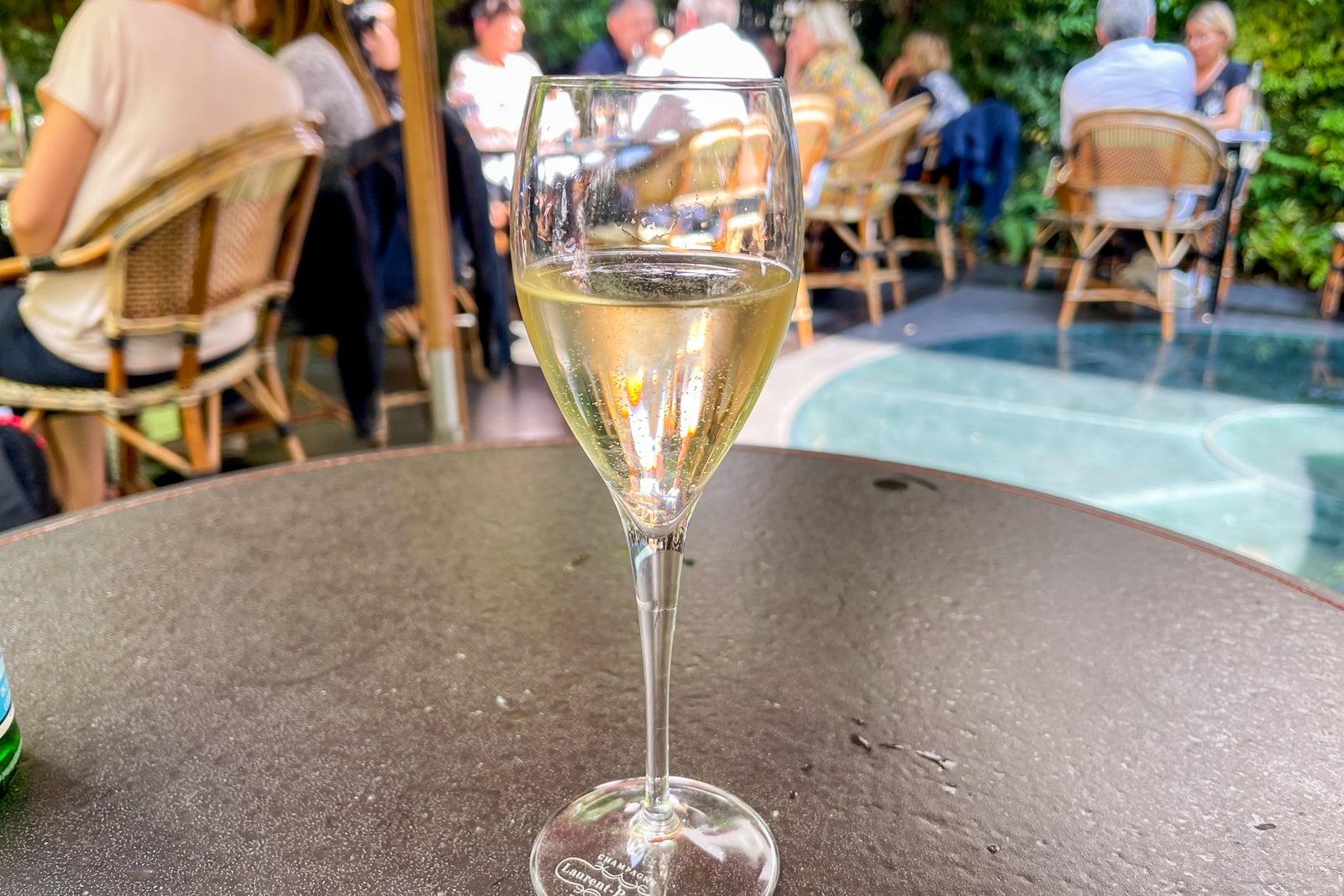 I was blown away by Le Roch's restaurant. The food was excellent and truly unique, so stop by if you're in the mood for fine dining. The waitstaff was kind and attentive and — like the receptionist I talked with earlier — seemed excited about the return of tourism in France.
I got room service on the in-room iPad the following evening. I ordered an open-face sandwich, fish dipping sauce and a local IPA. The food was good but as you can see, it came with a lot of bread. Truthfully, I wasn't overly impressed by the food. Regardless, it's a solid option to have if you're looking for a late-night snack. You can order room service 24 hours a day.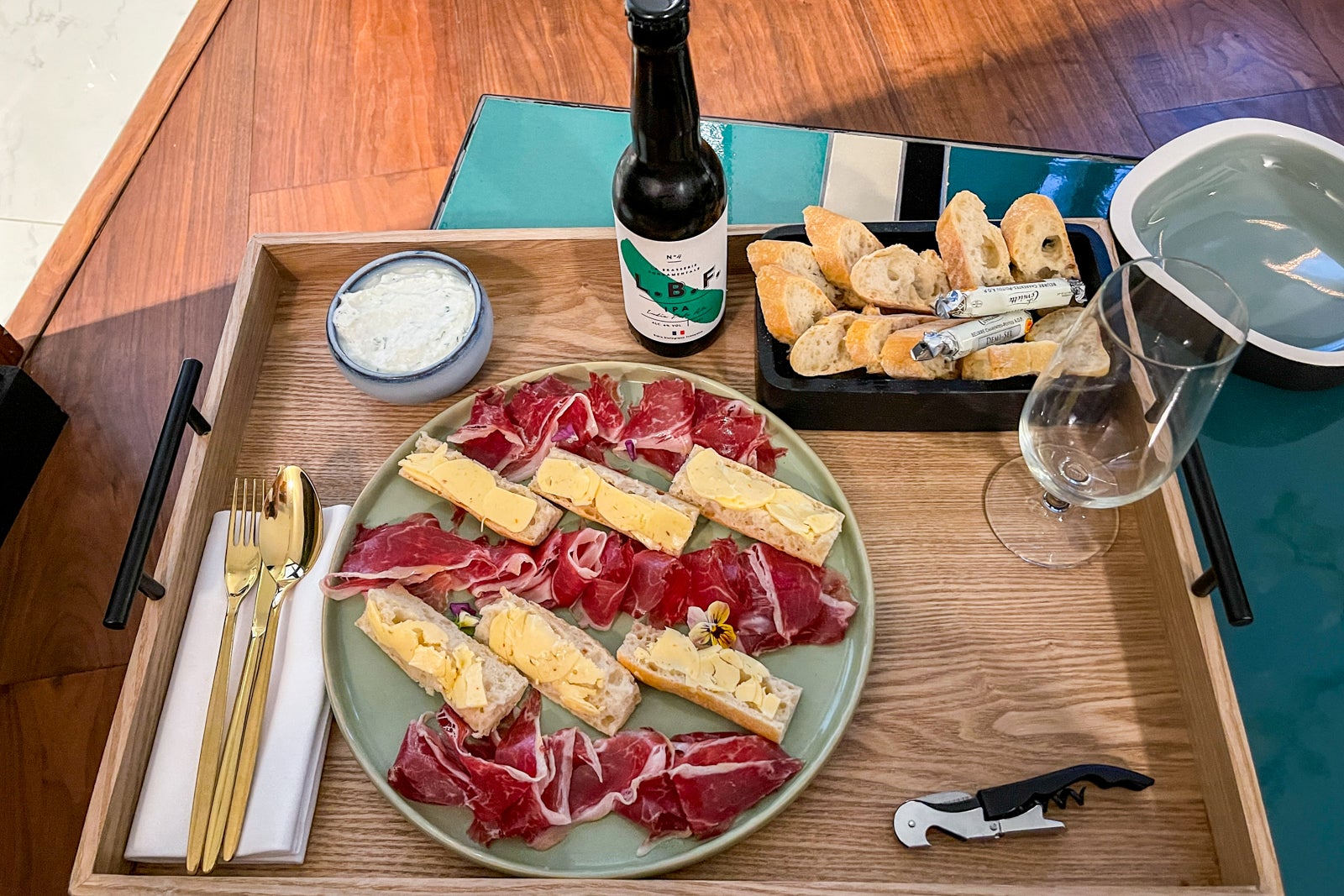 Related: 35 top hotel restaurants you need to add to your itinerary
Service
Service at Le Roch was nothing short of amazing. Everyone I interacted with at the hotel was friendly and did everything they could to make my experience more enjoyable. I was also impressed with how attentive housekeeping was. I came back every day to a clean room with a fresh bottle of complimentary mineral water.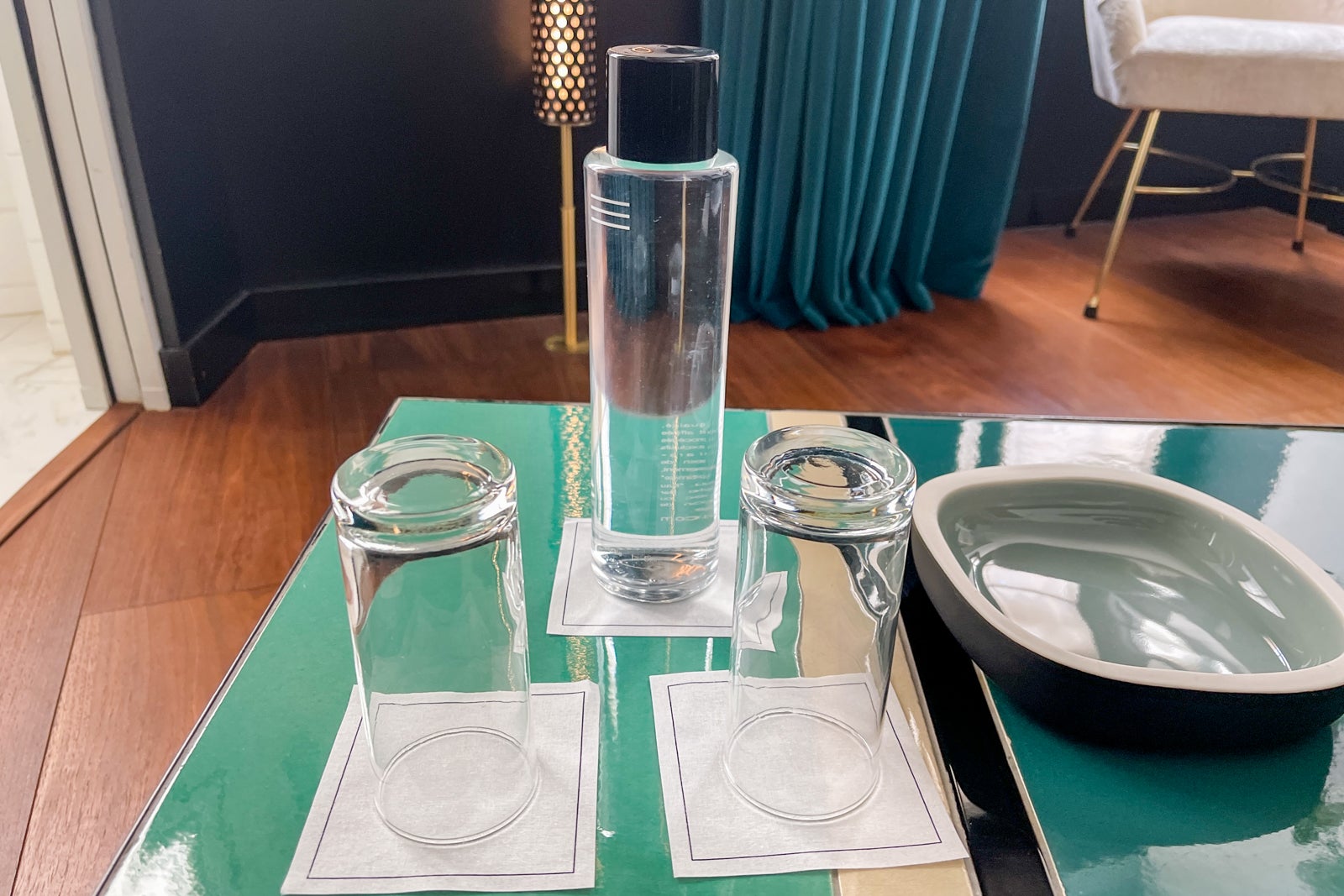 Related: The TPG 20: Staff picks for our favorite new hotels
Overall impression
Le Roch Hotel & Spa isn't your run-of-the-mill Marriott property. It puts relaxation above all, and that shows in its excellent amenities, rooms, dining options and standout service. Plus, its central location makes it perfect for first-timers in Paris since you're in reach of all the major tourist attractions. I have no qualms about staying at the property in the future, but preferably at a slightly lower nightly rate.
For rates and fees of the Marriott Bonvoy Brilliant card, click here.
Featured photo by Andrew Kunesh/The Points Guy.