— Recommendations are independently chosen by Reviewed's editors. Purchases you make through our links may earn us a commission.
These days, so many parents are stuck with two daunting and incompatible tasks that nevertheless must be done simultaneously: working from home and parenting. As a single parent, the level of difficulty goes from hard to near impossible. Without another adult to swoop in, it can feel like the TV is the new co-parent. We all know that limitless screen time is bad for the developing brain, so what are single working parents to do? Stock up on products that will keep your kids occupied long enough for you to get some work done.
These are the 10 products that I've found super helpful—and that my 6-year-old loves, too.
1. A colorful whiteboard to keep everyone on schedule
When our kids are home with us all the time, the days start to feel like waves in an endless ocean of unstructured time. Imposing a schedule, or even just the idea of a schedule, is reassuring for everyone. A colorful whiteboard with a list of activities and chores can be your lighthouse, guiding your family out of chaos and into some semblance of order. With fun markers and magnets, parents and kids can create plans together for when mom or dad is working. Instead of interrupting your call with the familiar cries of boredom, kids can check out the white board and self-direct. If your fridge isn't magnetic, get one of these surprisingly chic drip trays and prop up in a high traffic area.
Get the Magnetic Dry Erase Whiteboard on Amazon for $13.99
2. An art studio on wheels
This simple, cheerful, easy-to-store rolling cart can be a lifesaver, and it comes in a huge variety of colors. Stock it with art supplies and think of it as a portable creativity station. Your kiddos can roll it to a corner of your abode and give you some breathing room to work. The three tiers allow for paper, coloring books—I suggest a mix of favorite character type and adult coloring books for a challenge—an array of materials (fresh glue sticks, paint sticks, markers, crayons, well-fitting scissors are a great start), and a pack of water wipes for small messes. Pro tip: don't include glitter (AKA the devil's diamonds).
Get the Lexington Metal Cart at Michael's for $29.99
3. A giant roll of kraft paper for big fun
I can't explain why size alone imbues something as ordinary as paper with a sense of awe and excitement. Even for a teacher it's just plain joyful to unfurl a fresh, clean sheet of kraft paper. Set your youngsters up with a mural-sized piece of pulp and let them riff on a theme—Under the Sea, Once Upon a Time, the Old West—all they need is some imagination and art supplies. They can pen an inspiring and hopeful message and decorate it with uplifting images, or go even simpler and write their names in huge letters, and watch them draw pictures that reflect their interests and dreams. The possibilities are truly endless, and this is a form of self-expression that takes a while.
4. A mini trampoline to bounce away the blues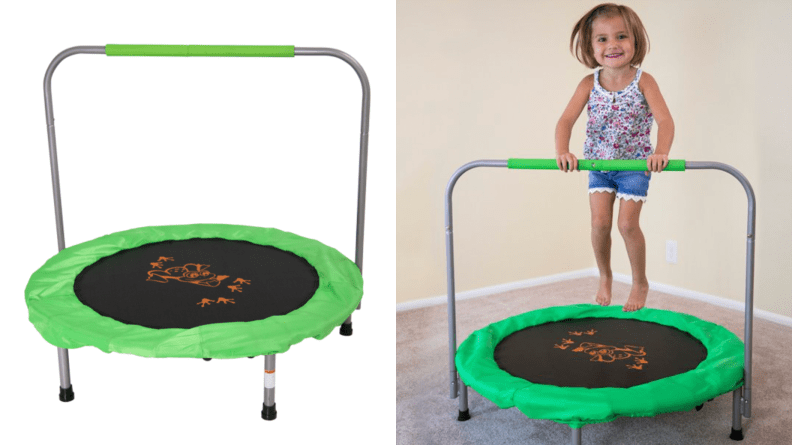 Sometimes—okay almost all of the time—kids need to move their bodies. Without opportunities to shake-it-don't-break-it, they get irritable and restless. If you don't beat them to the punch, you can find yourself backing them off the ledge of a tantrum, negotiating with popsicles and tablet time, seconds before that all-important Zoom call with your supervisor. A mini trampoline can help them get their wiggles out when you aren't able to toss a ball in the backyard. This one is portable, foldable, and even has a bar for them to steady themselves.
Get the Skywalker Mini Trampoline at Walmart for $53.97
5. The Calm App for instant good vibes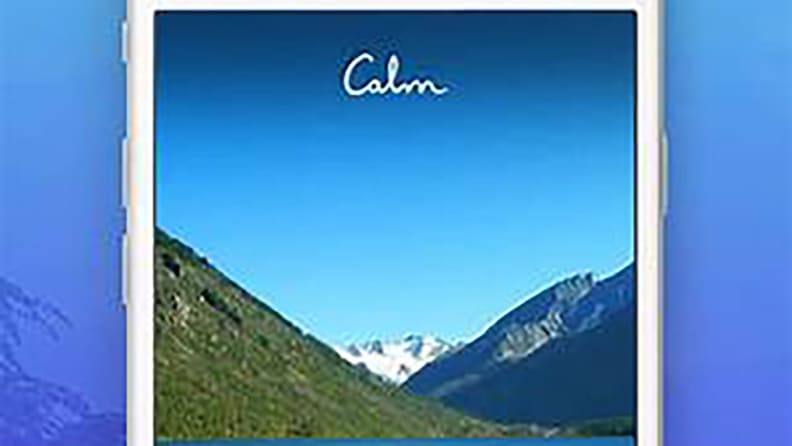 Sometimes deadlines coincide with your child's "big feelings." There's nothing worse than having to choose between a cuddle and a conference call, but here's where Calm comes in. The sleep stories feature isn't just for bedtime: Told in peaceful voices, these charming tales encourage a restful break, especially with a well-loved stuffie in hand. It may take a few tries to find your child's favorite (my son loves Jack and the Beanstalk and yes, I can recite it by heart), but it's worth the time as these stories soothe your little one until you can provide the all-mighty snuggle.
Download the Calm App at iTunes
6. Logic puzzles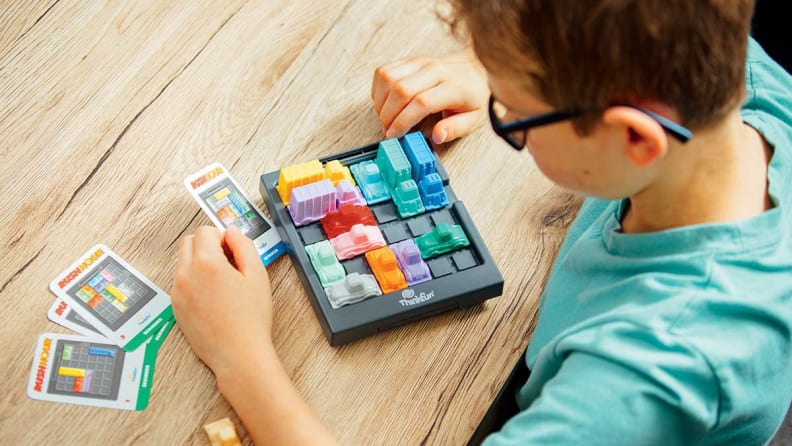 The recent boom in puzzle popularity testifies to our nation's rediscovery of this classic past time, but logic puzzles are a little bit extra. Their self-selecting levels of difficulty can keep your child in what we teachers call the "zone of proximal development," that brain space that's challenging without being frustrating. Rush Hour, Tangrams, and Kanoodle are all winners, and they can be played alone or with partners.
7. A tutoring platform run by teenagers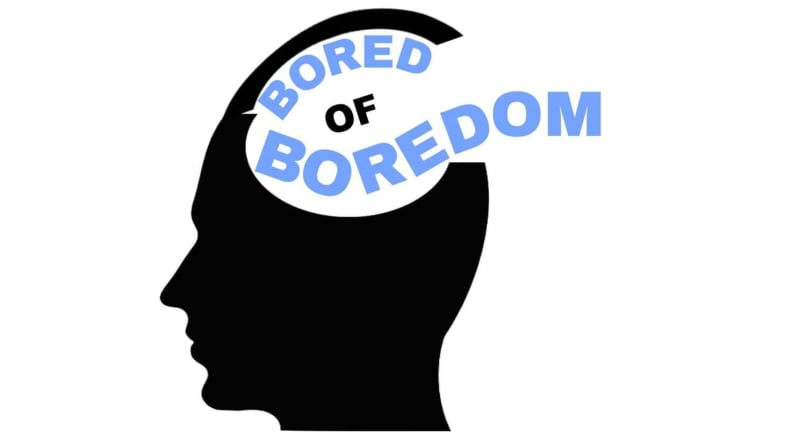 What's the matter with kids these days? Uh, nothing, judging by Bored of Boredom, a platform that offers exciting academic and non-academic classes to make sure that students remain intellectually stimulated during this unprecedented time… of boredom. This site was developed not by fuddy-duddy actual adult educators (gross!), but rather by some of LA's smartest high school students. What makes it even cooler is that their classes are totally free, though donations to non-profits are requested for those who can afford it. With classes in everything from Irish to Jazz Dance to the Amendments, Bored of Boredom provides rich brainfood for a wide range of interests. The excellent role modeling is a bonus.
Sign-up for classes at Bored of Boredom
8. High energy online art classes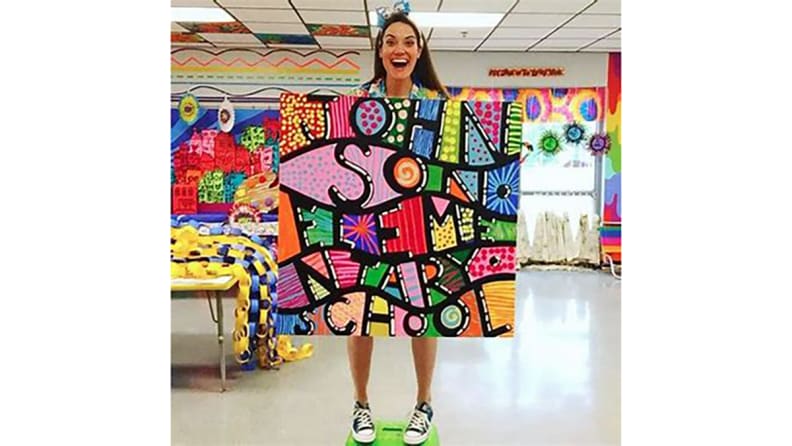 I started following the hashtag #artteachers on Instagram and my universe exploded. Old toilet paper rolls and empty egg cartons became my micro-family's canvas. Though we experimented with a number of teachers, Cassie Stephens' YouTube channel wins out again and again, especially when it's time for me to be more hands-off. Her high spirits and sweet nature will make you feel like you're leaving your child with Mary Poppins, and most projects can be completed with the most basic art supplies. As an experienced, real-life school art teacher, her step-by-step videos offer fun, engaging projects (pirate selfies anyone?) that yield framable, give-to-the-grandparents results.
Watch Cassie Stephens' Art Classes on YouTube
9. National Geographic Field Guides for the budding scientist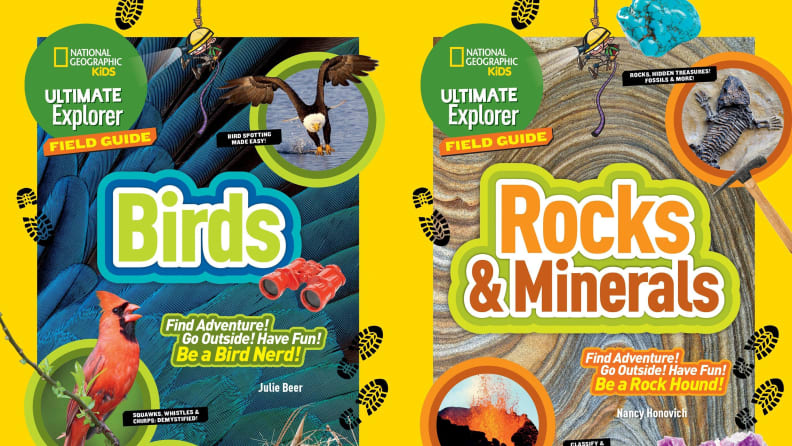 During these unprecedented times, we've pretty much memorized our immediate surroundings. Sometimes the only way for your kid to explore the great outdoors while mom or dad is working from home is a trip to the backyard or around the block. However, these eye-catching Nat Geo Field Guides, chock full of interesting facts and informative and appealing sidebars, are perfect for looking at the world anew. Send your young scientist into the field (er, the front stoop), to identify the trees, birds, bugs and rocks right in your neighborhood.
Get National Geographic Field Guides for Kids on Amazon
10. A KiwiCo subscription for STEM stimulation
I don't know about you, but I am slimed out. If you are looking to expand your kid's science and STEM repertoire beyond the sticky substance that's impossible to get out of the rug, KiwiCo will blow your mind. This company delivers age-appropriate science and art projects every month. The projects are unique and high-interest—think pinball machines and glow labs. Geared toward specific developmental stages, kids can complete the projects on their own and then play with them for a long time afterward.
The product experts at Reviewed have all your shopping needs covered. Follow Reviewed on Facebook, Twitter, and Instagram for the latest deals, product reviews, and more.
Prices were accurate at the time this article was published but may change over time.