Ideas for a teddy bear tea party for your kids, perfect for a summer afternoon when you want to cool off and connect with your child.
Running out of ideas on what to do with the kids. Why not slow things down and throw a teddy bear tea party. If you don't do the princessy thing, no worries, you can have a super hero tea party. It's all about small sandwiches, sweet bites, sipping from a cup and making conversation.
Related: Throw a tea party birthday
Throw a Teddy Bear Tea Party
This fun casual kids tea party is perfect for a summer afternoon when you want to cool off. It can also be a rainy day indoor activity. 
Pick a date and create invitations: You can get sweet printable invites here or use some markers and white paper to draw up an invite. Be sure to invite some of your child's favorite stuffed animals too! And if grandparents can safely make the event, it's great fun for mixed generations.
Develop a menu. Most kids don't love tea; a classic lemonade recipe will do the trick. Next you'll need some tiny tea sandwiches. Get some classic tea sandwich recipes here. But remember, all you really need is some fancy plates and sandwiches with the crust cut off. Even PB&J will do in the right setting. Try these super sandwich cutters. A sweet treat is a must at the end (more on that below). Again, personalize it. Make the bites small so you can savor the afternoon.
Make a pretty table. Get a fancy tablecloth, some pretty flowers and set the scene. You can go indoors and out. You might add these paper flowers or this pretty garland.
Dress for the party. Kids can don princess attire or a superhero costume. It's all about feeling festive and fun. Be sure you get into the spirit too. 
Sweet Treats for your Teddy Bear Tea party
Here's the scoop on lemonade. It's pretty easy to make IF you can get fresh squeezed lemon juice in a bottle. I like Natalie's lemon juice. 
1 1/2 cups freshly squeezed lemon juice
1/2 cup sugar
6 cups water
Then all you need to do is combine the lemon juice, sugar, and 1 cup of room temperature water. Stir until the sugar dissolves, then add 5 more cups of COLD water and chill for a few hours. To serve, add plenty of ice and maybe some fresh strawberries as garnish.
When it comes to the sweets, we think this is the best Chocolate Chip Cookie Recipe of all time. It's a good place to start.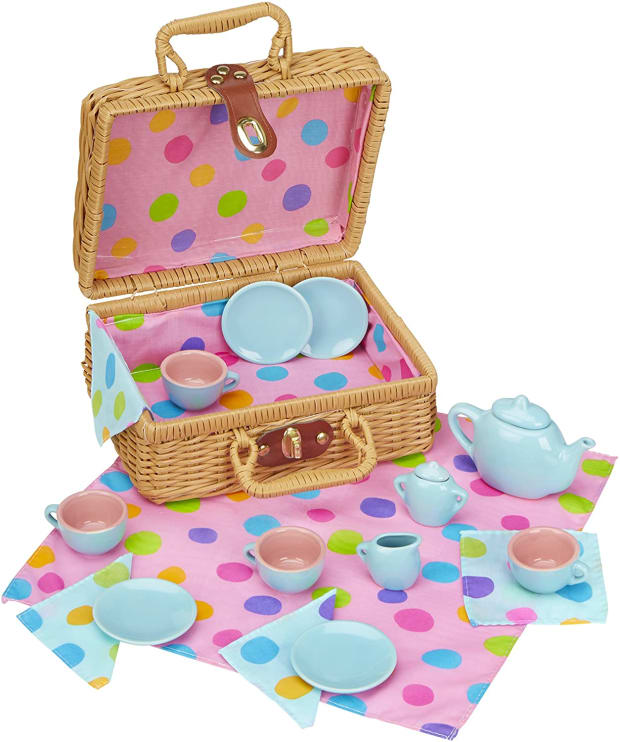 Favorite Tea Sets for Kids
I loved tea parties as a little girl. In fact, my first word was "tea." My British grandmother (Grannie), taught me how to have a tea party and I can remember sitting in her yard (she called it a garden) with tiny cups and saucers. It was magical. This set by Alex Toys is a tea set my Grannie would have loved.
The Tea Party set with Basket by Alex Toys comes with its own table cloth and real cloth napkins. . The white tea set is simple and sweet with pink polka dots. The tea set is breakable which makes the toy even more fun. Girls will feel so grown up playing with a real tea set. Find the set on Amazon.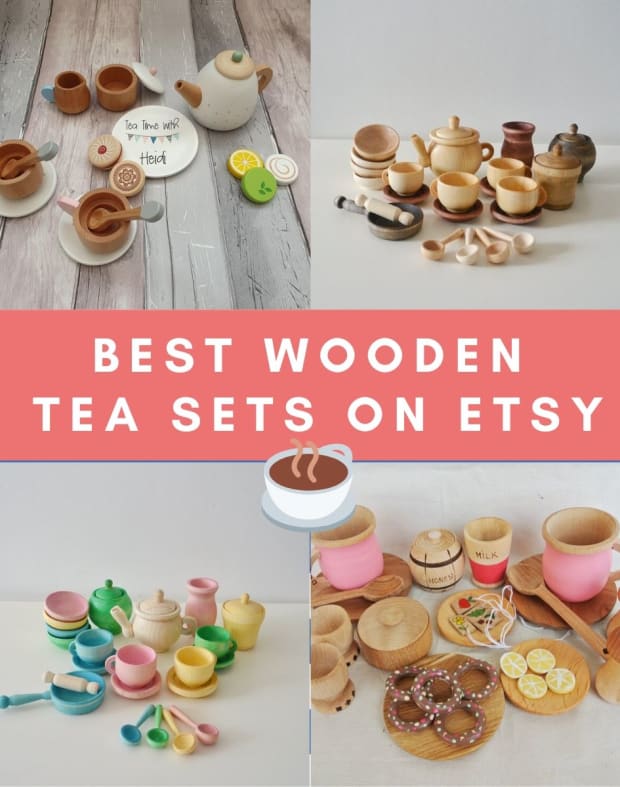 Wooden Tea Sets on Etsy
After I started writing this tea party piece, I went down a wooden tea set rabbit hole over on Etsy. There are so many creative and wonderful options.
MORE KID-CENTRIC FUN FROM MOMTRENDS
PIN IT!
Need more ideas on what to do with the kids? Be sure to follow our Activities to Do with the Kids board on Pinterest here.