13 Ways to Use Cinder Blocks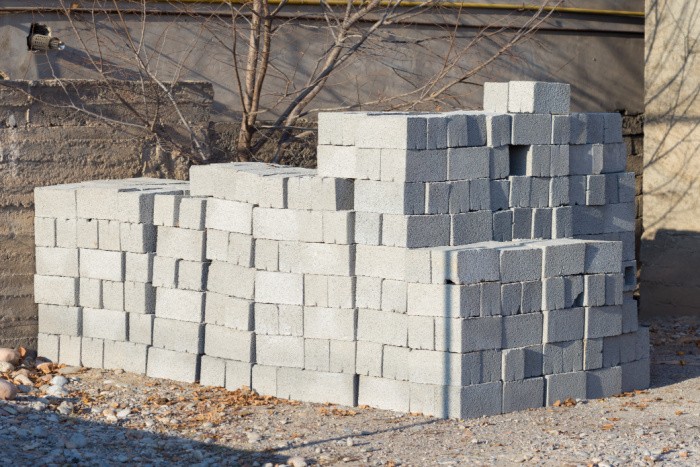 Do you have a bunch of old cinder blocks lying around your property and wondering how you can put them to good use? As it turns out, cinder blocks are extremely versatile and can be used to create impressive structures while costing you hardly much at all! Whether you're in need of patio furniture or extra storage space around your home, cinder blocks are the perfect solution. Have I got your attention? Keep reading to find out clever ways to use cinder blocks around your home and property.
13 Ways to Use Cinder Blocks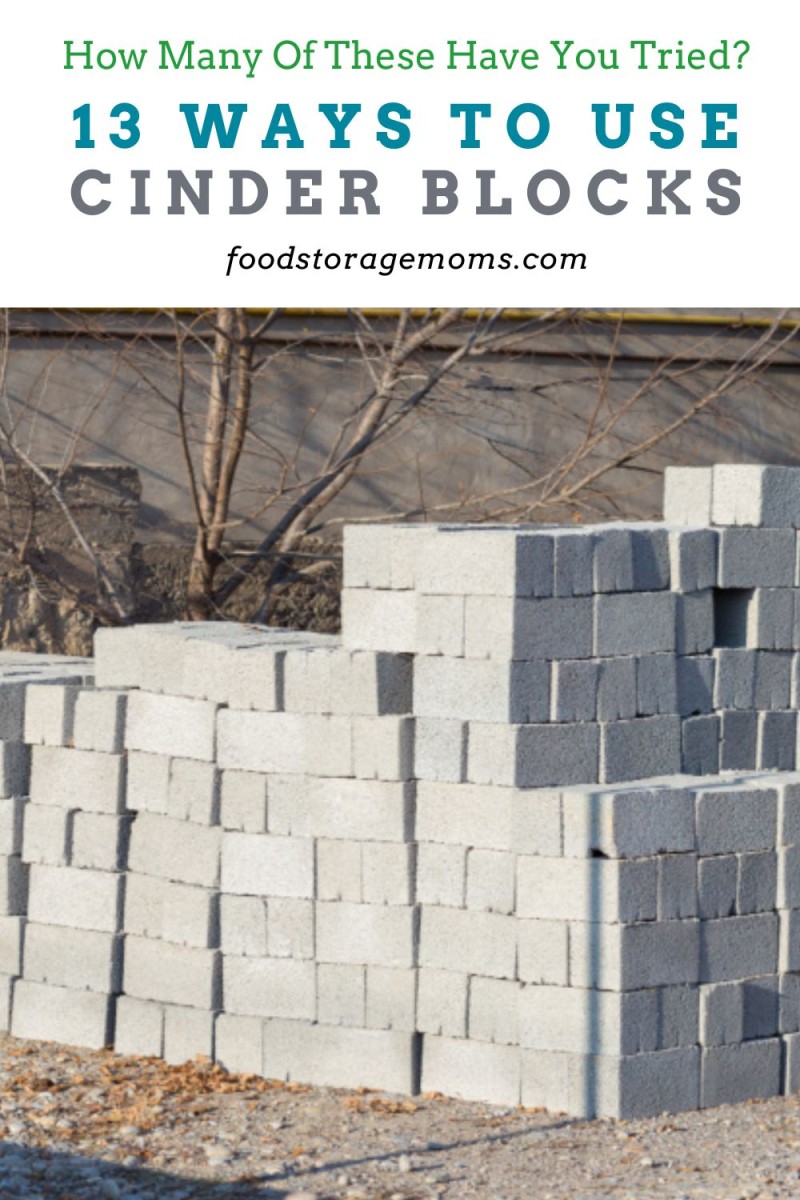 1. Storage Space
With just a few cinder blocks and some sturdy wooden planks, you can create a lot more storage space for your home. You can customize your shelving in creative ways you like and even paint your blocks to give them more of a finishing touch. It's entirely up to you whether you incorporate this idea in your kitchen pantry, garage, bedroom, or in your backyard. 10 Food Storage Ideas When You Don't Have a Pantry
2. Functional Grill
You'll never want to use your traditional grill ever again after this next one! As it turns out, cinder blocks are perfect for making your own fully-functional outdoor cinder block grill. And with just a few blocks and one or two racks to layer in between, you'll have a homemade grill that can cook different kinds of meat at just the right temperature. How to Use a Grill as an Emergency Cooking Option
You can also build a small cinder block bin for firewood storage or to keep your charcoal covered.
3. Outdoor Fireplace
If you enjoy spending a lot of time out on your backyard patio with friends and family when they come over, consider using cinder blocks to construct an impressive outdoor fireplace using cinder blocks. Not only does the finished product look absolutely fabulous, but you'll spend very little money and it will take you hardly any time at all to complete. What Happens 72 Hours After Disasters
You can also construct an in-the-ground fire pit as one of your next DIY projects. A cinder block fire pit should prove to be very sturdy and not subject to harsh outdoor weather conditions. You could also use your cinder blocks to frame your outdoor barbecue or other appliances to create a functional outdoor kitchen. You can also make a "cubby" storage area for your kitchen utensils and cookware.
Most DIY types would put some clean dirt and then some gravel at the bottom of the pit.
4. Outdoor Cinder Block Benches
I love this next idea! Outdoor furniture can oftentimes cost you an arm and a leg, but not so if you use your ingenuity with cinder blocks and just a few sturdy pieces of wood. You can even take it a step further by adding cushions and pillows for extra comfort and support. And rest assured, your guests will be left utterly amazed at how well your benches turn out.
Consider making higher benches for the adults and lower ones for the kids just by adjusting how many you stack using a single cinder block, multiple blocks, or if you turn them on their ends.
5. Outdoor Dining Table
If you're wanting more of a rustic look to your outdoor dining table setup, this one's for you! All you'll need is two wooden pallets and enough cinder blocks for your project. You can also add a nice wood finish to your pallets or leave them as is, it's entirely up to you.
If not a table, how about an outside cinder block bar? Stack a few for height and then top it off with a thick piece of finished wood to minimize splinters.
6. Privacy Wall (Zen-Style)
There's nothing wrong if you're thinking about adding a little extra privacy in your backyard and cinder blocks are a great way to do it! I really like the idea of laying your cinder block Zen-style and I think you will too. Making a full cinder block fence could prove costly and time-consuming, but a wall on the side of your patio or porch could block out views from sideyard neighbors, and might even help cut down on your and their noise.
7. Raised Garden Beds
For all my fellow gardeners out there, pay close attention to this next idea. Raised garden beds tend to get pricey at times, but not if you use cinder blocks to help you! In fact, it's the soil that's going to cost you the most throughout the project. Not only that, but the prep time for this gardening hack will take you far less time than constructing your garden beds out of another building material. 9 Superfoods You Can Grow in Your Garden
You can use the blocks to build a garden wall to help hold the soil from sloughing away. You can use them to build a "potting station" for the smaller plants or those more sensitive to the climate until they're ready to move. You can go all out and build a cinder block planter configuration with different plants in each planter so you can adjust the watering schedule, fertilizer, soil, and other issues based on the plants themselves.
You could also build small flower pots out of cinder blocks if you have limited space (see next section).
8. Plant Containers
Besides making a raised garden bed using cinder blocks, you can also use individual blocks to use as individual containers for each of your plants and flowers. You can get as creative as you want with them and can also use them both indoors and outdoors. What to Plant in January
9. Cinder Bird House
If you're looking for a different style besides the traditional birdhouse, a cinderblock birdhouse is a great option. You can even find cinder block birdhouse kits at places like Home Depot and Lowe's. They're inexpensive and super-easy to clean out once your bird has flown the coop! What a fun approach to your outdoor home decor.
10. Bed Frame w/ Storage
Do you want to set up a bedframe with storage without having to buy an expensive one? Well, you won't have to if you use cinder blocks! All it takes is just some wood and the right measurements of blocks and voila–you'll have yourself a fully-functioning bed frame with plenty of extra storage space below, with or without shelves. I'd recommend adding some type of padding underneath your cinder blocks, that way you don't end up scratching the floors.
11. Bookshelf
You may be needing a new bookshelf but don't know how do I save money. Build your own bookshelf using cinder blocks. But it doesn't have to be only used for books. You can use your shelving as a shoe rack, nightstand, bedside table, or as storage for any other items you can come up with.16 Hacks for Repurposing Old Household Items You might view this approach to indoor use as too rustic or more of an industrial look, but you can dress it up with some plants on top or nick-nacks on one or two shelves.
12. Coffee Table
Wish you had something for your magazines and to set your coffee down early in the morning? Why not build your own coffee table instead of making extra costly purchases? To build a makeshift coffee table, all you'll need is just four cinder blocks and whatever building material you want to use, whether it's glass or a large wooden slab. Incredibly efficient, simple, and quick to make!
13. Entertainment Center
Do you have an entertainment center that looks like it's seen better days? Or perhaps you're just getting started on your own and simply can't afford to purchase an entertainment center at this time? No matter your situation, consider using cinder blocks to build your own and save a ton of money in the process. You can even get creative with this idea by painting the blocks or adding other decorative touches if you're feeling particularly crafty!
What are the differences between cinder blocks, cement blocks, and concrete blocks?
Often we use words thinking they represent the same thing or meaning. Cement is often used in place of concrete, or vice versa. Cement is a powdery substance made from clay and calcinated lime, which when you mix it with water forms mortar, or when added to sand, gravel, and water it makes concrete. So you actually have concrete blocks that have cement and rock compounds in them.
So you can have a concrete block that's made from cement and aggregates, which are ground-up rocks/stone or sand. They are very sturdy blocks based on the ingredients but tend to be pretty heavy.
Cinder blocks also have cement as a base, but could be constructed with a number of other items like coal or wood ash, often referred to as cinders or other industrial waste. An advantage to cinder blocks is that they are much lighter than concrete, although almost as strong.
Final Word
These are just some of the brilliant ways that you can use cinder blocks at home. With some creativity and ingenuity, you can build your own furniture, garden beds, or even birdhouses–all for incredibly affordable prices.
So, go ahead and get building! You'll be surprised by what you can make out of this strong yet versatile material. What are some ways to use cinder blocks that you'd add to this list?! May God Bless this world, Linda
Copyright Images: Cinder Blocks AdobeStock_303992470 By donikz
The post 13 Ways to Use Cinder Blocks appeared first on Food Storage Moms.