It seems like our kitchen can be quite like our closets: clutter and hard to manage. The counters become spots for collecting junk from the fam and the cabinets get filled with more than just pots and pans. Well, it's time to get a bit neater and tidier, don't you think? Check out these 15 kitchen storage ideas that will help you declutter
1. Cutting Slots
House Beautiful inspires our kitchen storage with this area that was make for cutting boards or even bakeware. Just slide your necessities in and you've got an easy-peasy way to organize as well as find and grab what you need. If you have the extra space, have one installed or DIY one on your own.
2. Keep Spices in Drawers
Don't have your spices taking up space in the pantry or on the countertops – especially if those areas aren't the most spacious. Instead, do what Taste of Home suggests, put those spices in some drawers. You'd probably find that it's so much easier to find what you need this way.
3. Pegboard Wall
Pegboards aren't just for the garage or the craft room. According to A Beautiful Mess, they're great for the kitchen as well. What's great about this project is that they take function and organizational and turn it into a piece of art for the space as well.
4. Jar Shelves
At Ella Claire, you'll be super inspired by her wall of jars. This shelving system is not only gorgeous but everything you need is right at your fingertips. Hop on over to check out the tutorial ASAP.
5. Hidden Organization
iHeart Organizing will give you some tips on really keeping your mind at ease with one of these hidden organizational boards. Your grocery lists, to-do lists, and even your bills can all have a space here. Grab a cabinet and go!
6. Bag-In Dispenser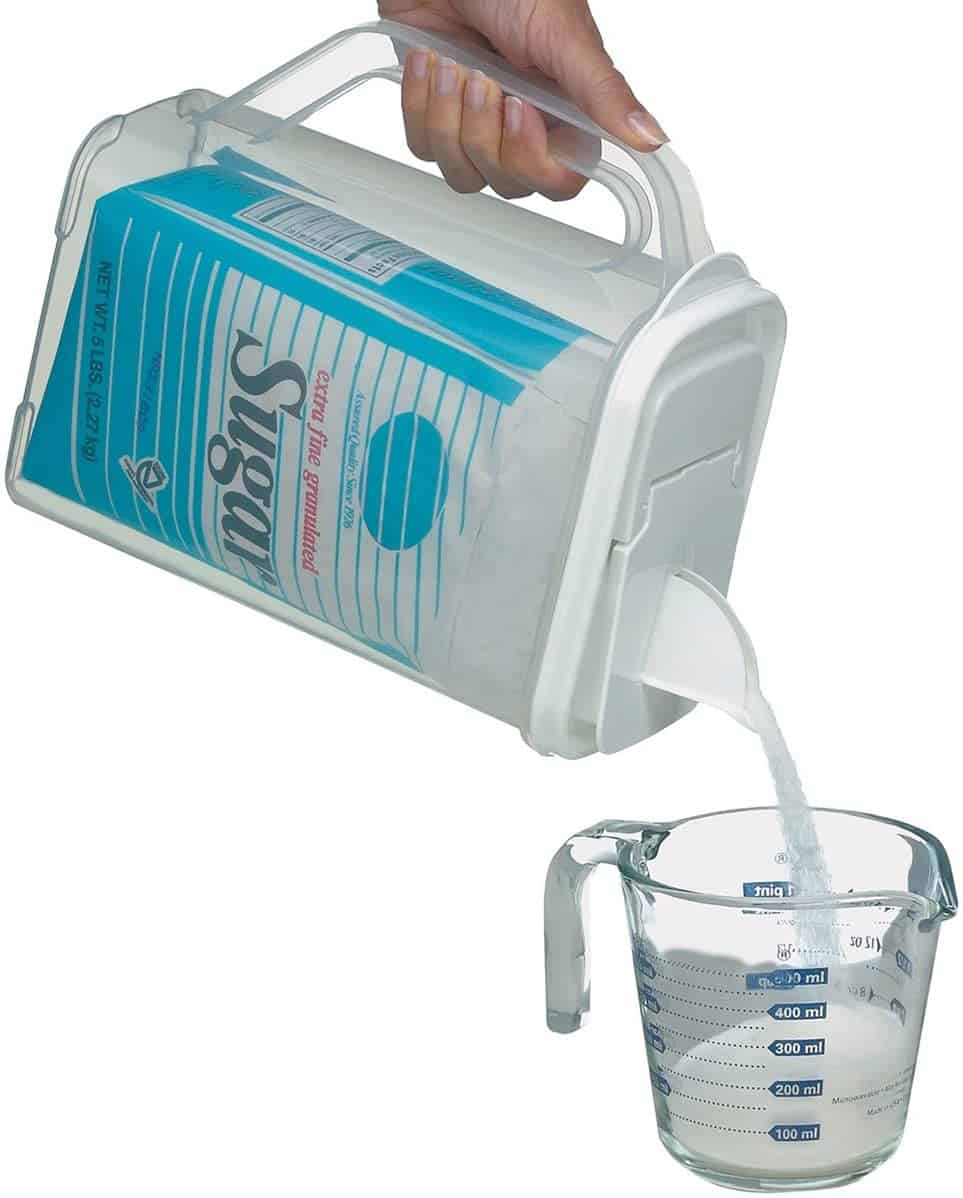 This isn't necessarily a DIY but you will have to situate it yourself to get it to work. Grab this bag-in dispenser on Amazon and clean up your baking cabinet. Flour, sugar, baking powder, and more just got so much cleaner and tidier.
7. Door Tidying
Take an older door and turn it into a space of organization. It's not only great for cleaning up the excess but it acts as a fun piece of decor for the area as well. Find all the details at C.R.A.F.T.
8. Command Center
Here's a great way to keep the family in line and up-to-date with all the have-to's of the week. A family command center can be created in so many ways, and we love how this one is kept off the countertops. Check it out by visiting our friends at Clean and Scentsible.
9. Wine Rack
A farmhouse-style wine rack will be a great addition to your kitchen as well. Don't use the top of the fridge anymore. Instead, take some advice from Shanty 2 Chic and create a wine rack that can be hung on the wall.
10. Metal Buckets (with labels)
Metal buckets can be the best way to get that under-the-sink area organized. We usually use this space for cleaning supplies, but make sure it's tidied up! Thankfully, Getting Tatertots and Jello has us covered.
11. Cloth Holder
Don't you hate having wet kitchen towels on the counter or over the faucet of the sink? With this Magisso cloth holder, you can perch it right inside the sink keeping things neat, tidy, and clean!
12. Pull-Out Cutting Board
The Farm Chicks will take you step by step through the process of making a pull-out cutting board. And what's so great about this design is that it has a hole in the middle for easy clean-up.
13. Snack Pockets
Take a shoe organizer and tidy up all the snacks! They'll be easy to grab and go. And this solution is perfect for creating more space within small pantries. Check out more at Just Imagine.
14. Baskets & Bins
DIY Network displays the most organized pantry around. And all you need to recreate the same thing in your own kitchen are to grab some bins and baskets that strike your fancy as well. You can even grab a label maker to tidy it up even more.
15. Double the Shelves
Double the shelving in your cabinets. Stop stacking pots and pans and all the things in ways that just create clutter and frustration. Take Good Housekeeping's advice to heart.
The post 15 Kitchen Storage Ideas To Declutter appeared first on DIYs.com.