Shari and Hutch live on the road full-time in their vintage "canned ham"  camper trailer. Every Thursday, they're bringing us stories from the road. This week, Shari and Hutch share tips on living compactly and comfortably, outdoors-style.
---
When your home is only 72 square feet, you get really good at utilizing space in a comfortable way. From lighting to storage, we've become both creative and resourceful with how we use the interior of our camper trailer over the six years we've been living in it.
Here, we've gathered some of our favorite tips and hacks for storage, space, lighting, and comfort while camping and living in small spaces. If you're looking for help planning on planning your trip – we recommend the Dyrt PRO, which allows you to downloaded maps and campgrounds to use offline.
Storage & Space Savers for Your Camper Trailer
When every inch counts, these tips will save you space in your camper trailer:
1. Shoe Rack behind Closet Door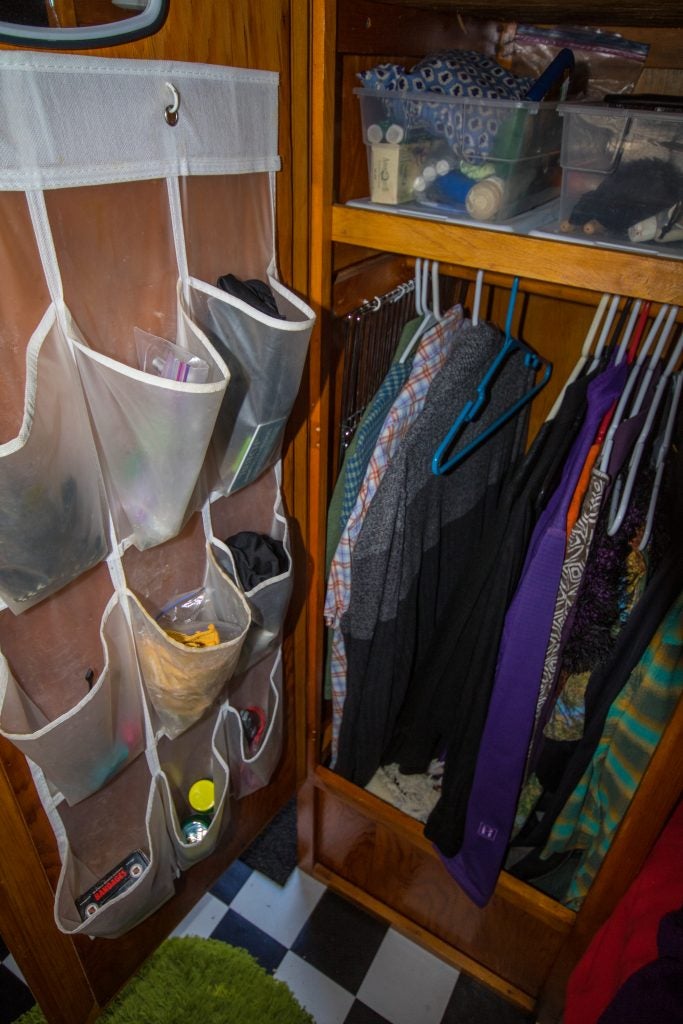 We use a plastic hanging shoe rack which we cut to fit the space behind our closet door.
But this shoe rack isn't just for shoes. It fits all kinds of stuff which we use everyday: headlamps, batteries, hairbrushes, deodorant, toothbrushes, ear plugs, reading glasses, and more. It's like a vertical junk drawer, which makes excellent use of a sliver of available space.
---
Prepare for your trip by downloading maps. The Dyrt PRO lets you download maps and campgrounds without cell service. "My alternative to using pro would be to drive back out to cell service."
---
2. Baskets Under Bed/Table
During the renovation of Hamlet, we rebuilt the bed and bench seats, designing them to fit these attractive cube shaped baskets from IKEA (which we had previously used in our house). They make for a great storage solution with all types of things, from food and gear to office supplies and books.
3. Solar Panel Rack
We built a rack which allows our Renogy camping solar panels to be secured to the back of our truck bed cover, but can easily be opened and set up when parked at a campground or friend's house. We use a heavy duty cable lock (designed for securing guns) for added security. The parts are available at your local DIY hardware store.
4. Storage Tubs & Vacuum Seal Bags
Since we use our truck bed as our garage, it's important that we keep it organized and dry. We use large tubs with water tight lids to hold the extra gear we don't use as frequently, as well as to store our off-season clothing. To save space and keep things mold and mildew free, we put our clothing in vacuum seal bags.
5. Shelf Risers
It doesn't look like much, but this little riser increases the space on our kitchen table by about one third. We can store fruits and vegetables in a basket on top, as well as laptops, magazines, candles, coffee mugs, etc. below. We also installed shelf risers in our pots and pans cabinet, doubling our storage capacity.
6. Fold-Out Hooks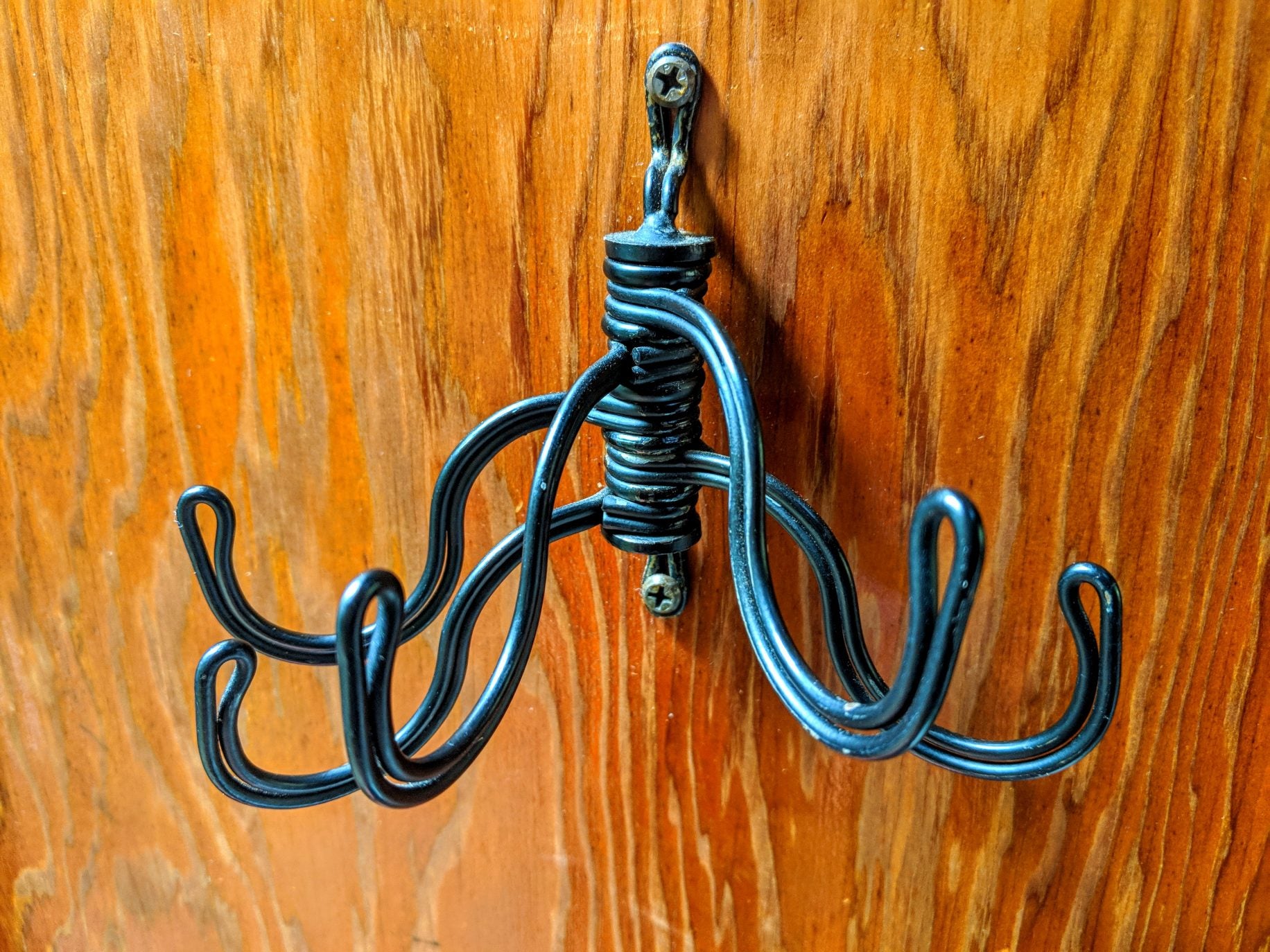 These fold-out hooks help us store multiple jackets, towels, and hats all in one small space.
7. IKEA bags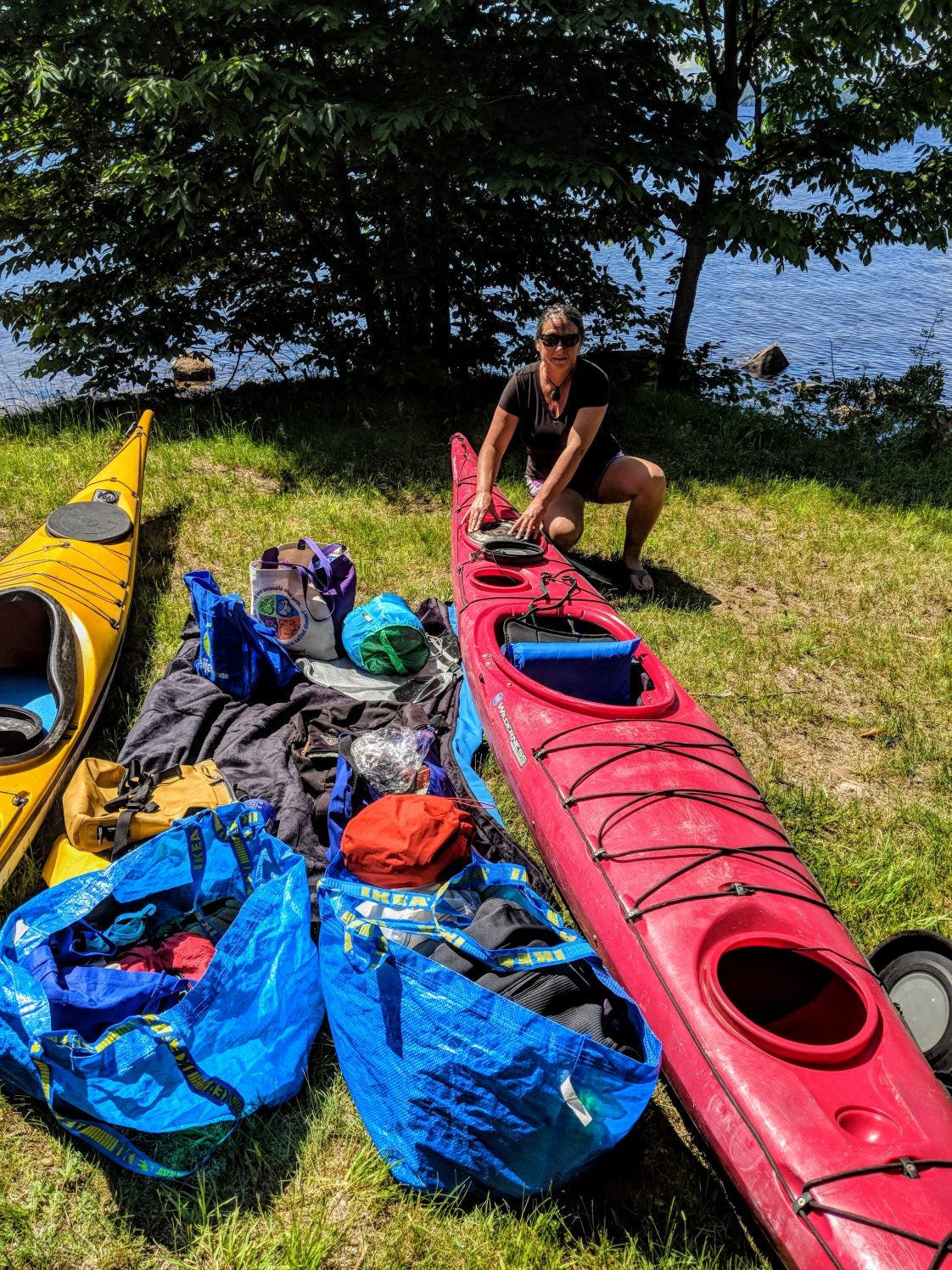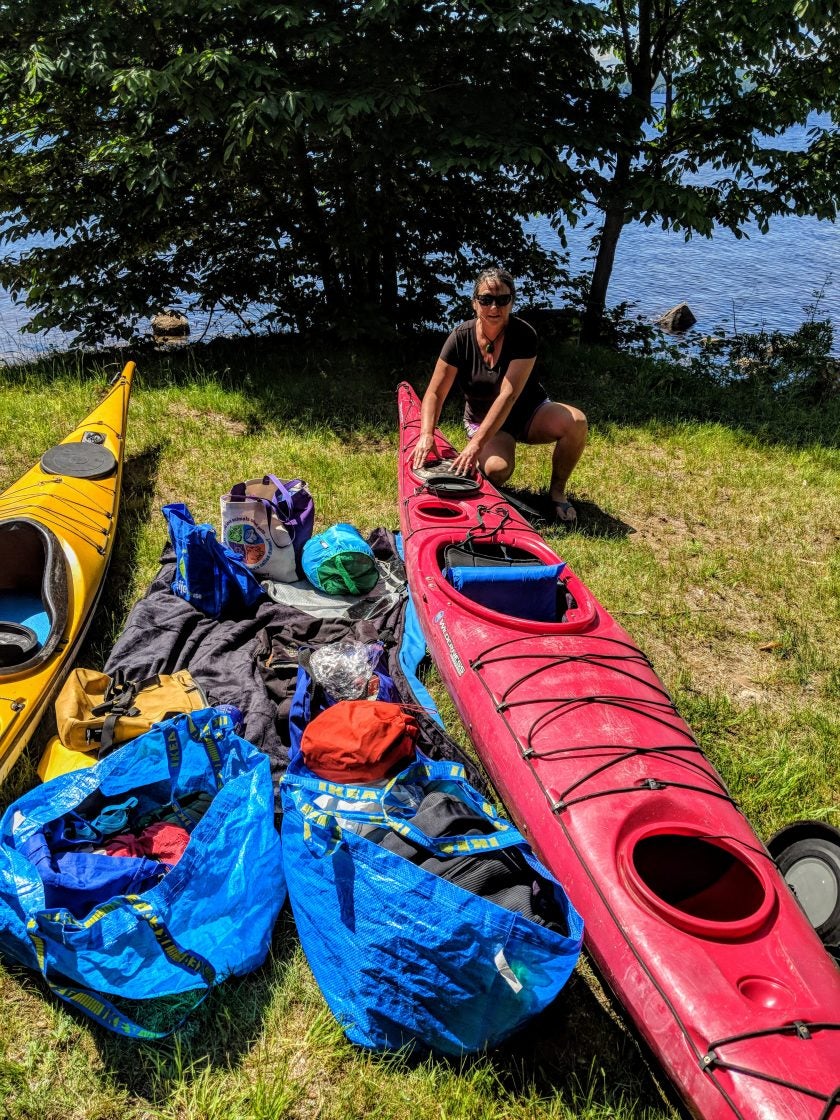 These ubiquitous blue totes make a great laundry hamper, gear organizer for backpacking trips, gear hauler on a sea kayak camping trip, and they pack away to the size of a softball when empty. We love them so much, we have three!
8. Plastic Bag Drying Rack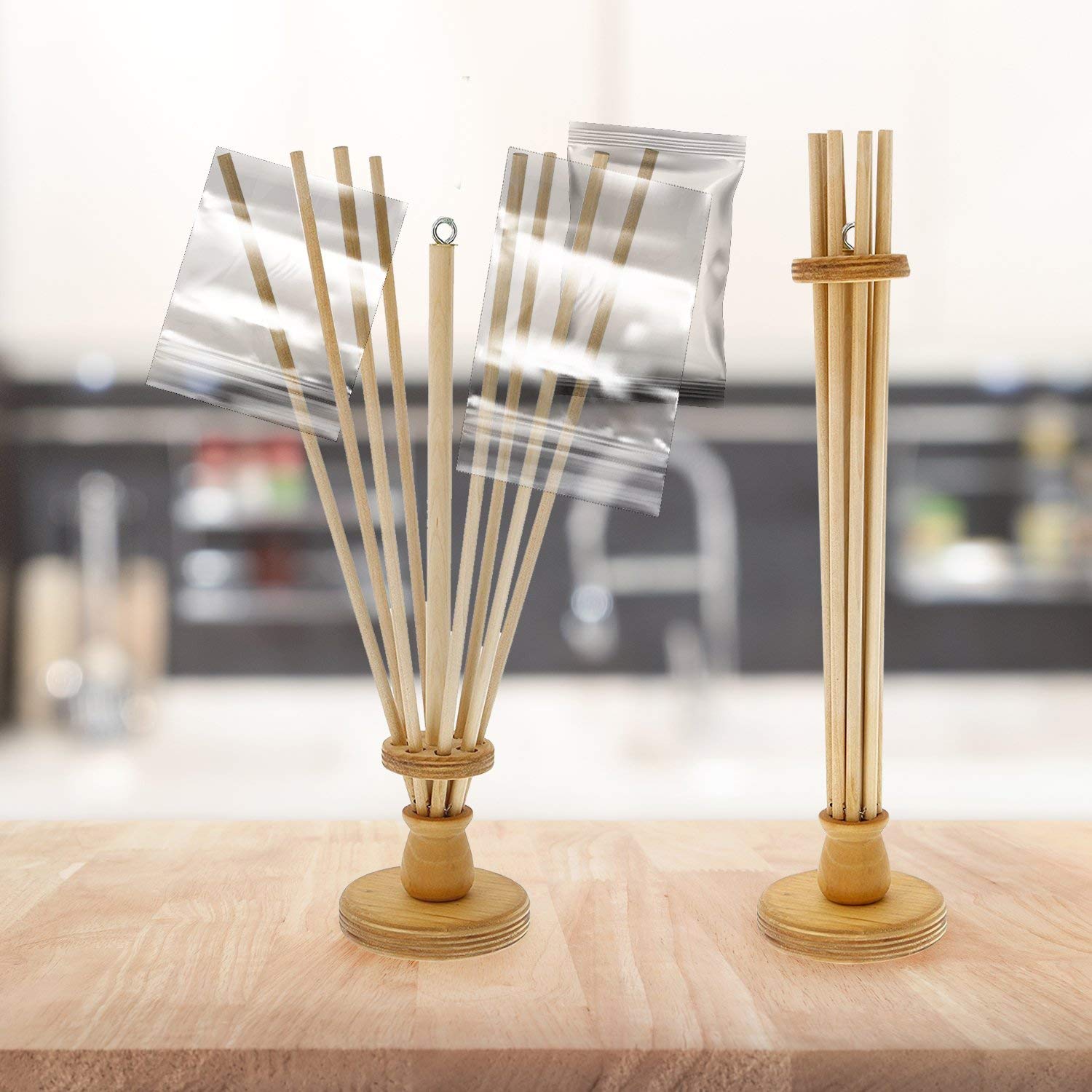 Back in 2006, we made a commitment to washing and reusing our plastic zip bags until they fell apart. We began that year with a box of gallon-sized bags and a box of quart-sized bags; by the end of the year our bags had multiplied and we had more than when we began.
We bought this foldable drying rack with us to continue our frugal habits, as we use plastic zip bags for everything. This technique saves both money and the environment!
Lighting, Heating, & Cooling
We try to spend more time outside than in our canned ham camper trailer. But when we are tucked into Hamlet for the night, or on a rainy day, our lighting, heating, and cooling can make a big difference when it comes to comfort.
9. Puck Lights
These small disks of LED light, which sip at their batteries for months on end, can be placed anywhere you need extra, temporary light. We have one just inside the camper door we use as a light to enter at night, one in each closet, one over the cooking area and over the kitchen table, and one as a nighttime reading light by the bed. These lights are simply awesome and can be found at many DIY hardware stores.
10. LED Rope Light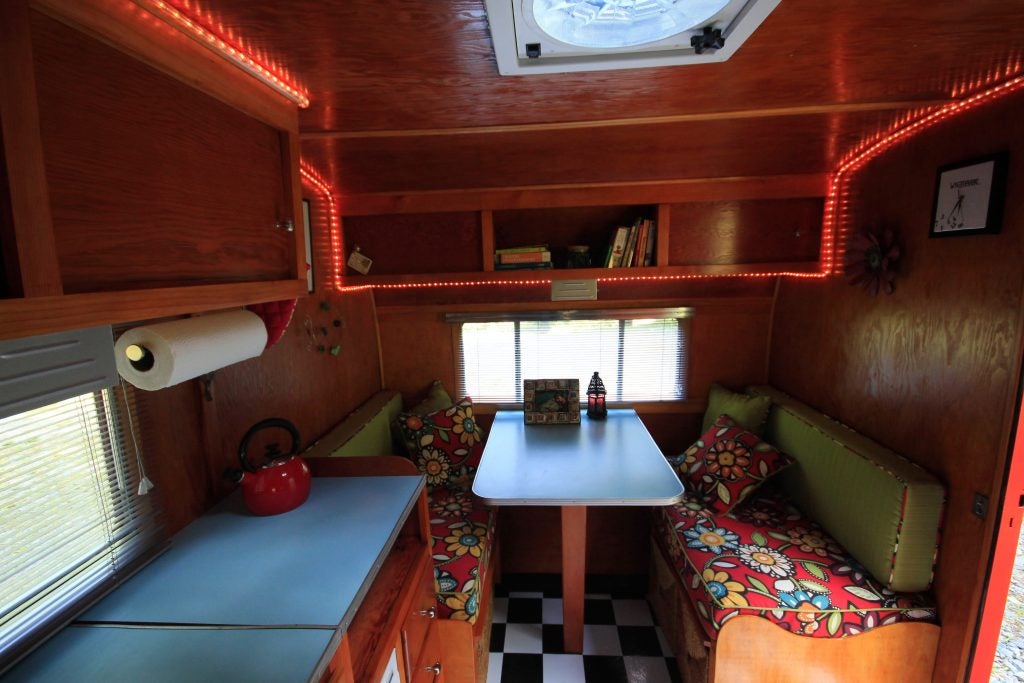 Continuing with our LED battery-saving goal, we use one chain of LED lights which line our camper ceiling and run off either solar or shore power. This overhead lighting gives the camper a nice warm glow at night, with minimal power usage. Again, these can be found at your local DIY hardware store.
11. Candles & Hand Crank Lantern
When we're low on solar power, or when the sun hasn't come out in days, we just pretend we have a power outage and use candles, our LED puck lights, and a hand crank/solar lantern we picked up in Kenya!
12. Fan-Tastic Fan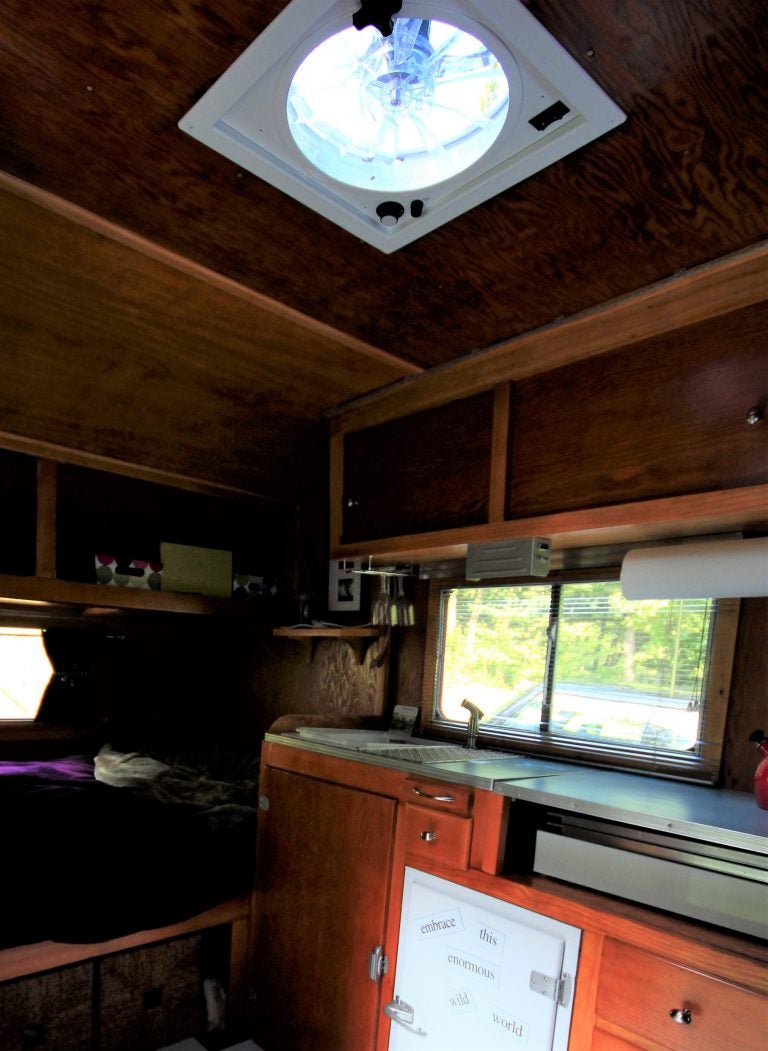 We run our Fantastic Vent fan directly from our 12-volt battery and it has been the best upgrade we made during our renovation. This little fan removes cooking fumes and cools our camper trailer at night. Even in warm, muggy conditions, we can close all the windows in the trailer except the one next to our bed and keep a cool breeze flowing over us all night long.
13. Mr. Heater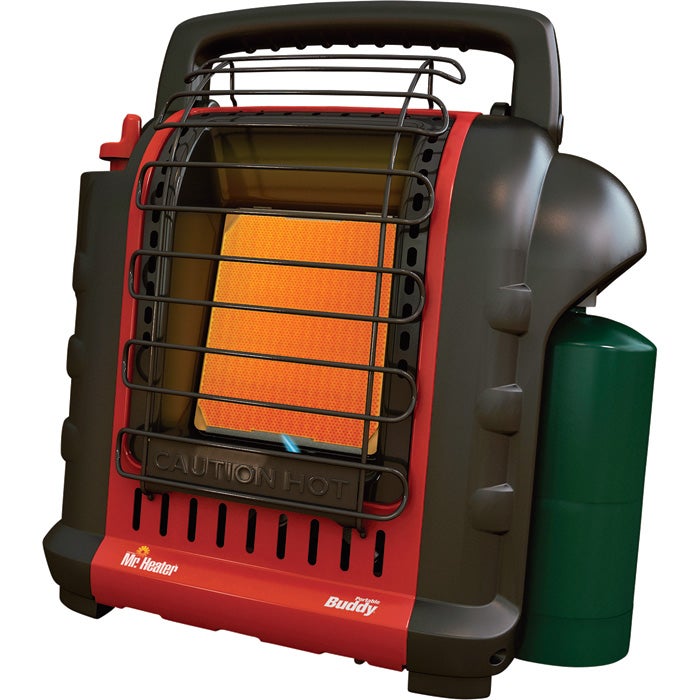 People often ask us where we go in the winter. Our answer, "anywhere we want!" thanks to this little heater and a fluffy down comforter with a fuzzy duvet cover.
Mr. Heater runs off propane, which we connect to our 20 pound refillable tanks on the front of Hamlet. We never sleep with it on (for safety reasons), even though it does have a built-in low oxygen sensor. It uses minimal propane; we only spend about $100 per year on heating and cooking. When not in use, it tucks neatly away under one of our bench seats.
Other Tips & Tricks
14. Andersen Leveler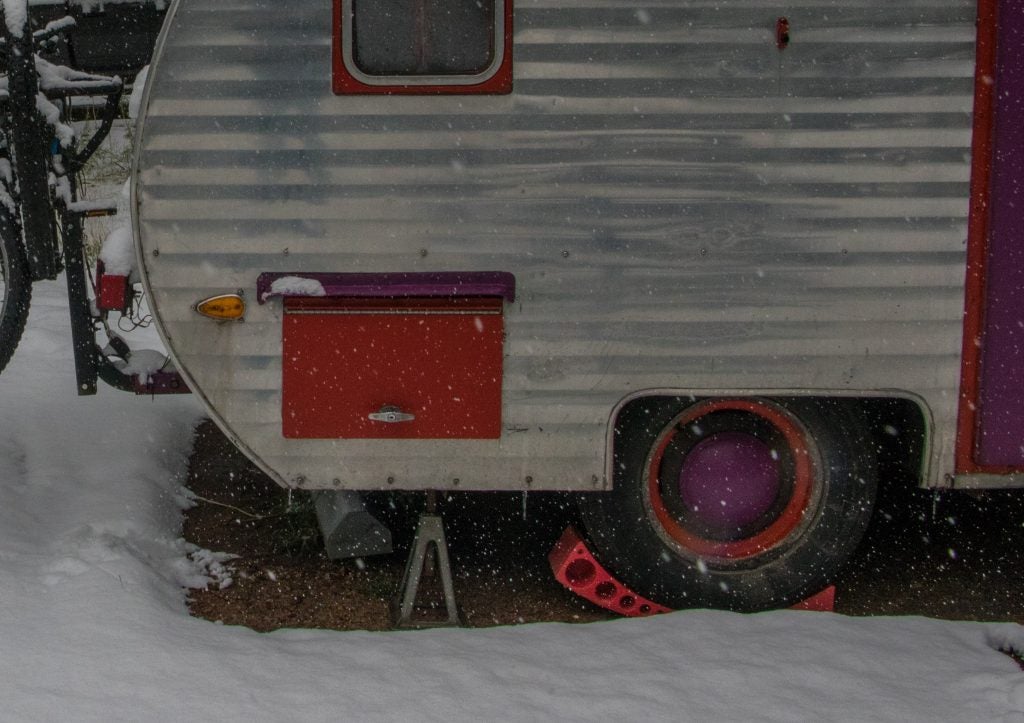 This device has flat out saved our marriage. We've seen so many couples arguing over parking and leveling their RV, shoving pressure-treated boards or stacking legos under one wheel of the trailer.
The Andersen Leveler is an ingenious device that is robust, simple, small, and effective. This arching piece of plastic levels the trailer from side to side by placing it under the wheel requiring elevation, pulling the trailer up onto the arch using the truck, then chalking it with the second wedge.
In about 20 seconds, we accomplish what used to take about 20 minutes, with a lot less hassle and arguing. If you have dual tires, be sure to purchase two.
15. Hands-Free Water Filter
We often get our drinking water from a creek or stream when we're boondocking or backcountry camping. We used to filter using a pump, which amounted to about 30 minutes of pumping. Recently, we discovered the Sawyer in-line filter and took it with us on a long backcountry trek when weight was a real concern. We now use the tubing and parts from our previous pump and combined it with our in-line filter to create a hands-free siphon filter. We can filter a gallon of drinking water in about 15 minutes.
16. Bike Rack Conversion
Not every camper trailer can support a bike rack. We got lucky with our trailer, built in Ohio during the 1950's when things were made with less focus on minimizing construction costs. The axles on which the Sportcraft company built their trailers were manufactured for agrarian use, making them incredibly strong.
We had our friends at Triplett and Coffey in Boone, N.C. install a trailer hitch receiver onto the frame of the trailer. We store our bikes on the back of the trailer as we roll down the road, but we're able to move the bike rack from the back of the trailer to the back of the truck when we want to leave the camper at the campground and take our bikes with us.
17. Mini Torch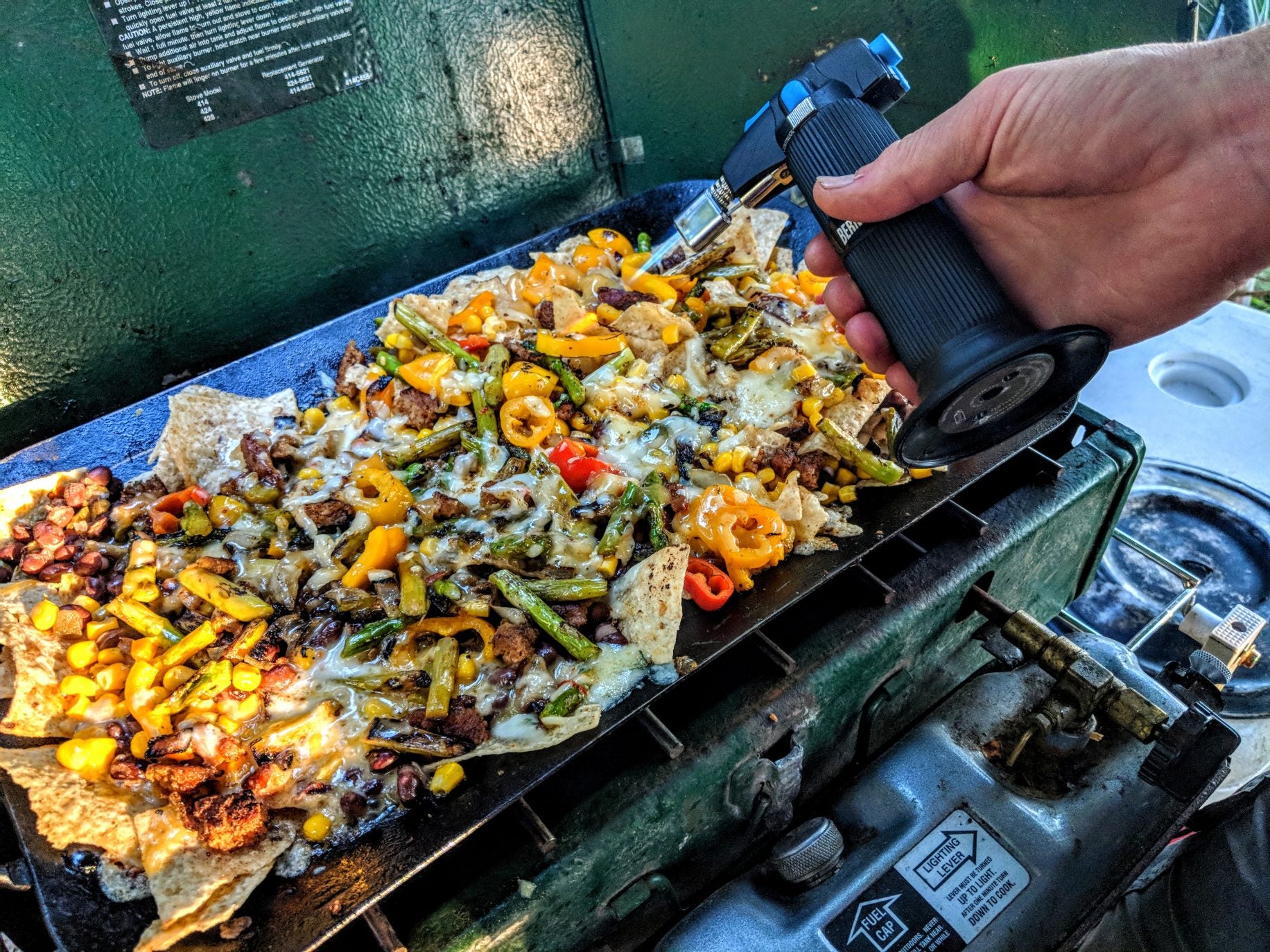 This tiny plumbing torch has been one of the most reliable lighting devices we've ever used. We use it to start the stove in the morning, to light the candles or a fire in the evening, and we've even used it to melt the top layers of cheese on a skillet of nachos.
It's refillable with butane and we couldn't function without it.
18. Home Theater System
People sometimes crinkle their noses when we tell them we spend nights in Walmart parking lots. To us, Walmart means a couple of things – a free night, a Red Box movie, and a pint of ice cream. Without a freezer, our ice cream consumption is hand-to-mouth, and without regular WiFi, we can't stream movies.
So, on nights when we park near the big blue sign, we set up the laptop and mini speaker, prop up the pillows on the bed, and settle in to our makeshift home entertainment system. It's a treat!
---
Related Articles:
The post 18 Hacks For Storage and Comfort in a Camper Trailer appeared first on The Dyrt Magazine.