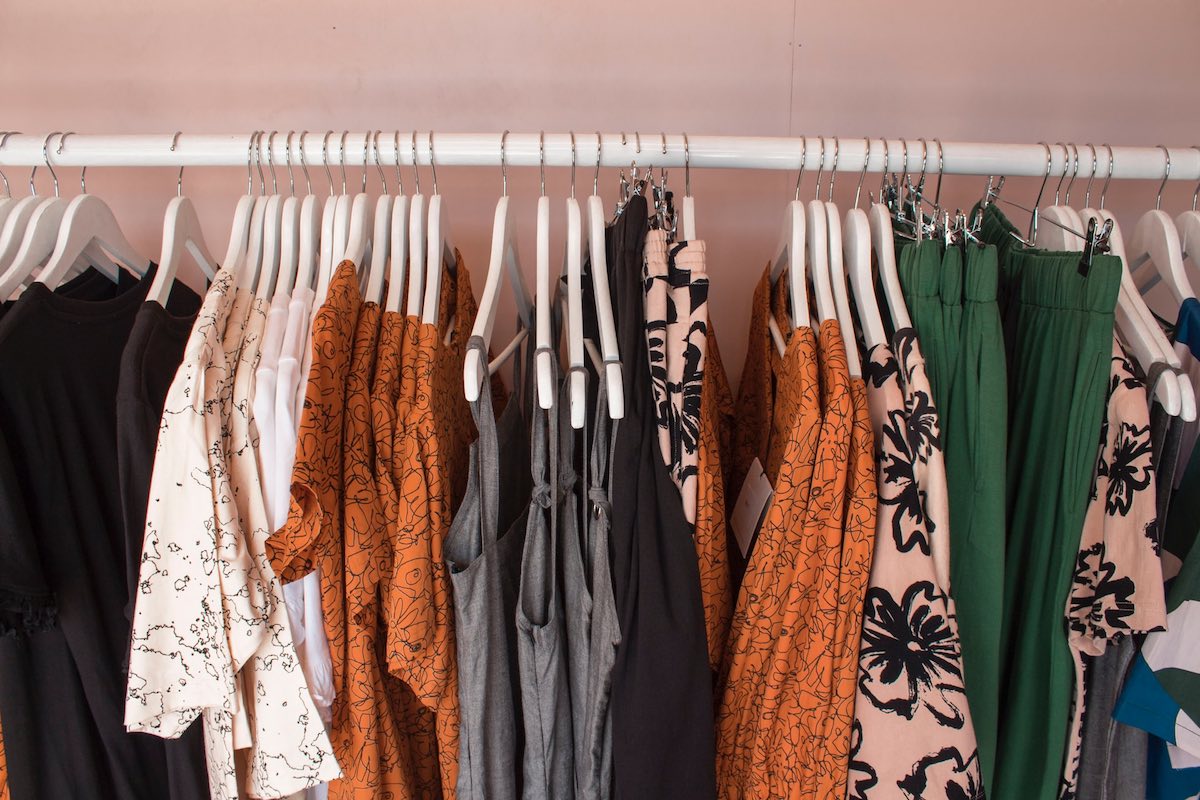 There are several reasons why a closet space won't function properly.
Most often, the issue is that the closet owner doesn't declutter enough. Without this important maintenance routine, the closet will inevitably have too many clothes and accessories crammed into a relatively small space.
Another major reason we find it a challenge to manage our closets is that we're still using the original builder closets that came with our house or condo.
These closets are too basic for most people's needs, so let's explain why you should upgrade a builder closet.
We all know what "builder closet" means
In most new homes (even expensive homes), only the bare minimum is done when the closets are installed. A builder closet typically includes one hanging rod and an upper shelf. If you're lucky, there may be some additional wire or wood closet shelves (which probably aren't adjustable). Having a closet light would be downright extravagant.
We all know what "builder closet" (also known as a builder-grade closet) means – cheap, low-quality, sub-par…take your pick of any word that is synonymous with "inferior".
It's not only closets, either. "Builder-grade materials" may sound very professional, but it's also just a polite way of saying "cheap". Virtually anything in a new home can be made with inexpensive builder-grade materials like kitchen cabinets, garage doors, faucets, and doorknobs, just to name a few things.
Homebuilders know that their clients have rock-bottom expectations for the closets they're getting when they buy a newly constructed home. You can rest assured that if the builder is providing a bare minimum closet setup, the quality of the shelf/shelves and hanging rod will be sub-par, too.
We don't mean to hammer (pun intended) too much on homebuilders here, but there's a lengthy track record on the quality of their closets that's impossible to dispute.
Why you should upgrade a builder closet
Relying on a basic builder closet to keep your clothes stored and organized makes your life more difficult and frustrating than it has to be.
Many of us do it, however. That's partly because people tend to adapt to a situation that may not be ideal because it's less work to try and fix it.
Others may not know any better that there are much better closet setups available than what their builder-grade closets offer. This could be because we're so conditioned to expect that closets made by builders have traditionally had a very simplistic design.
Or you may be someone who isn't that concerned with how efficiently your closet functions because you don't have a lot of clothes, like Ryan Reynolds. The Canadian actor and entrepreneur told The New York Times he keeps his wardrobe so simple that his wife jokes he doesn't even need a closet.
Even if you don't own a lot of clothing, there are still plenty of reasons to rethink how you're using your closets.
If you're still getting by with closets that have barely evolved for the better since your home was built, find out why there's no time like the present to upgrade a builder closet.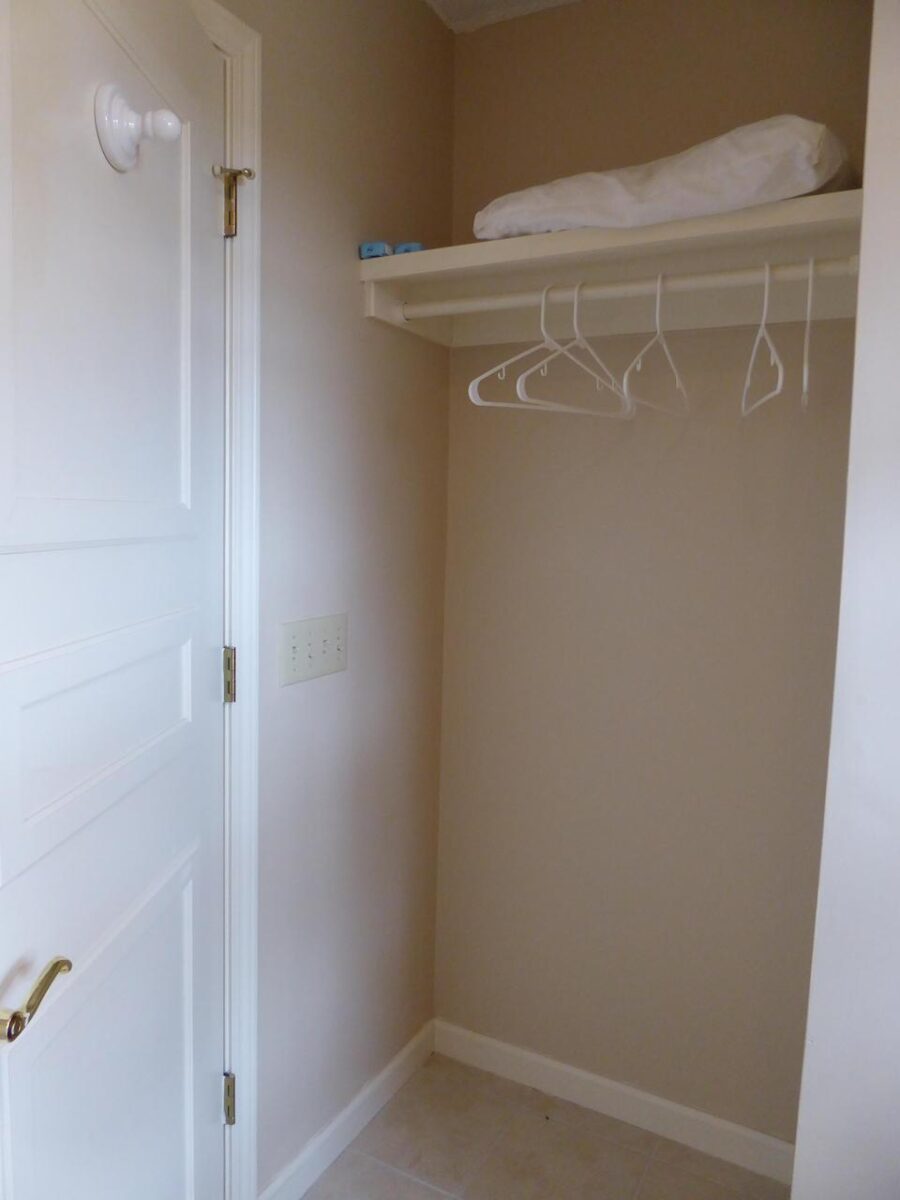 1. A builder closet lacks functionality
The biggest reason to upgrade a builder-grade closet is that they're woefully lacking when it comes to functionality.
Sure, they technically function, but there's only so much a no-frills closet space with a single hanging rod and a shallow depth upper shelf can do for you.
"One-size-fits-all" products rarely provide full satisfaction to anyone who uses them. Everyone has unique tastes and preferences, so anything built for the masses is guaranteed to leave a lot to be desired for a significant number of consumers.
You can try to supplement the limited functionality of a builder closet by adding things like hooks, additional shelving, baskets, plastic storage bins, and a shoe rack on the floor.
Although these extras will improve the functionality of a closet, the space will still fall well short of what a custom closet design can do for you.
2. Your closets are used every day
How many things do virtually all of us use every day, at least twice a day? We can think of the fridge, the kitchen sink, certain room light switches, the toilet (sorry, it had to be said), our phones, some furniture pieces, and our bedroom closets. We can't even include the bathroom sink because apparently around half of us brush our teeth only once a day.
There are probably a few things we're leaving out. It's not a very long list, though. With every one of these things, we count on them to work reliably since they're an everyday part of our lives.
If the kitchen sink or a light switch wasn't leaving us satisfied every time we used them (as mundane as those interactions may be), we'd either fix them or replace them with a product that provided a better user experience.
Considering we have to get dressed and undressed every day, why do so many of us simply settle for using inadequate builder closets then?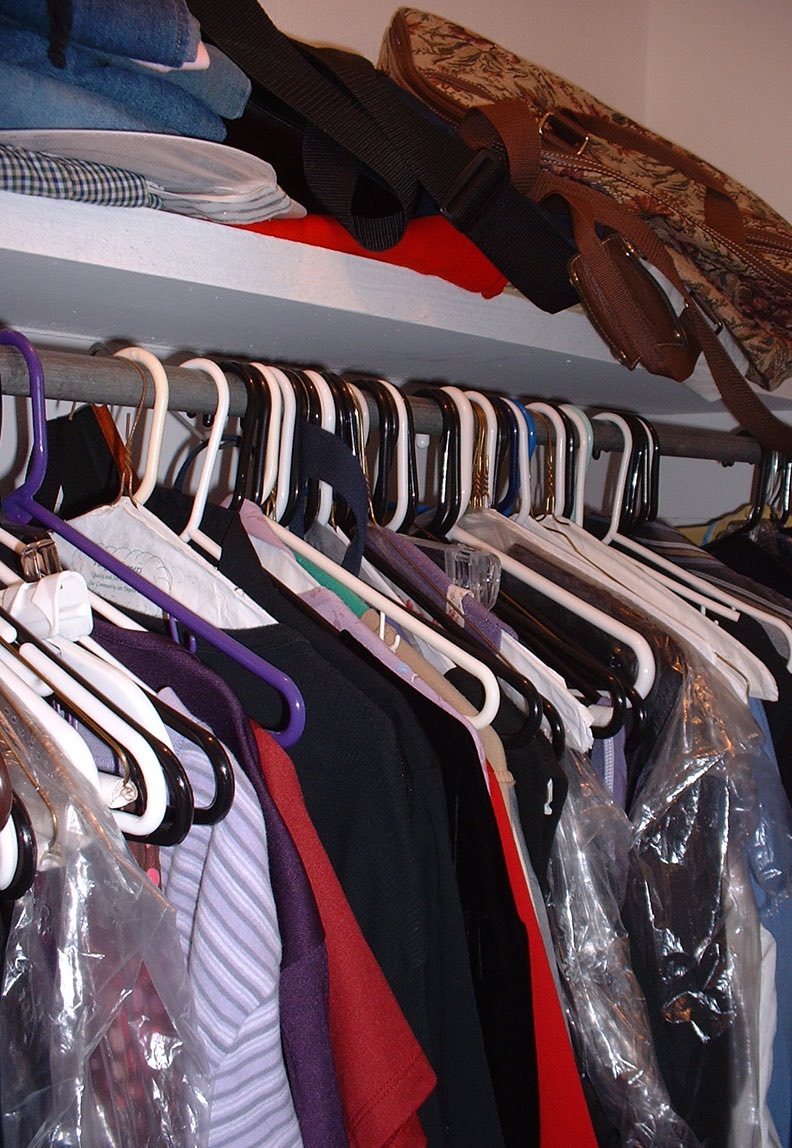 3. A builder closet isn't stylish
First and foremost, a closet should provide you with the storage space you need and be functional enough so that it's easy to keep it organized.
Adding some extras to help with functionality can help you get a little more use out of the closet. A mishmash of products added over time tends to create a rather patchwork type of look and there's no decorative cohesion, however.
While they may be a utilitarian space, there's no reason a closet shouldn't look stylish.
Attractive and stylish closet spaces are undervalued. Making your closet look as nice as possible should be a priority. After all, it's something you'll be looking at a lot, so why not make it as inviting and visually appealing as possible?
Interior design psychology and environmental psychology tell us that our mood can be affected by how a room looks. This includes things like:
lighting
wall and ceiling colours
textures
how much open space there is
clutter
the shapes and locations of things
A walk-in closet is considered a room and a reach-in closet is considered an enclosed space. If you style up these areas of the home to give them some personality and more visual appeal, it can make a world of difference when you use the closets.
Having a complete custom closet makeover is the best way to upgrade a builder closet and transform it from drab to fab. Other ways to add some style to a closet are to upgrade the lighting for improved ambiance, give the closet walls and ceiling a fresh coat of paint with a new colour, or replace the closet doors with new doors outfitted with stylish hardware.
4. Builder closets waste space
Here's another compelling reason to upgrade a builder closet – they waste a lot of potential storage space.
Consider the upper shelf in one of these closets. It's commonly at a height of around 5-6 feet, which allows for easy access to the shelf for most people. Now consider that the average ceiling height in a room is around 8-9 feet (and as high as 10-12 feet in some rooms). Most items that get stored on a closet shelf aren't tall enough to reach the ceiling, so much of that useful vertical space isn't used.
Unless you've added some helpful closet accessories like an extra hanging rod, a valet rod, or a tie rack and belt rack, a builder closet isn't working as hard as it should be for you.
Leaving valuable storage space underutilized or completely unused ends up creating storage and organizational challenges (which is another way to say "headaches").
5. Metal wire closet shelves aren't ideal
It's a wonder that metal wire shelving came to be used so widely in closets. Sure, it's cost-effective, but it's difficult to find any other things that wire shelving has going for it. Here are some of the drawbacks of using wire closet shelves:
Aesthetics: metal wire shelving, which usually comes in white, isn't very attractive. The look you get is rather bland and antiseptic compared to wood shelving, which has more character and design versatility.
Stability: they can't hold as much weight as wood shelves, so they're more prone to stability issues.
Crease lines: the wire grid design of the shelves tends to leave crease lines on clothing. That creates extra work to iron or steam away the creases when it's time to wear the clothes.
Storage versatility: those wire grids don't allow you to use the shelving for much more than stacking folded clothes. Small accessories can fall through the gaps and it's more difficult to stand things up because the top of the shelving isn't flat.
Durability: over time, the plastic coating on wire shelves can become sticky (higher humidity levels in the closet are one cause of this). The white coating may also discolour and start to have a yellowish look.
Ease of cleaning: the grid design makes the shelves harder to clean than wood shelves.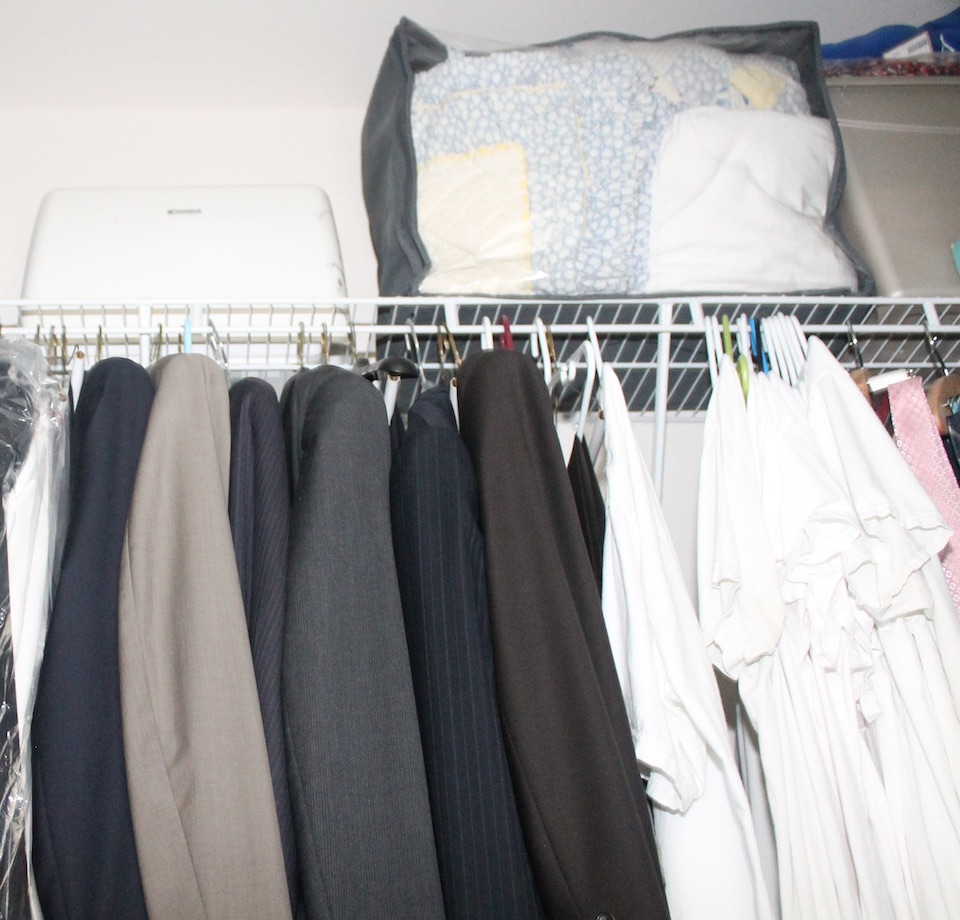 6. (Your) time's a wastin'…
The space in a builder closet isn't the only thing being wasted. So is your time. As in the time wasted looking for misplaced items that don't have a proper home and trying to work clothes storage magic with one proverbial hand tied behind your back.
Consider the following clutter and closet-related statistics:
10% of women say they feel depressed every time they open their closet doors. (OnePoll survey of 1,000 American women)
It's estimated we'll each spend 3,680 hours in our lifetime searching for misplaced items. (The Daily Mail)
A study of 2,137 U.S. women revealed that their closets had an average of $550 worth of unworn clothing. (10 Yetis survey)
47% of women struggle when it comes to deciding on which work outfit they should wear. (OnePoll survey)
3 in 10 women say an organized closet would make their mornings less stressful. (OnePoll survey)
When you open a closet door, your immediate reaction shouldn't be a feeling of anxiousness about having to deal with a disaster zone. You should feel a sense of calm because the space is so clean and organized. Or it should be no reaction at all because you're so used to having a tidy closet that you take it for granted!
Upgrade a builder closet with a custom design
If you're looking to upgrade a builder closet, the obvious solution is to have it replaced with a professionally designed custom closet.
The stark contrast between the average builder closet and even a relatively simple custom closet designed by a skilled professional is immediately obvious. Instead of getting the bare minimum out of your closet, a closet design pro cares about helping you get the maximum amount of storage room, functionality, and aesthetic value from the space.
The key difference is that the closet is designed specifically for the needs of the user. Shelves and hanging rods are located at convenient heights that make the most sense according to the height of whoever is using the closet.
If you need an extra hanging rod and a pullout pant rack, no problem. Have a storage tower with drawers and shelving added to expand your closet storage options.
High-quality storage systems and accessories that are strategically located to maximize the closet's storage space can resolve any organization issues. The efficiency of your daily dressing routine will improve as well. Even in small closets, a good custom closet organizing system creates order within a confined space.
And because we know visual appeal matters even in the closet, give the space a modern look by accentuating it with:
attractive wood finishes
stylish decorative hardware and closet accessories
bright overhead lighting and cabinetry-mounted LED lighting for ambiance and additional illumination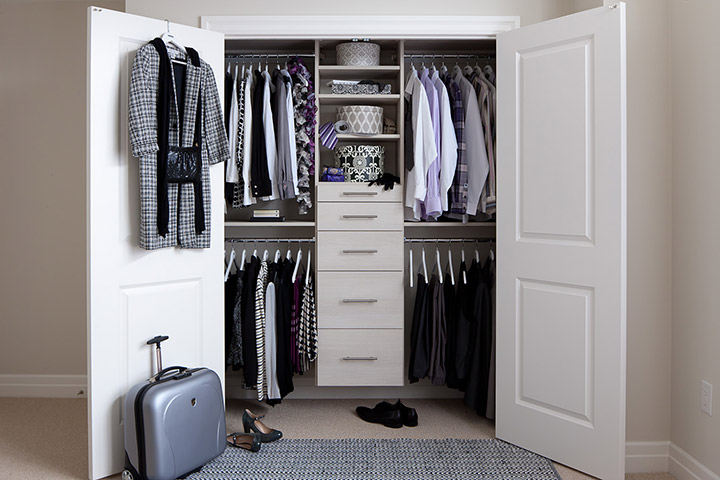 Make the builder-grade to custom-made closet upgrade
In Organized Interiors' 40+ years of operation, one of the common inquiries we receive is about upgrading builder-grade closets.
We've seen just about every type of closet there is, from basic builder closets to DIY closet installs that fall short of meeting the needs of our clients.
Let our talented designers apply their skills to transform one or more of your existing closets into stylish, highly functional spaces that will make your life a little easier. If you'd like something a little bigger for clothes storage than a reach-in closet and have the space, we can design a beautiful walk-in closet with a dressing area as well.
Schedule a free design consultation with us so you can bid adieu to your old builder closets and say hello to some amazing new custom closets!
Please share this post if you found it useful.
See also: