Best Mom Hack for Car Rides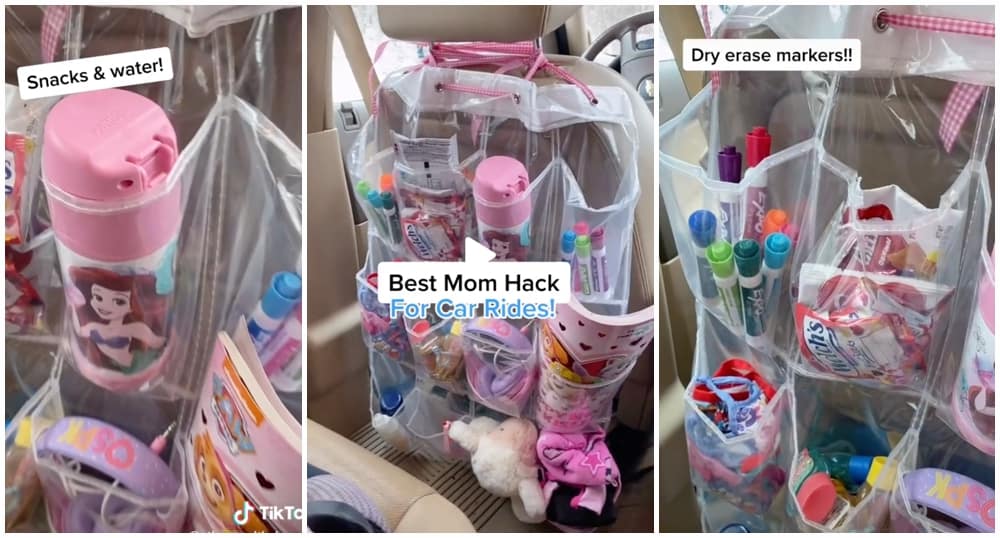 Photo credit: athomewithshannon/tiktok
Vacationing with kids is just an illusion; you don't vacation, you just try to keep your kids happy and fed, so they don't drive you insane. We've all been there. Car rides with kids can seem so long when you have to constantly make sure they're fed and entertained. I found the perfect solution to this problem. A TikTok video by athomewithshannon gives us the best life-saving Car Ride hack to keep your kids entertained the entire road trip! 
You know the feeling when your kids are screaming at you because they're hungry, bored, or asking the dreaded question – Are we there yet? It can make the vacation completely unenjoyable for you and make you wish for the road trip to end.
This clever mom hack completely changed the game. Not only is it convenient, but it's also cheap too! All you need is a plastic shoe rack that you would hang on a door and some goodies to stuff in there for the ride! You just take the shoe rack and attach it to the back of the front car seat, and fill it with markers, toys, and other activities to keep your child(ren) busy the whole way to your destination!
Why this TikTok Car Ride Hack is amazing for frustrated parents
It's cheap – You don't have to spend more than $10 on a plastic shoe rack from Walmart to make this hack work. You can take toys, markers, stuffed animals, coloring books, etc. from around your house and keep your child busy!
It's simple – You literally need one product to make this hack work for you – a plastic shoe rack. It's that simple.
It saves you time and energy – You don't have to worry about keeping your child entertained or try to explain to them that you still have 4 hours left of the trip. They will be able to switch between activities and keep themselves busy while you relax, or SLEEP!
Some entertaining Q&A for this car ride hack:
What do you recommend putting in each shoe slot?
I personally love putting some markers, coloring books, crayons, stuffed animals hand sanitizer, wipes, and other little toys in the rack so that there's plenty of options to choose from. In the video, athomewithshannon uses some dry-erase markers so that her child could draw on the car window and then wipe it off when they were done! She also put snacks and a thermos so that her child could easily satiate themselves without having to ask her!
Could you use something other than a plastic shoe rack for this road trip tip?
Of course! You can use any kind of holding device to put toys, food, and other activities in! You could spring for an over-the-coach remote holder or something to that extent to put things in.
Does this TikTok Mom Hack actually work?
From reading the comments, I would say absolutely! Even though it's painfully simple, it's something that you wouldn't normally think to do. Kids need to be entertained just like they would at home. It's like if they have a toy box at home, they pick which toys they want to play with, and then they can keep themselves busy.
If you struggle with keeping your kids entertained on a long road trip, this hack will save your life! It's simply the go-to for busy parents who want to actually enjoy their trip, but also make it enjoyable for their kids too.
For more awesome life hacks, check out my this viral bath bomb hack and medicine hack!
The post Best Mom Hack for Car Rides appeared first on Hello Wonderful.